Images: Steve Nisotel
On a brisk Saturday in early November, Nicoletta "Nico" Longo stands barefoot in the hallway of a Boston yoga studio, greeting everyone with hugs, laughs, and a wide smile. Half of the people stretching on the foam mats unfurled across the hard wood floor are people in recovery—and not all of them are shy about admitting it.
"I'm a junkie and a piss-your-pants drunk, all day long," says Michaela Malo, speaking with the blunt frankness of someone in her 12th year of recovery from alcohol and heroin addiction. Malo turned to yoga and fitness a few years ago to help her sleep when quitting drugs disrupted her natural cycle.
This idea—that physical fitness and a sense of community can be central to relapse protection—is what inspired Longo to found Namastay Sober, a Boston-based non-profit that connects dozens of people in recovery to a growing network of local gyms and fitness classes. Donations help fund the memberships and make cost-prohibitive classes more affordable. The goal—in part—is to swap a potentially life-threatening addiction for a healthy one.
"Your chemistry is all off when you stop using," Malo says. "When I was on heroin, I'd have to pound Mountain Dew and Pepsi and coffee and a bunch of cigarettes just to go to bed. Physical action helps regulate my body—I get really exhausted, and it helps me feel like I did something positive, too."
The sponsors include rock-climbing gyms like the Somerville branch of Brooklyn Boulders, as well as a handful of independent yoga studios. The scale of the classes also varies—ranging from intimate gatherings of just eight people to crowds at massive outdoor festivals. As interest in the program grows, Longo hopes to expand; she's currently eyeing chapters in Vermont, Connecticut, Rhode Island, and New York.
Watch More From Tonic: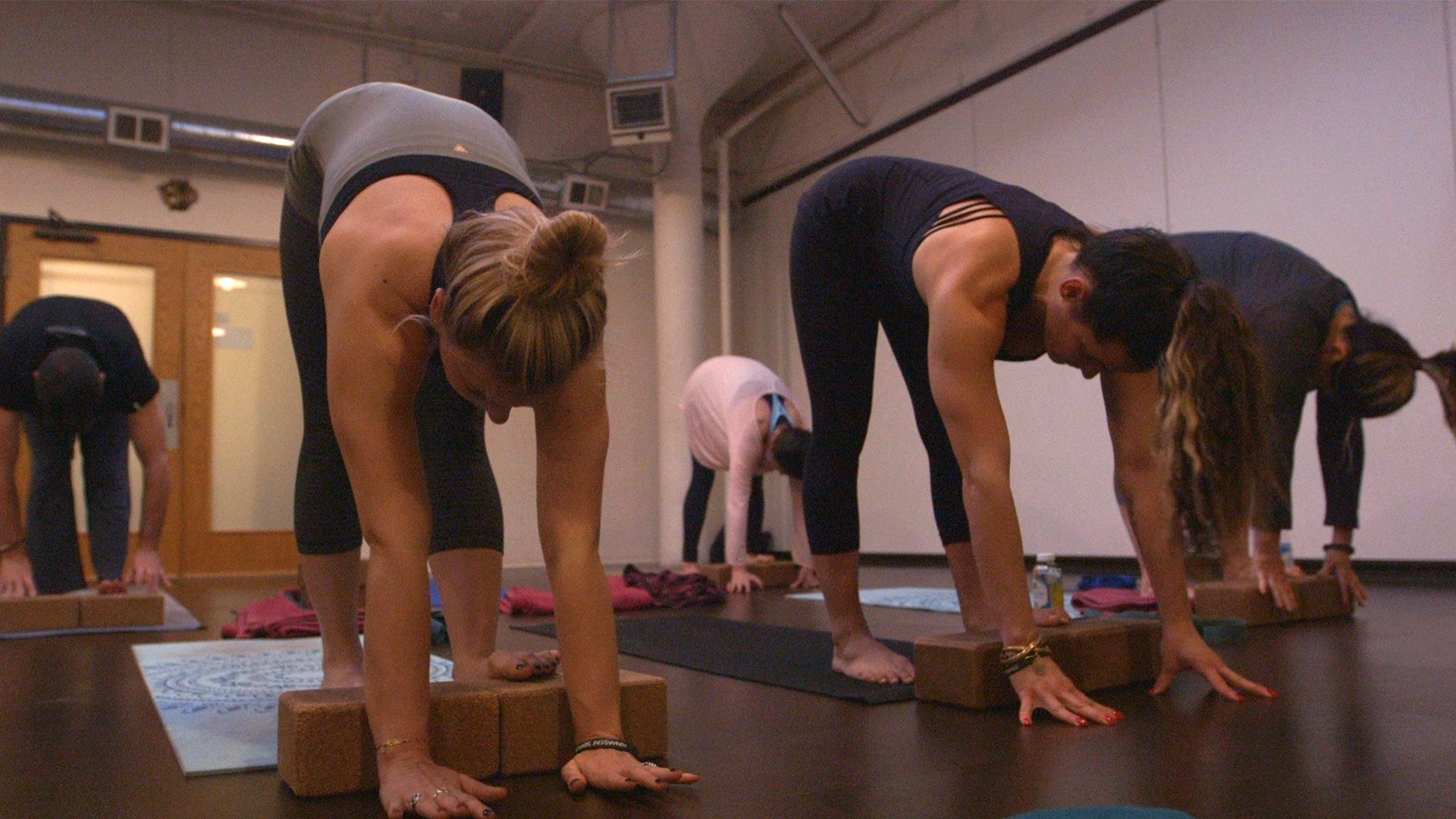 Namastay Sober is just one of several fitness-minded networks that have recently emerged as resources to help addicts in recovery. Phoenix-based nonprofit Multisport, for instance, offers activities like hiking, running, and strength training to help people "develop and maintain the emotional strength they need to stay sober." In Rochester, New York, there's RocFit—"a supportive community of physically active individuals brought together by sober living." Salt Lake City has Fit2Recover, built on the promise "to make a difference in the recovery and physical fitness communities by bringing them together into one group with shared goals."
For Longo—who is not in recovery—the inspiration for the program came in the wake of personal tragedy when one of her closest friends, Brandon Shelzi, died as a result of opiate addiction. "He was nine months sober," she says. "Then he got high on heroin and crashed his motorcycle." That year, Longo took a trip to Bali to clear her mind and think about what she could do to help. She reflected on the interplay between sobriety, physical activity, and social connection, and how Shelzi could have used more of the latter. "He was a vivacious, active guy, and he was missing a community. When you're 25 years old and want to go to a social event that doesn't have some sort of relationship to alcohol or drugs, there aren't a lot of options."
One way Longo is working to build that community is by removing any hurdles in the process that might discourage addicts from joining a gym or working out in the first place. The application process involves filling out a simple eight-question application, and each member—so far, there are about 20—is immediately assigned a mentor.
"It's a way for us to make sure people are being taken care of personally," Longo says. "If someone's never done yoga before, they know they'll have a partner meeting them there, forcing them to show up and practice. It keeps both parties accountable. The only requirement is that sponsored members have to go three times a week."
For addicts in various stages of recovery, swapping chemical addiction for addiction to physical activity isn't a new idea. A 2011 review of several early studies found that regular exercise could make you less likely to abuse illicit drugs. One study on rats found that giving them an exercise wheel reduced their dependence on cocaine, while another that put the rodents on treadmills saw a drop in the desire for morphine.
So far, most of Namastay Sober's members are reporting positive experiences. Morgan Chase was 27 when she went into recovery and rehab roughly a year ago. Before that, she'd spent five years as the on-camera talent for Dirty Water TV, a media company that covers the Boston party scene. (Think: Raucous game-night interviews at sports bars near places like Fenway Park and TD Garden.) "Drinking was almost encouraged," she says.
Chase went into the program after receiving a DUI—coincidentally, the same November day that Longo's friend Brandon Shelzi died, and is now Longo's mentee.
"A lot of it is just committing to something," she says. "I'm committed to showing up not only for Namastay Sober and Nico, but for myself. The hardest part is getting there. You have to do it for yourself—push, hold a pose a bit longer. But when you see your physical progress, you create a sense of self-worth."
It takes more than working out, however, to make recovery last, and both Longo and Chase note that it's the additional support of more traditional 12-step programs and addiction counseling working in tandem with these programs that helps them stay the course.
"We're not AA, we're not NA, and we're not therapy," Longo says. "We are an access point for people to get creative about what they want their sober life to look like." The biggest draw may in fact be that sense of community—rather than the endorphin rush—that Namastay Sober fosters, which can combat the feeling of being socially ostracized. Burning a few calories in the process is an added bonus.
"You can say, 'Today, I'm going to be taking care of my body and my addiction'," says Malo, "and just by doing that, you're already batting a thousand." Update (1/4/17): Tonic originally reported that Chase went into the program after a DUI on New Year's Eve. The DUI actually took place in November.
Sign up for our newsletter to get the best of Tonic delivered to your inbox.