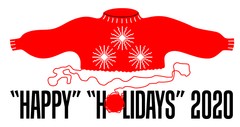 "Happy" "Holidays" 2020 is a series about feeling connected and vaguely festive during the coronavirus pandemic.
Webster's Dictionary defines a holiday as "holy day," which, to me, says that a) they are writing definitions as lazily as I am writing this lede, and b) holidays are fairly hard to describe! 
In thinking about the 2020 holiday season—which, like pretty much everything else this year, is going to be very different and possibly bad—I've been mulling ways to make distanced and solo celebrations feel special, like capital-H HOLIDAYS. If you're not religious or particularly family-oriented, and when you've been given permission to do whatever non-traditional thing strikes your fancy (which is mostly nice but also maybe overwhelming), it can be difficult to plan celebrations that have all the sureness, gravitas, and joy that you hope for in a holiday. It's all very "I know it when I see it"—which isn't necessarily helpful to you, the person blasting "All I Want for Christmas Is You" on repeat in an attempt to feel something. 
To gain insight into the specific rituals that make holidays feel holidayish, and to learn some practical ways to fill reimagined holidays with not just activities, but actual meaning, I spoke to Casper ter Kuile, a Harvard Divinity School fellow and the author of The Power of Ritual: Turning Everyday Activities into Soulful Practices. Here's what he had to say about making your pandemic holidays feel a little more hallowed.
Think about the stories you associate with a given holiday, and the values or morals within those stories—and then use that to guide your plans.
Ter Kuile said that one way to think about rituals is that they are a way in which we tell a story. "So often, a ritual kind of embodies a myth," he said. "And so every holiday is nearly always attached to a narrative we retell. And within that story, there are values that are lifted up." Religious tales are a good reference for understanding the general principle at work here: the journey of Joseph and Mary toward Bethlehem, or the oil kept the Maccabees' menorah lit for eight days.
"There's all of these ways in which these holidays are not just kind of decorative, but formative," ter Kuile continued. "I don't want to be, like, 'hashtag reason for the season,' but it is one way to lean into, 'What were these holidays about?'" 
Even if you're not particularly religious, you might connect with values like generosity and compassion that pervade this time of year. "It invites us to lift our eyes beyond our own suffering and to see the suffering of others, and to find things that we can do to help people," ter Kuile said. "To see a broader humanity and the ways in which we're all interconnected, and the ways that we therefore have a responsibility for one another." 
Once you've honed in on a core value that really speaks to you—whether that's taking care of society's most vulnerable members, family bonding, hope in dark times, the magic and mystery of Santa, deep reflection on the year gone by, joy and merriment with friends, a fresh start at 12:01 on New Year's Day, etc.—consider letting that inform your holiday plans in ways big and small. Use it to set the tone for the media you consume, the ways you spend your time and money in relation to the holiday, the people you make a point to connect with, and the traditions you decide to keep versus the ones you choose to forego. 
Set the mood by lighting candles liberally.
Candles are the first thing that comes to mind for me when I think of how to make a holiday—or, really, any moment—feel special, and ter Kuile agreed. "Candles are my go-to strategy," he said, fully validating the way I've been hoarding unscented taper candles all year. 
"First of all, it's a physical action—so it was unlit and now it is lit. You're marking a transition," he continued. "And it's immediately changing something in the atmosphere around us. You're marking a change." 
"There's this softness to the light that invites our attention, to look at the flame," he continued. "If you look at religious traditions, they're always offering us ways to focus our attention—whether it's stained glass, whether it's music, whether it's certain types of incense, or food. And I think a candle does that really beautifully." 
"It's a way in which you can change any space to have this nearly devotional sense," he said. "And, finally, I think it tracks time. A candle's not going to stay on forever like a lamp." Even though a holiday can be observed on a different calendar date, it is, at its core, notable because it doesn't happen every day. "I think the candle represents that really beautifully—the sense that this is a special moment. It's different from other moments," ter Kuile said. 
So make a point to make candles a part of your holiday season (and if you can't do candles, think about hanging up some string lights).
Find a way to get outside your comfort zone.
In his book, ter Kuile writes that a pilgrimage can sometimes be a part of a ritual. "I use the definition 'a special journey made on foot,'" he told me. "But, of course, we can extend that just a little bit by saying it's a special journey of some sort. The annual trip home, especially if it's to the house you grew up in or the place you grew up in, or to the people that you belong to, is going to be laid with meaning." That's obviously something that's lost in a year like this one, and that is a bit harder to recreate. 
Still, though, it's not impossible to extract some aspects of a special journey without leaving your home. "While you're on pilgrimage, you kind of form a new temporary world in which other things are possible," ter Kuile said. "In traditional European medieval pilgrimage life, it was an opportunity for a pauper and a prince to be on the road together. People who would never otherwise meet have an opportunity to be in conversation and to learn and to be together." 
He said this holiday season might be a good time to intentionally seek out a conversation that you wouldn't normally have, or a new-to-you activity. Maybe you give Chatroulette a try, slide into someone's DMs, read an airport bestseller, or take a drive with your significant other during which you ask each other "deep questions"—whatever gives you a sense that anything is possible. 
Put on special music—and, ideally, sing along.
Part of what makes Christmas music feel special, ter Kuile said, is that it's participatory. "A lot of us will know the words, a lot of us will know the melody, and even if it's induced by eggnog, people will sing together," he said. "And that's actually very unusual these days; so much music is performative, which has its own qualities, but there's a strong folk element to Christmas music, which is really special." 
Regardless of the holiday you're celebrating, you can set a mood with songs that have a can't-help-but-turn-it-up-and-join-in, we're-celebrating-a-thing quality. (Think of what "Sweet Caroline" does to white people, or the way celebrities are seemingly very moved by "Imagine.") 
Even though standing shoulder-to-shoulder with people outside your household while singing loudly is deeply not a safe pandemic activity, there are still ways to do this safely at home. You could play songs on the guitar or piano for your housemates to sing along to, organize a virtual karaoke hang (perhaps that's explicitly holiday themed), or simply not hold back from singing along to your favorite songs when they come on the radio.
If you're not much of a singer or your roommates don't seem to appreciate your musical stylings, try being more intentional about the music that you're incorporating into your holiday celebration. I've recently started listening to records, which always feels like An Event, but even something as simple as creating a special playlist for this holiday season or for your holiday meal can go a long way. 
Prepare or simply eat something that feels special to you (and know that it doesn't have to be a "traditional" holiday food).
"Food helps us connect to our sense of identity and belonging," ter Kuile said. "It's a way of feeling connected across time and across generations." If you can't be with your people, food can be a way in which to honor them and to feel close.  
If you're someone who doesn't have a great relationship with your family, or who never really ate traditional holiday foods, you don't have to come up with a totally unique-to-you menu, or make, IDK, a Norman Rockwell–worthy ham. Instead, ter Kuile suggested taking inspiration from a food that is already meaningful to you in some way—like, say, a dish you had for the first time when you took a really special trip. "If you didn't grow up with a whole, like, traditional Christmas vibe, is there a favorite meal that you love cooking? Or that you always get at takeout that you want to make yourself now?" You also don't have to cook at all; getting takeaway from a local restaurant or bakery you adore is a great option (and a nice way to support small businesses right now). 
You might even want to lean into something that feels extremely not holiday-esque. "Sometimes the best traditions are the things that totally undercut the tradition—Jewish families eating Chinese food on Christmas Day," ter Kuile said. 
Read something you find comfort in.
Given the aforementioned story aspect of rituals, a reading of some sort can bring a sense of seriousness to your celebration (even if the subjects you choose are fairly light). Ter Kuile said John O'Donohue's To Bless the Space Between Us is a very good, very readable option; it offers lovely and fairly agnostic/inclusive blessings for tons of different occasions. He also recommended the poetry of Mary Oliver (I concur!), Rainer Maria Rilke, and Rumi. 
Beyond that, the Poetry Foundation organizes poems by subject matter, and a lot of those are worth browsing—here's Hanukkah, Christmas, Kwanzaa, New Year's Eve, winter, loneliness and solitude, hope and resilience, anxiety and uncertainty, and protest, resistance, and empowerment. 
And don't overlook children's literature, which ter Kuile said often reminds us of a really good time in our life, makes us feel safe, and conjures up feelings of excitement and inclusion. 
He also suggested making reading out loud (with, say, a partner or housemate) part of your plans. You might even consider choosing a chapter book you can read aloud together, one or two chapters a day, from now through the new year. "It's really lovely to have that kind of communal reading, and to be read to—it's such a luxury actually," he said. 
Connect nature on a macro level or micro level—or both.
Ter Kuile writes in his book that nature is often where we "feel a profoundly moving sense that we are connected to everything around us," and that being in nature "re-centers our priorities away from self-involvement, bitterness, and despair, and opens up new possibilities and a greater capacity for compassion." Whew! If you can, make a walk or ride or drive to a nearby river part of your holiday celebration.

Ter Kuile also suggested forging this connection by bringing winter greenery indoors—so, arrange a bouquet of beautiful flowers, hang a fresh wreath or garland, or just fill a nice bowl with some pinecones and put it on your table. And spend a little time quietly observing and really appreciating these items' beauty—the fragrances, the colors, the leaves, the seeds, the shapes… it's all pretty awesome in the truest sense of the word. 
Don't underestimate the value of a nice little DIY project.
Not only will putting up some homemade holiday decorations make your place feel visually different and add to the sense that this is a special time of year, but ter Kuile said that crafting is "a really lovely way to be with other people, like a partner or a housemate, that doesn't actually mean you have to talk a lot, but you still have a sense of being together." He said he's been making paper window stars with his husband; you could also try your hand at paper poinsettias, origami stars, or newsprint gift bows. (Bonus points if you can connect it back to nature in some way… maybe with cranberry and popcorn garlands?)
Make time for self-reflection.
There are a lot of different ways to make a holiday feel sacred, even if you're not particularly religious, and many of the above activities could get you there. But if you're feeling like you'd like to do Something More, you could make a point to be alone with your thoughts and try to connect with something bigger than yourself, either on the holiday or during the season. 
If you aren't sure where to start, poems are very nice! Beyond that, here are a couple of suggestions from ter Kuile (that might dovetail nicely with the holiday values you've already established): 
Thanksgiving—reflecting on the people and things you're grateful for. This could involve sending a thank you note to someone who has made your life demonstrably better, or starting a new doc and listing everyone and everything that you appreciated this year. (I highly recommend this kind of thing

as alternative New Year's Eve programming

.) 
Contrition—reflecting on the ways you've fallen short of the person you want to be, without berating or shaming yourself for your shortcomings. Ter Kuile said contrition can simply be done by saying, "I screwed up when I did [X] and I really regret that, and I'm sorry" out loud to yourself while you're out for a run, or, even better, taking a shower. ("No one can hear you, no one can see you, everything is swept away by the water," he said.) 
Ultimately, approach holidays with both creativity and an eye toward tradition.
"You don't have to be stuck in the way things have always been done. If you hate particular foods, don't make them. I hope people feel agency in their ritual making," ter Kuile said. "And as much as that's true, find something to anchor in—start with something that was meaningful, or a tradition that does have value for you personally, that you do want to remember." 
In this dark and strange year, all we can really do is create comfort and joy however we can, with whatever we have—so do your best to approach it with a sense of curiosity and intention, and consider that this year's compromises might end up becoming our most treasured traditions in the future.
Rachel Miller is the author of The Art of Showing Up: How to Be There for Yourself and Your People. Follow her on Twitter.