I don't know about you, but my anxiety has been killing me recently.
Things haven't exactly been great lately. There were the horrifying election results and the news that Trump has been appointing an ever-escalating cabinet of cartoon villains to run our country. The failed repeal of an anti-trans law in North Carolina. Continued police bias and brutality towards people of color.
There's… kind of a lot to be scared of.
I'm grateful for the efforts of the Self-Care Jam creators, who all made small games in early December, with the theme of self-care. Self-care is a pretty self-explanatory concept: these are things meant to give you a moment to breathe, reflect, literally take care of yourself.
I played a bunch of the entries with a soothing cup of tea today. In no particular order, here are a few games that made me feel a little better during a rough time.
Self-Love Hotel
Self-Love Hotel, by malibudreamhaus, is a simple, sweet text adventure with colorful art. It's all about having a very chill day at the eponymous Self-Love Hotel, where time has no meaning (sort of like the Nexus) and you can treat yourself to spa time and chill with cool beings like a pink poodle or a really friendly bee.
Geography of Robots: Swampstar
Featuring really beautiful, multi-layered pixel art, Yutsi's Geography of Robots is a little vignette about environmental impact and the darkness of a future that ignores the natural world. It's a shortie, and only offers a bit in the way of interactivity, but it conveys mood and tone beautifully. It's a sad and spare little piece that punches well above its weight.
Peasant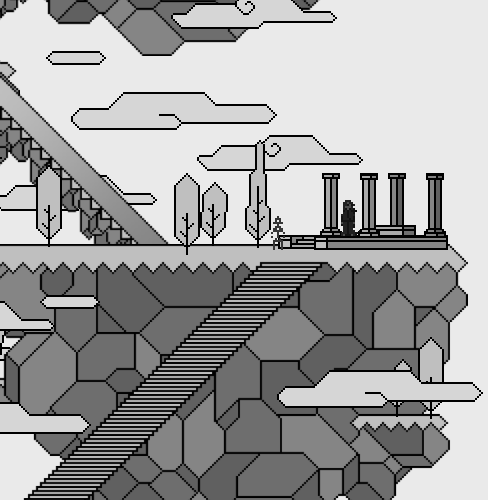 Peasant is a very spare little adventure game, by oluwa. It takes only a couple of minutes of your time, depending on how long you want to linger in its lovely pixel landscape, but it feels complete—as a meditation on quiet, humble places.
This Dungeon is So Cool
This is a funky, positive dungeon crawler by Alex Zandra Van Chestein. Instead of being mean, the monsters compliment you or let you pass (or, if they "hurt" you, they apologize.) It's one of the most robust games in the jam, with a combat system that offers a cool risk vs. reward system (you need to click on circles on each monster—smaller circles are faster to fill, but harder to target), and there is a ton of charming custom art and dialogue. Think of it as a very friendly alternative to a more traditional dungeon-crawler.
(Disclosure: Alex Zandra is a personal friend of mine.)
There are many more games, zines, and interactive vignettes, all available on the Self-Care Jam page. I'd encourage you to check them all out when you need a breather. And go ahead and thank Jessica Hayley for hosting.