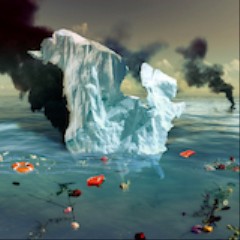 Tipping Point covers environmental justice stories about and, where possible, written by people in the communities experiencing the stark reality of our changing planet.
FAIRY CREEK, Pacheedaht Territory — Tucked deep inside British Columbia's rainforest, Many Spirit Warrior sat under a large tarp next to a fire, gently holding a thick bundle of sage with smoke billowing from one end. The Cree/Nehiyaw land defender from Peguis First Nation was demonstrating how to smudge—a rite in which people cup the cleansing smoke and wash it over their eyes, hearts, and bodies—but was interrupted with a wailing siren. 
"Cops are here! Cops are here!" Many Spirit Warrior, who uses she/they pronouns, said as they and the others shot up and made their way over to the camp's entrance, where police were waiting.
About a dozen officers from the RCMP, Canada's federal police force, had rolled up in a fleet of trucks. One was dressed in tactical gear, another held a video camera and pointed it at the camp dwellers who had approached.
"Canada is built on white supremacy!" a land defender shouted.
The police then arrested two people. A video from the Nov. 30 scene shows a land defender in handcuffs shrugging off officers before one of them hits him in the back and two officers force him to the ground. One officer then sits on him and restrains him. 
"Are you trying to break my fingers? … Ow. What the fuck?... Why are you grabbing my fingers? Stop!" the arrested man yelled. 
Days later, police said it was all part of a "routine safety check."
This is Fairy Creek, the site on Vancouver Island's southern tip, near the Juan de Fuca strait, where people are putting their bodies in the way of logging operations to protect some of Canada's oldest cedars, some more than a thousand years old. It's also now considered Canada's largest act of civil disobedience, with more than 1,200 people arrested since the spring. 
While police surrounded the group, two stood front and centre at the camp's entrance: Raven Brascoupe, 26, who is Algonquin-Anishinaabe, and 23-year-old Pacheedaht member Whale Tail Jones. Both are Two Spirit, a term that refers to a range of Indigiqueer and Indigenous-specific gender diversity, and they've been out at Fairy Creek for about seven months in an effort to stop logging company Teal Jones from cutting down the trees.
Two Spirit people have been on the front lines of some of the world's most high-profile land defence battles, including at Standing Rock, Enbridge's Line 3 pipeline in Minnesota, and now, Fairy Creek. It's about saving the planet—and themselves, several Two Spirit land defenders said: Destroying the land and water means destroying Indigenous nations and Two Spirit people. 
"To get land back is essentially to help stop the cutting down of the trees, just like [colonialism] cut down all of our ancestors," Brascoupe said. "Having that land back in itself is also a part of being Two Spirit because you're also regaining culture that was wiped out."
"Two Spirit people of all nations will have the answer to saving this planet."
These days, Fairy Creek is a lot quieter than it was in the summer, when hundreds of people gathered to protect the ancient forests. They had erected several camps, where people who weren't in the bush slept, hung around, and divided the cooking and washing up. They even traded goods—a cigarette for some candy, for example. 
But then, in August, RCMP, including several dressed in tactical gear, raided the network of camps and destroyed them. Hundreds of people ended up leaving the Fairy Creek watershed area following the devastating raids, right as the weather turned for the worse. Police had also targeted Indigenous land defenders, yanking on their braids and punching them in the face.
And yet, Brascoupe, their partner Jones, and a handful of allies are still on the ground, even as torrential rain pelts their camp almost daily. In November, there were only about 20 people staying between the two remaining camps. But it's a fight that transcends time, and it will hopefully serve generations to come, Brascoupe said. 
"We think about the seven generations behind and everything that they have fought for, and the seven generations ahead and what we need to fight for," Brascoupe said. "Our ancestors made a big fight to make sure that we're still able to be here."
The trees, also considered ancestors, many with their broad, rippled trunks that can extend up to 60 metres into the clouds, are so imposing it's hard not to feel breathless when looking up at them. One revered old-growth tree known as "grandmother tree" offers solace for Brascoupe and Jones, away from the intense front lines where they've chained themselves to trees and bridges, and faced police brutality and arrests, often during record heat or heavy rain.
"Grandmother is really close to the river. And it's really calming, because you have the water running and then just the silence. As soon as you're in her space, everything mellows out," Jones said.
Broadly, Two Spirit, or 2S, refers to an Indigenous person who's been granted masculine and feminine energies by their creator, and it's as connected to spirituality as it is to the physical world. It's also a catchall term for many Indigiqueer identities, coined in 1990 in Winnipeg, Manitoba, at a pan–North American gay and lesbian conference for Indigenous peoples. (Today, some people use "Many Spirit" instead, to move even further beyond the binary.)
"It'll be Two Spirit people of all nations that will have the answer to saving this planet," said Two Spirit Métis elder Charlotte Nolin, who lives in Winnipeg.
Historically, Two Spirit people flourished outside the rigid confines of gender as we know them today; their identities were considered gifts by many nations, and Two Spirit people often performed both masculine and feminine roles as healers, mediators, name givers, ceremony keepers, and counsellors. Some Indigenous nations have their own terms for "Two Spirit" and other genders, even recognizing up to five different gender identities. 
"I really feel the ancestors cheering me on."
But colonialism, through residential and day schools, and the Christianity they imposed on Indigenous peoples, stifled diverse Indigenous gender expression, temporarily pushing Indigenous cultures—and Two Spirit people—underground. 
Today, many Indigenous communities that once revered gender diversity are still grappling with homophobia and transphobia that colonization forced onto them, Nolin said.
"They tried to eradicate us. They tried," Nolin said. "But we're still here. We're still thriving."
So it shouldn't come as a surprise that Indigenous peoples are reclaiming their identities, including their Indigiqueer identities, in lockstep with land back and climate justice movements. 
"In the last 10 years, the Two Spirit movement has erupted like a volcano," Nolin said. 
In 2016, Indigenous water protectors and allies gathered to fight the Dakota Access pipeline. It was there that Two Spirit and Indiqueer people founded the Two Spirit camp, also known as Two Spirit Nation, at the Oceti Sakowin camp outside Standing Rock. During the battle against Enbridge's Line 3 pipeline, Camp Migizi sprung up too, a resistance camp founded and led by Taysha Martineau, a Two Spirit enrolled member of the Fond du Lac Tribe. 
"A lot of folks have a hard time identifying as a Two Spirit, because they tend to say, 'I wasn't raised in my culture, I don't know my language, I've never been to a reservation,'" Candi Brings Plenty, the founder of Two Spirit Nation camp at Standing Rock, told GoMag. "In creating the Two Spirit Nation camp, I put out a call and told folks, 'This is where you can come to learn. Your tribe, your nation is here, and you can go out and find those others at this camp.'"
Beze Gray is an Indigiqueer, Two Spirit, trans, non-binary member of Aamjiwnaang First Nation, an Anishinaabe community surrounded by Canada's toxic "chemical valley." The area is home to about 40 percent of the country's petrochemical industry. Growing up, Gray said, they could look through windows on either side of their home and see refineries through the trees. Sirens went off like clockwork every Monday, and sulfur wafting from the refineries made the air smell like eggs. 
Living in close proximity to pollution-spouting refineries inspired Gray's interest in environmental justice. "I was like, We should be talking about this, about how not only First Nations communities but a lot of people of colour are facing environmental racism," they said.
Gray first came out as Two Spirit in high school and started offering "Toxic Tours" with their sister to spread awareness about the local impacts of the petrochemical industry. All of their advocacy centred around inclusion—often missing from the green movement—with gender-neutral washrooms at events and spaces for Two Spirit and Indigiqueer people.
"It can be challenging to have this kind of identity, but it's also about reclaiming something that is old. I really feel the ancestors cheering me on," they said. 
Just last year, Gray wrote the forward to Greenpeace's report on plastic waste, highlighting how communities affected by Canada's petrochemicals industry disproportionately face respiratory illnesses and rare cancers. "As Indigenous people, our language, culture, and knowledge is based on the land. If our land is impacted, our people and our way of living is impacted as well," they wrote.
"It's really important for us to be able to have a say in these things because we used to. We used to really look after these homelands and we still do," Gray said.
The same ethos rings true for people out at Fairy Creek, where defending trees at this time of the year requires special resolve; the sun rarely shines, so everything's damp, and there's no cell service for a hundred kilometres. Police are often lurking nearby, usually in pairs and driving around in RCMP trucks.
But happy moments are constantly happening too. It was actually at Fairy Creek that Brascoupe came out as Two Spirit, all thanks to their now partner, Jones. 
Within a few weeks of Brascoupe's stay, Jones asked them to be a fire keeper—a ceremonial role that's responsible for keeping fires ablaze. "I kept asking, 'Why me?' But then I learned more about it and was like… oh, yes," Brascoupe said. "Out here you have to be Two Spirit to be a fire keeper." 
That's how Brascoupe realized they, too, are Two Spirit.
"You look at a lot of the Indigenous people that are here, and a lot of them represent as Two Spirit, and there's a reason for that," Brascoupe said. "There's a calling for the double of our spirit, and that's why I made it out here." 
Their perspective is critical to land defence: "You're able to grab hold of both of the entities you still have, like the female side: protection, mothering… The masculine side represents the fighting warrior spirit," Brascoupe said. 
"Adding those two together, you have a whole different perception that's not easily attainable to others."
—With files from Alyza Enriquez and Cassandra Giraldo. 
Follow Anya Zoledziowski on Twitter.
An episode of VICE World News' Transnational about Two Spirit land defenders will air later this month.