It's mid-July and the weather is so hot it's permeating through the nether regions of 90,000 humans and into the air. They're jammed in tight like a giant pack of cigarettes, sporting midget-gem haircuts and ready-to-wear high-street brand cottons. Some are sitting, some are standing, all of them are waiting. Then the lights dim. The waves of excitable chatter grow to a deafening roar as a ginger-haired, fairly non-descript half-man half-child takes to the stage. "White lips, pale face", he says. "Breathing in snow-flakes". This is the first of Ed Sheeran's three-night run at Wembley Stadium, imagined in my mind, but a very real thing which has sold-out and will take place this summer.
Playing your first major venue is a big deal for any band. You get a private dressing room and a rider stocked with varying selections of candy or watermelon slices. The stage is suddenly so big there's space for pyrotechnics, backing dancers, or a pneumatic riser in which the band elevate themselves to pedestal status. There's an actual gap between the crowd where a lot of bald-headed men take bottles to the head for you. It's a step up from the sort of venues where the toilets don't lock, and it used to take Britain's biggest bands years to get to that point. And if it didn't, they'd at least have one album that'd captured the attention of the music press and radio, garnering fans across the globe.
Case in point: in 1995, a year after putting out Definitely Maybe, and on tour for What's the Story Morning Glory, Oasis played one date at Earls Court. After putting out the fastest ever selling debut album, Arctic Monkeys were only booked for one date at Brixton Academy in 2006, months after playing shows at Liverpool and Norwich University, and The Strokes – who, if you choose to believe it, released the album of the decade in Is This It – played two dates at Alexandra Palace. All three were world-renowned artists, on the form of their life, finally getting a go at the big time.
Compare that to the current day – Ben Howard booking three nights at Alexandra Palace, Bombay Bicycle Club headlining Earls Court, Catfish & The Bottleman playing two nights at Brixton – and it's clear there's been a shift. Smaller bands, some with radio play – like Clean Bandit; who play Alexandra Palace – and others without – like Frank Turner; who headlined Wembley Arena – are able to book venues in a way the older, and arguably iconic patrons of music, could not.
At the mid-size venues, you don't even need an album, extensive radio play, or the heart of Britain's supermarket frequenting elite to headline. Milky Chance, Circa Waves and Jack Savoretti are playing Shepherds Bush. In the last three months Little Dragon, Mastodon, The Pretty Reckless and Hollywood Undead have all headlined Brixton and Fightstar are booked to play next month. Within their respective fanbases and scenes, they're big names, but they're hardly world renowned artists that could be an answer in the entertainment wedge of Trivial Pursuit. So why are things changing? On a base-level, music fans have switched from purchasing HMV's two-CDs-for-one offer to buying tickets. That's witnessed across the board – with bands routinely announcing tour dates and the music industry reporting a year-on-year increase in ticket sales, going up by almost 20% in 2014 to an accumulative total of £789 million. While record sales continue to drop, falling by £16 million in 2014, it's this influx of money that's meant smaller bands are increasingly able to climb the rungs with ease, starting with small venues and navigating to the brand-sponsored pyramid.
Frank Turner – who, compared with the Arctic Monkeys, transitioned from playing local pubs in Guildford to Wembley Arena with a relatively small amount of exposure – found his choice of venue governed by accessibility. "If a Wembley sized crowd want to come, that's when we play, and if not, somewhere else. I moved up to playing the arena circuit when it got to the point that I was selling out Hammersmith shows 6 months up front." Look at the listings for big venues – like Wembley Arena – and you'll spot artists you may not have heard about but are staples in their own music scene headlining – bands like Bring Me the Horizon who smashed the arena last year or symphonic metal band Nightwish, who play this coming December. Frank believes the placements of these bands are down to the shift in the music industry – from monolithic corporations governing the popularity of bands to today's landscape, where artists cultivate their own fanbase through social media presence and a wealth of updates. "It used to be you were either into what the big magazines and radio stations were into, or, maybe, you'd be part of the DIY underground. There wasn't much else, and music was more faddish and tidal as a result. Nowadays, people who are into, say, country rock can be just into that, and when the next tedious hipster fuck announces that the scene is *dead* or *irrelevant* these people continue liking the music they like for its own sake, because their access to information is not dictated by tastemakers or gatekeepers anymore."
Going to watch live-music used to be a rite of passage - an event attended by parent and offspring or a group of teenagers filled with apple-flavoured cyanide and a firm interest in music. These days, it's a little less sacred. As the increase in ticket-sales shows, going to a gig is no longer just the vocation of cool, music-centric CD collecting folk. It's like going to the cinema - a semi-frequent, night-time activity - and given the expense of popcorn and a large coke, it's often near enough the same price. The UK's annual music measuring report found that, in 2014, the revenue generated by UK music exports rose 57% to £2.2 billion – a figure propped up by Sam Smith and Ed Sheeran, who were the first Brits to achieve the Number One and Two spot in the Billboard Album Chart since Sting and Eric Clapton in 1993. What this means is that, more than ever, British music is generating more and more revenue, meaning you're going to see an increasing amount of small artists headlining large venues, as promoters feel more confident in their bookings. It's this confidence, coupled with the increase in traction generated from social media and viral hits, which means artists are able to expedite the small-to-large venue process without radio play. Banks, one of 2013's breakout stars, transitioned from playing the 500 capacity town hall in Shoreditch to Brixton Academy in less than twelve months – "a logical step and a natural progression for a genuinely hot break-out artist", according to David Levy who booked the shows. But while Banks broke online, in the physical, money-making world, her ticket-sales starkly contrast with the commercial reception of her album coupled with a distinct lack of support from radio A-lists. Her album Goddess sold 3,977 copies in its first week. Brixton holds almost 5,000 people.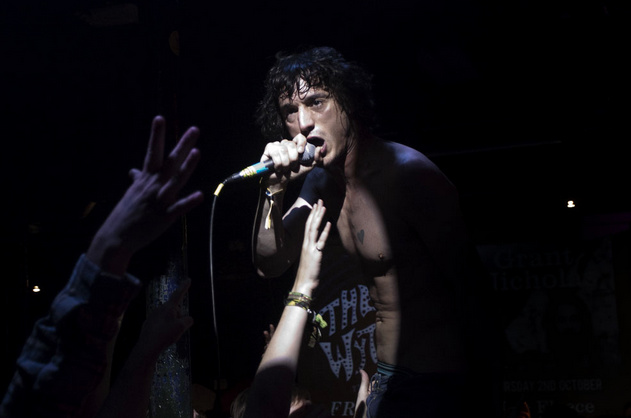 So what does this mean for music? In general it's a good thing. Music fans will increasingly look at gig listings with a puzzled look on their face, wondering how some harem of violinists with one (admittedly brilliant) song to their name are capable of headlining a venue like Alexandra Palace but it'll also mean that, when the time comes, they'll be more likely to catch their favourite band. Large scale venues have more tickets available, meaning that fans will be less likely to miss out and have to enter the murky world of secondary ticketing.
The widespread propagation of small bands playing big venues is yet another example of how the music industry is changing - shifting power from publications and media outlets to the artists themselves. Of course, the flipside is that the increase in tour dates means bands now have to work harder for their money. The Arctic Monkeys played around 90 shows last year, so you can bet that smaller bands with less money are going to be playing even more. Just look at Fat White Family - for whom a week seems to rarely go by where they aren't playing some piss-soaked haven. But I guess that's the way it has to be. You can either look to innovative ways of promoting a record - like Nipsey Hussle selling 150 copies of his album for $150 or PJ Harvey charging fans to watch her record inside a glass box - or you can go on the road, cultivate a fan-base, and hope to climb the ladder until you're headlining a 5,000+ capacity venue. I guess the music industry has become more organic in that way.
"Out of that", Frank Turner says, "springs a new consideration for live music for everyone, and the culture of going to see bands has exploded. Certainly there are more shows on per week now in any given UK city than there was 25 years ago." This is great - because live music is great. Yet, with all of that said - it's still unfathomable as to why anyone would want to watch Catfish and the Bottlemen.
You can find Ryan Bassil on Twitter: @RyanBassil