It's a Thursday night in San Diego, and the Observatory concert venue has become the site for a dark ceremony. In the 90-year-old theater, a sold-out crowd cheers to a performance by Peter Murphy and David J, founders of the British goth-rock band Bauhaus. The audience is dressed in the elegant attire of the midnight faithful: Leather jackets, red velvet, fedoras, dyed hair, tattoos, and, above all, lots of black. Cameraphones come out when the band launches into a moody version of "Bela Lugosi's Dead," their iconic, 9-minute paean to Count Dracula from 1979. Soon hundreds of voices are growing in power, fans joining in a slow, ghostly chant as Murphy raises his hands above his head and drizzles himself in rose petals.
The show comes to an end around 11 p.m., but the night is still young, and down the street there's an after-party going on at a club called Bar Pink. As DJs Vaughn Avakian and Camilla Robina spin deep cuts by bands like Alien Sex Fiend and Cabaret Voltaire, a tall man on the dancefloor bends and twists around like a mummy trying to escape from his bandages.
San Diego would seem to the casual observer like the least goth place on earth. A sleepy, laid-back Southern California city, it's chock full of extremely un-goth things—picturesque beaches, craft-beer breweries, palm trees. Disgusting! There's nothing dark or melancholic about iconic San Diego landmarks like Ron Burgundy or the San Diego Zoo. As for the weather, well, it's sunny year-round, which should be a major red flag for any vampire looking to avoid excruciating skin-melt like Gitano Dragonetti in Blade.
Yet the happiest places always have a dark side, and that's no different in San Diego. I grew up in the city, and when I look back, I realize I was constantly surrounded by goth people and places. My elementary school sat next to a park with a nice green lawn that used to be a cemetery and still contains hundreds of unmarked graves. As a teenager, I lived in an anonymous suburb full of long, winding sidewalks where nobody ever walked—the perfect venue for pondering the meaninglessness of life. I think of these places when I call up David J (real name: David John Haskins), the bassist of Bauhaus, who has lived in San Diego's North County for 18 years. Here's how he defines "goth":
"I think at its core it's a kind of romantic movement. It's the romance of sadness. It's about things that are waning and dying, and in that process are beautiful," Haskins tells me. "It's music for outsiders. And it's music for people, they don't want to go along with happy-happy mediocrity. Quite the opposite. They want to be real and authentic. I mean, it's kind of ironic because most goths are happy, but they're happy in this melancholic state. It's a kind of exquisite state of sadness, you know?"
A longing for something different, something real—yes, that's a very San Diego feeling.
Perhaps it's no surprise, then, that the city has long been home to thriving goth and goth-adjacent scenes. There have been dozens of new-wave and goth club nights in the city since the 1980s and early '90s, and today pioneering DJs like Bryan Pollard still put on events. Meanwhile the punk scene has always had something of a goth streak, most notably with the classic '90s bands Antioch Arrow and The Crimson Curse, who combined chaotic riffs with moody keyboards and glammy stage outfits.
"As long as I've lived in San Diego, there's always been dark bands. And I think that's kind of a natural byproduct of you living in a sunny place where everybody's chill and everybody's stoked all the time," says Jeff Terich, a San Diego music journalist who plays with his wife Candice Renee in the goth-rock duo Blood Ponies. "You kinda crave something darker and weirder. It's like Buffy the Vampire Slayer, right? Sunnydale is this perfect little community, but there's a Hellmouth underneath it."
These days, San Diego seems to be more goth than ever before. Yes, the sun still shines bright. But a long-simmering underground of dancefloor abandon and fetish fashion has burst to the surface, in the form of a seemingly endless array of goth-themed club nights and concerts. There's the deathrock-focused Hemlock, held every month at Bar Pink. There's Blue Mondays, a showcase at Blonde, a bar that sits at the bottom of a long, winding road in an area called Middletown. There's Rumors and Corrosion, two new-wave, darkwave and industrial events put on at Manhattan Bar in Chula Vista, a suburb near the border with Mexico.
And of course there's Club Sabbat, the longest-running and most popular goth night in the city. Sabbat was started in 1998 by the promoter Linda Estep. In January 2016, it came under the direction of Estep's friend Robin Roth, a radio and club DJ and Sabbat regular. Avakian, a resident DJ who spins alongside Roth, Liquid Grey, Diskdroid, Drew Harlander and Severin, says the club in part has become a kind of meeting of the minds between older and younger generations of local goths.
"Some young kids come and they'll ask me for songs that were made before they were born. A really young girl came up to me and asked for a DAF song. I was like, 'Awesome,'" Avakian says. "That's the thing I think makes Sabbat different. It's way more generational. There's reverence for the older people that are coming."
Though the venue has changed over the years, Sabbat has always been a crucial space for the city's twilit underground. At the club, patrons will show up dressed to the nines in elaborate outfits of latex, corsets, lace, mesh, and more. The night's name (pronounced "SAB-at," like sabbath, though many also say "SabBOT) comes from a seasonal festival from Pagan tradition; people of all gender-identifications, sexual orientations, ages and ethnic backgrounds are welcome to join in this ritual of fashion and music.
"It's Halloween every night, and that's a beautiful thing. Especially for people who don't do it that often," says Brent Petty, a professional tailor who's been going to Sabbat for 18 years. "It's like the first time a guy goes out dressed in heels—you are thrilled. It's just the most exciting thing in the world. It's a chance to do what you want to do, and a place that's very accepting and open to all."
Speaking with members of the goth scene in San Diego, to Haskin's point, I'm struck by how happy everyone seems. Estep describes Sabbat as a community where people can be themselves.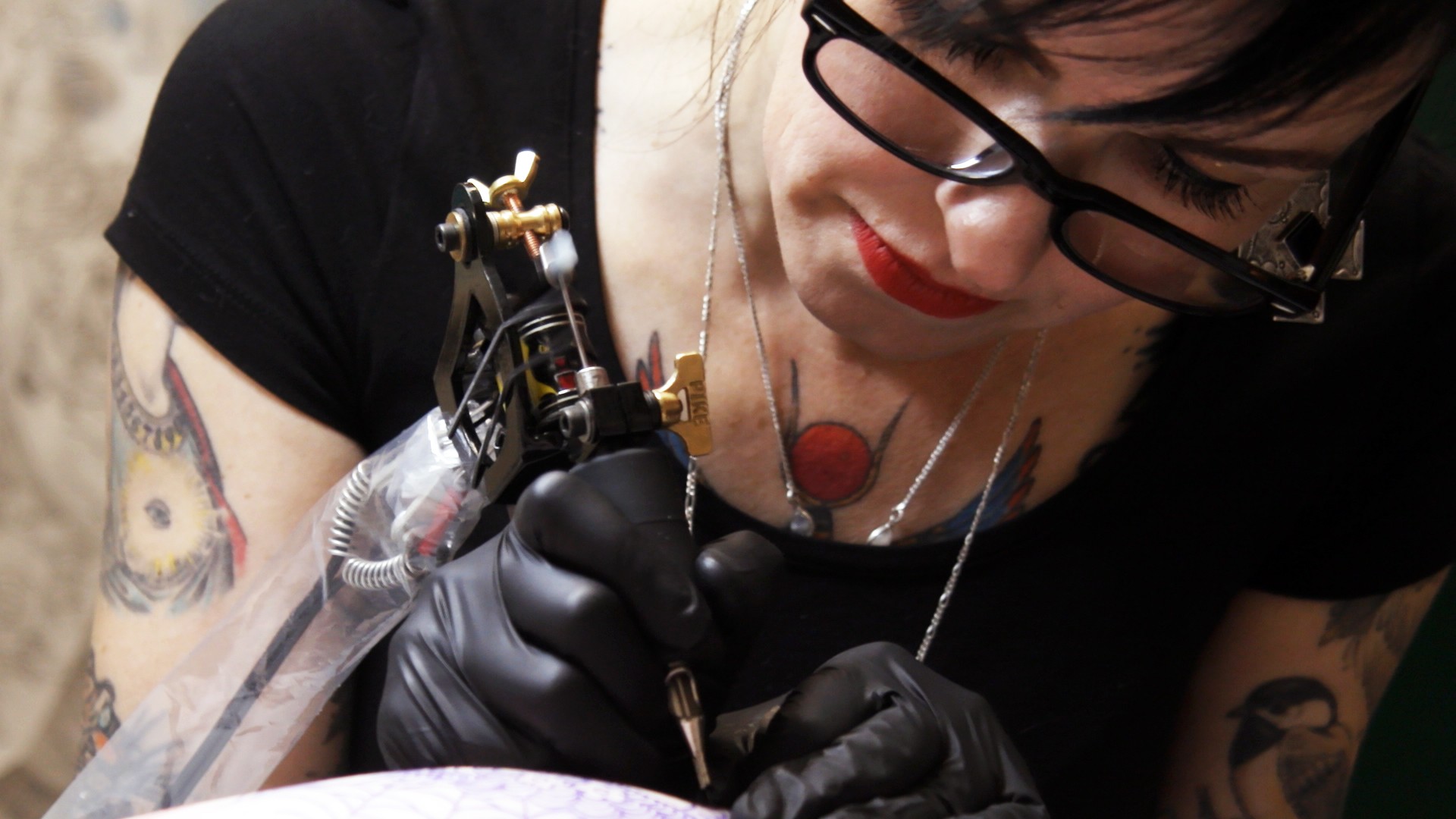 "A lot of people think it's very melancholy. That's a small part, but to me it's the music, art and fashion," she tells me when I meet her and Roth at Lestat's, a 24-hour coffee shop named after the protagonist of Anne Rice's The Vampire Chronicles. We sit on Victorian-style upholstered sofas and chairs beneath a glass chandelier as we sip iced coffee and look through photo albums of Sabbat parties past. "I think we're really gentle and kind. There's a lot of smartness in it too. There's everything from doctors, lawyers, teachers that come [to Sabbat]. It's good because maybe they can't be like that during the week, but they can when it comes time. And then there's other people, like me or Robin, we're in the scene, we can dress however we want all the time. We're walking advertisements."
Getting people to come out to any show is a challenge in San Diego, and it makes things even harder when there's two events with a similar theme booked on the same night. But the turnout at both clubs is strong. At Space, the crowd is young and decked out in black; I notice less of a fetish-y look and more metal T-shirts. After a while, I hitch a ride with Avakian and we head to the Whistle Stop, where the audience is just as enthusiastic about the music but notably less goth, more composed of weekend regulars and people from the indie music scene.
It's a promising sign that two goth nights could maintain such strong momentum side by side. Yet it also makes you wonder: Could San Diego become too goth? It's certainly possible. Passing fads come and go all the time; even vampires die. Still, I get the impression that even a city as sunny as this will always have some darkness at its core. Forty years after "Bela Lugosi's Dead," goth genres and aesthetics have become essentially ingrained in the mainstream. The old critiques about poseur vampires and "mall goths" shopping at Hot Topic and drinking Clamato don't seem to be much of a concern anymore. By all accounts, the veteran goths of San Diego welcome an infusion of new blood, eager to maintain their midnight rituals for years to come.
"There's all these nights happening, so there's crossover going on," says Robin Roth of Sabbat. "People going to Hemlock, they'll check out Sabbat. And people coming to Sabbat will go over here. It's a lot of ebb and flow, and that's what's keeping the scene thriving. It's a win-win for everybody."
"We're not going to be doing this forever," Estep adds. "New people have to come, keep it alive."