This article is supported by Yoobee School of Design.
Though the fight for gender parity is happening in many industries, few have experienced as much controversy over gender as game development. In the last five years, the gender gap of gamers has closed considerably—with women now representing 45 percent of gamers. But the industry itself is still very much male-dominated. According to recent surveys, 74 percent of people working in game development are men.
The inclusion of women as developers—and in games themselves—has often raised anger in a vocal minority of nerd-dom. Most infamously, we saw the Gamergate controversy in 2014—and even in the past couple of weeks, there was outrage over the inclusion of a female soldier in a new World War 2 game.
But gender weighs heavy on the minds of the development community. Research by the International Game Developers Association found that of the factors developers think influence negative perceptions of the game industry, 57 percent said sexism among gamers, 55 percent said sexism in games and 39 percent said sexism in the workforce.
As with many industries, a major challenge for reaching gender parity is removing the male-centric perception of that field so that young woman see it as a potential career for them. For this to be possible, there needs to be more visibility of female developers so that young woman can be inspired—after all, you can't be, what you can't see.
The Girls Behind the Games movement is doing just that, by seeking to make women in game development visible to each other and to aspiring young women. The movement started right here in New Zealand, by the team at game development studio Runaway Play in Dunedin.
They started the campaign small, with a hashtag and website to highlight the women in their own team leading up to International Women's Day—but it quickly took off.
Soon, some of the biggest game companies in the world had picked up the Girls Behind the Games hashtag, including Bioware, Riot Games and Guerilla Games.
The campaign attracted international and national coverage – as well as a message of support from Prime Minister Jacinda Ardern.
Runaway Play is one of the few studios in the world that has near gender parity. Lisa Blakie is the community manager and a narrative designer at Runaway Play, as well as one of the founders of the campaign, which she says, "took on a life of its own and became a global conversation," Lisa says.
"People still use it and go there to check out the cool work that women are doing."
The gaming industry is still young and discovering its full potential for interactive storytelling and experiences. Having been male-dominated for its first half a century, we are only just now discovering how the perspective of women will evolve the medium.
"The games that you make as a result of having a diverse company is an inherent part of that [discovery]," Lisa says. "Runaway is a great example of that—we make nurturing games for mobile which now has a huge women demographic."
Lisa started at Runaway Play in 2015. Seeing an advertisement on the studio's website, she took a chance—thinking it would just be a good opportunity to practise her application skills—and to her surprise, she got the job. As well as a great community manager, Lisa quickly proved herself as a creative asset when she joined the company's Game Jam team—a competition where you create a game within a limited time frame.
From there, she became a narrative designer on the studio's latest project—a VR experience based on their popular mobile game about rainforest ecology, Flutter. Flutter VR is full of moments Lisa is proud of, but she says the aspect of the project she is most proud of is the friendship progression she designed between the player and Capybara within the world.
"I wanted this to feel like a natural and meaningful progression, which builds a respect for this animal and for nature."
Flutter VR went on to win the Game That Entranced Award at the 2018 Play by Play game awards. "This award praised games that let you get lost in a world and feel relaxed and chilled—I was thrilled, because those were out design pillars," Lisa says. "That was a great moment."
The Play by Play awards were created by another of the talented women working in NZ's development industry, Lucy Morris.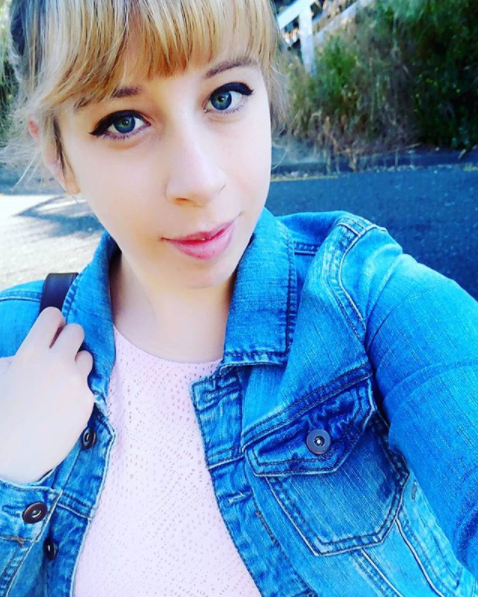 Lucy is a 'jack of all trades' in the industry, having done freelance game art, as well as being a level designer on the 2017 game Into the Dead 2. Most recently, she worked as the senior user interface designer at Pik Pok, one of New Zealand's biggest game developers.
She has worked in the game development industry internationally and locally, and co-founded the Play by Play Festival in 2016 with Peter and Robert Curry. They saw New Zealand was lacking the kind of development festivals that were appearing overseas. So, they created the festival, and subsequent awards, to support New Zealand's burgeoning industry and talent.
In its three years, the festival has placed an emphasis on inclusivity, with the festival and awards represented by game developers of all genders and backgrounds. The festival also celebrates this diversity, with awards given to projects which have a powerful message that often touch on this topics. For instance, the winner of this award in 2018 was Sav Ferguson for his game exploring the experience of being a young trans person.
"We think play should be for everyone—no matter what your age, gender or religion," Lucy says.
In fact, the majority of the applicants that spoke at this year's Play by Play festival were women, Lucy says, which only goes to show the growing role women are having in NZ's game development industry.
Though local female developers are becoming bastions for change within the global industry, New Zealand still has a big challenge in front of it in achieving gender parity—with a survey last year finding that only 17 percent of NZ's development workforce were women. Worldwide, the percentage of women working in the game development industry has stagnated at around 22 percent over recent years. One of the answers could be shifting women sideways from other genres of software development, and into gaming—like senior programmer at Pik Pok, Megan Bowra-Dean.
Megan had been a software application programmer but says she didn't get the challenge she wanted in the software sector.
She started casually attending game meet-ups and conferences. Feeling inspired, she tried her luck applying at Pik Pok—and got the job.
Though there are still fewer women than men throughout the game development industry, Megan says this is particularly true of technical roles such as programming.
"In games' programming, there is a perception that it is male-dominated, and so that becomes the reality."
Megan says the team within Pik Pok are trying to correct this imbalance. "When I started at Pik Pok, I didn't have any experience in this industry. So, despite my years of experience as a programmer I was hired as a mid-level programmer instead of senior. But that was re-evaluated after six months and I was promoted to senior."
Developer Maru Nihoniho is a pioneer of the industry, starting her own studio, Metia Interactive, in 2003. Maru shipped her first game, Cube, for PSP in 2007.
Maru Nihoniho didn't think of the industry as gendered, until she started attending international gaming conferences with thousands of men, and very few woman.
Growing up playing in arcades with her girlfriends in Christchurch Maru had never considered games as gendered. Even when she first entered the industry she didn't think of games as a male dominated—that is, until she began to attend international game conferences to promote Metia in the wider industry.
"I walked into these halls with thousands of people and realised that I was one of the few woman," Maru says. "I thought, 'where are all the girls at?'"Since releasing Cube, Maru has gone on to make many more titles, but she says she is most proud of the game Sparx—an e-therapy tool that helps young people deal with depression and stress, that was made in collaboration with the University of Auckland as part of the Prime Minister's Youth Mental Health Project. Sparx is a role-playing game, where you are tasked with combating 'The Gloom'. Throughout your journey, the characters in the world subtlety discuss issues around depression and teaches them ways of dealing with these feelings. The game won a United Nations World Summit Award in 2011 and a UNESCO Netexplo award in 2013.
"The feedback from people who played Sparx was overwhelmingly positive," Maru says. "It is amazing to hear from people how it has helped them."
Because she didn't think of games as gendered, Maru says she never questioned whether she, as a woman, should get into gaming. When confronted with male dominance in the industry, Maru says she really had to reassure herself and focus on her goals in order to stay involved. The male-centric view of the industry is something that needs to be challenged in the minds of young woman, Maru says.
"It all starts at home and at school. It great to see this education coming into high schools but it really needs to start much younger. It is a challenge to get girls into tech in general—so we need to be promoting pathways and careers to young women early."