Image: Scott Carr
This article originally appeared on VICE UK. While The Simpsons has had some pretty out there "couch gags" in recent years, thanks to the likes of Don Hertzfeldt and Michel Socha, the episodes themselves remain pedestrian. Most people agree that there hasn't been more than one good episode in a season since the mid 2000s
There is, though, a lot of Springfield-related creativity happening—it's just that none of it is coming from the show's creators. Rather, there are artists and publishers bringing their own imitable style to the Simpson family through a whole array of self-published publications. These range from the cult Bartkira manga parody, to sprawling exhibition books such as the Spanish ¡Oh, Chaval!.
For a special edition of Ink Spots, VICE's irregular look into the world of zines and independent publishers, we chatted with a few of these global talents, as well as Tim Bell, who's been collecting as many Simpsons-inspired zines as he can get his hands on. Bell also runs Manchester-based zine showcase Zine Tent, and in a past life took care of the esteemed Animated Review.
Both sites have showcased the unique range of Simpsons zines being made out there, and now Bell has got in on the act himself with his website called Homage to Homer, a collection of real-life fancy dress costumes in honor of the big man himself.
VICE: How big is your collection of Simpsons zines so far?
Tim Bell: I've worked in publishing as a buyer for over a decade, so I've always had an interest in art books, particularly the more obscure self-published stuff. I've amassed a collection of over 100 Simpsons zines, and despite their fixed subject matter, the variety of creative output is remarkable. Most of the zines are bootleg comics or illustrative, but I also have Simpsons publications with a focus on analytical review, mental health, graffiti, photography, tattoos, and poetry.
How did you find the very eerie photos that make up Homage to Homer?
One of the ways I discover zines to add to my collection is by trawling various hashtags on Instagram. I find a lot of cosplay that way, especially of Homer, and I started collecting the images for my own amusement.
What fascinates you most about the world of Simpsons zines?
What I find most interesting with The Simpsons as a subject matter is its mass appeal. There are tons of artists in their mid 30s who grew up with the show, and as it's still running after all these years there is an almost endless wave of younger artists following suit all over the world.
One example of this new wave is the US artist and dancer Kaleena Chung, whose List of Bartisms is both a graphic and typographic delight. The zine breaks down the history, catchphrases, and street art of Bart Simpson, a.k.a the one and only El Barto.
A lot of Simpsons zines remind me of the show's early years, when the art was a bit crude and raw. Did that sort of nostalgia inspire List of Bartisms?
Kaleena Chung: I've always loved living and returning to my memories, so when I would reflect back on The Simpsons, the nostalgia became an obsession. It became a matter of utilizing my nostalgia and re-appropriating it to fit my current psyche. Hip-hop culture, graphic design, typography, music, and The Simpsons are the epitome of my soul and my art.
Did you grow up watching The Simpsons?
It was one of the biggest parts of my childhood, and I didn't realize that until I was older. I still remember the feeling of sitting right in front of the television screen as if it was yesterday: on the green carpet in the basement living room of my old childhood house, humming along to the infamous jingle every single night at 6 PM. It's not just the show itself; it's all the old memories and feelings that are now engraved into the show that have become the essence of The Simpsons to me.
Do you enjoy anything connected to the world of the show, besides the cartoon itself?
I love collecting merchandise, patches, and accessories of people's bootleg Simpsons art, and seeing their own take on the show. It's insane how the iconic yellow of the characters is so instantaneously recognizable. Everyone has unique memories and associations with the show in their own personal lives, and it shows through their art. That's what I love about its abilities to become such an important part of everyone's childhood memories.
Moving a little closer to the town of Springfield, we find The City of New York vs. Hammer Sonpsims by US artist Scott Carr. His comic is a revisionist take on its semi-namesake, the 1997 classic "The City of New York vs. Homer Simpson."
VICE: I know this episode is famous—even infamous—for being all about Homer having his car clamped outside the World Trade Center. Is that what drew you to taking on this particular story?
Scott Carr: It was pulled off the air temporarily after 9/11 because of its depiction of the World Trade Center, so it's always going to be eerie looking back. I live in NYC, so I just wanted to make a very crude and absurd version of that episode—almost like somebody was drunk and tried to draw the episode while watching it. I love drawing Simpsons stuff where everything is sloppy, angry, and miserable.
What do you think is inspiring so many artists at the moment to filter the show through their own vision?
I think the show's fan art has become its own sub-genre recently because a lot of artists like myself probably learned to draw from copying the characters when we were younger, and now have progressed into the art world. These characters are hardwired into our brains, and it feels natural to use them.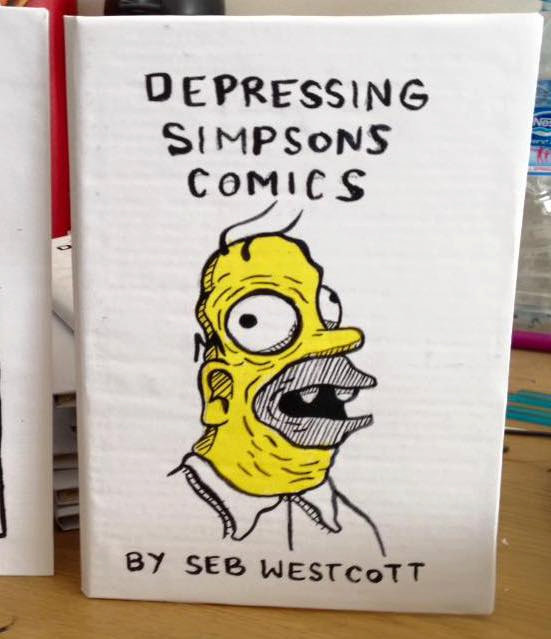 While Carr wants to draw something angry and miserable, the Brighton-based Seb Westcott just wants to produce something miserable—full stop. The end result is Depressing Simpsons, which is a candid look at the troubled inner lives of our favorite cartoon characters.
VICE: What inspired Depressing Simpsons? It feels very personal.
Seb Westcott: I like the idea of The Simpsons as a pop-culture touchstone that everyone knows. Even if someone had never watched an episode of the show in their life, they could tell you that Homer Simpson is bald and says "D'oh." So when I sat down to make a series of comics about stuff that makes me sad, I used The Simpsons as a filter to cut what would otherwise be a very bleak series of unanswered questions and made something that people found amusing and palatable for the most part. Maybe I was hiding behind that juxtaposition of recognizable beloved characters rather than talking openly and honestly about things.
What does the show mean to you personally?
The Simpsons has meant different things to me throughout my life. As a kid, it was a show that I would watch with my brother, and I think it made me feel like I was watching a show with grown-up ideas, but which was still fun and had Bart Simpson's goofy exploits. Now, as a pretentious adult who is in their early to mid 20s, I mostly watch it on my own. I like the episodes around season eight, when the show became really introspective and started analyzing and deconstructing itself, which is something I only really started to pick up on in the past couple of years.
Can you choose your all-time favorite episode?
My favorite is "Hurricane Neddy" from season eight. The scene where he finally snaps and is brutally honest to his friends and family before driving himself to the psychiatric hospital is like my favorite scene of all time.
On the continental side of the Simpsons fan world is Parisian artist Ermsy, whose "Just Say 'Yes' to Saying 'No' to Saying 'Yes' to Soft Drugs" is an example of a more extreme vision being applied to Springfield's finest through print. I asked Ermsy about his hyper and elastic style, and how the show has inspired his work.
VICE: What inspires you to dice up or stretch out these characters, like they're fresh spaghetti or something?
Ermsy: I just like playing with Simpsons characters from an aesthetic point of view. They're easy to manipulate, and everyone knows them and understands their universe, their relationships, and how it all fits together. There's a ton of scope for doing all kinds of stuff just within those boundaries.
For me, growing up, The Simpsons was the highlight during family dinner, bringing laughs while we ate. What does the show mean to you?
In the beginning, for maybe two or three years, it was something my mates with satellite dishes watched and told me how good it was. Then I'd see the characters on bootleg clothing at the markets. Bart on a skateboard and running around with a catapult, or spraying tags—pictures of his yellow family. I just felt it was something cool, even though I'd not really seen it at the very beginning.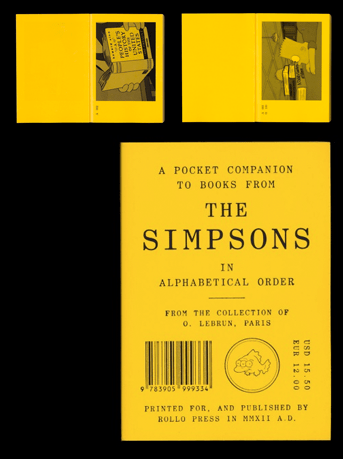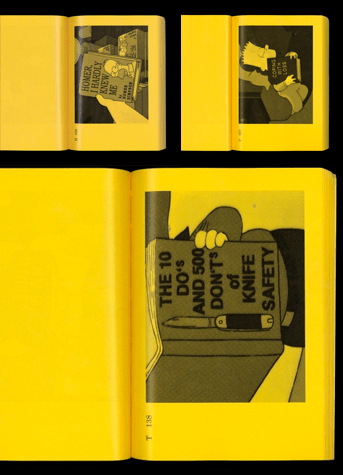 Also based in Paris is Olivier Lebrun, who has tackled the show through two sell-out volumes of his Pocket Companion to Books from The Simpsons on Rollo Press, an immaculate collection of the various fake book covers featured on the show.
VICE: Your book is different from other bootleg material, as it's a collection of screenshots, and yet the book itself is a little work of art. Do you see yourself more as an artist or a designer?
Olivier Lebrun: I'm a graphic designer, and I mostly design books. Since I set up my own studio in 2010, I've seen a lot of books dealing with the topic of "books on books," presenting artistic practices when it comes to publishing itself.
So the Companion is a reaction to that?
The idea was to question the relationship between "high" culture and "low" culture. It was a kind of irony, making a link between Roland Barthes and Bart Simpson, and working on it like I do with my own design work. I regularly collect content, index it, and find interesting ways to design and then publish a book from the content. I also heard Matt Groening was a fake Simpsons goodie collector, so this motivated me to do the book as a bootleg, I guess—and one reader got my book signed by him at the LA Book Fair.
The creators interviewed—and many more—are showcased on a regular basis through the Zine Tent Instagram. Almost all of the zines are self-published and sold out, so your best bet is to follow the creators and jump on any new reprints.
Follow Giacomo Lee on Twitter.