Screenshots courtesy of Psyonix
Rocket League's competitive star may be on the rise, with surging viewership for the Rocket League Championship Series (RLCS) finals and high-profile X Games and DreamHack tournaments this summer—but it's still a relatively small esport for now. Players, teams, and their organizations still need every moment they can get in the spotlight. Given that, you might expect that players would be thrilled about the prospect of a $100,000 tournament from NBC Sports, which will air on NBCSN and regional networks in August.
Surprise: Many of Rocket League's top pros actually hate it.
"I'm highly against it," says Nicolai "Snaski" Andersen, captain of The Leftovers. "Basically, like every other pro, we feel like it's splitting up the scene, and also 2v2 is less skillful in my opinion, compared to 3v3.
What's the big deal? Snaski pinpointed the most divisive issue: NBC's Universal Open Rocket League uses the car-soccer game's 2v2 format, rather than the "Standard" 3v3 mode used for nearly every major competitive tournament to date. While there's no real change in play mechanics, losing one player per squad affects how teammates interact with each other and opponents, and both how many and what kinds of goals are typically scored.
Changing the established format of a game for a large, televised opportunity recalls DirecTV's Championship Gaming Series that ran from 2007-08. It meddled with Counter-Strike's competitive format, pushing players off v1.6 of the standard game and exclusively onto Counter-Strike Source, which then hobbled their chances of going back to v1.6 at a high level. It was a flashy misfire, and an infamous example of esports going mainstream in the wrong way.
The Universal Open's shift isn't anywhere near that severe, plus it's not the only big tournament in town—the flagship, 3v3 RLCS begins qualifiers this month for the newly-expanded fourth season. Still, it's a huge opportunity for the game, and a chance for players and their organizations to gain some exposure to a wider viewing audience.
Yet when I spoke with more than 15 professional players at the FACEIT X Games Rocket League Invitational in Minneapolis last month, I couldn't find a single enthusiastic opinion in favor of the Universal Open. Almost all of them will still play in it, whether due to the large prize pool or prodding from their respective organizations, but few are actually excited by the prospect.
"I'd rather have it be 3v3, of course, because it is the competitive format for Rocket League. It would be like announcing a Counter-Strike: Global Offensive tournament where it's 4v4 or 3v3. It's kind of weird," says Remco "Remkoe" den Boer, captain of Team EnVyUs, whose roster won the RLCS championship in June. "It's not a disaster or anything, but I'm sure every single pro would rather have it be 3v3."
Asked if there is any upside to NBC choosing 2v2 over the standard 3v3 mode, Garrett "GarrettG" Gordon of the X Games-winning team NRG replies, "Nothing." He's not a fan.
Ultimately, there's no difference in mechanics between the 3v3 and 2v2 modes. The cars still control the same, the ball bounces as it always does, and every competitive arena has the same dimensions. But with one less car on each side of the ball, pairs must be more guarded and play defensively, as there's no third player in the rotation to mop up mistakes in the backfield. In other words, there's a lot less room for error.
"Anyone can become good mechanically and abuse mistakes," suggests Snaski, "whereas 3v3 is more about creating opportunities, and outplaying and outsmarting the opponent."
On the upside, we may see more goals as a result of 50-50 matchups—that is, two players colliding upon the ball at the same time to try and send it in an opportune direction. And with two fewer cars overall, players have more room on the pitch to maintain possession unchallenged and potentially slam in highlight reel-worthy solo shots.
"If anything barely misses or is slightly off, you can get countered very easily. It's just so irritating," says Emiliano "Sizz" Benny, player for Rogue, about 2v2 play. His teammate, Isaac "Turtle" App, chimes in: "If you're playing 2v2, there are so many goals that are just the easiest things. It shouldn't even be a goal, because there's always a third man rotating back in threes."
On the other hand, this practically makes the case for 2v2: Less chaos on the pitch, more scoring, and bigger opportunities for individual achievement? Why wouldn't NBC want to televise that?
When it comes to putting the best-possible product on the pitch for viewers, however, the players' concerns are valid. Standard 3v3 is a more skillful game that requires precise passing and expert defensive rotations for success. Because of the shift away from that and towards avoiding mistakes, multiple players told me that they expect a lot of upsets—and anticipate seeing players for top organizations beaten by no-name teams. Players who spend all of their time on the 2v2 playlist at home might be well-prepared to take games off of pro-level stars.
"The only positive is that it's anybody's game," admits Turtle. "If somebody's a World Champion, he could still get thrown out by some bubble players—which is always fun to watch because underdogs can come back. But I guess that just proves even more than it should be 3v3."
Article continues below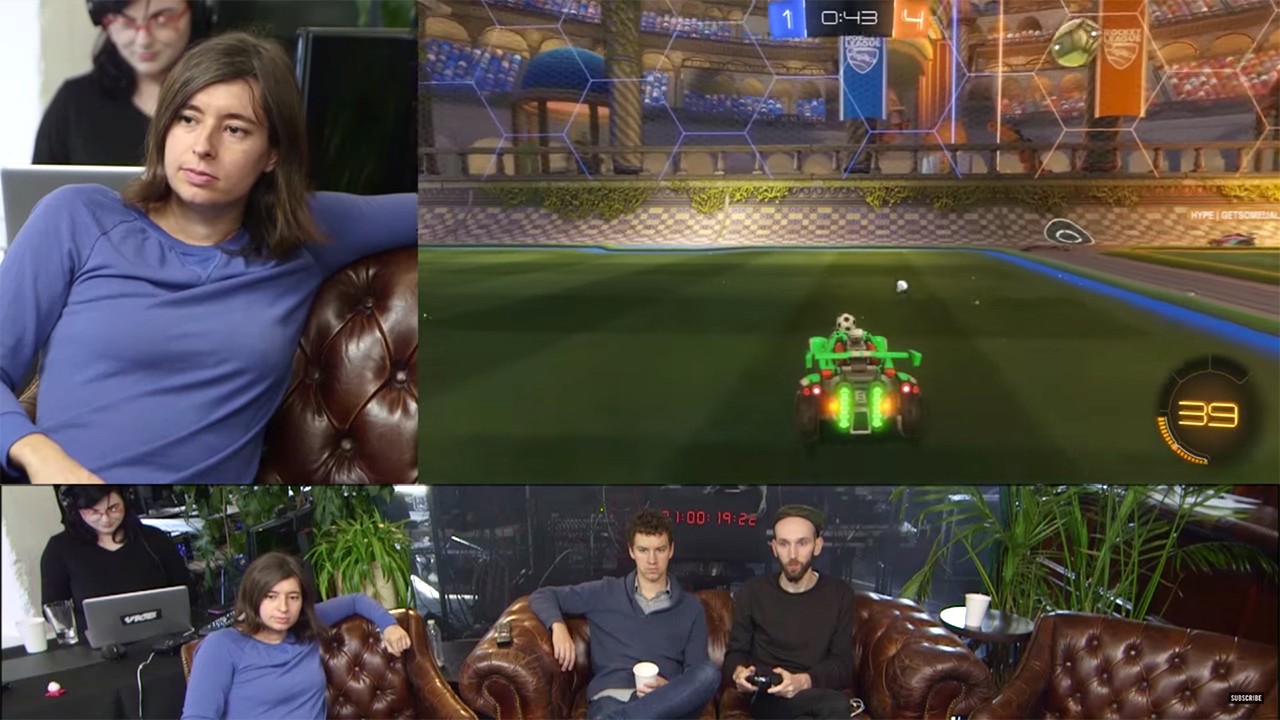 Does it, though? While the players' gripes about the level of team play make sense, some pros simply seem annoyed that the Universal Open's structure doesn't perfectly fit their current team arrangements and skill sets. True, these players have helped shape competitive Rocket League and brought in viewers and organizations with their skill and tenacity, but a lone 2v2 tournament doesn't undermine or unravel all of their hard work.
Forcing three-player teams to pare down for the 2v2 format is certainly awkward, and could be painful for the odd man out. Pierre "Turbopolsa" Silfver of Gale Force Esports says, "I think it's quite bad of Psyonix and NBC to do 2v2 instead of 3v3, because it's splitting the teams—a team is 3v3, not 2v2. So there's always one left behind."
But in this case, he is the player left behind and forced to look outside of his organization for a partner, since his Gale Force teammates are pairing up for the Universal Open. It may be a case of sour grapes—and fair enough, given his situation. However, it seems unlikely that any organization will shun or boycott the tournament and miss out on the chance for a valuable TV spotlight, not to mention a share of the prize pool. In fact, Remkoe says that EnVyUs "got super excited" about the tournament and wants them to play. Why wouldn't they?
Besides, played at a high enough level, any variety of Rocket League can be a blast to watch—and that even includes the more tactical 1v1 (watch The Twelve Titans) and the wild Dropshot mode (see last season's RLCS Midseason Mayhem), which turns the destructible floor into the goal. It's the same for 2v2 play, as the finals of Chicago's recent Mad City LAN attest, or even casual Twitch stream play between some of Europe's top pros (below).
If it's not what pro players and hardcore fans consider to be best-possible arrangement of Rocket League, will the casual TV viewer care—or even know—if they're still getting a pretty great version of the game? Besides, we should expect the world's top players to be able to adapt their battle-hardened mechanics to 2v2 play, even if it tweaks their usual tactics and tendencies.
As Remkoe suggested earlier, the Universal Open Rocket League is not a disaster. It's an opportunity, and there's no reason to believe that it will be a Championship Gaming Series-like debacle. NBC's tournament may not be exactly what the established pros may want, but the upside for the sport and incentive for players and organizations is too great to ignore.
Based on what I've seen so far from the qualifiers, there's little chance of the Universal Open being boring—especially since weaker teams will be purged before the regionals and finals hit TV in August. We should still get a fine show, even if the 2v2 play ends up being slightly less spectacular than what we see in the RLCS. And who knows? Maybe it'll convince some pros that the competitive scene is wide enough to support more than one format.