Photo by Matthias Hangst/Getty Images
At the Olympics, feats of greatness aren't always measured in medals won. Take, for example, the 17-year-old kid who overslept after a night of Netflix, lost his coat, and still outperformed every other slopestyle snowboarder. Or the Norwegian curling team's amazing pants, which have not only elevated fashion in the sport, but inspired their own Facebook page. They're the moments that we mere mortals can see ourselves in, and on Friday, that extended to the Mexican cross-country skier who finished dead last in his race.
According to the Huffington Post, first-time Olympian German Madrazo had never worn a pair of damn skis until last year, when the Ironman athlete decided to throw caution to the wind and try to make it as a cross-country skier. He trained all year long with a few other novices, like that glistening Tongan flag bearer, and miraculously qualified for the 2018 games.
When it came time to race in Pyeongchang, Madrazo did his best, which, to be honest, was not very good. He wound up finishing about 26 minutes behind the gold medal-winner, but that didn't stop him from celebrating his dead-last finish in style—grabbing a Mexican flag from someone on the sidelines, hoisting it above his head, and striding toward the finish line like a regular Jean-Claude Killy, grinning from ear to ear.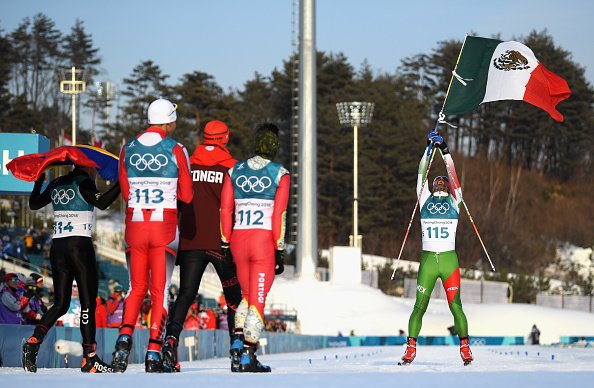 On the other side, skiers from other not particularly cold countries like Colombia, Tonga, Morocco, and Portugal—who'd all finished at the very back of the pack—cheered Madrazo on, running out to greet him as he finished the race. They even lifted him into the air once he'd finally made it, like the true champion that he is.
The whole thing was, in two words, fucking awesome. Madrazo may not have been the best skier out there—in fact, he was quantifiably the worst—but he finished like a champ, just happy as hell to be there.
Sign up for our newsletter to get the best of VICE delivered to your inbox daily.
Follow Drew Schwartz on Twitter.
Related: Hockey and the Winter Olympics