Ladies, can't we all just get along? Welp, no, because there is nothing greater than a female rap beef for rubber-necking entertainment. The same reason when you see men scuffling in the street they generally look like school boys, whereas when a cat fight breaks out, everyone in the vicinity wonders if their life insurance is still up to date.
Step forward Azealia Banks and Angel Haze, who've started a war of words on Twitter (where else?), which kicked off after Banks threw shade at non-New Yorkers, turning on her caps locks to state:
"Seriously, if you were not born and raised in NY…. DON'T CLAIM NY. YOU ARE NOT A NEW YORKER."
Presumably, Haze took this as a shot at her breakthrough song being "New York", despite that she's from Michigan, so she made a few unfortunate comments at Banks' being a "charcoal skinned bitch", which she later deleted: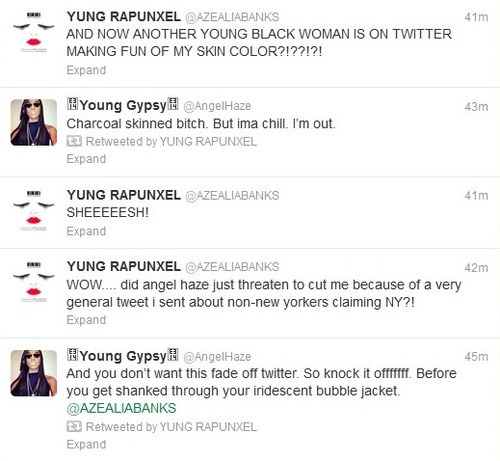 Obvs, by then, the damage was done and the two went off at each other, which I can't be bothered to copy and paste all of, 'cos I'm assuming you have access to a computer and can ROFL at it all at your own leisure. To summarize, most of it was unfortunately about weave and baby hair (I'm a baby hair enthusiast, but c'mon) with a few vague shots from Haze about an offline spat. Yeah, not exactly Nas versus Jigga levels, but then Haze ducked out only to return with this diss track, "On The Edge"
If you're suffering from ADD and can't bear to listen to the whole thing, a couple of choice quotes include:
"Bitch put an album out/ I think my album's more done than yours and I just started a week ago."
"I want you bitches so scared that you mental break/ So you'll forever be broke with expensive taste."
Zing!
So why is everyone losing their shit over this spat in particular? Especially seeing as Azealia is essentially the web 2.0 generation Roxanne Shante, publicly calling out pretty much everyone old, new and her, umm, own manager. It's because this is the first well matched beef in, like, forever, idiots. Whatever dismissive deliberation you want to come to about it, Haze and Banks are two exciting artists in their field, and I mean hip-hop, not people with wombs that happen to rap a bit. They've both got the ability to throw down on a track, they've both been putting out consistently stellar releases and they're both people I would not want to upset if they were in reach of my face, so let's see what happens
To be continued (at 12pm EST exactly according to Azealia)…
And here it is! "No Problems"