Composite by VICE Staff
What does getting stoned and having the munchies look like in your late 20s, 30s, or whatevers? It looks like ordering all the tasty goods ahead of time, so that when the moment comes, you can easily assemble eight tacos, five Parisian gummy bears, and six tubs of ice cream. It looks like snack and gourmet food boxes from some of the tastiest chefs this side of Flavortown, whether that be a briny pickle subscription (yes, a pickle subscription!) box or a one-time cheese spread jugband moment. 
Thankfully, there are more places than ever to order specialty snacks online—not that there's anything wrong some Oreos and an Arizona iced tea from the corner store. But 
4/20 is almost here, so *ascends cheese pulpit* this is the moment to stock your pantry with international snack boxes (we miss travel, too), or to send a veritable artisanal butter love letter subscription to your boo. Our Adult Munchies require a lot, we've decided, and this is just the beginning. 
---
Take a virtual vacation via snack box
Can't make it to Japan anytime soon? Yeah, it's gonna be a while till we can figure out the whole international-travel-post-COVID thing. Thankfully, there's Bokksu, a subscription service that brings all of the best Japanese snacks straight to your apartment door (and subsequently, your greedy belly), from cherry blossom mochi to pork katsu chips. You can buy their offerings à la carte or opt for a themed box, and the themes are amazing, like last month's chewy "Mochi Mochi Mochi" and this month's floral "Sakura Spring." This is delicious, hard-to-find stuff that's a magical treat for those of us in the States, and it will feel like (KFC) Christmas when each box arrives. 
Bokksu snack boxes, starting at $39.95 at Bokksu
Snacks from rotating countries
We would kill to be dancing with Sandra Oh and a baby in Italy RN, but alas, COVID-19 is still here and we are not quite on an Under the Tuscan Sun vacation budget. What is within grasp, however, is watching that movie while stoned with this sampler pack of international snacks—because right now, the focus is on either Spain or Italy (in matters of snack box themes). You can get these international boxes delivered once or monthly, and it makes a suuuuuper sweet gift for friends and family members missing their jet (ahem, Spirit Airlines) life. As one reviewer wrote, "Thank you so much for letting me and my grandmother travel from our living room every single month!" 
Month-to-Month Box, $16 at Universal Yums 
Pickle people are the best people—or, at least, the ones you want on your team. They tell better jokes, glow in the dark (just trust us), and have great gut health. They live on the unpretentious but prickly side of life, and with a little help from Mouth.com (a site offering really awesome food subscription boxes with stoner-friendly themes like "Jerky"), so can you. This pickle service has four different box options, each filled with "the best pickles made in America, including something a little off-beat" like, say, pickled tomatoes, or pickle chips. Always new, always pickled, always one of the most dynamic items of the food world (pair it with cheese, crackers, whiskey, etc.).
Pickles of the Month Club, $53 per month for three months at Mouth
You're the adult baby drinking pink cereal milk
Milk Bar lives for you. Chef Christina Tosi's New York City bakery now sends her sweet things all over the country, but she first blew up the brand in NYC for its nostalgic, unpretentious approach to treat-making and the ability to build a brand identity around funfetti, composting, and millennial pink. "This sampler pack of classic Milk Bar treats gives you a taste of the greats," says the site; It packs the B'Day Cake Truffle, Milk Bar Pie, and other sweet (but not too sweet) favorites. You can also choose to add a donation to the North Texas Food Bank or Asian Americans Advancing Justice to your order.  
Sample Box, $52 at Milk Bar 
Like taking a pit stop at your local farm stand or artisanal food shop to scoop some goods, only you don't have to drive. These goods come to your door every week, and pricing is based off of your area and the kind of subscription you want; there are dozens of fresh smoothies, things called "forager bowls" with mulberry seeds, flatbreads, and other ~bespoke~ foods that will make you feel like a humble, but rich woodland fairy with the munchies. You can also skip, pause, or cancel your order whenever, and items are from about five to 10 bucks a piece. (Hot tip: If you want to test the waters, try out the nine-item box order.)
9-Item Box, Pricing available at Daily Harvest
Because you need eight tacos, now
This is a taco kit for you and eight other people, minus inevitably forgetting stuff on a grocery run. Or it is a taco kit for you plus eight of your stoner bean moods. It's also from the delicious Miami Beach taquería, Taquiza, and has idiot-proof assembly for our cooked buns. "It includes four pounds of your chosen Taquiza proteins, 50 stone-ground and hand-rolled four-inch blue corn tortillas, one bottle of Taquiza's signature red hot sauce, and one bottle of house-made charred jalapeño hot sauce. Just heat, serve, and enjoy!" THANK YOU!
Taquiza Taco Kit, $159 at Goldbelly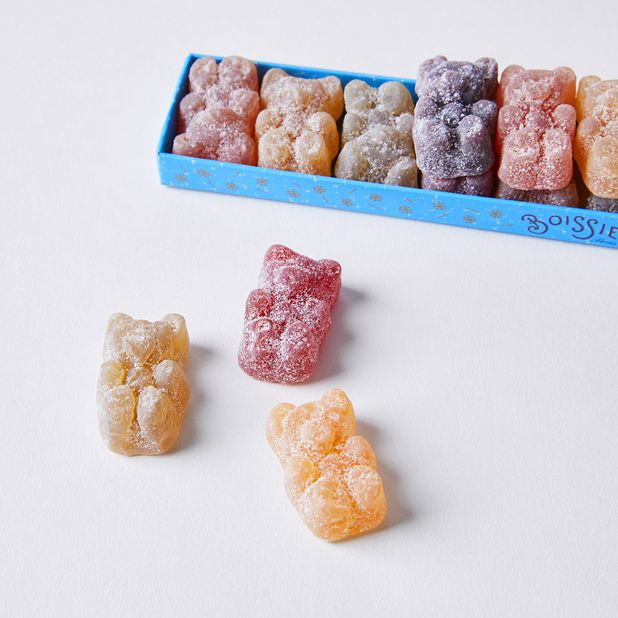 We never thought we would meet a gummy that could give us low self-esteem, but just look at these bébé bears. If we had a sugar zaddy/mami, we would make them smoke us out, rub our toes, and fly us to the Bon Marché to get these delicious gummy bears from the heritage Parisian candy makers at Boissier (doing the damn thing since 1827). PLOT TWIST! You are daddy. Wake and bake and take these bears home, because YOLO. 
Maison Boissier Parisian Gummy Bears, $45 at Food52
Like a US road trip for your mouth
Was your vibey roadtrip from Texas to California also postponed by the pandemic? Travel might be opening up again with the promise of a more vaccinated summer and flashy new Airbnb competitors like Plum Guide beckoning us out of our hovels. Until then (or until we have a car), the angels at Mouth have lassoed all the goodies from various states across America in a snack box, so that "one month, [you'll go] to the best of the Southwest. Next month, sample goodies from Vermont. Then coast your way through California, a tasty stop in Oregon, and call shotgun on your way back to New York" with jams, chocolates, spreads, pickles, and more. 
Indie States of America, $60 per month for three months at Mouth
Spreadable cheese for when you're too high to slice
We've all been there, baby. No worries! Be a spreader because 1) it's easy 2) it's a fun hostess move for when we finally have people over again, and have bedazzled nails to do 3) some of the most delightful stoner activities involve dipping and spreading stuff into other stuff. This selection of spreads offers a happy tornado of horseradish, cheddar, bacon, jalapeño, and others for your stomach. 
The Nuns of New Skete Famous Cheese Spreads, $48.95 at Goldbelly
You smoke some Dad Grass in your high-cut undies, hair permed, and eat one of your six rotating tubs of ice cream from the fridge like the main character of a 1980s horror movie. You'll probably die, dancing in creamy berry bliss with your Walkman headset on, but Graeter's ice cream is worth it. These jabronis have been making custard-like ice creams for over 150 years, two gallons at a time, and each "flavor starts with a French-style ice cream base made with eggs and fresh local dairy with 18% butterfat—that's nearly double standard ice cream." Now, you can get them shipped straight to your door, a half dozen at a time. Dangerous. But also absolutely perfect for 4/20.
Graeter's Ice Cream (Choose Your Own Six Pints), $79.95 at Goldbelly
All the butter you will ever need
No one needs this much butter, but everyone really deserves it. "The subscription includes four blocks of butter every three months," says the service, "One will always be a Sea Salt butter, one sweet butter, one Roasted Garlic, and the fourth will be a seasonal butter." So here's an idea: Slip on your CBD socks, and hop around each butter disk like a lily pad. Or eat them, slow as honey, on various types of toast. Whatever. There's no way you're not going to enjoy butter.   
Banner Butter Grass-Fed Cultured Cream Butter Subscription, $224 on Food52
Oh! And don't forget to get mom something with CBD, too. That holiday is coming up. 
---
Your faithful VICE editors independently selected all of the stuff featured in this story. We may receive a small commission if you buy through the links on our site.