Image by Lia Kantrowitz
Welcome back to House Party, our column looking at the 2018 House of Representative races as midterms approach.
The week before the 2016 election, a contest that wound up turning on just tens of thousands of votes in a few Midwestern states, Hillary Clinton campaigned in Arizona. She would later get criticized for not focusing more on the part of the country that swung the election to Donald Trump, but it was a move indicative of her team's strategy. Clinton could have dug in and tried to win the places that Barack Obama had won in 2012 and attempt to recreate the Obama coalition; instead, she tried to broaden the map and win in what had been red states for years. That backfired spectacularly on just about everyone.
The thinnest of silver linings to that effort is that she won a bunch of districts that hadn't supported Obama in either 2008 or 2012. That gives Democrats hope that they could eke out some midterm victories in some heretofore unwinnable areas. Here are the districts where Clinton scored surprising wins:
California's 48th Congressional District (Coastal Orange County)
2016: Clinton 48–Trump 46
2012: Obama 43–Romney 55
2008: Obama 46–McCain 51
As you can see from those spreads, the 48th, which hugs the coast from the border with LA County to Laguna Beach, will back pretty much any Republican other than Donald Trump. That's the case even though its congressman, Dana Rohrabacher, is doing his best to ape the president. He's held pro-Russian propaganda hearings in the House Foreign Affairs Committee, (Paul Ryan joked that he was a Russian plant and Republican leadership wouldn't approve a bill for a trip to visit Julian Assange), he claimed Democrats set up the Charlottesville protests to discredit Republicans, and he has been one of the most vocal climate change deniers in the House.
Rohrabacher's actions have worn some Republicans' patience thin, and there are some fears that he'll attract an intraparty challenge. Especially now that Bob Mueller is looking through his meeting schedules. That could backfire on Democrats because in California the top two vote winners in the primary advance to the general, regardless of party. Usually this is to Democrats' benefit in statewide races, but if the Republican vote is split two ways while the Democratic vote is split three ways you could see how that could lead to an all-Republican general election in a closely divided district.
So the national party has coalesced behind Hans Keirstead, a stem cell researcher who can self-fund a campaign, as its favored candidate. (Real estate investor Harley Rouda and lawyer Omar Siddiqui are among those also running.) I'm not a fan of telling locals to bow to the national party's diktats—they should decide who the strongest candidate is on their own—but if Rohrabacher does draw a credible Republican challenger, Democrats should flock to Keirstead.
---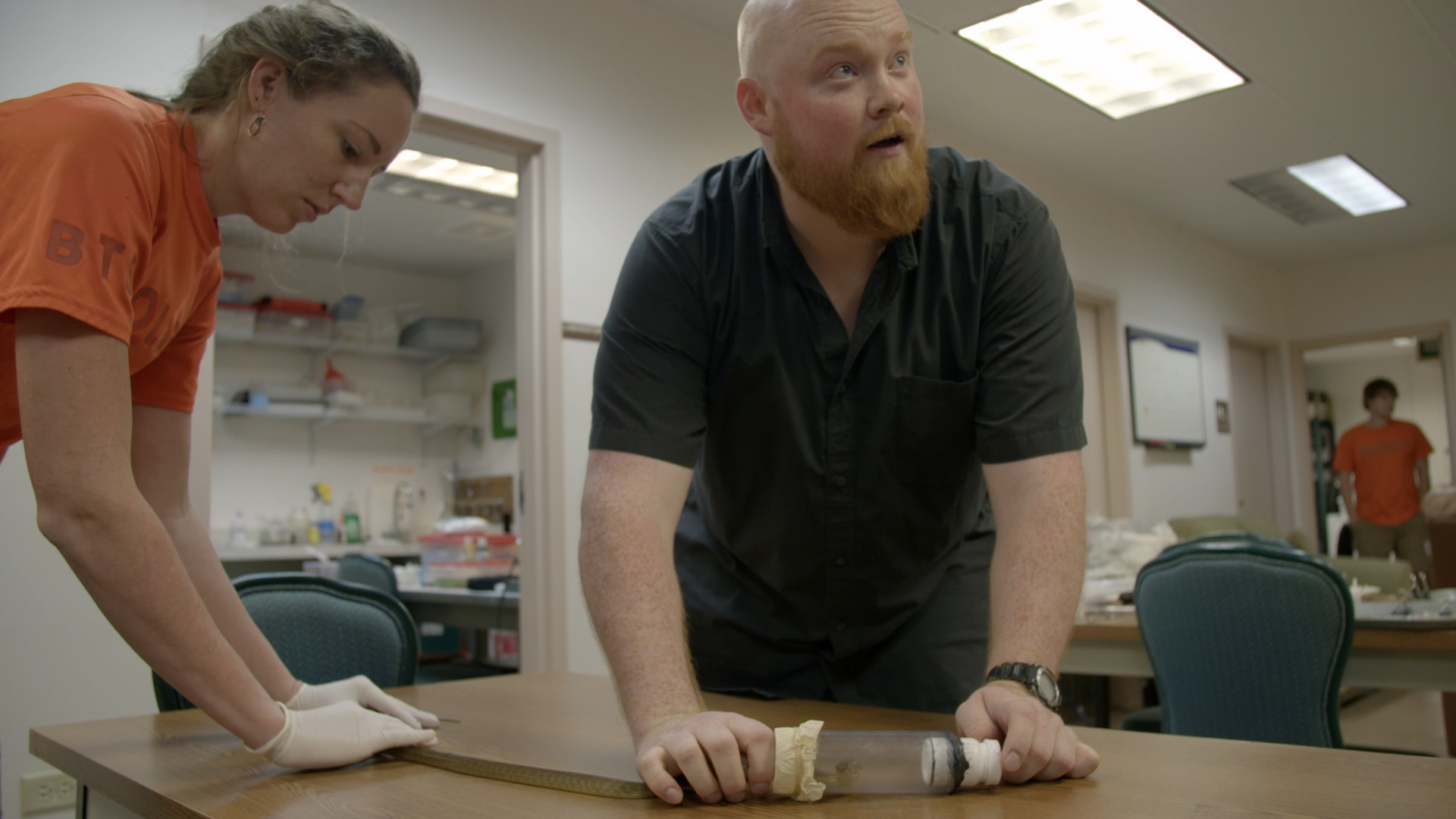 California's 45th Congressional District (Central Orange County)
2016: Clinton 50–Trump 44
2012: Obama 43–Romney 55
2008: Obama 46–Romney 51
Moving inland from the 48th, the 45th voted almost identically to its neigbhor during the Obama era but swung even harder to Clinton last year. Incumbent Mimi Walters has kept her head down more than Rohrabacher, so Democrats may have less of an opening here. But that hasn't discouraged the party; not one but two law professors at UC-Irvine who worked for Democratic senators (former Elizabeth Warren aide Katie Porter and Chuck Schumer aide David Min) from declaring their candidacies back in April. Seeing an opening for a non-law professor candidate, former Obama administration official Brian Forde is also running. Notably, all of these candidates have been keeping pace with Walters in their 2017 fundraising, a worrying sign for the Republican.
California's 39th Congressional District (Orange/San Bernardino/LA County)
2016: Clinton 52–Trump 43
2012: Obama 47–Romney 51
2008: Obama 47–McCain 49
As you move closer to LA, Orange County gets more diverse. Latino and Asian voters cast 44 percent of all votes in the 39th last year, with a noticeable uptick among Latino voters in particular. But it's represented by Republican Ed Royce, who has been in Congress since 1992 and still votes like he represents 1992 Orange County. Royce has a history of outreach to Asian and Latino communities, but it's unclear whether that's enough to protect him in a wave.
Royce has three well-funded challengers. Mai-Khanh Tran is a Vietnam War refugee (many such refugees settled in Orange County and voted solidly Republican until recently) who worked her way through Harvard Medical School to become a pediatrician. Initial reports from the campaign trail indicated she wasn't the best retail candidate (though to be fair, most first-time candidates struggle initially) so Navy vet turned lotto winner turned philanthropist Gil Cisneros and teacher turned businessman turned philanthropist Andy Thorburn have decided to run here as well. Cisneros and Thorburn have both loaned their campaigns substantial cash (Thorburn has given his $2 million, Cisneros $550,000) so it looks like they have a lot more money to spend than Tran (who's given her own campaign $200,000 in this arms race), but we'll see if they actually use it.
Arizona's Second Congressional District (Anglo Tucson)
2016: Clinton 50–Trump 45
2012: Obama 48–Romney 50
2008: Obama 49–McCain 50
The Second was represented by Gabby Giffords in its previous iteration and then by her former chief of staff when she had to resign from Congress after an assassin shot her. While John McCain and Mitt Romney won the district narrowly in 2008 and 2012, the district is more Democratic than those toplines make it appear —McCain had a home-state advantage and Romney benefited from strong Mormon turnout in Arizona. Representative Martha McSally ran to the center in her previous two campaigns but now thinks she has a better shot of winning an Arizona Senate Republican primary as a moderate than winning reelection here.
Democrats already smelled blood in the water before McSally decided to leave the House. Former representative Ann Kirkpatrick, who was the party's 2016 Senate nominee and used to represent a neighboring district, is Democrats' top recruit here. But moving to the district from her more rural home base smacks of opportunism, so she'll have to beat 2016 nominee Matt Heinz and former assistant army secretary Mary Matiella in the primary. Matiella has racked up a slew of progressive endorsements, but her fundraising has been paltry. Meanwhile the Republican side has yet to sort itself out, with some of the top potential candidates declining to run.
Texas's Seventh Congressional District (Anglo Houston)
2016: Clinton 49–Trump 47
2012: Obama 39–Romney 60
2008: Obama 40–McCain 59
After seeing Jon Ossoff fall short in the special election earlier this year, I was dubious of Democrats' chances in Texas's Seventh Congressional District (the seat that started George H.W. Bush's political career in 1966, in case you're looking for someone to blame). Like the Georgia Sixth, the Texas Seventh contains well-educated but traditionally Republican Sun Belt suburbs that were close in the 2016 presidential race but gave Mitt Romney 60 percent of the vote. Perhaps that Clinton number is a best-case scenario. But Clinton actually won the Seventh, while she narrowly lost in the Sixth. Moreover, incumbent John Culberson has never faced a competitive race, has had lousy fundraising, and is embroiled in an insider trading scandal. Karen Handel, who beat Ossoff, suffered from none of those deficiencies. The six Democrats running against Culberson certainly think he's vulnerable.
Of those six Democrats four—cancer researcher Jason Westin, nonprofit exec Alex Triantaphyllis, attorney Lizzie Pannill Fletcher, and activist Laura Moser—have raised serious money. On the defining issue of the moment Westin and Moser are running on Medicare for all while Triantaphyllis and Fletcher are more circumspect.
I think you can make the case that a centrist or leftist candidate could win here, but Democrats should be wary of Moser. She moved back to the district after spending most of her professional career in New York, Chicago, and Washington to run for the seat and she's running as the most online candidate. The problem with that is that her Twitter account often spreads misinformation. For example she's glommed onto Seth Abramson's Twitter conspiracy grifts. And while she recently went viral with a rant on gerrymandering, a lot of the information she spread was wrong. Jagged district lines are not prima facie proof of gerrymandering—fair districts in California occasionally have jagged borders. And she used a Latino-majority district mandated by the VRA and drawn by Democrats as proof of gerrymandering. Sure, she made it harder for the people who read that rant to identify partisan gerrymanders in the future, but at least she got a few thousand new followers.
Her opportunism and campaign's gullibility are easy lines of attack for Culberson should she become the nominee, ones that he couldn't make against the other three major candidates. Moreover, I don't think Democrats are well served by having congresspeople who muddy the waters on important issues like Russian election meddling and gerrymandering for personal gain. Westin and her appear to agree on most issues, so he's the best bet if you want a left-wing nominee. And if a pro-choice woman is more your style, Fletcher is a co-founder of Planned Parenthood Young Leaders.
Texas's 32nd Congressional District (Anglo Dallas)
2016: Clinton 49–Trump 47
2012: Obama 42–Romney 57
2008: Obama 44–McCain 55
The 32nd and Seventh are similar—Anglo areas of Texas's two biggest cities, traditionally Republican but trending Democratic, and home to compromised incumbents. Representative Pete Sessions used to be head of the National Republican Congressional Committee, and as part of that job he met potential candidates across the country. One of them was Karen Diebel, a Florida politician who had a penchant for making bizarre calls to 911. A year after they met Sessions divorced his wife of 27 years, marrying Diebel a year after that. Now his voting address in Dallas is an unoccupied efficiency apartment, though he also owns a condo in Florida (with Diebel) and a mansion in Aspen. So, Pete, do you even live in Dallas anymore? In 2016 Democrats didn't even field a candidate against Sessions (such is the state of the Texas Democratic Party), but they have three promising contenders in former NFL player and Obama HUD official Colin Allred, USDA staffer Lillian Salerno, and Clinton aide Ed Meier. If you want to see a proxy fight between Obama and Clinton surrogates in 2018, Texas's 32nd District should totally be your jam.
Kansas's Third Congressional District (Kansas City Suburbs)
2016: Clinton 47–Trump 46
2012: Obama 44–Romney 54
2008: Obama 49–McCain 50
The Kansas City suburbs have been a swing district for decades, and this seat has seen few uncontested races even as Republican line-drawers have added more friendly exurban areas. Right now it's held by Representative Kevin Yoder, who won 51–41 in 2016 as Clinton eked by Trump 47–46. His opponent that year, Jay Sidie, is running again but nonprofit exec Andrea Ramsey, teacher Tom Niermann, and labor attorney/Bernie Sanders activist Brent Welder appear to be the frontrunners for the nomination.
Welder is one of the few Sanders activists nationwide raising credible money, which is too bad because districts with high turnout and that shifted from voting against Obama to voting for Clinton are the worst fit for left-wing candidates. Also, while Welder was a delegate for Sanders at the 2016 convention, he was a delegate from Missouri. I know that the actual border war between the states ended a century and a half ago, but it'd be nice to have a candidate who was living in Kansas last year. If Niermann, Ramsey, and Sidie split the non-leftist vote, and Welder is the nominee, then Democrats would have a real uphill climb here.
New Jersey's Seventh Congressional District (Central Jersey)
2016: Clinton 49–Trump 48
2012: Obama 46–Romney 53
2008: Obama 47–McCain 52
New Jersey's ugly incumbent protection gerrymander (done under the guise of bipartisan commission) means the Seventh stretches from inner-ring New York suburbs like Union and Short Hills out to rural areas by the Pennsylvania border. The area has traditionally leaned Republican, but Trump appears to have changed that somewhat.
Representative Leonard Lance has never been a strong candidate. He won his primary last year with only 53 percent of the vote against two obscure challengers and the general with 54 percent against a guy with no money. But he's one of maybe a half-dozen congressional Republicans who have been willing to criticize the president beyond "I wish he didn't say that."
Naturally, that has put Lance in conservative crosshairs. Trump purists appear to be lining up behind Craig Heard, who placed third in the GOP primary last year but has been consolidating behind-the-scenes support from Trumpists. The Democratic primary will be contested, too: There are six candidates running with the notable recent addition of Tom Malinowski, a former Rhodes Scholar and Obama State Department appointee.
As noted in this column before, New Jersey county parties have a big say in who wins primaries, so Lance, in spite of his weaknesses, will likely avoid being the first New Jersey congressman to lose renomination since 1978 unless Trumpists take over the county parties. On the Democratic side, whoever snags the Union and Somerset county endorsements should be favored heading into the primary. Of their candidates, Malinowski is the only Somerset-based one while the rest are in Union.
There are 25 seats that Obama won exactly once but voted Republican in two of the past three presidential elections. Of those 25, a whopping 14 are in three states where Republicans totally collapsed in 2008: Illinois, Michigan, and Wisconsin. Next week we'll take a look at those Upper Midwest Obama seats.
Robert Wheel (a pseudonym) is an attorney who lives in New York. He tweets here, and his DMs are open.