It's 1968 and I'm with a couple of friends from back home. We take a tab each of orange sunshine LSD and we're laughing at pretty much everything, sitting on a window ledge, about five feet up, watching people on Hollywood Boulevard. My childhood friend, Robert, is untamed and mostly a jackass in his interactions with girls and minorities. The sidewalks are crowded and when a small group of Asian tourists walk by Robert jumps in front of them and bows from the waist. "Ah sooo, ah sooo!" He says. "Suki Aki, motherfucker." I'm hallucinating and a little confused but mostly I think Robert is a dick.
It's 2007 and I drive to Hollywood Boulevard with a little Konica Minolta point-and-shoot, my first digital camera. I'm tempted by the yellow hues of sleaze to the east but the tourists go westward and crowd around Grauman's Chinese. I park on a side street and walk up past Highland on the north side and stop just short of the costumed superheroes. Vacationers pose with the animated locals and pay for the privilege with dollar bills. They get down on the ground and take selfies with the Walk of Fame. I hang where I am and I ask people if I can take a picture of them making funny faces.
"What do you want a picture of me for?"
"I like the way you look. Here, let me get you to stand over here. All you gotta do is make a funny face."
I expose and say thank you. "That was great."
Darth Vader comes over to ask me what I'm doing. I guess he's feeling territorial. I tell him I'm taking pictures of people making funny faces and he wants to know what the catch is. I tell him no catch I'm just doing what I'm doing for something to do. He seems dubious but goes away.
It's 1980 and I'm living in an apartment with Leslie, behind the Aquarius theater on Sunset. I walk down to the Hollywood Ranch market to get a pack of smokes and when I return Leslie's had a miscarriage. The little critter is six weeks old and intact so we put it in a sandwich bag in the freezer to take to the clinic tomorrow. Still awake at 4 AM I walk up Vine to Hollywood Boulevard. An LAPD patrol car pulls to the curb and wants to know what I'm doing. I tell him I'm on my way to Grauman's to put my feet in Clint Eastwood's foot prints. He tells me he doesn't want to see me next time he comes around and I tell him I don't want to see him either.
It's a Sunday in 1978 and Danielle and I go to Pickwick book store on Hollywood Boulevard where I buy Cockpit by Jerzy Kosiński. We walk down to Chris and Pitts for barbeque and when we're done we leave a big tip and skip the check. It makes for a nice Sunday so we do it again for the next three weeks.
2012, Saturday night and Linda is driving and it's raining on Hollywood Boulevard and I'm taking pictures from the passenger seat. We go west to Highland then Sunset and park at Carney's train-car for hotdogs. Some guy drives by and flips a cigarette butt out the window. Linda picks it up and throws it back at the open window. "The world is not your ashtray, asshole." We get hotdogs and fries and Linda drives us back across the other side of the boulevard and then home.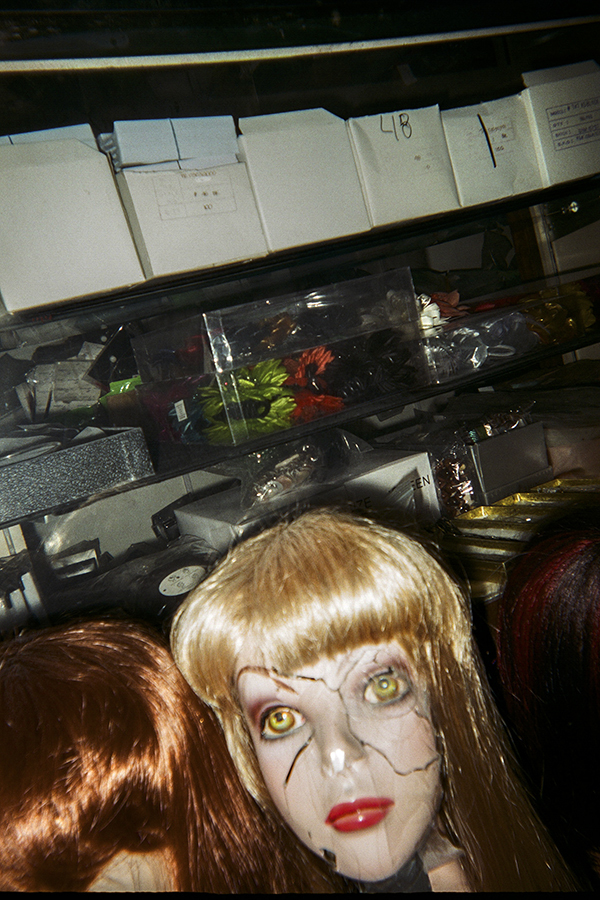 It's 2015 and I'm on the sidewalk taking pictures of the storefronts and shop windows. Two teenage boys are loitering in front of a little Italian joint. Pedestrians pass by and the larger boy says "Hey, can you help us we need a bus ticket back home." No one gives him as much as a look. A clean young couple pass by and he says, "Hey, girl, you got one hot ass. Hey dude, your bride got one hot ass. You better be hittin' that shit, bro." He's wearing a thick armor of belligerence and he's looking for a fight. I'm headed the other way but I stop and take a picture.
The kid talks with a twang. "Why you taking pictures for?" I tell him you know, I just take pictures and he says no, he doesn't know and I'd better not take a picture of him. Boy number two speaks up and tells his friend he's too fuckin' ugly for pictures. I tell him that's a point well made.
A young Asian woman walks by and boy number one says, "Hey hottie, slow down, give me a better look." She doesn't slow down but speeds up, eyes forward. Boy number one yells, "Hey mamma san, me so horny, me so horny. Love me long time." Boy number two laughs, but not like he means it and I wonder if he thinks his friend is a dick.
Scot's first book, Lowlife, was released in 2011, and his memoir, Curb Service, is out now. You can find more information on his website.