Tens of thousands of firecrackers ready to sell in a house in Ngembe Village. Photo by the author.
Welcome to Ngembe, the Firecracker Capital of Indonesia
This small village in East Java produces the majority of fireworks found in the country.
Tens of thousands of firecrackers ready to sell in a house in Ngembe Village. Photo by the author.
Robbani was a longtime resident of Ngembe, a small village tucked between Surabaya and Malang in East Java. The village is home to 3,700 residents, most of whom work as farmers. If you asked him what he did for a living, he would say that he's a motorcycle taxi driver, though he wouldn't mention how it was his side gig. His other business was far more lucrative—and illegal. Robbani was a firework assembler, who stored one ton of raw materials used to make fireworks in his house. He had been in this business since he was 7 years old.
He refrained from talking about his illegal venture openly, but a handful of people in the village had known about it for a while, including the police. The police finally arrested him last December, after several unsuccessful tries. He had always managed to dodge authorities, but he ran out of luck that day when they raided his home, which doubled as his workplace.
In addition to raw materials, the police also found tens of thousands of fireworks ready to sell. Most of them were hidden in the ceiling. The police wasn't that surprised at their finding. Afterall, it was Ngembe Village, a place notorious for its illegal firework production.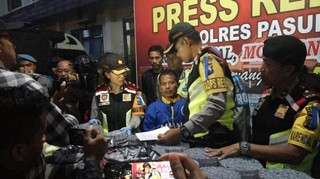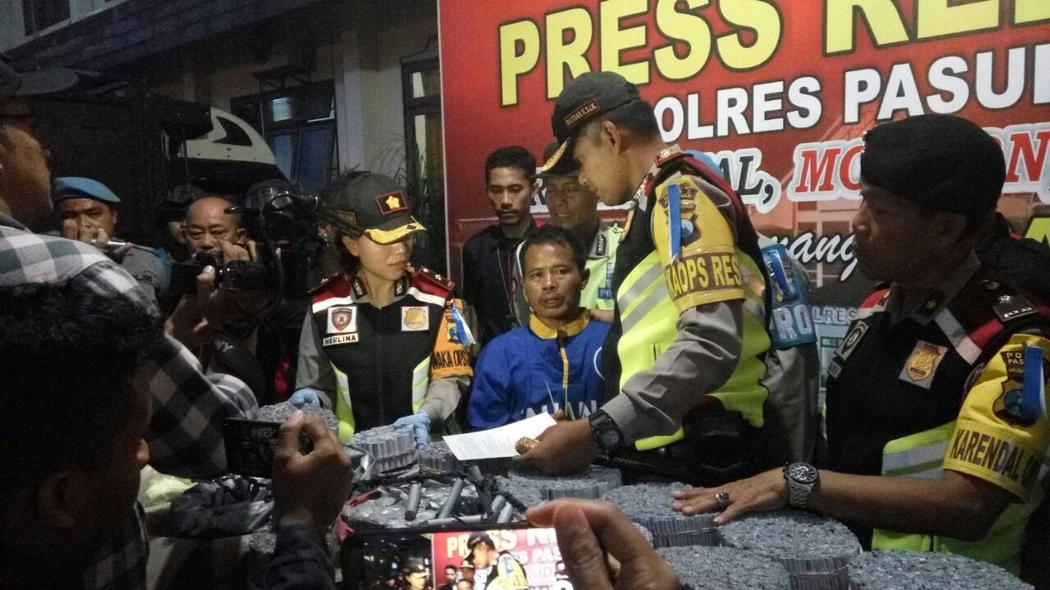 I visited Ngembe Village in mid-January. I hung out where motorcycle taxi drivers usually gathered in hope that somebody would talk to me about how Ngembe became the center of the country's firework industry. That's where I met Sulaiman, a well-known man in the area. He said he didn't know exactly when fireworks were first made in his village. All he knew was that by the time the members and sympathizers of the Communist Party were hunted nationwide in the mid 1960s, fireworks were already mass-produced in Ngembe.
At first, Sulaiman said, the villagers were relying solely on farming to make ends meet. Later, the firework business became an attractive alternative. Some people worked as firework rollers, others helped with the packing. There's a lot of money in this business, at times, when the police loosened their security.
I met another older firework assembler, Bashori. He was a teenager when he entered this business, but he didn't know who started making fireworks in the village. He told me that there were many Ngembe residents who worked as firework rollers in Singopolo, Bangil, about 6 kilometers away. As rollers, they received Rp 1,000 ($0.07 USD) for every pack of 10 fireworks they worked on.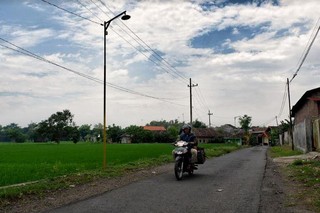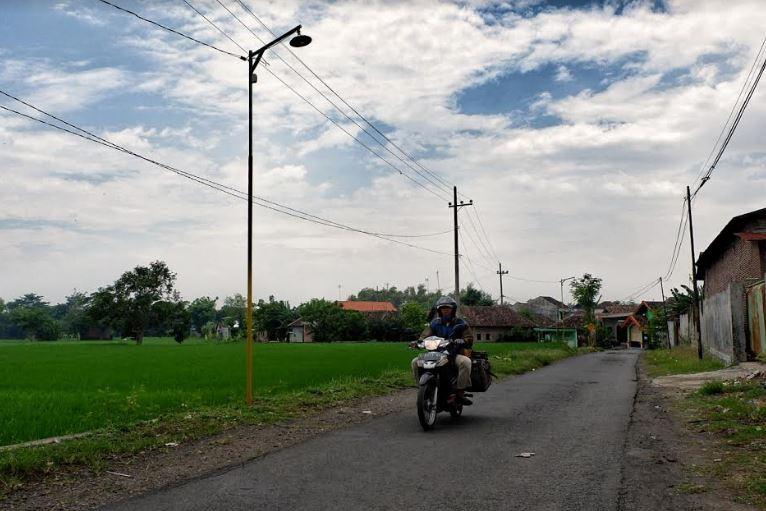 Once they had been introduced to the business, some of those rollers decided to start their own. Over time, many others jumped on the bandwagon. It's always the same story, Bashori said. People started at the bottom, as firework laborers, before they moved up.
I could see why the illegal business was attractive. Raw materials were easy to get, law enforcement was fairly relaxed at times, and there's always a high demand for fireworks. Plus, there's no requirement to go into this industry—all you need was courage.
Making fireworks was relatively easy, Bashori said. You only need to buy raw materials—potassium and sulfur—and pound them until they're smooth. Then you mix them with other dry materials. While waiting until the mixing process is done, other workers set up a hand-rolled paper of various sizes. Back in the day, Bashori had seven workers. From selling fireworks, Bashori could afford a car and eventually send his family to the Hajj pilgrimage. Today, the fireworks that are made in Ngembe can be found in various cities in Java, and even Bali and Borneo. But Ngembe's firework industry didn't always thrive. In fact, it experienced its fair share of ups and downs.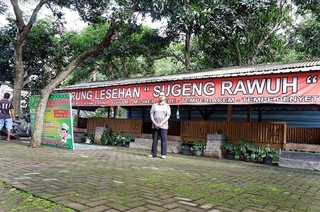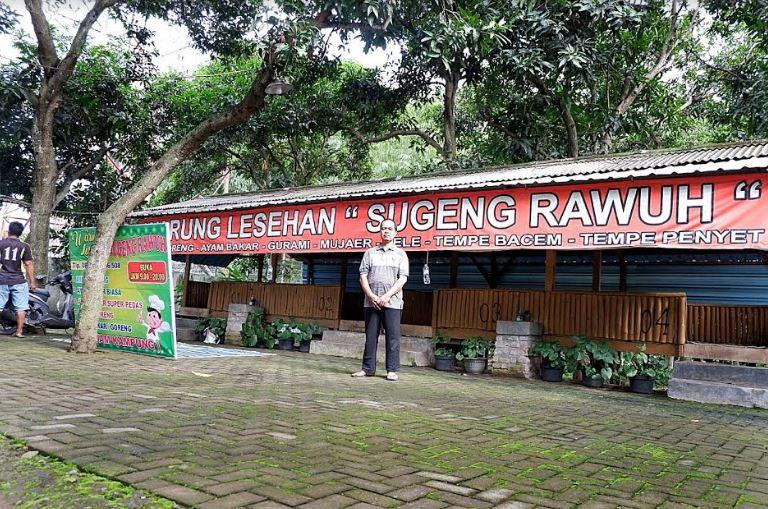 Tony, 24, a firework roller who previously worked for Bashori, remembered the more glorious days. In 2005, he could buy a motorcycle worth Rp 4 million ($280 USD) from his salary. Herman, 42, one of the local community leaders, has similar experience. He said that those who were previously unemployed during the 1990s until 2000s could buy a motorcycle after they worked for firework business owners.
The firework industry in Ngembe took its worst hit in 2002, following the first Bali bombings. No one dared to sell explosive raw materials after the incident that killed 202 people, many of them tourists. Bashori decided to stop making fireworks. He sold his car and used his money to work as a migrant worker in Saudi Arabia. After five years working there, he returned home and opened a restaurant.
Today, there are some people who keep making and selling fireworks. Rosyid is one of them. He produces and stores fireworks during the off season, meaning long before the Muslim fasting month begins and before authorities begin their raids on warehouses. When Ramadan comes around, he sells those fireworks from a house outside the village.
"There are so many of them, around 3,000 to 5,000 bundles," he told me. "I only sell it during Ramadan until Eid so I can get a lot of money." It does not worry him if the fireworks are not sold out even after Eid al-Fitr, because the markets in Bali and Kalimantan are ready to take it.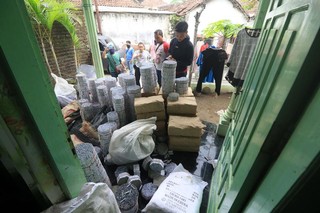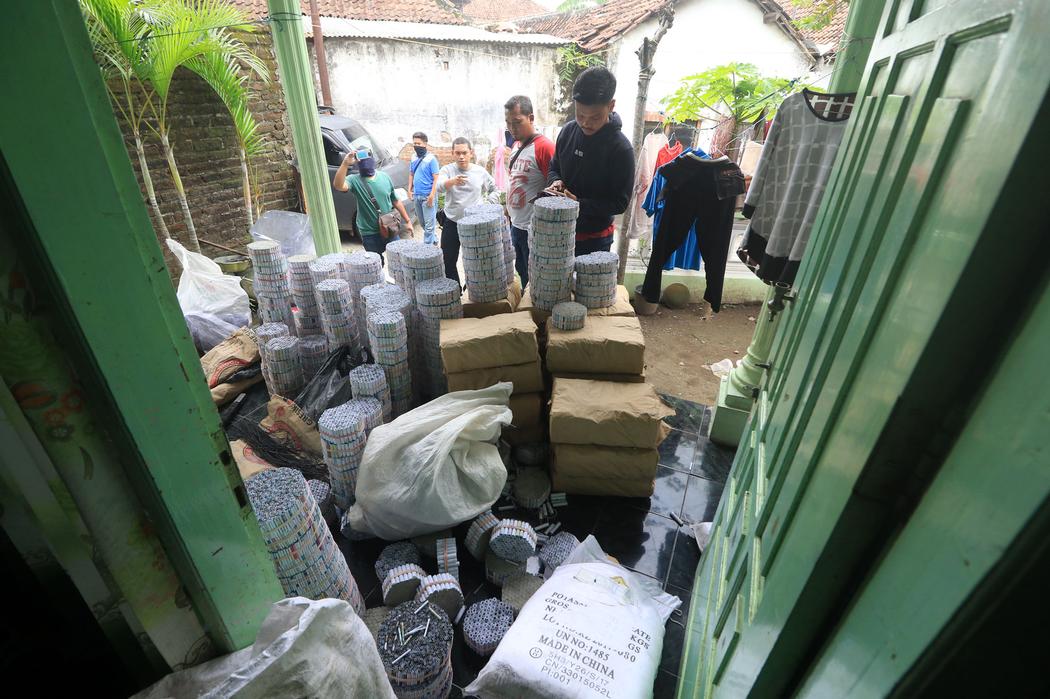 In between interrogations by the police, Robbani told me that the amount of profits he made was what kept him going. From investing Rp 1 million ($70 USD), he can easily make Rp 2 million ($140 USD).
He didn't say anything when I asked where he sold his fireworks and where he bought the raw materials. VICE Indonesia investigated that the materials were supplied by a person with a strong connection with one of the chemical stores in Surabaya. The authorities said they had heard about that store owner. However, it wasn't easy to prove it, because their distribution system was good. "They apply disconnected system, so they have so many links," said Tinton Yudha Riambodo, an assistant commissioner of the Pasuruan Police.
Tinton said it will take a great deal of effort to "cleanse" Ngembe Village from its illegal business. Apart from the big profit, their indifferent attitude was also the reason why it still exists in the village. Tinton believed that there are others who still secretly produce fireworks besides Robbani.
Rusdi Abdillah, the head of Desa Ngembe, didn't deny that many of his people had engaged in the business. In fact, in the last four years, Rusdi has visited the Pasuruan Police three times to accompany firework producers caught by the authorities. "It was all in the past, it's no longer here." he said. "Robbani was the last case."
Rusdi sounded hesitant. I don't blame him, since it's difficult to track every firework assembler in Ngembe Village, who have gotten good at continuing their business on the low. Today, when you hear or see a firework, there's still a very good chance that it was made by none other than the residents of Ngembe.