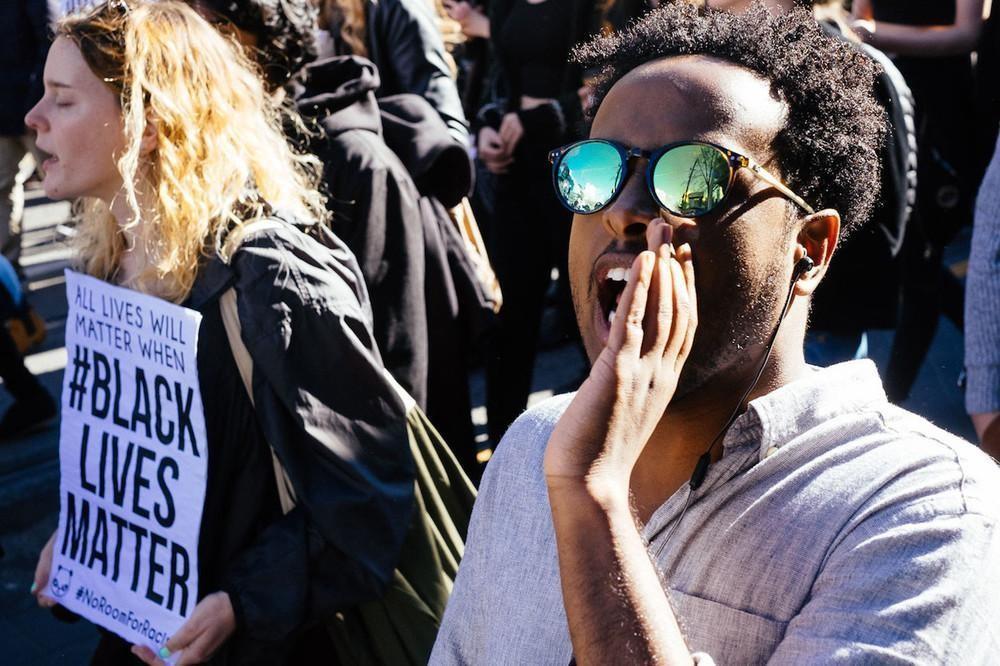 Black Lives Matter protesters gathered in Melbourne on Sunday, marching from the State Library to Flinders Street Station. It's estimated 3,500 people turned out in what was a show of solidarity for the US movement—after a slew of police shootings of black men—and a call to action on Indigenous deaths in custody.
"It's time we brought the Black Lives Matter movement to Australia to affirm that our lives matter. We are the people who are most vulnerable in this country," organiser Yarramun Conole told the crowd, recounting the story of Ms Dhu, an Aboriginal woman who died in police custody in 2014.

"Our lives, our Aboriginal lives, are taken behind closed doors," speaker Jesse Corby told the crowd. "You don't see it like the gun violence in America."
Many who spoke also pointed to what is driving Australia's underlying race issues—from the legacy of the White Australia police to the absence of a treaty with the country's traditional owners. "[Australia is the only Commonwealth country that hasn't got a treaty," Robert Thorpe said. "Seventy-six Commonwealth countries. We're the only one that hasn't got a peace accord or a treaty, or anything."
The treaty movement has been reinvigorated in the past few years, with young Aboriginal and Torres Strait islander activist pushing for a formal treaty over constitutional recognition, which is being championed by the government. Nayuka Gorrie, who also spoke at the rally, broke down treaty versus recognition for VICE earlier this year.
Some speakers also took the chance to press on some of the less structural drivers of racism in Australia, that racially divisive figures are given a platform by the mainstream media.
"Please think about where this comes from," Vivian Malo appealed. "When you have people like Andrew Bolt on your mainstream TV, spewing racism. Our ex-prime minister Tony Abbott calls him, 'the greatest intellectual.'"
The protest was peaceful, with no arrests reported. However, police did shield a small "Blue Lives Matter" counter-protest at the State Library. Only around 12 people gathered, with their faces covered.