Talking "That Word (L.O.V.E)" with Bry Jones of Rockmelons
The huge and enduring pop banger featuring Deni Hines that captured early 90s summers...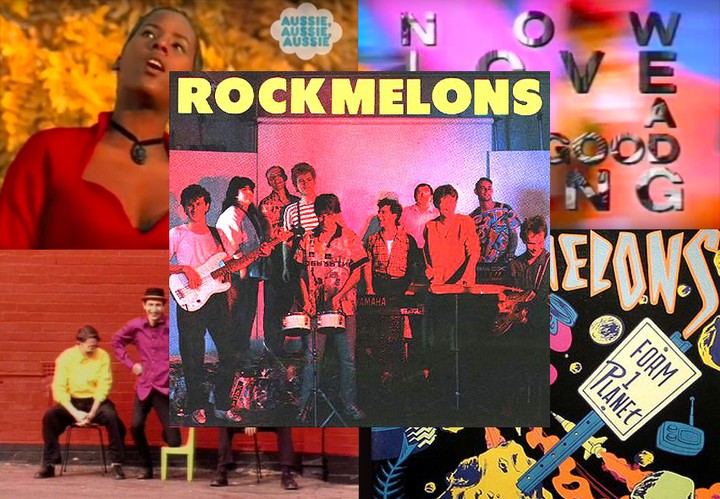 The year was 1992 and the band was Rockmelons. The East Coast of Australia was—if my parents are to be believed—alive with sounds and smells and the anticipation of a changing culture. The boldness of 1990s Australian motifs—Ken Done, Mambo—made for a glistening landscape, while the music of the time marked a change in the voice of the country: the sad lad goth of eras past appeared to be finding self-awareness, and local pop music flooded the airwaves.
One such band bringing the vibe was the venerable Rockmelons; a band these days remembered in fondness by many, but with criminally-little mainstream prestige. Hey, it happens. Great bands make a mark and fade away as is only fair—we can't all make it.
But for many, Rockmelons' legacy on the Australian music scene, namely their second full-length album Form 1 Planet, will continue to do the job.
We spoke to Bry Jones about their huge and enduring pop banger featuring Deni Hines, "That Word (L.O.V.E.)".
Tell us about the Sydney music scene in the early 90s. (I was there but I was quite small.)
The Big Day Out was starting and the alternative rock scene was crossing over to become mainstream.Grunge was beginning to happen.There was a burgeoning Aussie hip hop scene.The underground rave/dance scene was happening... And there were lots of covers bands.
On Form 1 Planet, your second album—and commercially most successful record—the band enlisted Deni Hines on vocals. How did that come about?
Deni was one of at least 5 guest singers on the Form 1 Planet album. We had been touring with James Brown supporting him around Australia. His guitarist Ronnie Laster gave my brother Jonathon a demo tape of Deni's and we thought her voice would suit some of the material we had been writing.
Why did the Rockmelons use features like that? Can you guys not sing?
We had the good sense to use much better singers than us. We tended to cast singers to the songs. It evolved naturally out of what we did. We were essentially a weird and quirky instrumental band when we started and Ray would use cut up tapes of dialogue or vocoder or just talk, telling a story over the track. We asked a friend to come and sing a song with us for one show—and then another and then we began writing for and looking for great singers. Guest or featured singers are quite the norm these days with DJ producers but it was very different back then.
What was the writing process at that time? Did you write as a band?
Yes we wrote as a band and also collaborated with other writers. There was no specific formula. Songs sometimes started as a musical idea and sometimes as a lyric.
Rockmelons had a beautifully diversity in its sound—moving between R&B, pop, funk, club stuff... all kinds—what were you as a band listening to and influenced by?
Jonathon and I grew up listening to all kinds of stuff—lots of British rock 'n roll—and were very influenced by our older brother's taste. Ray was a DJ and worked in an import record store and he brought all kinds of different music to the Rockies from the early days of punk to the start of hip of hop, house and contemporary reggae and dancehall. Early influences were bands like Zapp and Kraftwerk, but also hip hop,reggae,dancehall and later club music like Frankie Knuckles and David Morales. It was pre internet so the import record stores and the clubs with DJs like Stephen Allkins, Robert Racic, Andy Glitre were where the interesting music was at. As a band our taste was very broad and not genre specific. If it was cool, fun, soulful... We were into it.
What made the band decide to cover "Ain't No Sunshine" and then release it as the first single?
Ain't No Sunshine was the first single off our second album Form 1 Planet. When we met Deni she wanted to cover it. It's such a classic so we were a bit wary at first. It took us a few goes but we eventually crafted a version that worked for us and the song.
"That Word (L.O.V.E.)" is an absolutely banger. Can you tell us how it came about? Where were you when you wrote it and how did it come to fruition?
Ray played a fantastic set of contemporary reggae in his DJ set and that was a big influence on us. That Word L.O.V.E draws on some of that combined with our own sense of what's fun.
It came together in stages. Some of it was recorded in Jamaica with a producer called Donovan Germain and we finished the final production here. We worked really hard on it and I think by the time we were finished producing it we weren't quite sure what we had and the record company were initially wary of taking a reggae song to Australian radio, but they trusted us and it was added across the board on the radio stations as soon as they took it in. That had never happened with our tracks before so we were very happy and relieved.
Was the band just trying to write an earworm, or was the song about personal experience?
It's a universal theme. It is what it is to whomever's listening. For us it was I think it was just about trying to write a good song and make a great record.
What was the strangest place you ever had to play "That Word (L.O.V.E)"?
On kazoos during a radio interview...
Have you heard or seen any covers?
Marta Sanchez rerecorded it in Spanish (Ya Ves) and a Mariachi band played it on Offspring during a wedding proposal.
Form 1 Planet was nominated for an ARIA in 1993. Can you tell us about the ARIAs in 1993?
I wish I could tell you about the ARIAs in 1993 but I honestly can't remember them.I think Wendy Matthews, Diesel and Frente did well. I remember when our first album won best debut in 1989 and they called out the wrong band. That I remember.
What does that song and record mean to you and the rest of the band now?
It's a small part of all the work we did and I'm very proud of everything we achieved. That the three of us and our eccentric little art house band delivered those records is still a source of wonderment to me.
Do you still play together?
No we all live in different parts of the country now but we're all still in touch.
As producers, you guys—particularly you, Bry—are renowned. You produced music for some of Australia's biggest pop artists and for The Sapphires. What are you working on now?
Bunch of different stuff. I look after a great band from the Northern Beaches called Sons Of The East and I produced an album that did well for Dami Im last year.
Any other juicy stories or anecdotes you wanna share before we wrap up?
Sure... I started out as a child and then...