Black cars with tinted windows line an industrial West LA street, leading to a neon green door pulsating with hydraulic pumps of EDM beats. Crowds of made-up girls on their cellphones cluster the sidewalk as a camera crew sets up by the door. Having assumed that my Uber has dropped me off in front of a club, it takes me a few seconds to realize that I'm in the right place: a dance studio where Jason Derulo will be teaching a Zumba class on how to perform the moves to his sleeper hit single, "Tip Toe," off his upcoming album 777.
Last year, the mom-favorite Latin dance-inspired global fitness phenomenon Zumba inked partnerships with a string of Latin artists like Pitbull, Daddy Yankee, and Don Omar—creating custom dance moves to their hit songs and teaching them at Zumba classes around the world, which the company claims to span 15 million people across 185 countries. Derulo's "Tip Toe," with its dancehall-inflected rhythms and calls to "wine for me darling," is an accordingly fitting addition to Zumba's feverish soundtrack, which is typically dominated by Latin and Caribbean bangers. It's a win-win situation: Zumba gets a celebrity endorsement, Derulo gets more fan engagement, and I get to spend an evening working out with a hand-picked group of "influencers"—perhaps the most eye-rollingly "LA" promo stunt I've ever heard of.
Until tonight, I couldn't tell you what the Zumba dance looks like, and most of what I knew of Jason Derulo amounted to cringe-worthy racial stereotypes and middle-school sexual innuendo in a music video ultimately so ridiculous, it's not even worth getting mad about. Still, I was curious enough to see how a Zumba class taught by a corny pop star might sit in the middle of a cultural Venn diagram that spans "stuff that soccer moms like" and "classic LA bullshit." So in the spirit of "trying new things" and "losing weight" in the new year, I decided to give it a shot.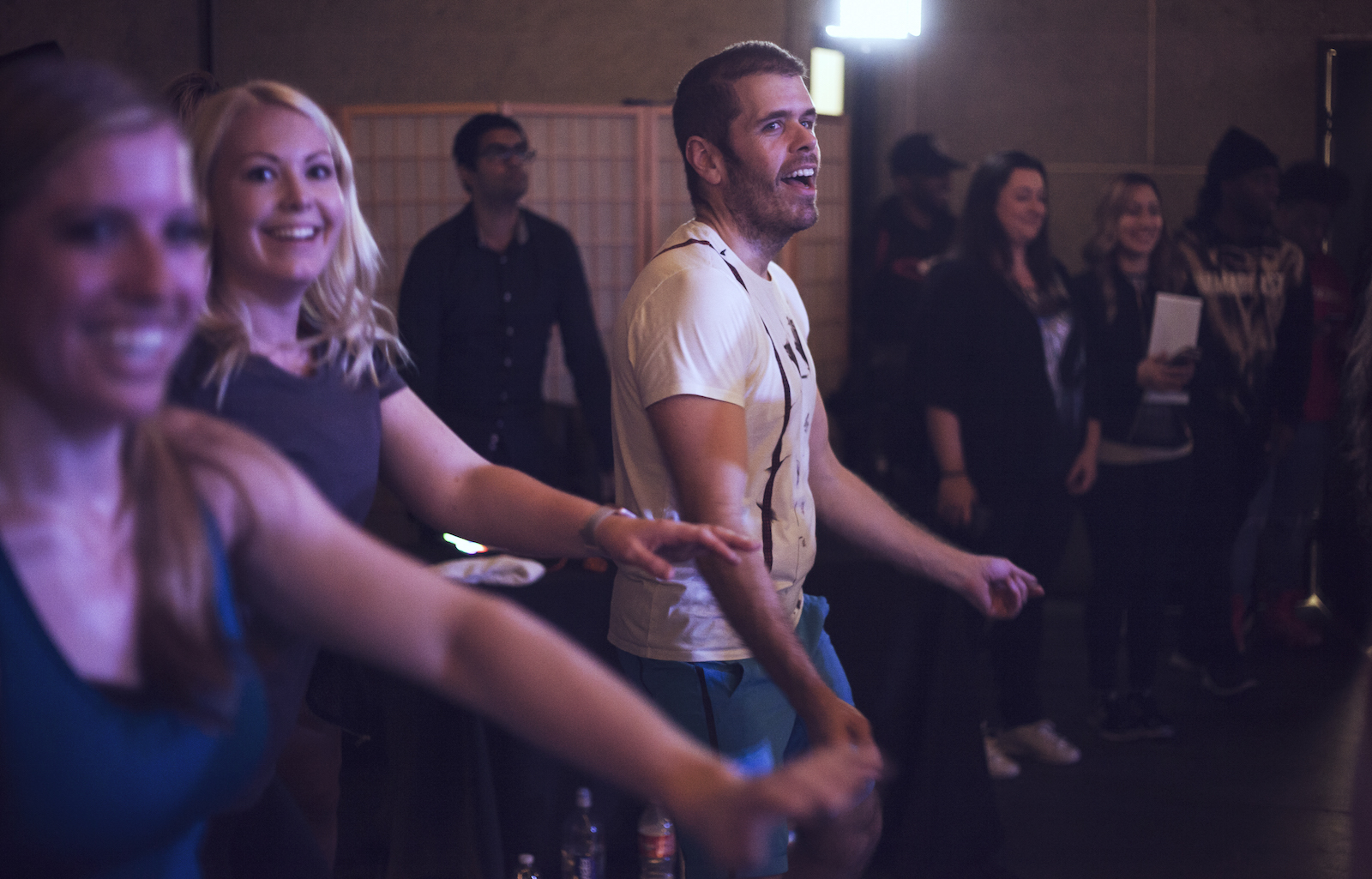 "I'm here not because I like Zumba, but because I like VIPs!" squawks one of the high-profile guests, celebrity gossip blogger Perez Hilton, as he gives an interview to the camera crew by the doors. I'd expected to make my maiden Zumba voyage alongside a few dozen bored housewives, but instead, the studio is packed with nearly a hundred toned, ponytailed dancers in their 20s and 30s who look like extras from a 90s music video—backward hats, flannel sweaters tied around their waists, designer sneakers. (Turns out many of them were from the USC dance team.)
Lasers flash to the deafening beats as a DJ—of course there's a DJ in this fake nightclub—stands to the side, mixing Diplo and Kendrick Lamar tracks into reggaeton hits as everyone flawlessly mimics the moves of several instructors on stage. To my left, a buff YouTube star named The Fitness Marshall is already drenched in sweat, while former teen pop star Montana Tucker is gyrating behind me in fishnets. I try my best to keep up, but keep bumping into sweaty male photographers enthusiastically documenting every booty shake and hip roll. The only person who seems to be sharing my struggle is Hilton, who I spot in the back, clutching his waist and breathing heavily. He later tells me he was distracted by one of the handful of guys in the class.
Almost an hour in, the music suddenly cuts off and Derulo swaggers in, surrounded by his posse and a swirl of flashing camera lights. He immediately hops on stage with his choreographer, Jeremy Strong, and performs a simplified version of the moves to "Tip Toe," thrusting his hips and shuffling with his arms cocked to the side. Then, peeling off his sweater, he performs to two more songs of his, "Swalla" and "Talk Dirty." I suppose we're supposed to follow along, but he gives no actual instruction, and enough people have swarmed the stage that it's impossible to see what he's doing, anyway.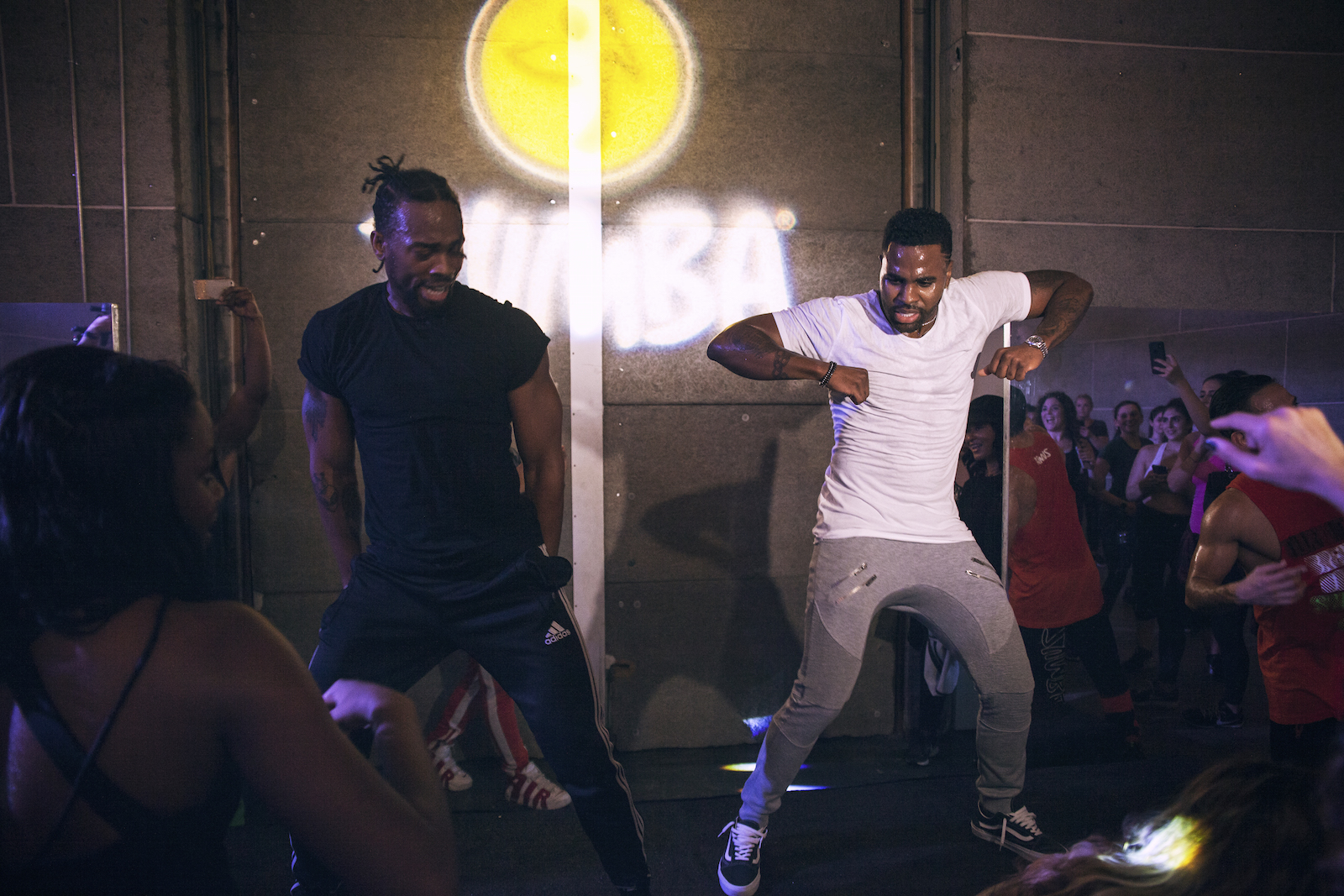 At this point, everyone is just standing around gawking, and it feels more like a 15-minute performance than the dance instruction we were promised. Maybe I should have known better than to expect a step-by-step choreography lesson instead of a flashy promo stunt; all the "influencers" in the room that I speak to afterwards are perfectly satisfied with the opportunity to pair a workout with photo-opps. Judging from the sheer size of the packed room, I also suddenly understand why musicians like Derulo are so eager to cash in on the growing popularity of group fitness classes. In a world where there's a Spotify playlist for every mood and activity, "exercise tunes" has almost become its own music genre. It feels inevitable that gyms will increasingly try to feel like cheap nightclubs, and artists will frame their songs not just as soundtracks for calorie-burning activities, but as workouts in themselves.
After a few minutes, Derulo jumps back off the stage, poses for a few photos, and struts back out into the evening. I chase after him, hoping to ask the one question that's been burning in my mind: Why Zumba? A horde of fans surround his car, showering him with compliments and thanking him for the night. He's smiling, but seems eager to peace out. For a second,he glances at me and I lurch forward—but he slides into his car before I get a chance to speak, speeding off into the night. Crossfit...burlesque...Jazzercise… who knows where he will go next? As long as there are cameras in the air and money in the bank, it's no sweat off his back.
Michelle Lhooq is a journalist in LA covering weed, sex, and music. Follow her on Twitter.

This article originally appeared on Noisey US.