For our 2017-18 NBA Season Preview, we're doing deep dives on five teams who can beat the Warriors in the next five years—and the players who can push them over the top.
Thanks to Dario Saric, coffee dates are now a game-day ritual among several members of the Philadelphia 76ers. The relatively overlooked sophomore initiated the custom during his rookie season as a way to learn about his new teammates, stay comfortable in a foreign land, and, most importantly, relax.
The 23-year-old was mystified when he first saw to-go cups, a symbol of the behavioral chasm that exists between the United States and Europe. "In Croatia, we have special bars for coffee. We sit there for three, four hours, read the newspaper, talk with each other," Saric tells VICE Sports. "It's not like here where you take your coffee and continue to do your work."
So they'll sit for 45 minutes or an hour and chat about life, women, NBA gossip, and general basketball matters. The American players debate the NFL while soccer is a topic of discussion among those who grew up in other parts of the world. Saric will tease Sixers point guard T.J. McConnell for downing lattes (American milk shakes) instead of a strong cappuccino. Joel Embiid often tags along, more in search of conversation than caffeine.
These excursions won't lead the Sixers to the playoffs, boost their collective three-point percentage, or formulate a scheme that'll eventually help them reign over the NBA. But for a young core that's endured unprecedented failure and numerous setbacks over the past few years, simply setting aside time to have positive bonding experiences may have unquantifiable long-term implications.
"It's one part of growing up in this process," Saric says. "Everything is easier on the court because of that."
On the floor, few players in the NBA possess Saric's size, intelligence, skill, and maniacal work ethi—not just a product of all the cappuccinos. The Sixers have, at times, semi-seriously banned him from the gym to keep him off his legs.
He entered the NBA last season with over half a decade of professional experience already under his belt, where he racked up numerous EuroLeague accolades. A boy surrounded by men, outplaying them at every turn. Chris Babcock, a player development coach for the Sixers since 2013, remembers flying overseas a few years ago to watch Saric play. They were in Belgrade, competing in an environment that can politely be described as psychotic—particularly if you were born in Croatia.
"I was sitting next to one of our Serbian guys and I had no idea what the fans were saying," Babcock says. "He goes 'You don't want to know, but it's not nice to Dario.' The kid was incredibly tough. They lost the game but he played so hard; didn't get distracted by everything that was going on."
On an injury-plagued team that was essentially trying to lose as many games as it could, Saric's initial adjustment to the NBA was bitter. He came over just a few weeks before training camp started and had very little time to get mentally or physically accustomed to the best players in the world. He struggled to finish around the basket, couldn't knock down threes, and was inconsistent when switching onto smaller guards on defense.
It was a chaotic, exhausting experience. Saric's legs weren't there, and his teammates didn't have enough talent and/or experience to lift some of the responsibility that eventually sagged on his shoulders. Saric recorded one of the 50 highest usage percentages in league history among rookies who played at least 2000 minutes (same as Kristaps Porzingis; higher than Karl Malone, Stephon Marbury, and Damian Lillard), and came around to win Rookie of the Month in February and March, when he averaged 18.4 points, 7.0 rebounds, and 3.4 assists per game.
Before the All-Star break, he shot a putrid 52 percent in the restricted area. "Unfortunately, he had to learn through playing," Babcock says. "But really that ended up turning into a strength of his. He got better at quick-ups, pivoting, finishing around the rim both through drives and through his post game."
After the All-Star break, when he became a full-time starter, Saric's field goal percentage in the restricted area jumped up to a far more respectable 60.3 percent, but he still struggled beyond the arc. His three-point percentage sunk below 30 percent, even though most attempts were uncontested and off the catch. Still, there are several reasons to believe this weakness can be corrected.
"It seems like a small distance, but the change from the international three to the NBA three is a pretty hard adjustment, especially in a short amount of time," Babcock says. "He has a good looking shot."
For the most part, the team hasn't tinkered with Saric's form—though they'd still like him to shorten how far he brings the ball back and focus on keeping his arc high—so much as they've instructed him to familiarize himself with the extended distance. It was his primary concern over the summer.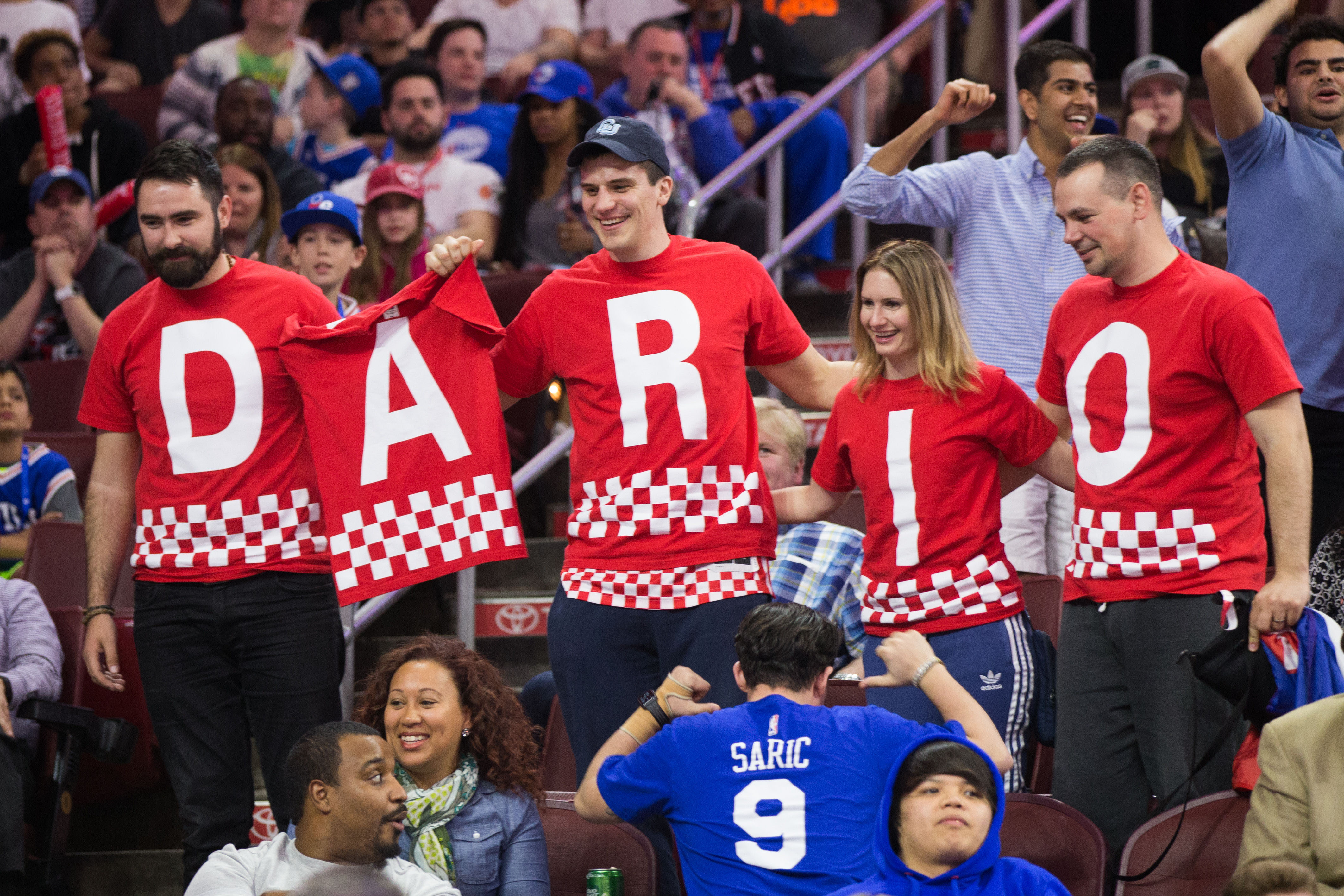 Saric will enter his second NBA season in a dramatically different role, and with a useful influx of talent and knowledge around him. If they are healthy, Embiid and Ben Simmons will be Philadelphia's two highest usage options, creating better looks for Saric than he had for most of last year. J.J. Redick can space the floor and Amir Johnson can anchor a bench unit. Rookie guard Markelle Fultz knows how to put the ball in the basket in countless ways. Saric won't be asked to make plays as a primary option. His looks will be more choreographed than random, and a higher percentage of his outside shots will likely come from the corner. His usage will shrink, his efficiency will rise.
But even if Saric makes noticeable strides in year two, Philadelphia isn't even promised a playoff spot, let alone championship contention. Cracking the league's upper crust is more of a long term goal. But if it happens, and Saric is able to transform into an exemplary complement to Simmons and Embiid, the 76ers could ultimately string together a dynastic run of their own, as pioneers of the NBA's next frontier—staying versatile without forfeiting size.
As teams all across the NBA hoard athletic wings who can shoot, defend, and maybe do a little something creative off the bounce, the Sixers are quietly defying convention. Simmons, Saric, and Embiid are all at least 6'10", and each channels several precious qualities that are unusual in players that size. If they can manage to stay on the court without constricting each other's space, and remain stout on the defensive end, the NBA will have never seen a trio quite like it before.
"Embiid can be one of the best guys in the NBA," Saric says. "And for me it's easier when I have Ben, who can share the ball, who can pass [to] me outside for my three pointers. Who can feed me in the low post. With Joel, I can play pick-and-roll. I can pop and he can roll. I can roll and he can pop. There are so many options in the game and I hope I can be an important part. They make it easier to play."
If all goes according to plan, Philly's collective ceiling is a contemporary iteration of the 1986 Boston Celtics, with a gigantic frontcourt that intuitively understands how valuable the pass that leads to an assist truly is. Nobody could stop that, including the Warriors. Unleashing three legitimate post presences that can function simultaneously without stepping on each other's toes? Who force double teams, shoot threes, and guard multiple positions?
Instead of trying to conquer Golden State by using its playing style against them, the Sixers could stay extremely large and subdue them with a contrasting strategy. They could bully them in a slower environment, exert control on the boards, and not feel any pressure to downsize thanks to the rare skill-sets found in their bigs.
Saric epitomizes the advantage. He's a walking mismatch in those jumbo lineups and as a small-ball five. For example, picture him at center, operating in space, with Robert Covington as a stretch four. (According to NBAWowy, last year those lineups outscored opponents by nearly 24 points per 100 possessions in 38 minutes.)
Of course, for it all to work, Saric's aforementioned three-point shot must rise to a respectable level. He has to cut out his sloppy turnovers and become more of an impact defender, particularly on the perimeter.
According to Synergy Sports, Saric allowed opponents to score 1.45 points per possession whenever he switched screens. That number is abysmal—nearly twice as poor as Tristan Thompson, Draymond Green, and Blake Griffin—and ranked dead last among all players who logged at least 25 such possessions.
"He was thrown into our league really quickly without much prep, so as much of it is a physical thing, he's spent a lot of time with our defensive coach Lloyd Pierce, learning different angles, keeping a hand up against guards that can shoot," Babcock says. "We feel that he can guard multiple positions. He did it last year a little bit inconsistently, but he moves his feet well, he's strong and he's smart. With more experience, I think he'll just keep getting better and better."
The Sixers aren't discouraged by any issues Saric had on defense last year, in part because they allowed just 98.7 points per 100 possessions whenever he shared the floor with Embiid, who's essentially a parachute for teammates on the defensive end.
"Sometimes I can try to steal the ball and know I have Joel behind me," Saric says. "And know he can block the shots easy."
Keeping Embiid, Simmons, Fultz, and Saric together for the next five years won't be easy. The 2021-22 season would be the first of Fultz's second contract and the fourth of Embiid's max deal. Saric, Simmons, and Timothé Luwawu-Cabarrot are all extension eligible heading into 2020-21, and the former two could potentially command max deals. (Covington should also be on the books earning significant money.)
Philadelphia has its own first-round pick in the 2018 draft, plus the Los Angeles Lakers selection so long as it doesn't land second, third, fourth, or fifth. These picks will not be cheap. There are worse problems to have, but the Sixers could find themselves making some very difficult financial decisions down the line.
But if they let this core grow together, over coffee and on the court, and use the next few seasons to study the various ways they can play on both ends when Saric shares the floor with Embiid and Simmons, it'll be a revolutionary collection of talent—one that an aging Golden State Warriors squad would struggle to slow down.