Drones are fun, but unless you're in the government, using one has been illegal in India ever since they became cool. Despite this, about 40,000 civilian drones were sold in India from 2015-17, because even though flying a drone is illegal, selling one is not.
As regulation of drones is still in limbo, the industry around them is burgeoning, with sites like Amazon, PayTM, and Flipkart getting into drone-related e-commerce. Pradip Kathrotia, a 21-year-old final-year electronics engineering student at the National Institute of Technology (NIT)-Delhi, is a drone entrepreneur.
Kathrotia runs The Dukaan App—a home delivery service for basic parts, like accelerometers, that students and professionals can assemble to their own specs. Kathrotia and his team of eight people sell everything from parts to fully-customised drones, spreading information about their service through the network of engineering students from the country's NITs.
One of Kathrotia's recent clients was a 21-year old mechanical engineering student from DIT Dehradun, who wanted to build a firefighting drone from scratch. Kathrotia was able to secure the equipment cheaper than anyplace on the Indian internet, because he sourced parts individually from wholesale markets in the old city of Delhi, rather than signing expensive licensing deals with parts suppliers.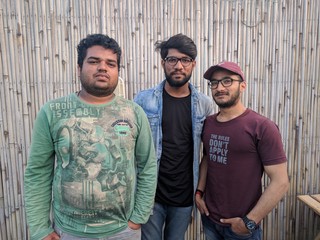 Though the laws around drone usage are unclear, with even planned regulations by the Directorate General of Civil Aviation mentioning only flight—not manufacturing or assembly—Kathrotia is forging ahead with development and marketing of Dukaan.
Part of Dukaan's customer acquisition strategy is holding two-day workshops in colleges to teach drone designing, assembly, simulation and flight. Kathrotia told VICE the crowds include everyone from teenagers to engineering Ph.D. students. After a recent workshop at the Doon School, Dukaan was asked to set up the elite boarding school's aeromodelling lab.
Dukaan's parent company is an education technology start-up called DesignCut. Kathrotia and DesignCut CEO Shailendra Kumar Mishra decided to work together during the drunken last day of the PTBAN (Proud to be an NITian) festival in 2016.
Kathrotia was upset because he had just been through a break-up with his girlfriend back home in Surat. The first person in his family to study beyond the 8th grade, he also wasn't sure what he should be doing with his life. Mishra and Kathrotia ended up watching a TedX video, "Break-Ups Don't Have to Leave You Broken," and decided to move forward with their lives.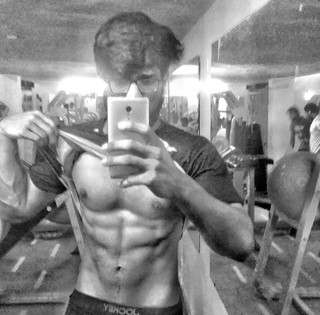 Kathrotia began waking up at 6 AM and going to the gym. In six months, he was as jacked as Hrithik Roshan in the Dhoom days. He also started competing in bodybuilding competitions, winning a bronze medal last September in the inter-NIT competition, and a silver medal at a sports fest in Jaipur in February, where he was decorated by the Olympic medalist Yogeshwar Dutt.
In their down time, Kathrotia and Mishra—along with friends Pawan Chandrakantha and Roopan Tully—worked on DesignCut. "Many workshop and training companies are looting the public," Mishra told me. "We could give give quality work for lesser price." He added that "Many colleges don't have robotics clubs. We are helping colleges set up their robotics clubs and providing them solutions."
From the cash made they made at the first workshop, the entire team bought a Kathrotia a guitar, which he brings out every Sunday to play in the park in Connaught Place.
Besides workshops, DesignCut has helped companies service their chimneys and conduct land surveys. They are currently working on disaster management drones.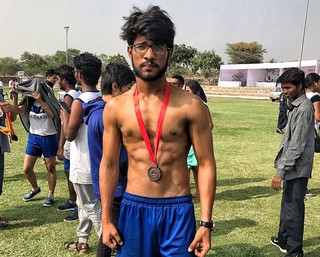 They also keep partnering with schools, IITs and NITs to give students like themselves cheaper access to the newest technology. "We didn't want to work with technologies which are old or basic, ie can be learned from YouTube," Mishra said. "If you want to learn how to build or fly a quadcopter, for example, you have to come to a class."
The company, now nearly two years old, got off to a good start with orders for over one lakh in the first week of The Dukaan app's Android launch in early March, and are working with campus ambassadors on a commission basis market their brand. This summer, DesignCut will start a "Summerhawk Program", offering drone workshops to the public.
Dukaan doesn't have a lot of competition in its space yet, and should be able to hold its own in the general tech start-up space: the app was among the top 3,000 out of 50,000 applicants in Government of India and IIM Kolkata's Smart Fifty competition this year.
Meanwhile, Kathrotia remains competitive in other areas too—he cleared two rounds of the Mr Delhi bodybuilding competition earlier this year, nearly reaching the final contest.
Follow Parthshri Arora on Twitter.