For over 15 years, 52-year-old street vendor Frank Wang has stood outside Bethnal Green Tube station in east London. Operating from his coffee van, he's been providing commuters their morning fix of caffeine as they dash off in a million different directions to get to a million different jobs that they almost certainly detest for a million different reasons.

However, this might not be the case for much longer. Following the development of a disused public toilet adjacent to Frank's pitch, which is to become a tapas bar called Chiringuito, he's had his power cut off as it's needed by his new neighbour. He's also been asked to move – which, Frank argues, is a way of allowing the area to be further regenerated and for Chiringuito to maximise their profits.
Here's the website for Chiringuito in Bethnal Green, which is "opening in summer 2018". It features several beach shots, sunsets, a bunch of palm trees, information about how cool their tiles are and looks like a promotion for a dire Ibizan club night. Which is all fine, but, you know, it's a renovated toilet in east London.
A friend of Frank's has set up an online petition calling on Tower Hamlets council to leave him be – which, at the time of writing, has 2,700 signatures – and Frank has collected pages of handwritten signatures. A customer has also made a sign for him which reads: "DON'T LET BIG BUSINESS CRUSH FRANK! HE'S ALREADY HAD HIS POWER CUT OFF!!!"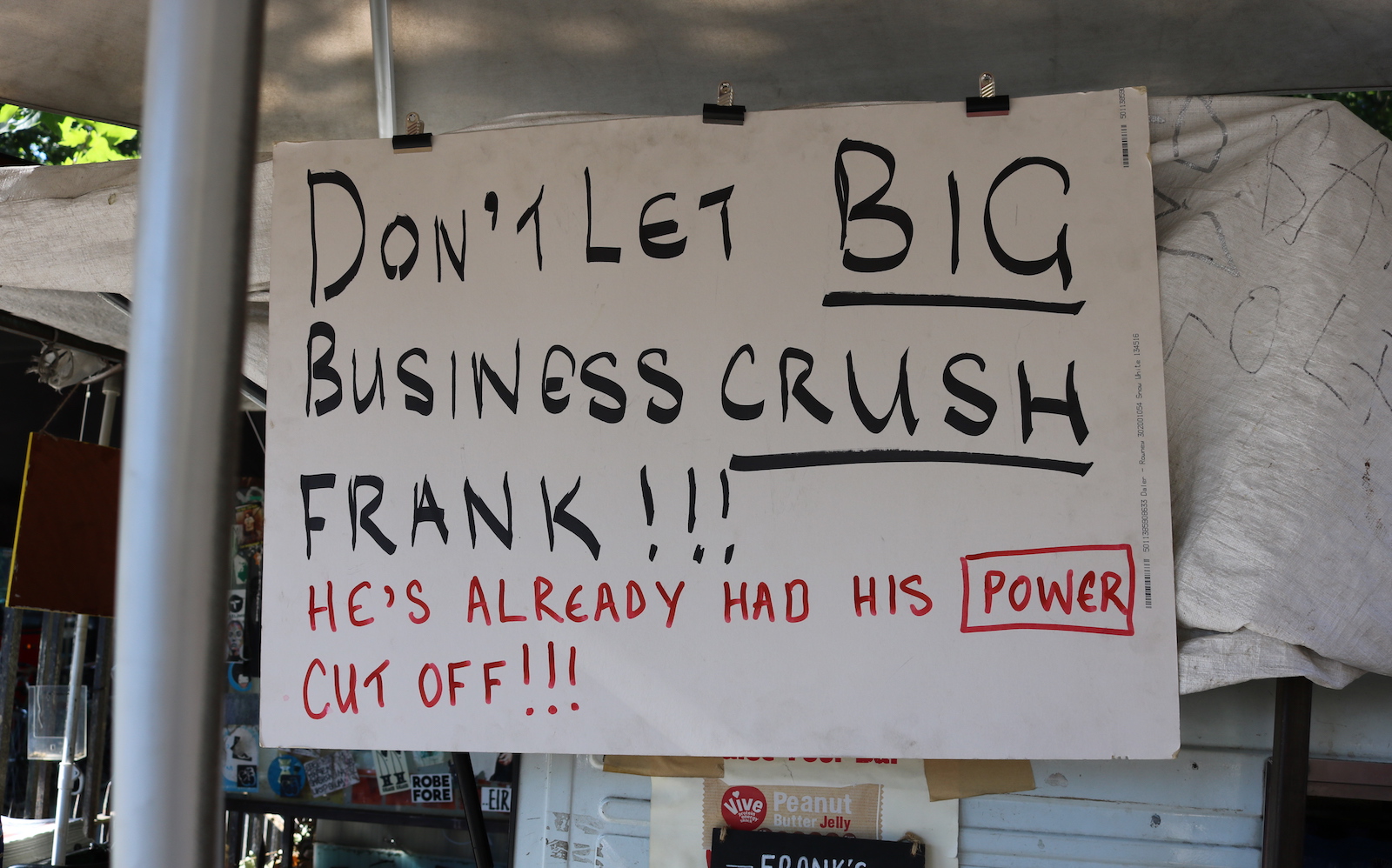 Tower Hamlets Council (THC) argue that Frank was also given an opportunity to bid for the site where Chiringuito now stands. "But it would cost a quarter of a million pounds," Frank tells me. "Where would I get the money? If I had that I would retire immediately." Frank believes that the people developing Chiringuito cut his power, but according to them and THC, it was his own landlord – TfL.
"This is them [Chiringuito], they can't deny it – I have photos and videos [Frank showed VICE photos depicting a disconnected power box and a video showing a bizarrely passive-aggressive standoff between Frank and the developer, both filming each other, which didn't prove anything.] "I just want an easy life," Frank insists. "This shouldn't be difficult; if I just had a power supply I could continue to do my business."
"I'm a fan of having [Frank] here," Kate, a 39-year-old fundraiser buying coffee outside Frank's stand this week, tells me. "He keeps an eye on the neighbourhood and he's a really nice guy." I ask Kate what implications could arise if more small businesses were sidelined in favour of bigger, glossier outfits. "Well, it's a real hollowing out of the community, isn't it?" she responds. "The idea that we would prioritise a big business over a little one seems really counterintuitive: people want to live in neighbourhoods where everyone keeps an eye on each other."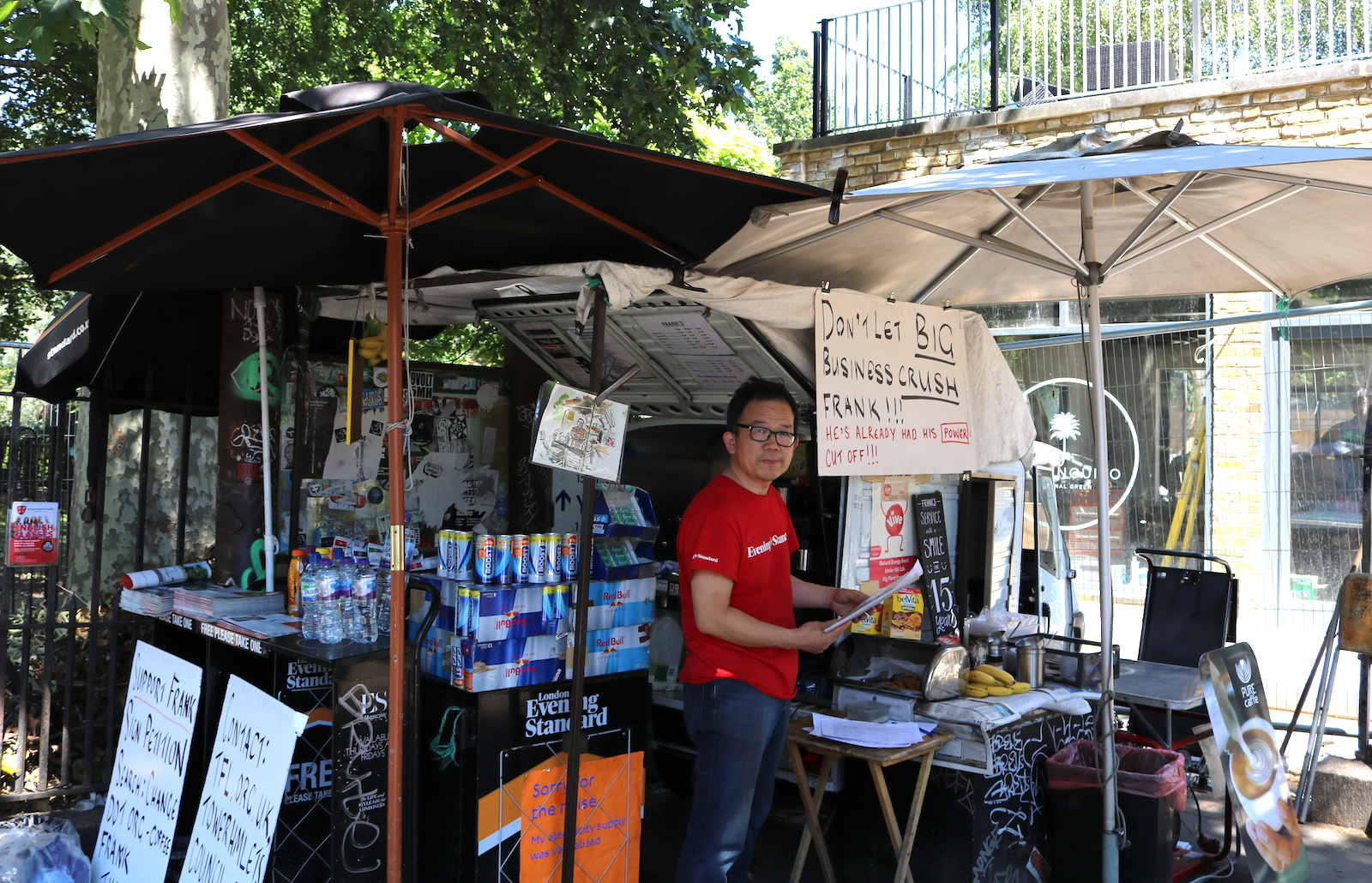 "I see him here every day; he's always so cheerful and I want to support him," another customer, 66-year-old artist Agalese, explains as she signs the petition. "If he goes, everyone will miss him; he looks after the homeless by giving them coffee and talking to them."
I ask Frank if he feels that both businesses could operate outside the Tube station. "Yes," he says. "For me it would be OK: we can respect each other; we can support each other."
In an emailed statement, Alex Dehayen, the owner of Chiringuito, flatly denied having anything to do with the power cut. "I don't have any issue in principle with Frank operating his business next to ours," he said. "We have different core offerings. I do take issue with the inaccurate and misleading things that Frank is saying to people about my business."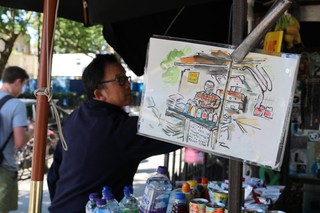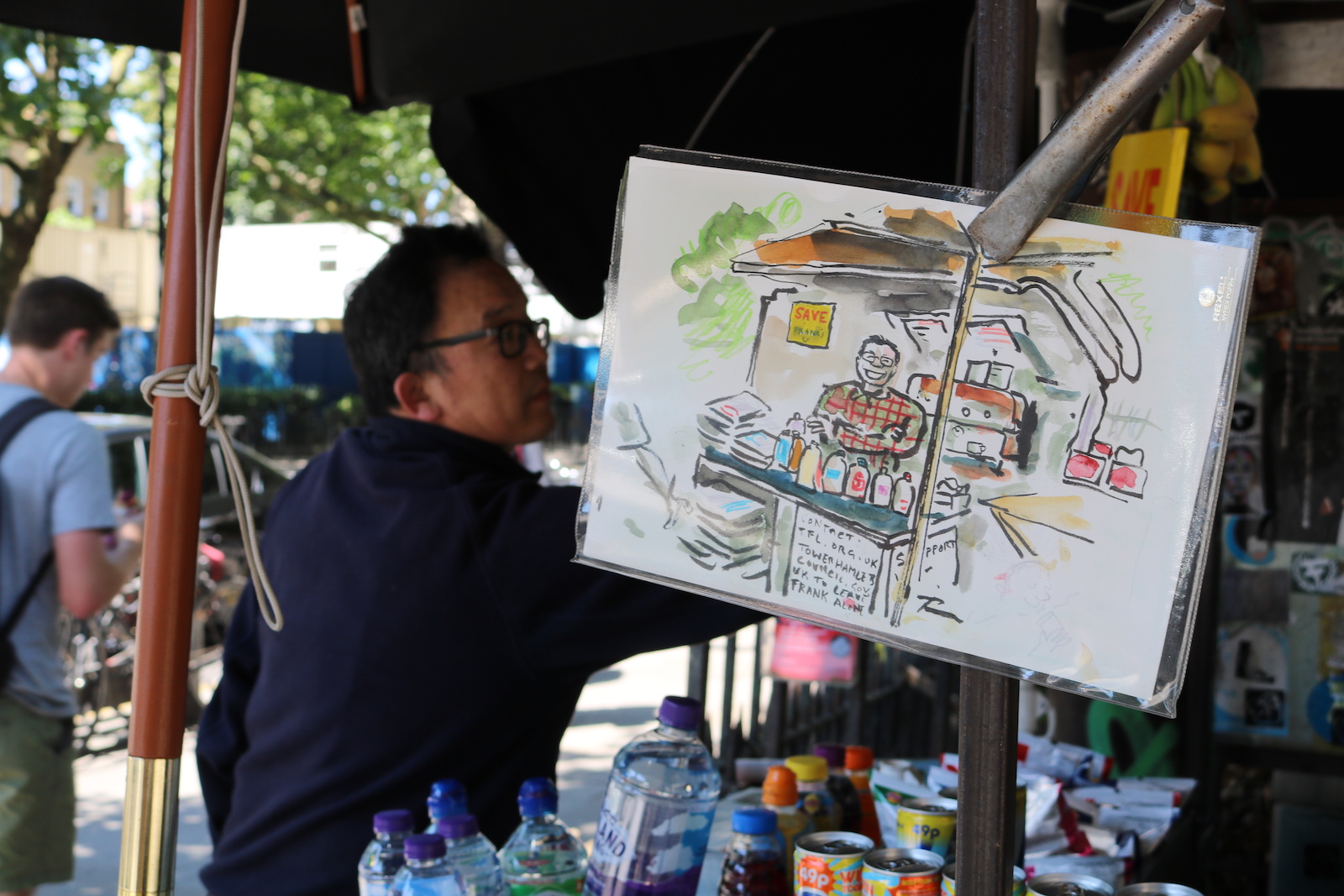 Graeme Craig, Director of Commercial Development at TfL, told me: "We are currently in discussion with Mr Wang and exploring options to see if we can help him stay at Bethnal Green Tube station or if there is an alternative location for him to host his coffee cart. Small businesses are very important to TfL and make up the vast majority of our commercial estate." A spokesperson for THC said: "Although this is a matter for TfL, we believe in supporting local businesses and we are keen to help. We have offered TfL some possible alternative council-owned local sites which Mr Wang could move to." It is unclear if the new options have a footfall like Frank's current spot.
Two points worth noting while dissecting this situation: 1) All parties – Frank, Chiringuito, TfL and THC – have said they feel both businesses could co-exist peacefully; 2) Both TfL and THC have said they want to support Frank's small business. So what's the hold up?