Scots have a talent for taking unlikely food and drink and making it their own in a way no other country does. There's the calorie catastrophe that is the deep-fried Mars bar or the way Buckfast, a wine invented by Benedictine monks, has become a Scottish teenager's rite of passage. Tobago-born Brian Austin, who arrived in Glasgow in 1992 aged 13, remembers his first such Scottish food experience as "mind-blowing."
"I was hanging out with my mate and we go to the chippy round the corner and I'm thinking we'll get fish and chips, but my mate orders a fried pizza supper," he tells me. "I'm like, 'What are you talking about?' but he says, 'Trust me.' I had that and loved it."
Austin now runs one of Scotland's few Caribbean restaurants, The Rum Shack in Glasgow, and it's here that we're discussing the flipside of Scots taking a dish and putting their own spin on it. At Austin's place, dishes like haggis and cranachan are given a Caribbean makeover, sitting alongside more traditional West Indian fare such as accra and chicken brown down. The Scottish influenced dishes are partly on the menu to ease customers into tasting Caribbean cuisine for what is often their first time. While Austin asserts that his food is usually well received by Scots, he does recall a particularly unpleasant situation: "We were doing this street food event up in Perth, serving jerk chicken and curry goat and a woman was like, 'Curry goat? Are you serious?' She was scandalised that we were serving goat meat."
"Manchester, Birmingham, London, Nottingham, Leeds—these places have Caribbean communities, but there's no area in Glasgow that has Caribbean people," he continues.
Still, Austin believed his recipes, developed during trips back to Tobago, would take off in his adopted hometown, and they did. He opened The Rum Shack with friend Lewis Macaulay in 2014 and aside from serving dishes representing countries including Jamaica, the Dominican Republic, and Cuba, the venue also now annually celebrates one of the most important dates in Scotland's calendar, Burns Night, by putting a Caribbean twist on the celebration's associated traditional Scottish cuisine.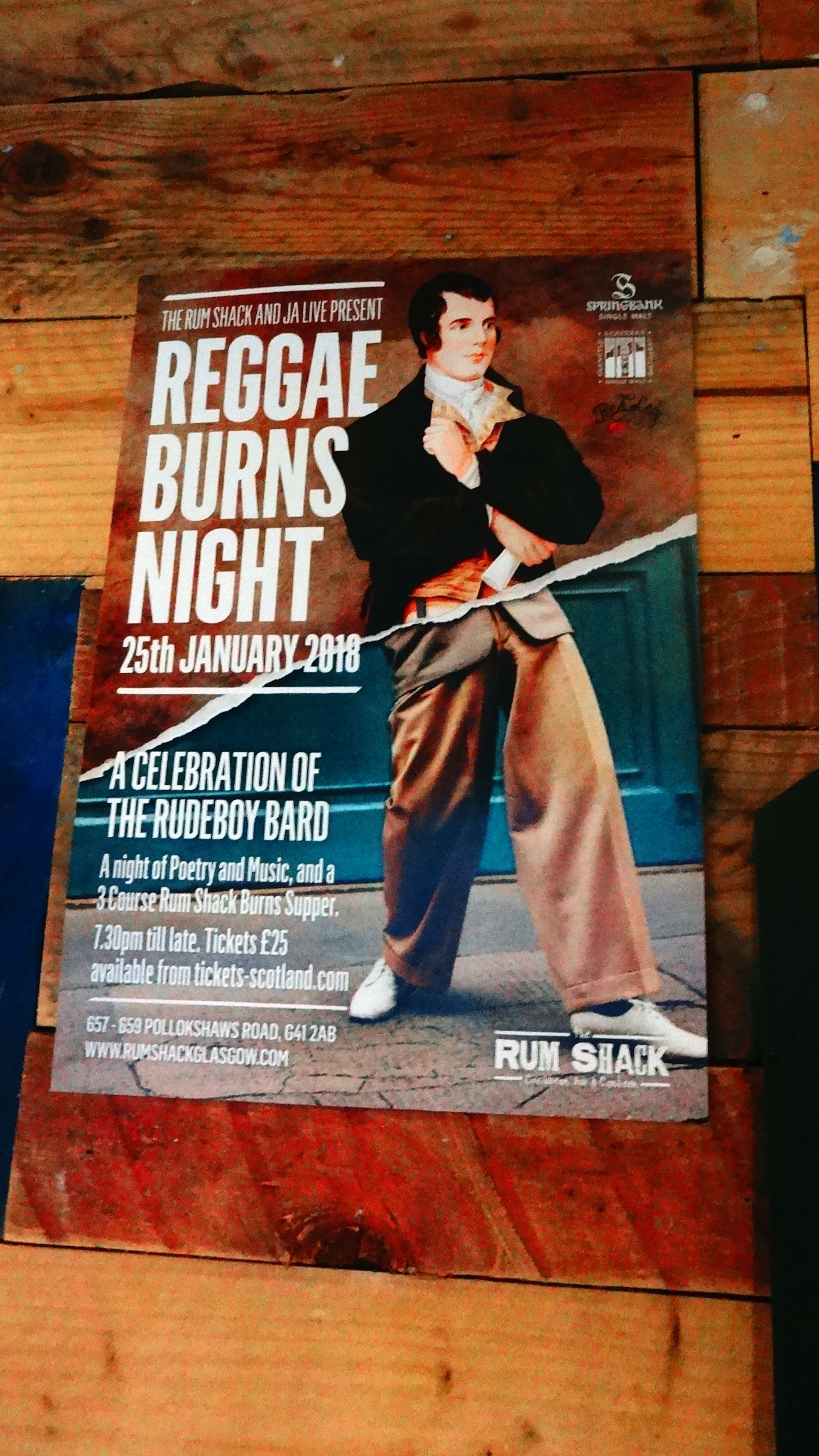 While the authentic Caribbean dishes on The Rum Shack's menu are Austin's long-practiced recipes, it was getting Royal Scotsman chef Mark Tamburrini on board that led to the creation of the spiced haggis bon bons—haggis meat rolled in bread crumbs, deep-fried, and served with a tamarind sauce.
"Mark was a friend and he was a massive help structuring the menus," Austin says. "When he said, 'Why don't yous try haggis bon bons?' We did it and people loved it so it's stayed."
How did they arrive at the recipe?
"We were going through a bit of an obsession with tamarind sauce around the time we tried out the bons bons," Austin reveals. "Turns out that the tanginess of the tamarind works really well with the texture and spice from the haggis and the crunch from the breadcrumbs."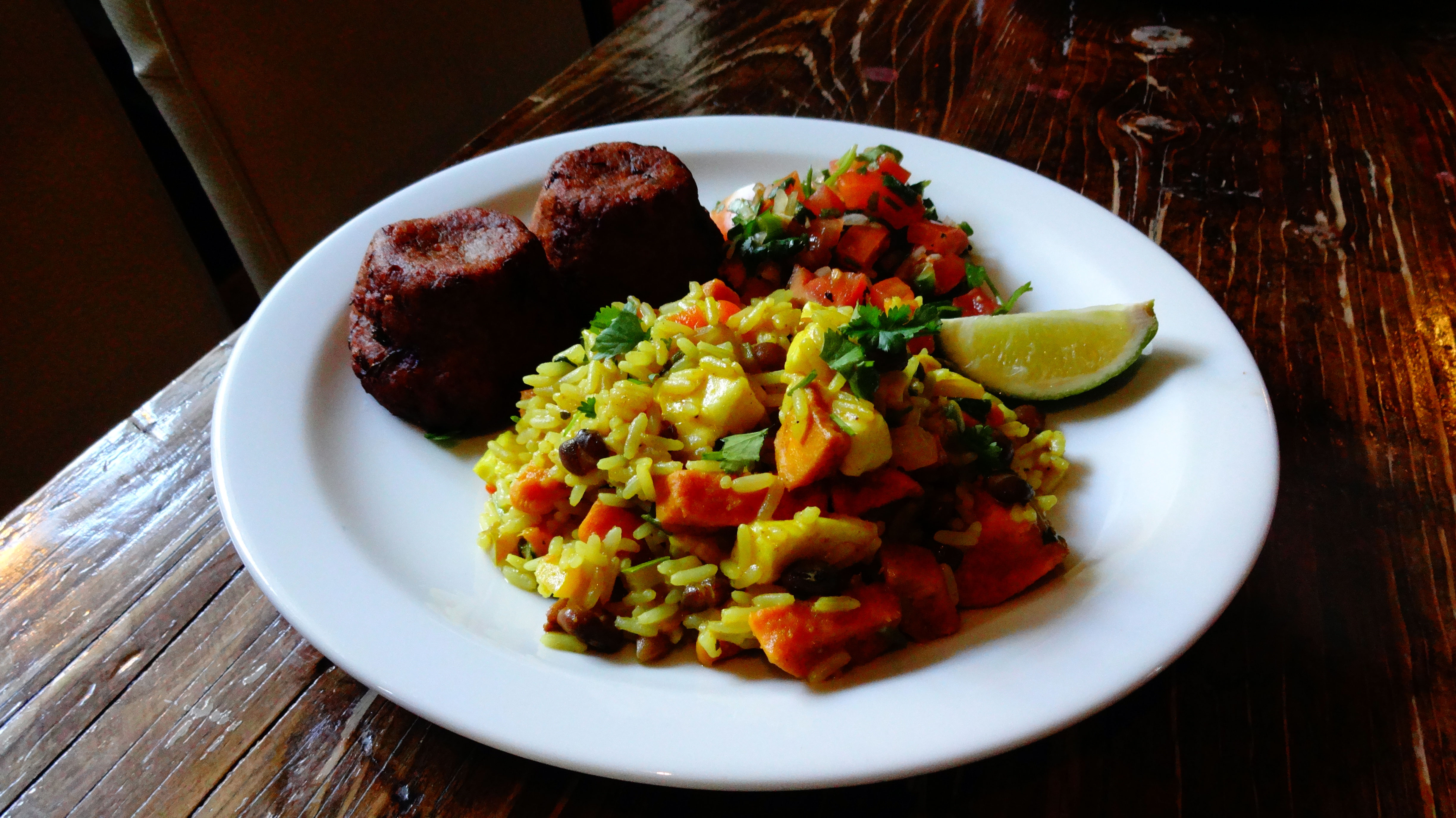 Downstairs in The Rum Shack kitchen, while chef Michael starts preparing the bon bons, Austin shows me how he makes his signature brown down, coating an assortment of chicken legs and thighs in sugar that's just shy of burning. He explains that it's a good dish for sensitive palates as it's not particularly spicy, and served with Trini-style macaroni pie—a nod to Scotland's own macaroni cheese pie. With the chicken browned, Austin adds stock and a dash of soy sauce, before carefully placing a Scotch bonnet among the chicken pieces.
"You have to make sure it just sits there and doesn't burst, because this is a mild dish. When it just sort of just poaches the flavour comes out—it's lovely and aromatic."
Austin says that Scottish and Caribbean cuisines can easily complement one another because "traditional Scottish ingredients like salmon and venison lend themselves to Caribbean seasoning."
As the chicken continues to stew, Michael shows me how he cooks another dish that has inspired the Reggae Burns Night menu. For the Burns Night supper, the restaurant's signature tostones—fritters made from boiled plantain, whizzed up with allspice, ground coriander, and coconut milk—are served encasing vegan haggis, while the accompanying sweet potato and red pepper risotto is switched to one made with beetroot and roasted broccoli.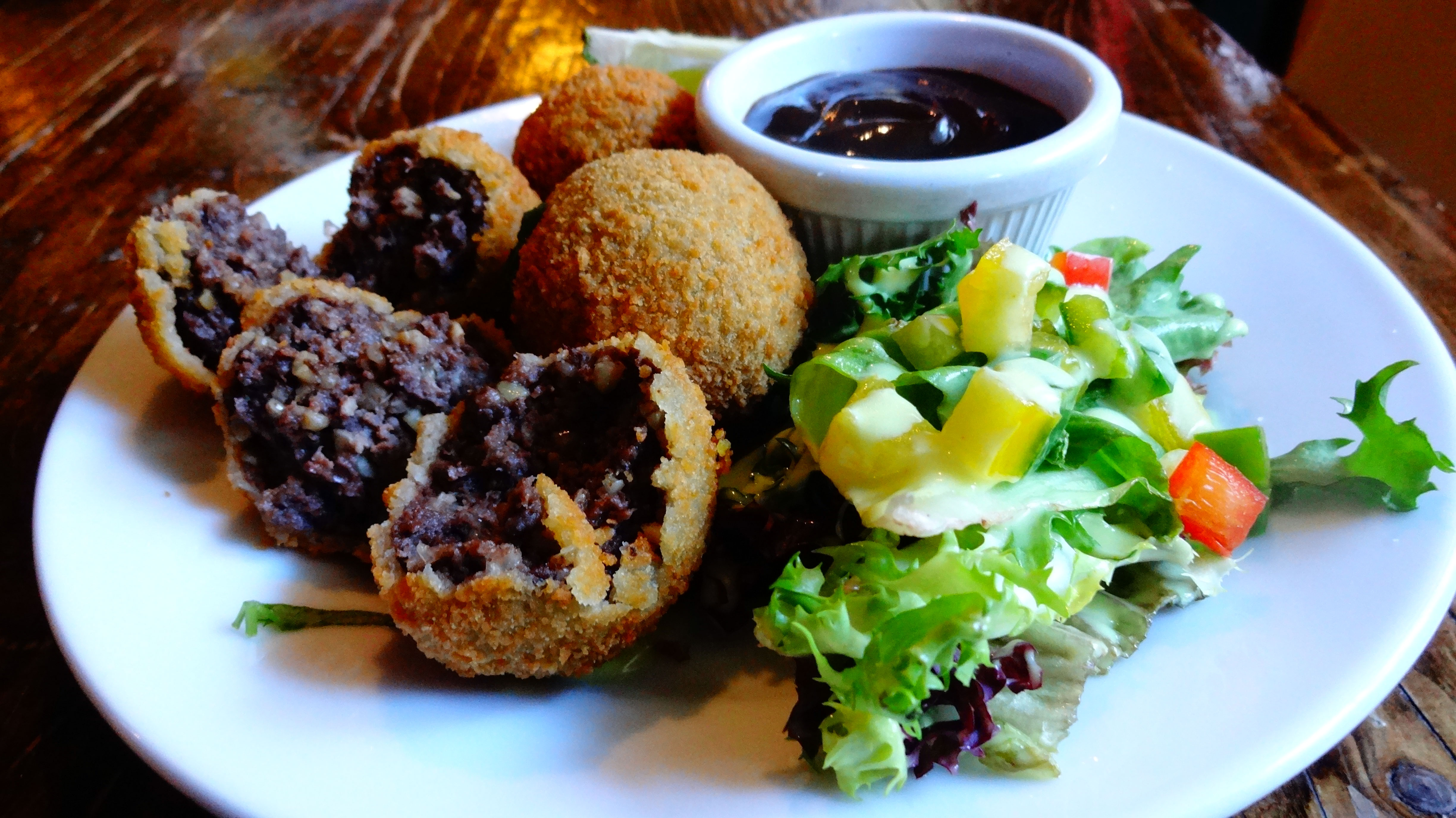 Austin says one of the best things about serving Caribbean food in Glasgow is getting a thumbs up from his fellow Scotland-dwelling West Indians, but he does enjoy being creative with his Reggae Burns Night menu.
"One of the first things we made was a jerk venison stew, it was unbelievable," he remembers, telling me that each year, he tries something new.
If the plantain fritters I try are anything to go by, then the Reggae Burns Night is a worthy celebration of Scotland's national poet.