This originally appeared on VICE AU.

On Sunday, snap rallies were held around the country in support of marriage equality. In Sydney, Melbourne, and Perth, thousands hit the streets to put pressure on Malcolm Turnbull and his cabinet ahead of an emergency meeting Monday.
The meeting will see the Liberal Party debate whether it will allow a free vote in parliament on marriage equality, an issue which divides Turnbull's cabinet perhaps more than any other. Broadly supported by the Australian public, a free vote could see same-sex marriage legalised within weeks—if it manages to get off the ground.
"People will tell you they know what will happen tomorrow," GetUp!'s marriage equality campaigner Sally Rugg told the crowd in Sydney on Sunday. "But really we have no idea what they will choose to do."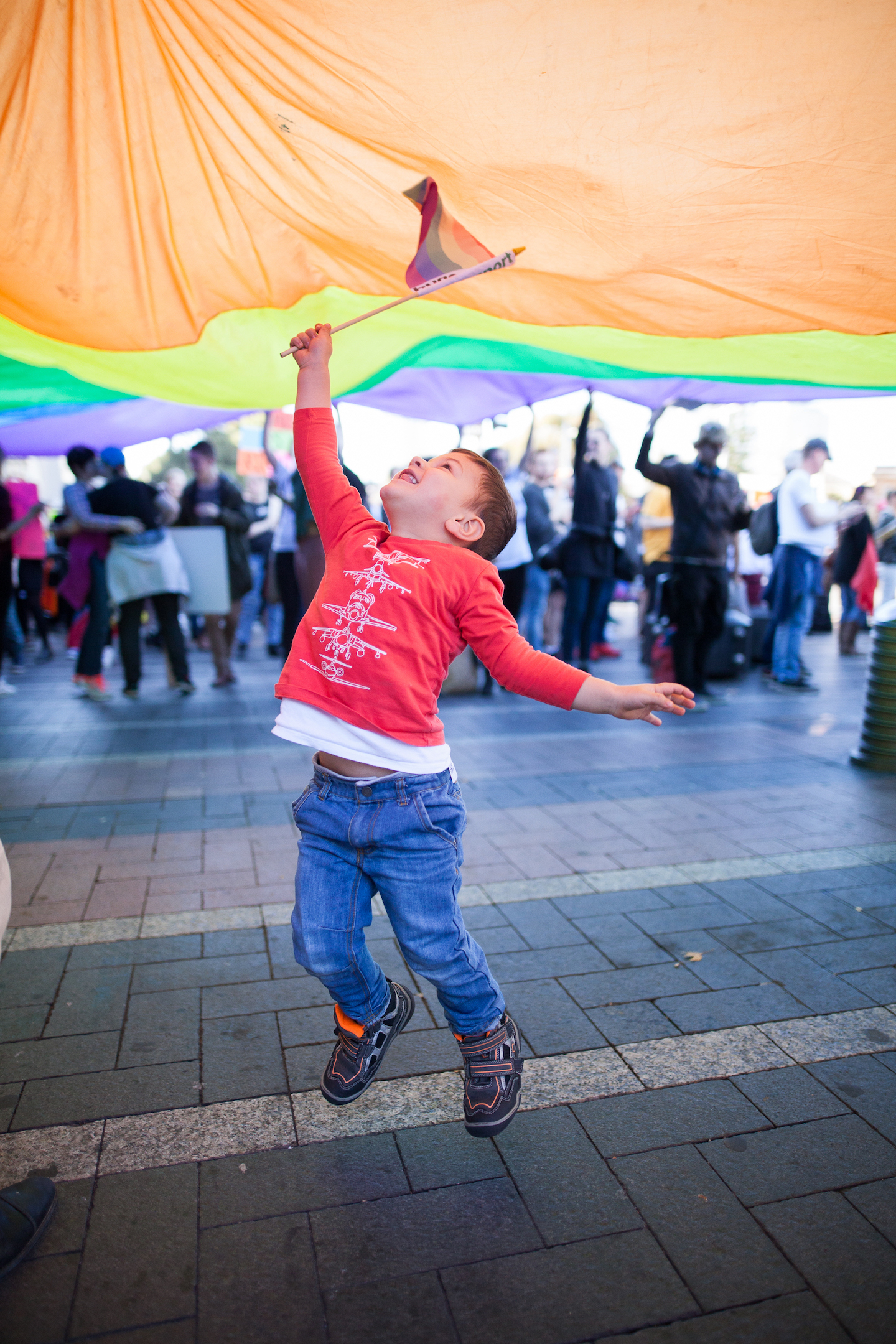 In one corner, there are the conservative stalwarts, led by Tony Abbott. The former PM has been all over the media in the past few weeks, making the case for a non-binding plebiscite on the issue of marriage equality. "Coalition MPs are honour-bound to oppose same-sex marriage in the absence of a plebiscite that's supported it," he wrote in The Australian on Monday.
While acknowledging some Liberals support same-sex marriage, Abbott declared that a "minority view inside the Coalition party room" ahead of today's meeting. But talk of the full-blown plebiscite promised during last year's election—with a price tag of between $160 million and $525 million—has largely given way to calls for a postal vote on the issue instead.
---
WATCH: VICE breakdowns plebiscite vs free vote in Parliament

---
Leading the push for marriage equality within the Liberal Party is Senator Dean Smith from Western Australia. He's garnered support from five other Liberals—christened the "marriage rebels"—Warren Entsch, Tim Wilson, Trevor Evans, Trent Zimmerman, and Jason Woods. On Sunday, the group released a draft bill entitled the Marriage Amendment (Definition and Religion Freedoms) Bill 2017.
The bill contains explicit legal protections for civil celebrants who refuse to marry same-sex couples. However, it does not allow other businesses to discriminate against couples on the basis of their gender.
"Bakers, musicians, florists and photographers will need to prove their business is linked to a 'religious body' to reject business from a gay couple," Annika Smethurst explained in the Sunday Telegraph. "And small businesses in the wedding industry won't be able to claim a conscientious objection."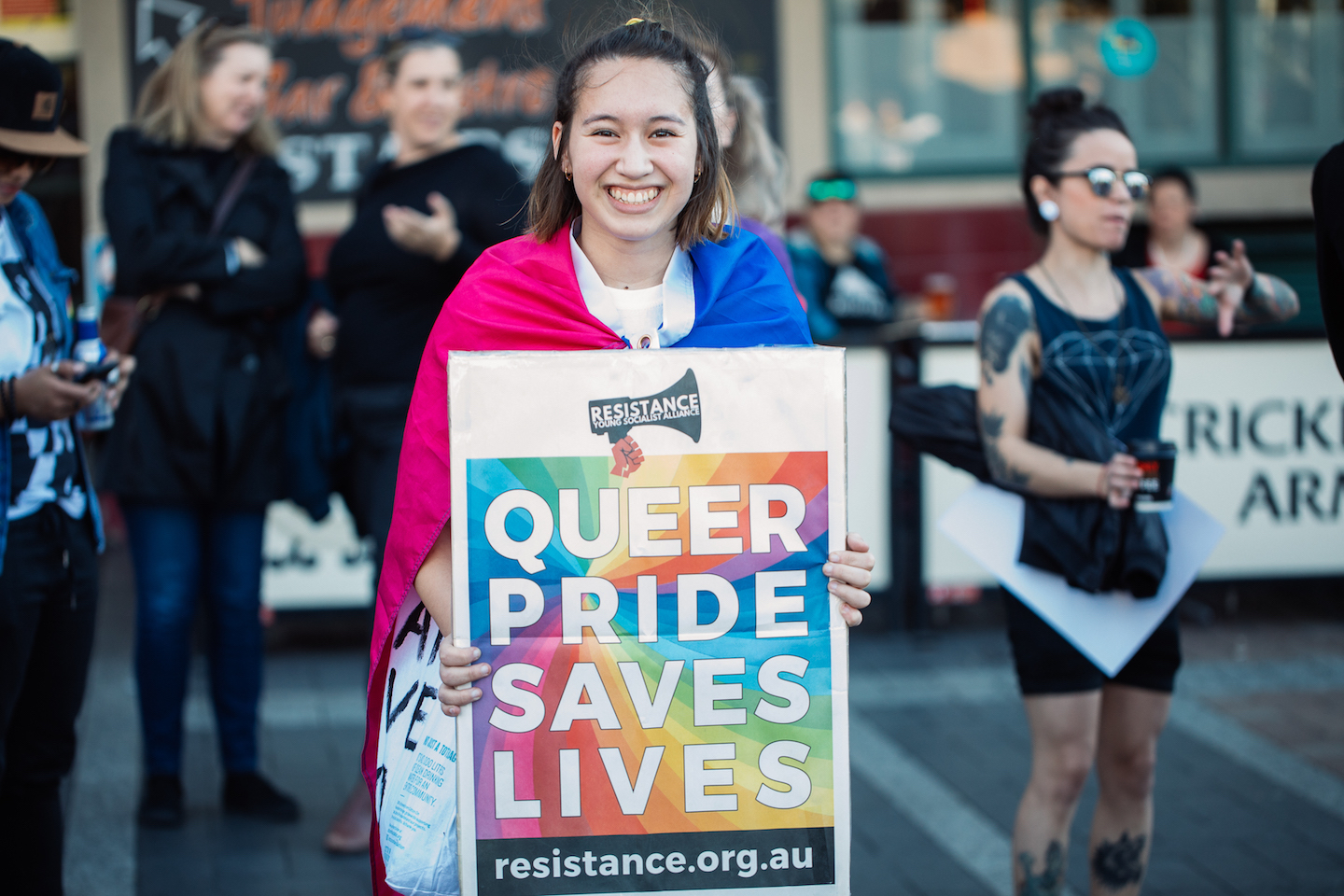 As for the Opposition, Labor has promised it will not use the marriage equality debate as an excuse to call a no confidence motion against the government. "In no way, shape or form," confirmed Tony Burke, manager of Opposition business.
However, there's talk the issue of marriage equality could quite literally split the Coalition at the seams without any help from Labor. The promise of a plebiscite vote on marriage equality is at the centre of the deal between the Liberal Party and the National Party, which gave Turnbull the numbers to form government. Holding a razor thin margin, losing the Nationals could spell disaster.
Last Friday, the Nationals held their own meeting on marriage equality, deciding to hold firm on backing a plebiscite.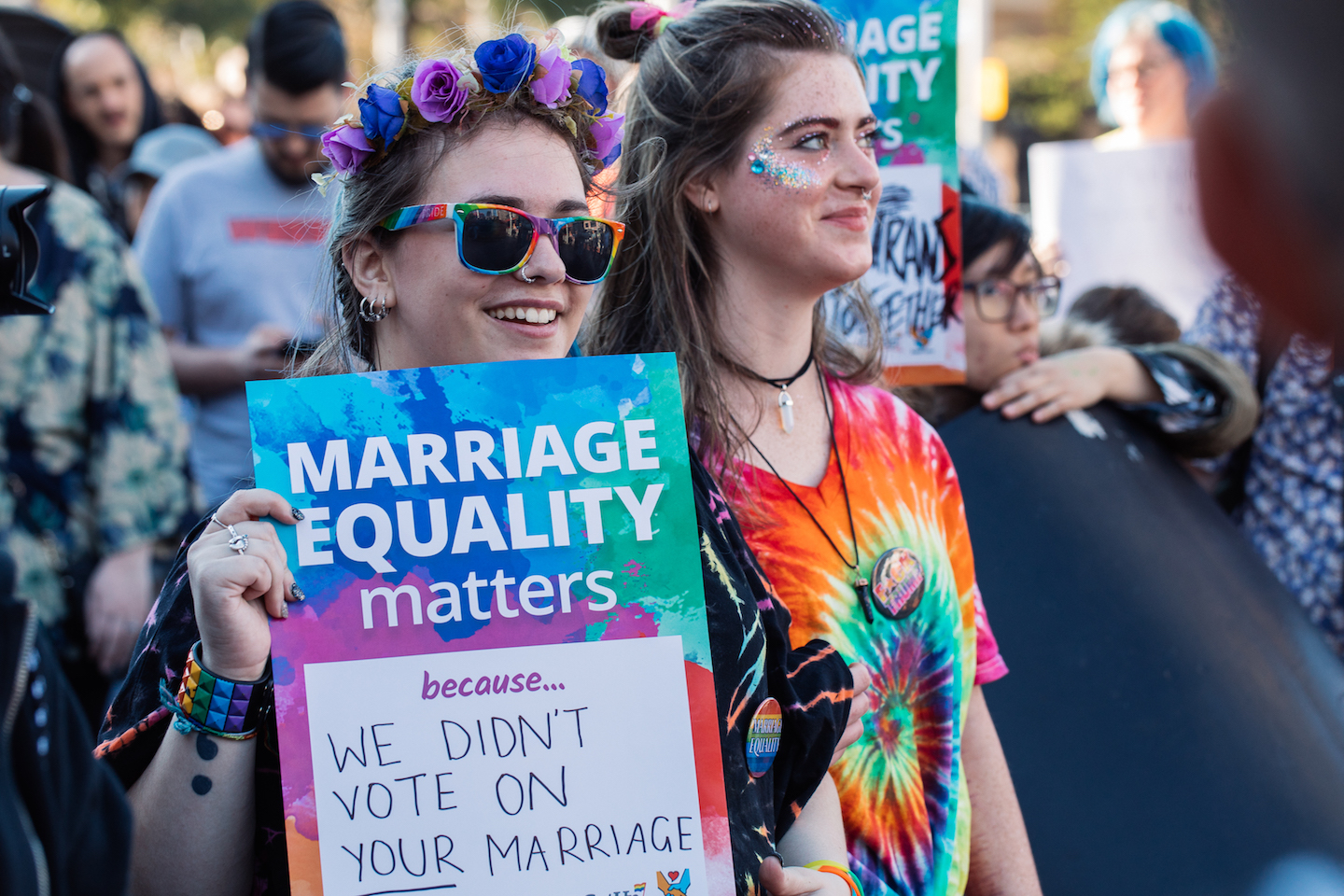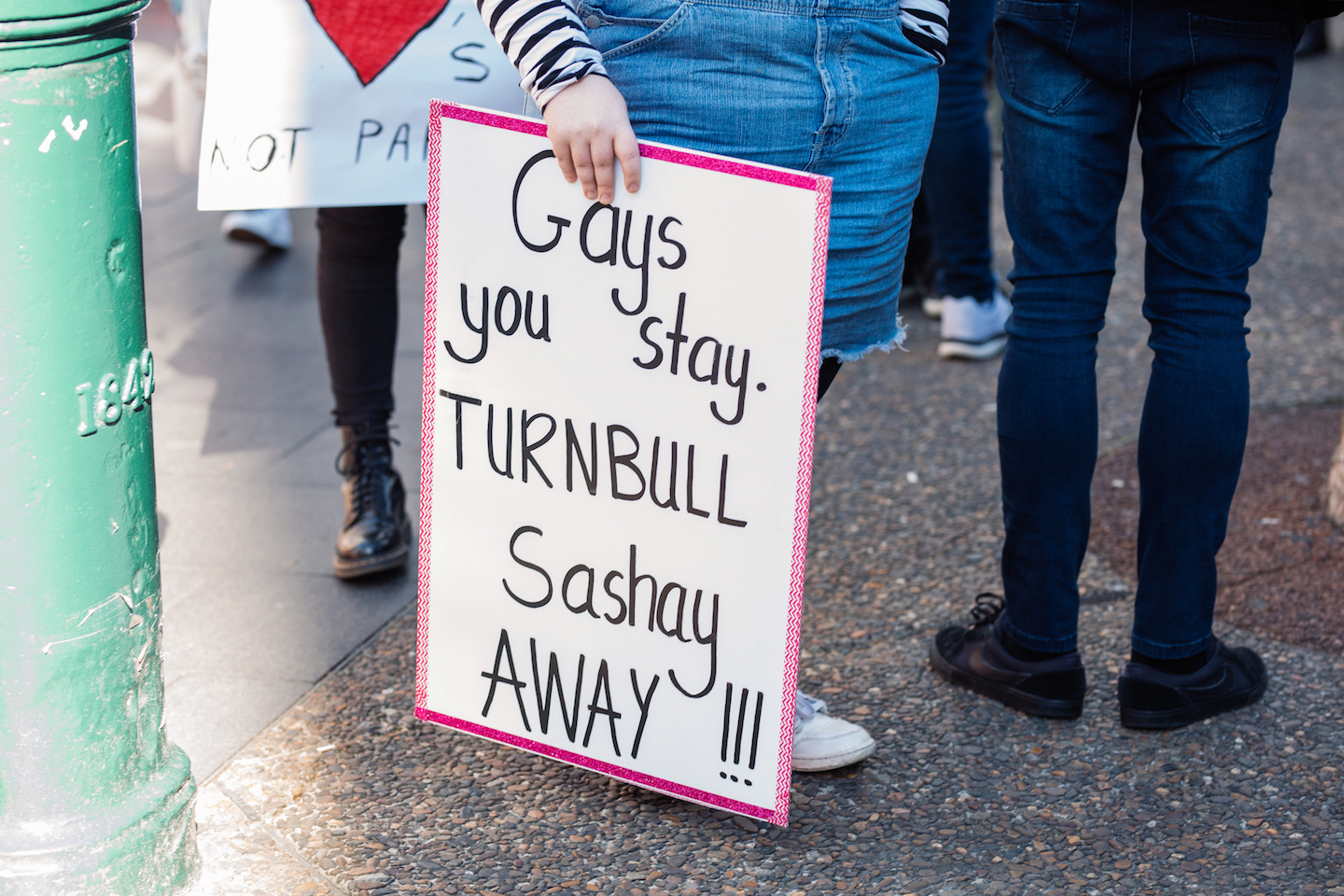 In Sydney, the response from onlookers as Sunday's march passed seemed to reflect the broad public support for marriage equality, which currently sits at around 62 percent. Drivers honked in solidarity along Wentworth Avenue, people hung out of apartment windows on Oxford Street, cheering.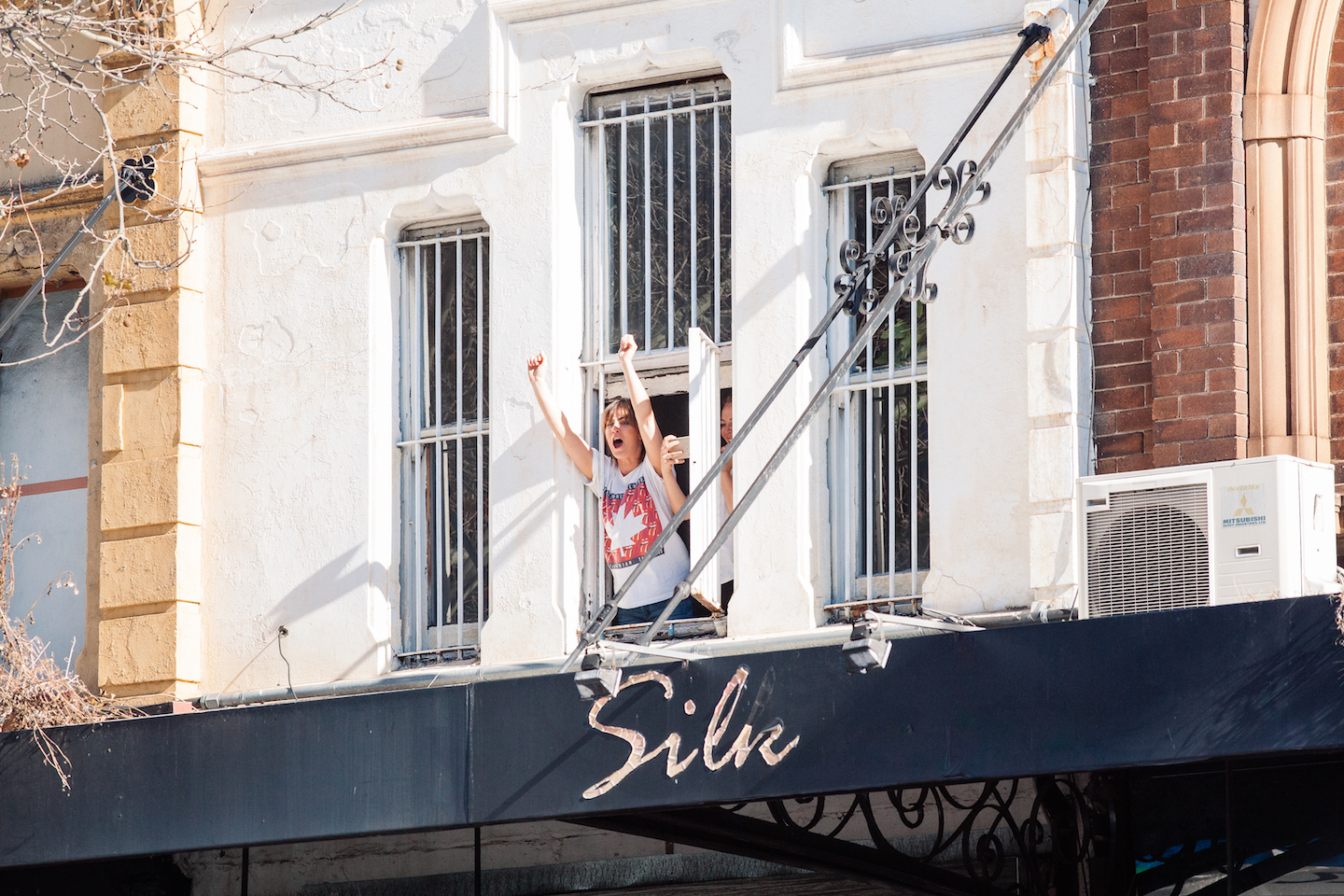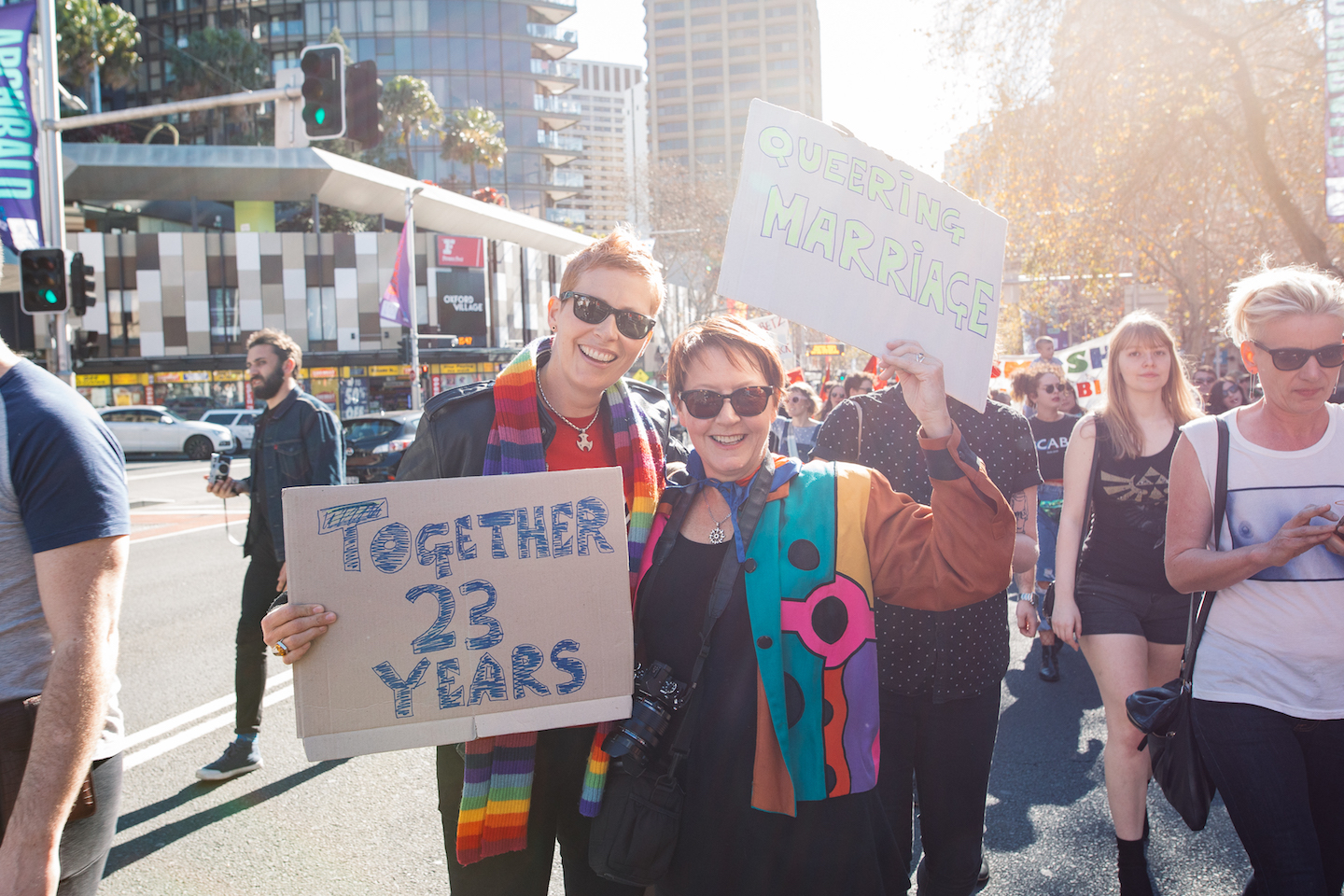 VICE met Jo and Jane, a couple who've been together for 23 years. They met at a queer party when they were both students at Sydney University. "We've talked for many years about getting married," Jo explains, "but we weren't prepared to get married when it wasn't recognised here... we could've got married in the UK, because we're both from there, but the minute we arrived back in Australia, we wouldn't be legally married."
"We just want to celebrate our relationship with all our family," Jane adds. "Which has taken us a long time to do." Jo agrees, "It'll be a massive party... We will be celebrating, because we've been waiting a long time."
On the option of a postal plebiscite, neither is convinced. "It's a delaying tactic," says Jane. "It's just there to appease the conservative parts of the party. And, really, it didn't take a plebiscite or a postal vote for John Howard to change the Marriage Act [in 2004]... so there's no reason why we have to go through one now."
"It's a waste of time," says Jo. "It's a waste of money," Jane adds.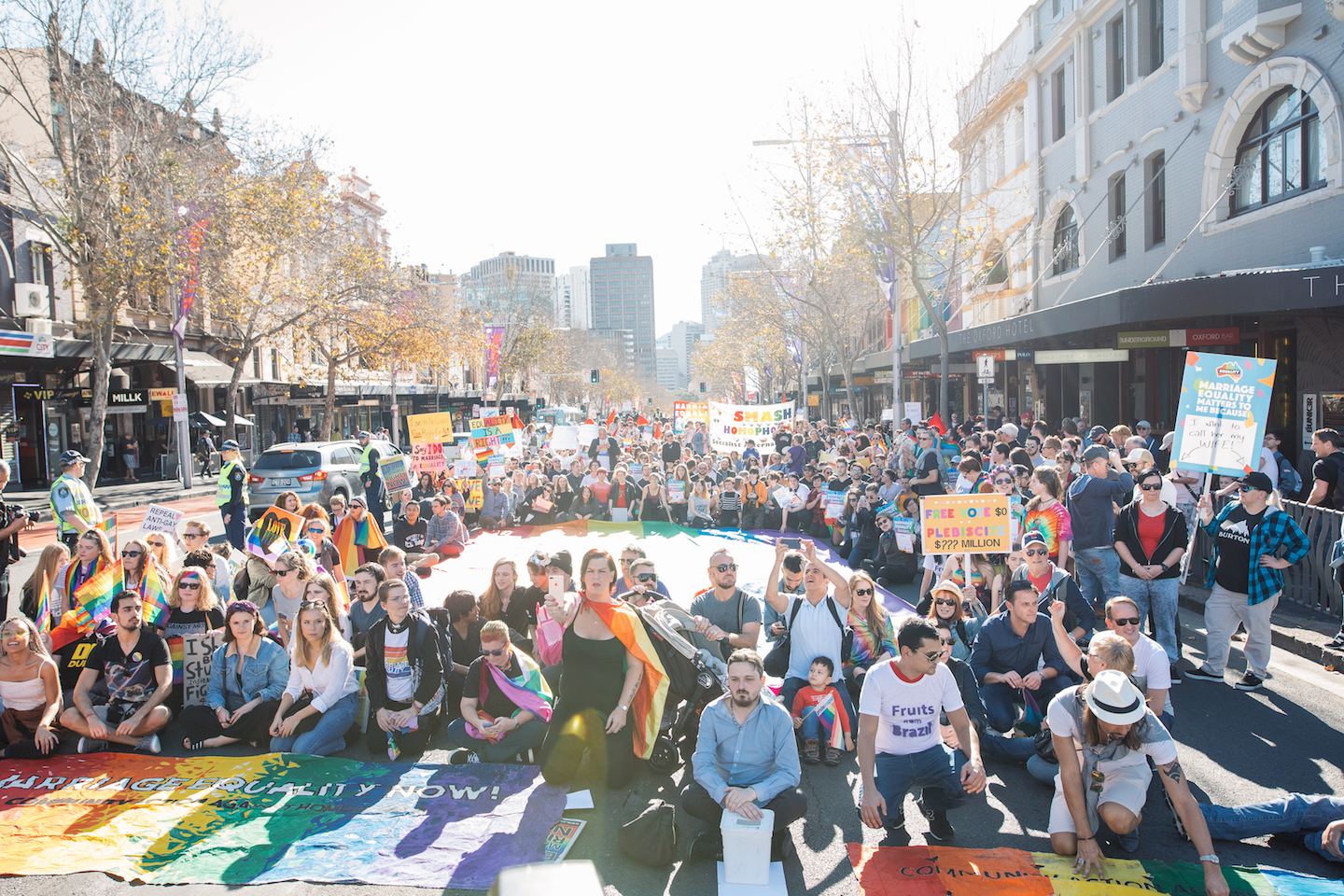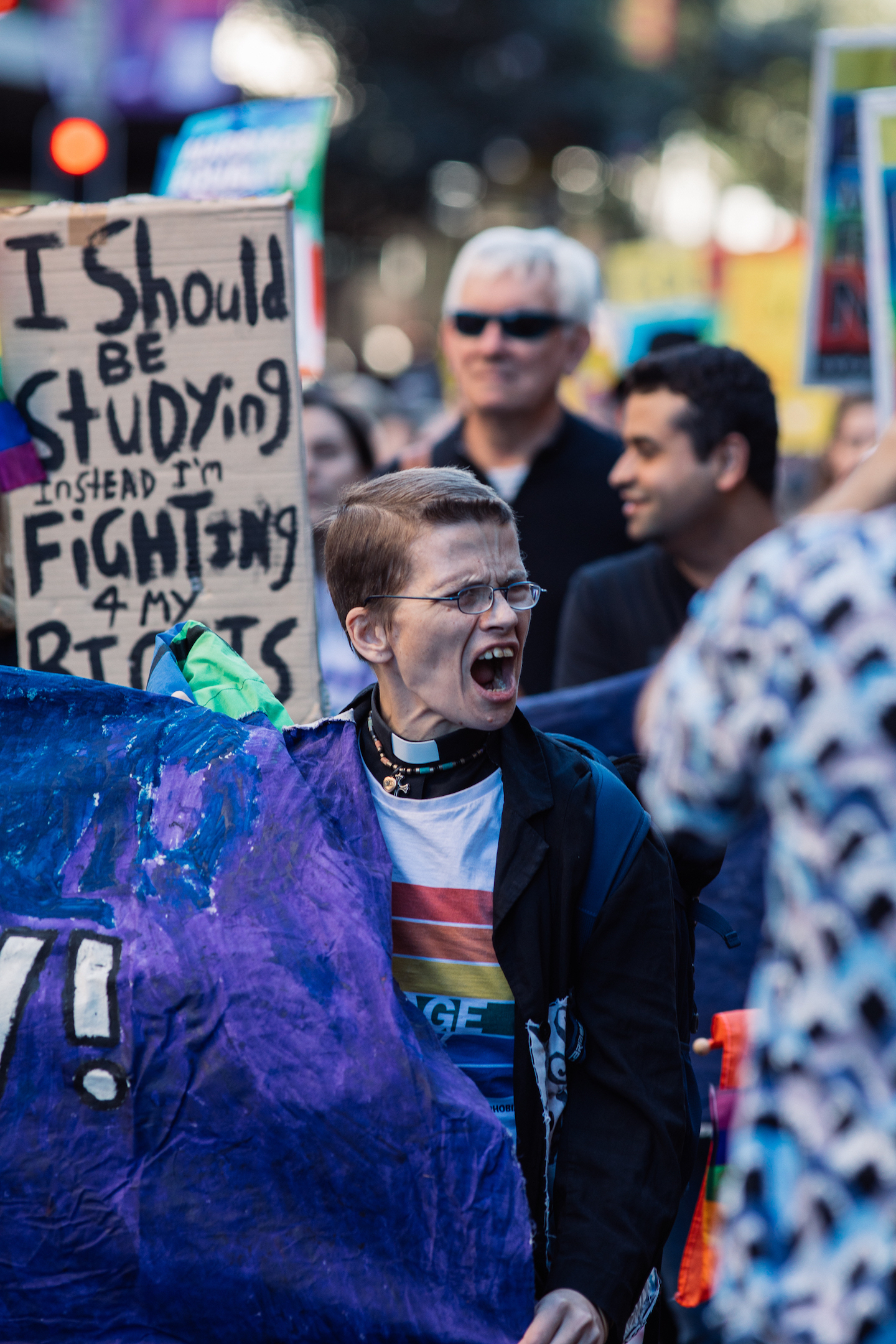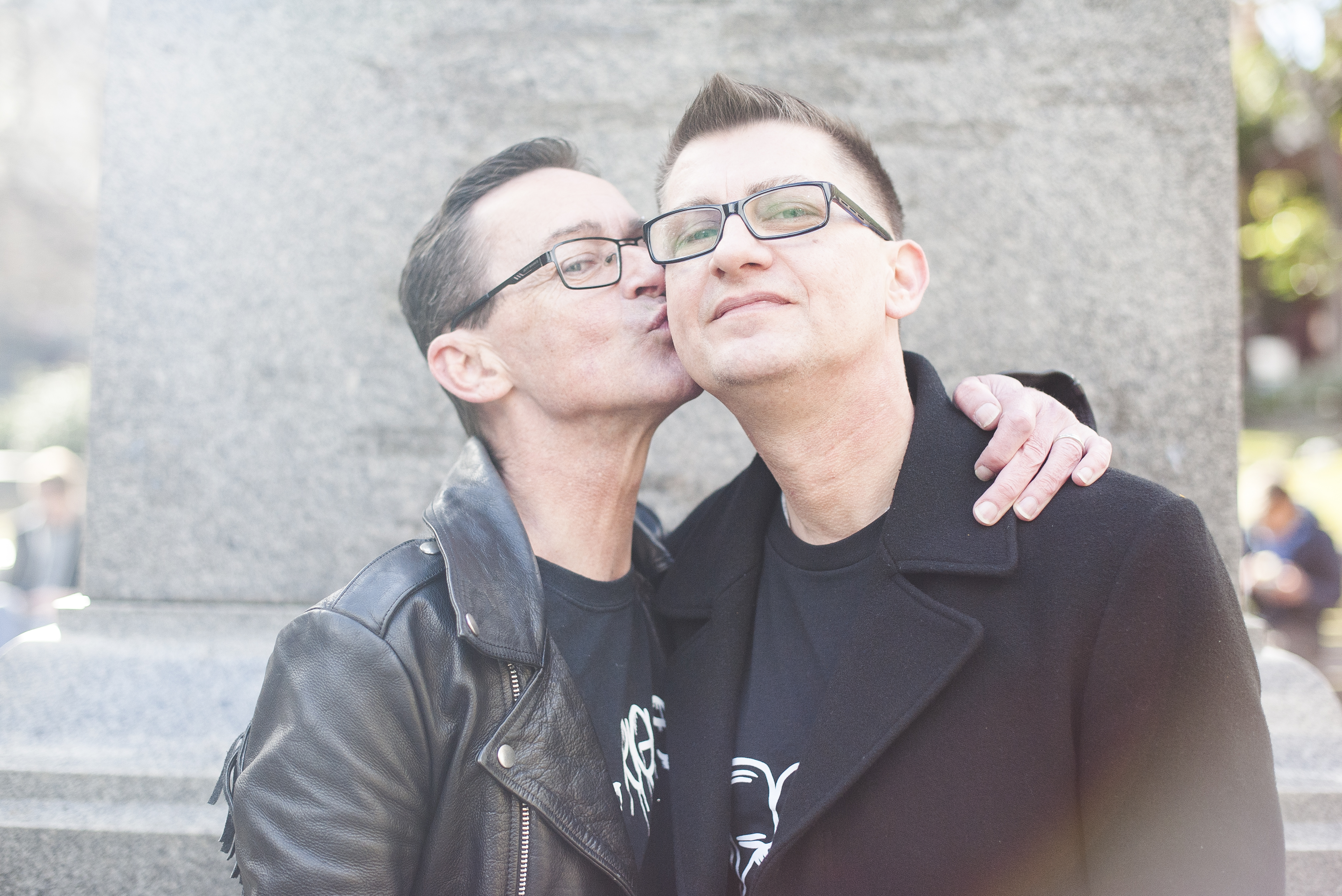 At Melbourne's rally, VICE met Ron and Antony who have been together for 30 years. They have "illegally" married 14 times. Next week, they'll have their 15th commitment ceremony. They are hoping Sunday's march will be the last marriage equality rally they'll ever have to go to.
And it well could be. If the government decides at today's 4 PM meeting to allow a free vote on marriage equality, Australia could see marriage equality realised in the coming weeks. Despite warnings from their conservative colleagues, it's speculated enough Liberal MPs will cross the floor to allow the motion to pass.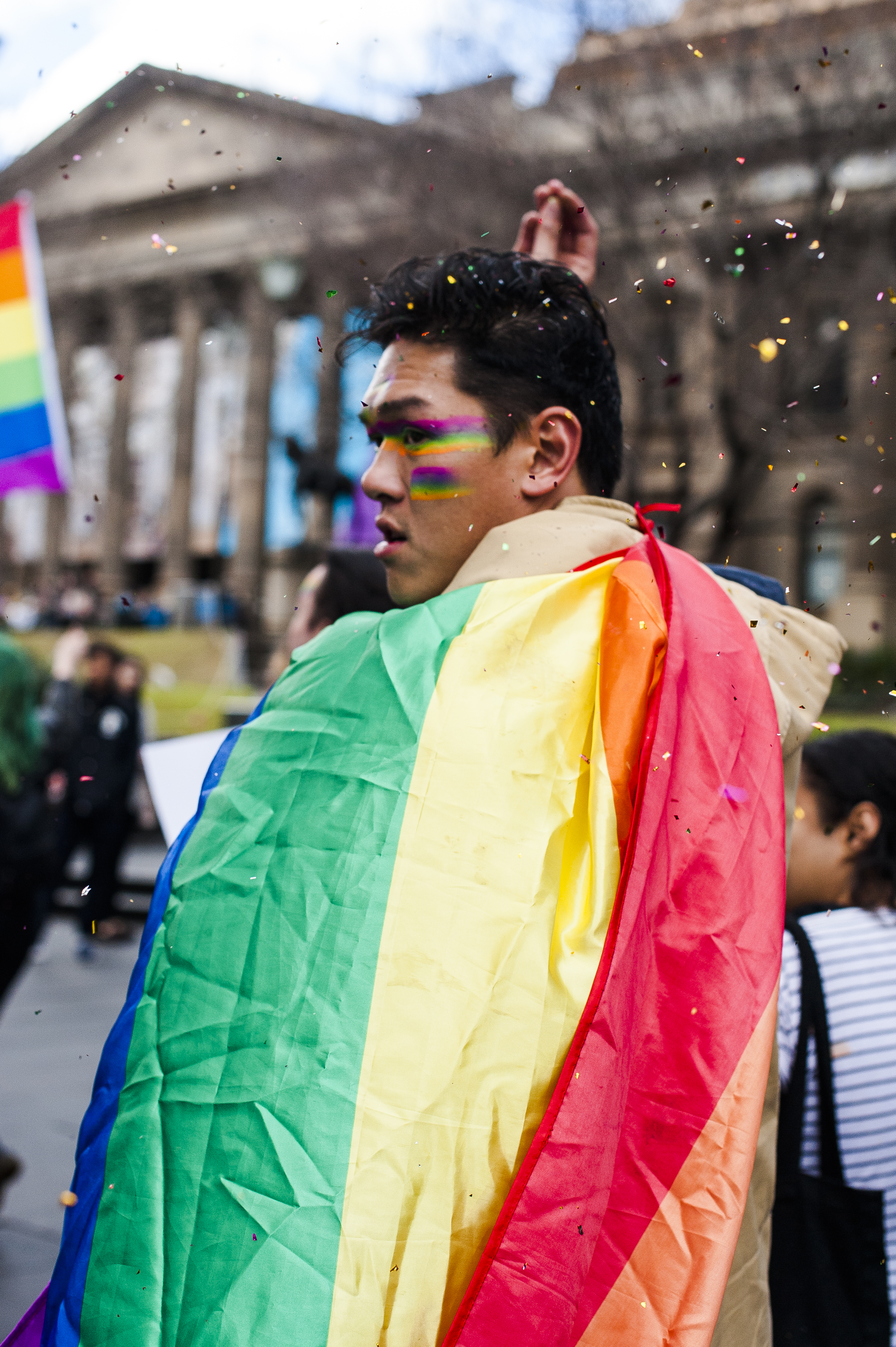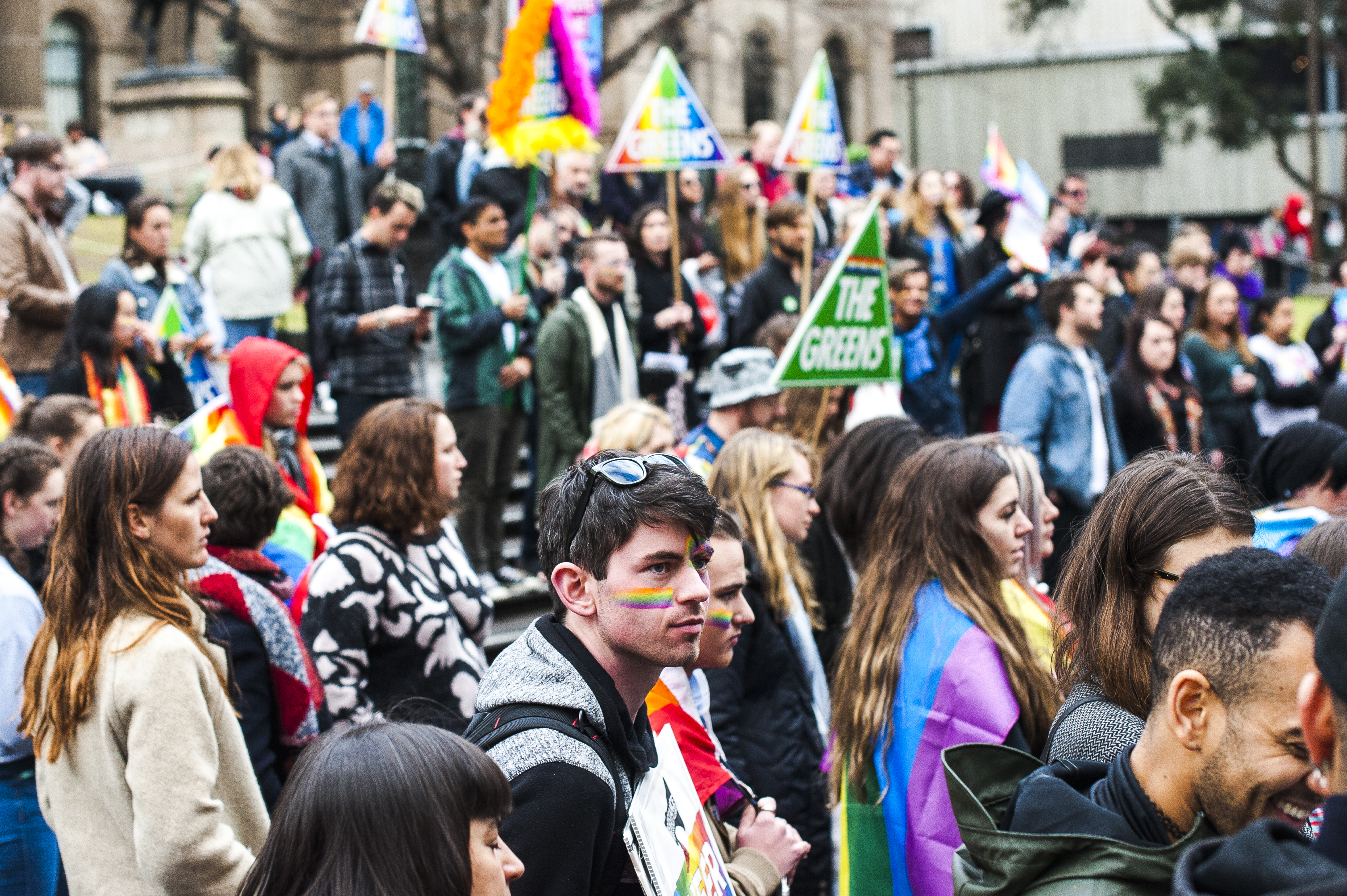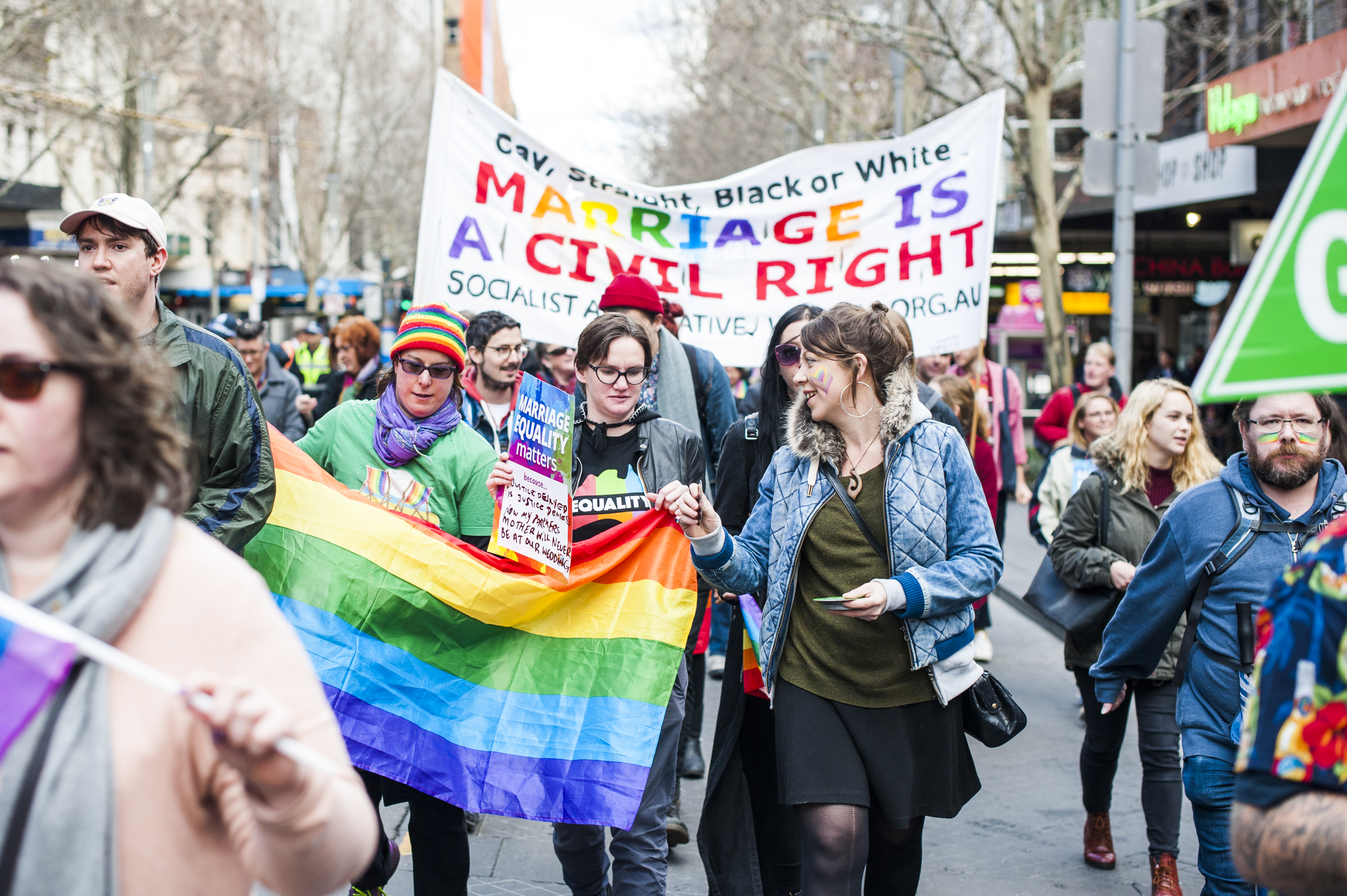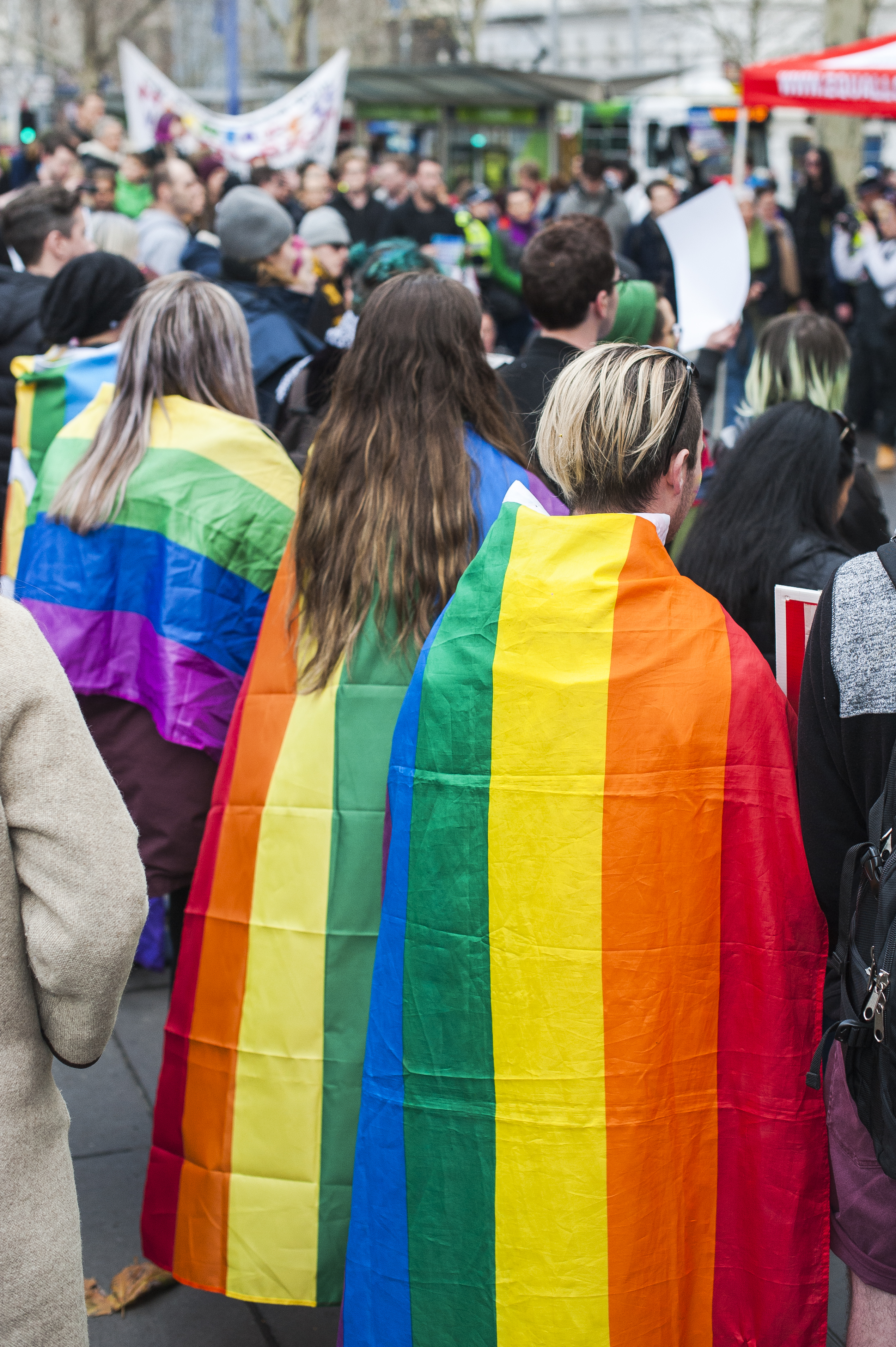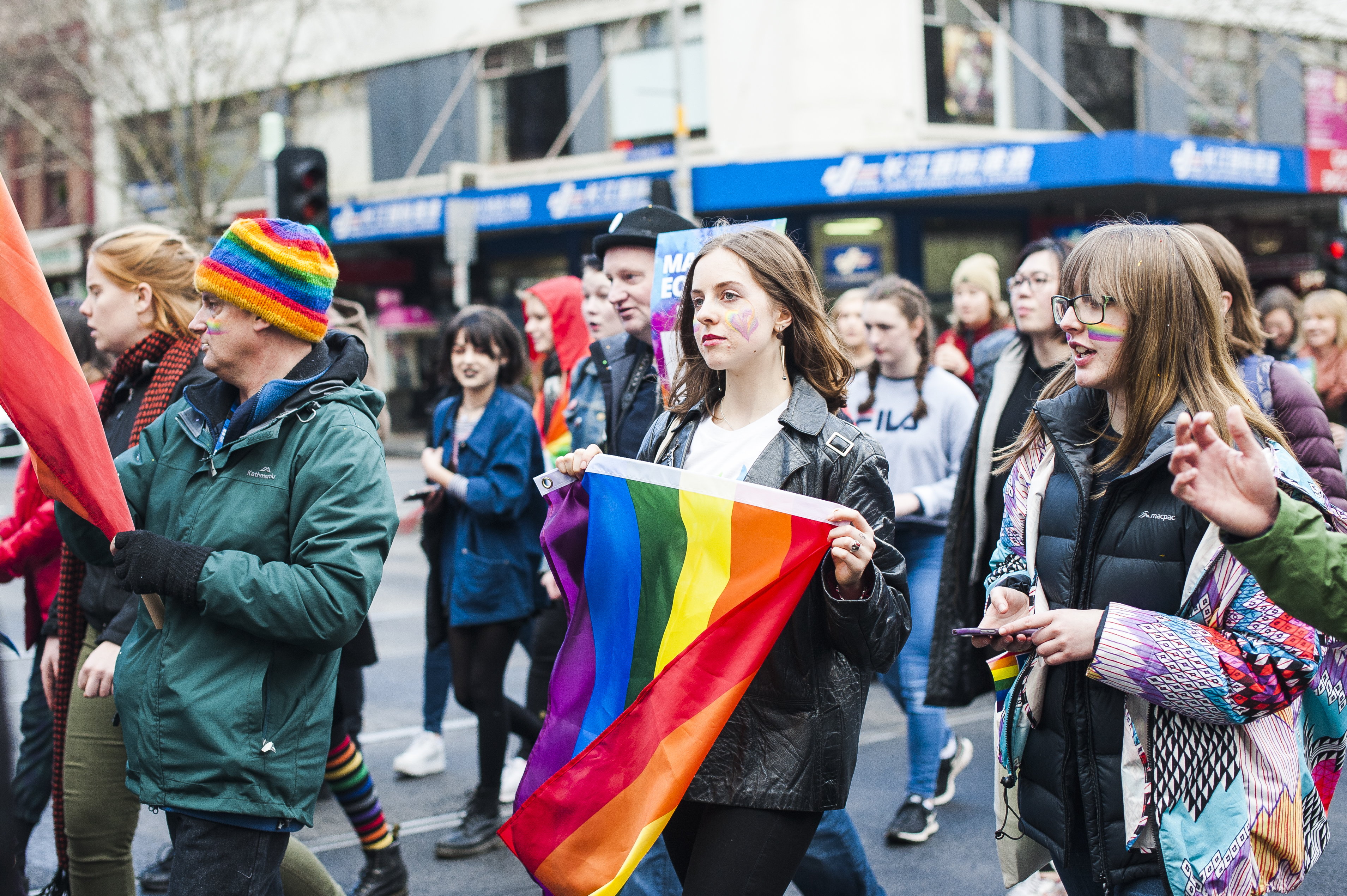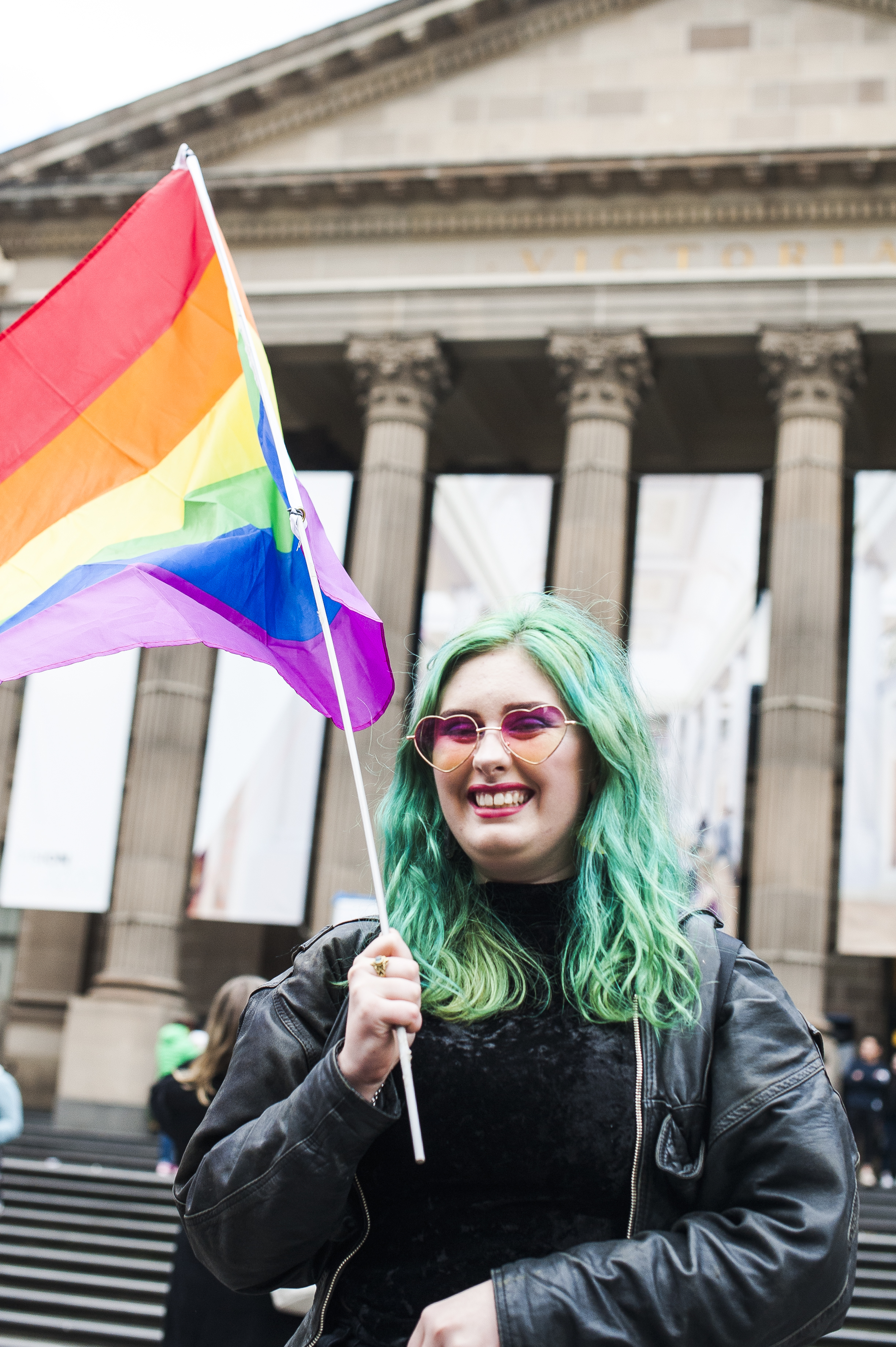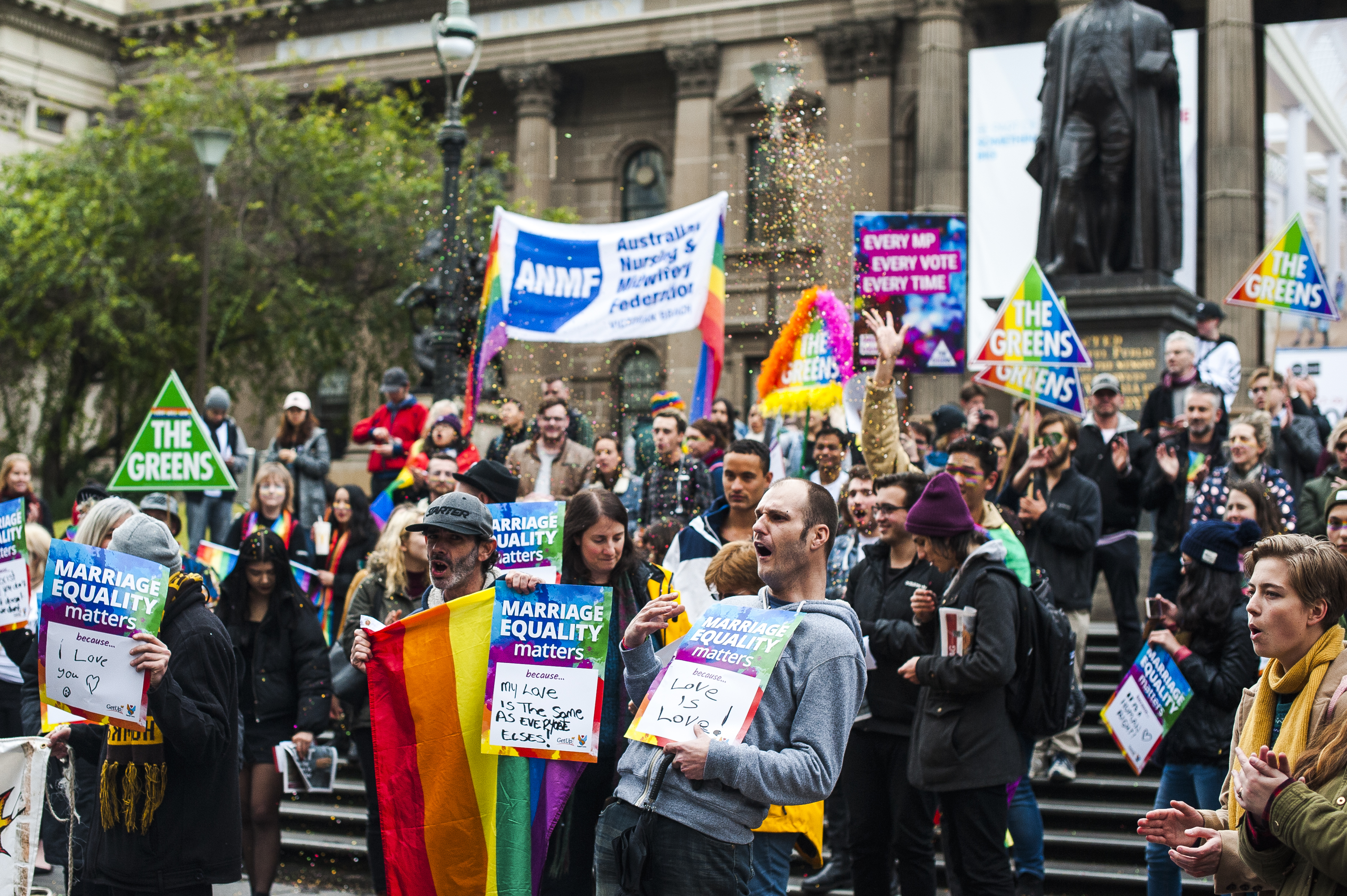 More as this story develops.