Like Getting Hammered on Planes? There's a Beer for That
A new beer called Betsy is specially formulated to taste good and go down smoothly even when you're 30,000 feet in the air.
For all its pleasures, drinking in planes has always been fairly utilitarian. A time for bottomless tomato juice and vodkas and whisky-gingers, airborne boozing has never really been about the dignity of what you're drinking, but, like the flight itself, more focused on getting where you're going (if you know what we mean). Now, a microbrewery in Hong Kong is hoping to change that.
The Hong Kong Beer Company has partnered with Cathay Pacific to produce Betsy Beer, a brew designed from top to bottom to be enjoyed in the sky.
Unfortunately, actually tasting Betsy is a little bit tricky. It will only be available in March and April, and even then, only to business and first-class passengers flying Cathay Pacific between Hong Kong and the United Kingdom. The beer will also be sold at Cathay Pacific lounges in Hong Kong and Heathrow and several Hong Kong restaurants which are not in the sky at all.
We caught up with Devin Otto Kimble, the director of the Hong Kong Beer Company, to get the story behind Betsy and to learn how it (she?) differs from other more terrestrial brews.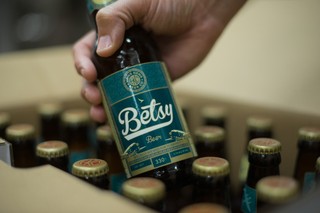 Hi, Devin. Can you tell us a little bit about the Hong Kong Beer Company?
Hong Kong Beer Company Limited, was actually established in 1995, but was acquired in July 2013 by Devin Otto Kimble and Daniel Flores, the founders of Singapore's multiple award-winning Brewerkz Restaurants & Microbreweries. All of HKBC's beers are handcrafted in our 20-barrel, American-made system. In its current configuration, HKBC's brewing capacity is approximately 6,000 hectoliters (6,000,000 liters, or 5,000 barrels) per year.
When did you first think about beers meant for in-air consumption? How did the partnership with Cathay Pacific arise?
We first started working on the Betsy Beer project in July 2016. Cathay has been focusing on improving the in-flight experience and is also interested in partnering with Hong Kong brands that can help them achieve this. As Hong Kong's oldest, most experienced, and best equipped craft brewery, HKBC was a natural partner for Cathay when it decided to find a craft beer with local character, international quality, and a brewery team that could make a beer that was designed for the conditions in a pressurized airline cabin.
READ MORE: I'm Your Flight Attendant and I Think You're All a Bunch of Drunks
What is different about the process of making a beer for air travel versus terrestrial enjoyment? How does the beer taste, and why is that better for planes?
The process of brewing the beer isn't different at all, but recipe's ingredients and balance make a difference. Published research shows that in-flight conditions of low humidity, pressurization, and noise all contribute to increasing the perception of bitterness and decreasing aroma and sweetness, as well as saltiness, which isn't really an issue for beer.
Betsy Beer is light on hopping and uses Fuggle hops, which is an aromatic rather than bitter variety. Although the beer is fermented to dryness, the use of longan fruit and honey suggest sweetness with their aromas and taste profiles. It is an unfiltered wheat beer with the residual yeast creating texture and mouthfeel and also providing some B-vitamins, which have been suggested to help overcome flight stress and jet lag.
We have also boosted carbonation about 10 percent because nasal receptors recognize aromas better if they are carried by CO2 in lower oxygen environments like a pressurized airplane cabin. Overall, the beer is refreshing but complex, with fruity notes and a slight, balancing bitterness when it is enjoyed onboard—the bitterness really isn't there, though, when you're on the ground.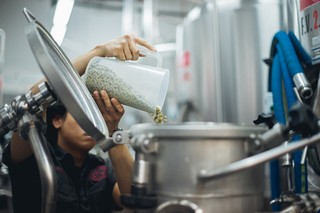 What is the backstory to the beer's name, Betsy?
Back in the day, airlines used to name their planes. Betsy was a converted DC-3 and Cathay's first passenger plane. She is now suspended from the ceiling at the HK Science Museum and her sister, Niki, the second plane in service, sits outside Cathay City at Hong Kong International Airport.
What's your go-to beverage on planes besides Betsy?
I generally go for water, which is about 95 percent of beer, [anyway]. I'll have a white wine with my meal sometimes and if I'm at the front of the plane, a glass of Champagne before take-off is nice.
Agreed. Thanks for talking with us.