With a dazzling display of fireworks, Hong Kong marked 20 years since the city ceased to be a British colony and was returned to Chinese rule on July 1. At a cost of $1.5 million – paid for by private businesses – the show was the biggest celebration since the handover itself.
But the anniversary is increasingly regarded with mixed feelings by many of the city's residents. Despite the rain, organizers say roughly 60,000 people took to the streets for the annual pro-democracy march, which has taken place every July 1 since the Handover. Days before the commemoration, 20 protesters – including Umbrella Movement student leaders Joshua Wong and Nathan Law – were arrested on "public nuisance" charges while staging a demonstration.
Under the 1984 Sino-British joint declaration, Hong Kong was promised a high degree of autonomy and guaranteed that its way of life would be preserved for 50 years after the handover – a concept known as "One Country, Two Systems." But observers say the freedoms protected by that guarantee have been eroded at a frightening pace.
Anson Chan, chief secretary of Hong Kong during the transition, is now a vocal advocate for the city's rights. She believes that China has failed to uphold its end of the deal, citing the disappearances of Hong Kong booksellers who published salacious novels about high-ranking Communist party officials, and instances when Beijing has intervened in the local judiciary system by issuing its own interpretations of Hong Kong's Basic Law (the city's version of the constitution).
"We've seen infringements into academic freedom and institutional autonomy. There is increasing self-censorship in the press," Chan told VICE News. "I never envisaged that things would deteriorate to such an extent."
In one of the strongest displays of China's tightening grip on Hong Kong, the Chinese Foreign Ministry on June 30 called the Joint Declaration "a historical document" that "no longer has any practical significance," adding that it was not legally binding.
President Xi Jinping also gave an aggressive speech during his visit to the city for the occasion, making it clear that his administration would not tolerate anti-China rhetoric in Hong Kong. During his three-day trip, he oversaw the inauguration of a highly unpopular chief executive, and watched the city's PLA troops demonstrate the biggest flexing of military muscle in two decades.
With 11,000 police officers deployed on the streets, Hong Kong was placed under an unprecedented security lockdown during Xi's visit. The authorities called the move a "counter-terrorism" operation, but many saw heightened police presence as a guard against any mass protests like those seen during 2014's Umbrella Movement, when tens of thousands took to the streets to demand universal suffrage.
VICE News spoke to some of the people who attended the pro-democracy rally on July 1. (Note: The interviews have been condensed for clarity).
Yoko Chan, 29, performance artist
"Lots of people in Hong Kong are now feeling hopeless about Hong Kong, so I wanted to try to do something. I believe in theatre because theatre creates imagination, and if you have imagination, then you can have a future."
Jeffrey Andrews, 32, social worker and advocate for ethnic minority rights
"We want ethnic minorities to be a voice of our own. We're asking the government for the same things: for better education, changes in legislation in terms of racial discrimination, and also, we want true democracy. We hope that Hongkongers today can also see that we are also Hongkongers. Because tomorrow when the local people's rights are gone, that's us too."
Ms. Lam, 30, office clerk and pro-independence advocate
"We want to promote Hong Kong independence, because the Chinese government and the Chinese are very bad. They are very bad for the Hong Kong people."
Angie Wong, 29, administrative officer
"Today we are here to offer free-of-charge refill water, because we know today is a hot day. When people are more environmentally aware, this can help the democratic process. We're supporting [the protesters], and that's why I'm here."
Ken Tsang, 41, a social worker and activist, beaten up by police during the 2014 Umbrella Movement
"The Hong Kong police force works for the system, they work for the Beijing government and the Hong Kong government. And if our government is not a democracy, they won't work for us. They are just a part of the machine controlled by the Beijing government. They promised to give Hong Kong people freedom and democracy. That is something that the Beijing government should have been giving us for 20 years but they just keep denying it from us."
Polly, 21, volunteer for the Hong Kong indigenous party
"We advocate to preserve our basic freedoms and human rights and we think that Hong Kong is actually being colonized by China. We think Hong Kong is different from China – we regard ourselves as Hong Kongers rather than Chinese. Even though we were a colony [before the handover], we were under better rule with the British."
Tanya Chan, 45, legislative councillor.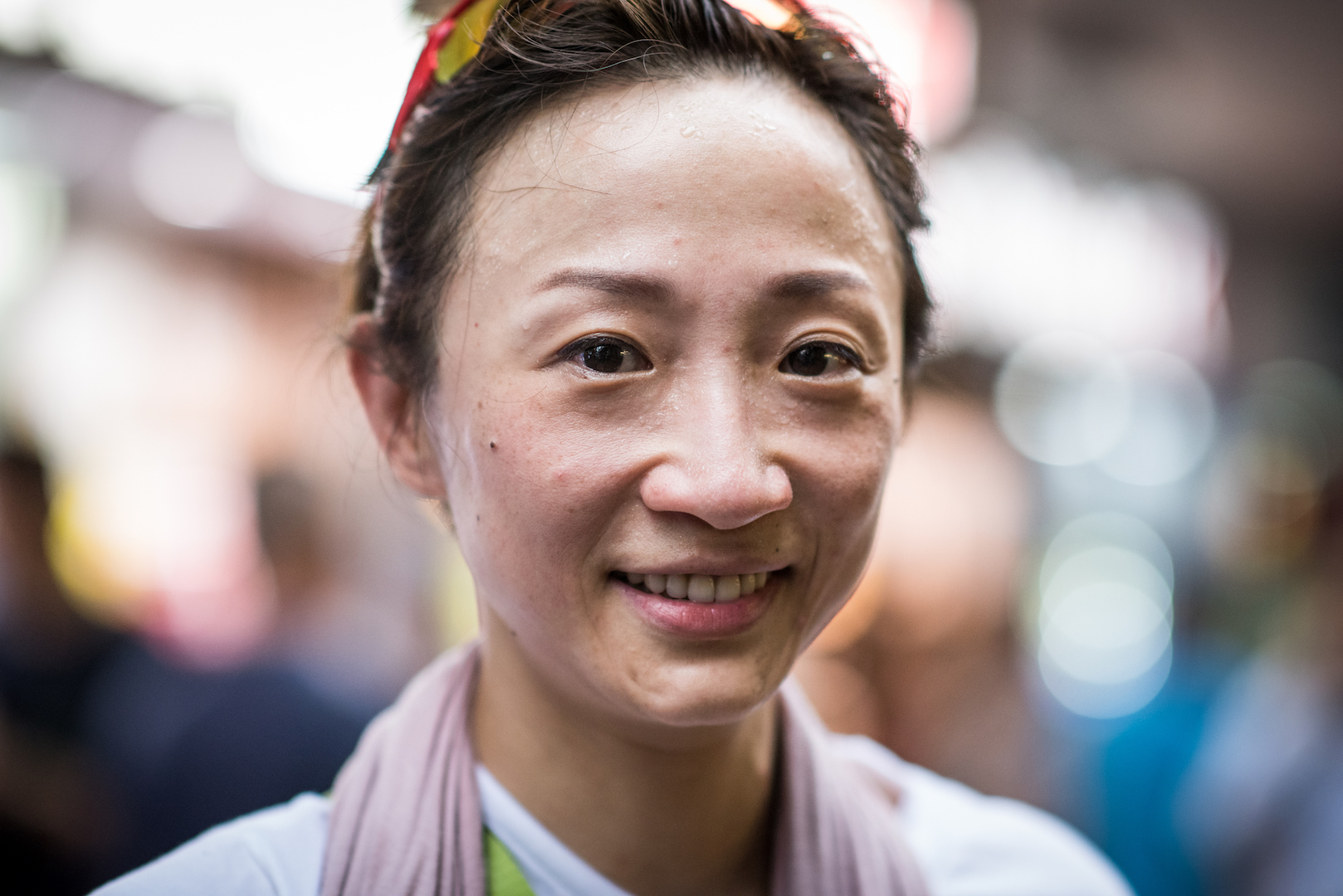 "Today we are marching for two issues: the first is to release [jailed Chinese dissident and Nobel Peace laureate] Liu Xiaobo, the second is we want the government to please respect our Basic Law. We have a separate stall for our Justice Defence Fund, because I am one of those prosecuted by the government for Occupy Central. We are now raising funds for our legal costs."