Grimewatch
With Roll Deep being kicked off Rinse FM, Essentials splitting up and my quest to become grime's own JT LeRoy moving as swiftly as Sharky Major's career, I was ready to file this month under "WASTE."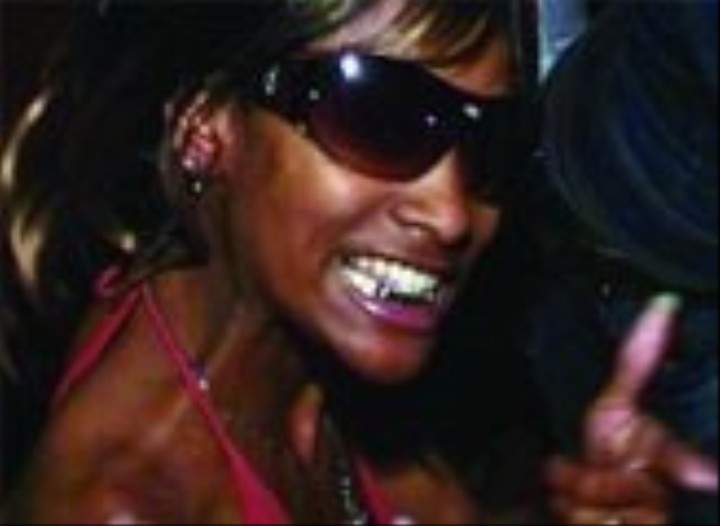 From left to right: Gold braces are a hot bounce look; this funeral home used to be Club Rumours; and, six months on, the wreckage is still there. Photos by Chris Keenan
With Roll Deep being kicked off Rinse FM, Essentials splitting up and my quest to become grime's own JT LeRoy moving as swiftly as Sharky Major's career, I was ready to file this month under "WASTE." That is, until our friends at Southern Comfort offered to fly me out to New Orleans for Mardi Gras to report on their equivalent of the grime scene—Bounce. So, I dried my tears, rented me a shiny pimped-out Escalade and headed to see what the Naw'lins music scene was really saying. Not only is Southern Comfort a great drink, but they've also been supporting talent from New Orleans and raising awareness of the city's rich musical heritage for the last three years. Bounce has been around since 1989, when DJ Irv pressed play and fast-fwd at the same time on his tape deck by mistake and a whole new sound was born. On the plane over, I got to thinking about how grime and bounce have a lot of similarities. Both are forms of urban music with weird minimal beats which have a tight listenership and generally aren't heard outside of their locality. Bounce also has a mainly underground following, which meant I needed some help if I was to hear all of the good stuff.
My tour guides for the week were local DJs Chicken and Slam 1 who showed me all the hotspots and introduced me to the local delicacies like gumbo, alligator soup and beignets. The food is really good out there—a lot better than the shit I get at my local Chicky-Chick-Chicks down on Stroud Green Road, so I was loving every minute of it. Slam and Chicken were itching to hear some grime and I duly obliged, playing them all of the hits (all two of them) and my personal faves. They liked Ruff Sqwad, Roachie (FREE ROACHIE!) and Flirta D the best, although they weren't convinced that any of it was that different from dancehall.
Being the prophet of the scene that I am, I insisted we try to spread the gospel of grime and headed to the city's biggest hip hop station, Q93. Live on air was DJ Jubilee, "The King of Bounce" who I tried to persuade to play Wiley's "Gangsters", but he wasn't keen. Undeterred, I headed to a local club, Key West, to see if I could slip on a grime track while nobody was watching. As usual, I was the only white guy in the club, which I seemed a lot more comfortable with than the other dudes who, at first, were staring at me like I was wearing a fake New Era hat or something. Maybe it was my braces they kept staring at, thinking they were a cheap grill, but can these guys really talk? Since when did looking like you'd just French-kissed Liberace become gangsta? What was that "shawty"? Stop slurring your words and speak English.
Anyway, the fashion over there is still an oversized fresh white tee (a look which is dead-out in NYC), G-Nikes (Air Force Ones) or Soulja RBKs, baggy Girbaud Jeans and a grill paid for with money from FEMA. The people were a lot more enthusiastic than you'd see in a grime club, (i.e. they didn't stand in a corner smoking weed all night) but that's probably because ecstasy is really popular in the bounce clubs. One track that went down really well was a cover of D4L's "Laffy Taffy" called "What's Your FEMA Number?" (a tongue-in-cheek take on the government's handling of compensation to victims of Katrina). Some of the guys seemed to dance a bit too enthusiastically for my liking, so I asked what was going on and was shocked to hear that a lot of the bounce rappers are gay. Guys like Katey Red, Sissy J, Gotti Boi Chris and S.W.A. (Sissies with Attitude) are all well-known mincers, but still get love in the scene.
One place bounce is particularly popular is the city's 9th Ward—New Orleans' Bow. There's a former club there that we passed a few times, Club Rumours, that's now a funeral home, which is rather fitting from all of the stories of killings inside that I heard about. The whole of the 9th Ward was pretty much ruined by Hurricane Katrina when the levee broke at Lake Pontchartrain. While some people say a barge was driven into it, others say they heard an explosion minutes before the levee broke. Before Katrina, the 9th Ward—one of the poorest places in the city—was pretty much a no-go area for outsiders. Despite the occasional dope-run to Houston, most guys just kept their side of the block hot; moving work and ignoring the police.
Shockingly, when we arrived, I found the resulting wasteland of the former projects had been turned into some kind of twisted Disneyland. Tour buses packed full of fat middle-aged white people with fannypacks on family holidays and college beefcakes were swarming the streets of overturned cars and rubble. Apart from this, most of the trip was a bit of a blur. After a few days, I was suffering serious cold turkey due to my absence from grime, although I did manage to get a platinum grill, a couple of New Era hats and a Soulja Slim dogtag, so I guess it was worth it. I also managed to convince DJ Chicken to come and play the Old Blue Last with some grime MCs while he's over here in May. If it's anything like the David Banner show held there a little while back, where Banner freestyled over Jammer's "Destruction" and Jammer rode Britney's "Toxic" instrumental while MCing with two mics, then I suggest you pencil it in your diary now.
LIL' CLARENCE (N7 SOULJA)
Southern Comfort's Fat Tuesday party featuring a live collaboration between DJ Chicken, Snoop, Shorty Brown Hustle, Nik Cohn, Rodney P and Skitz will be held at a secret London location on May 5th.


Stories