All images courtesy Fantasy Flight
We're living in the middle of a physical game renaissance. Board games rise in popularity year after year, independent developers are experimenting in the space, and physical card games have somehow managed to thrive alongside their digital counterparts like Hearthstone and Eternal.
It's in that context that Netrunner, Fantasy Flight Games's living card game, has made great strides toward popularity. A cyberpunk card game that pits independent "runners" against authoritarian "corps," Netrunner allows for the deckbuilding fun of games like Magic: The Gathering and the Pokemon card game, but without the lottery ticket feeling of cracking booster packs for rare, necessary cards.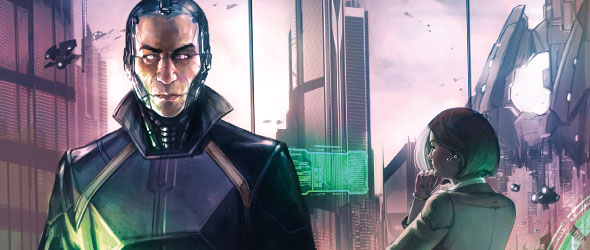 However, since the game's launch in 2012, nearly 50 data packs have been released, and the amount of cards that one has to own to have a complete collection is massive. To complicate this even more, a 2014 decision to support organized play introduced a "rotation" system that instituted longform changes in legality of cards for competitive play.
Those changes, as well as shifting ideas of how the game is and should be played, have resulted in the development and announcement of a Revised Core Set, which is a substantial package of cards around which the rest of the entire game is built. These cards are the baseline power level, strategies, and concepts that Netrunner depends on, and a major revision to the card set demonstrates yet another commitment from Fantasy Flight to keep the game limber and malleable both for longterm players and for those who are interested in getting into the game.