(Photos via Gumtree)
What is it? A horsebox, which – and the clue is in the name, if you look closely – is a box for horses, not human beings. There is no such thing as a "humanbox". We call those "houses", and they have radiators in them.
Where is it? Oxford, where future MPs go to university and stick candles in their arseholes at initiation ceremonies and legitimately use the word "povvo" a lot;
What is there to do locally? Go to the Pitt Rivers Museum, look at some bones and shit. Also there's a Jamie's Italian in the city centre, which you can go to when your mum comes to visit and "wants to take you somewhere nice". Plus you can spit over the bridge onto any one of the hundred-thousand rowing teams that oscillate beneath it every day, gilded scum as they are;
Alright, how much are they asking? I was going to hold this one out for a big reveal, X Factor-style – because holy shit, man. Holy shit. You won't believe how much they are asking for a horse box – but we kind of need to address head-on how much it costs to live in a horsebox, so. Like: guess, right now. How much it might be to live in a horsebox. In Oxford, remember. What you thinking: £100? £150? A month? Try £495.
To Oxford now, and I see a different rental market to you. This is because I have to write these things. I am lashed to the rock of this format like Sisyphus. So I see where this is going: I see the rental market morph and move, swim and glisten, change and transform. I see where it has come from and where it is going. So:
You, a lay person, looking to rent a new flat or house: "Ah, I will just put the name of the area I want to live in – either Stoke Newington or Balham, those are the only two choices I can possibly concede – into Zoopla, and then pick the one closest to £700 a month, and go and see it exactly once, and then move there"
Me, seer of things: "I will also do that when I move house, actually, but also I see things"
So here's the thing I have seen: the property market is moving away from "a realistic prospect" (this happened somewhere around 2005) and moving through "an extremely expensive way of staying dry" (2013 onwards) and is now firmly into "pushing the very limits of what small space – and what state that space is in – can legally be defined as adequate for human habitation, and then renting the living fuck out of it". And lo, here is a horsebox:
Here, for reference, is the horsebox: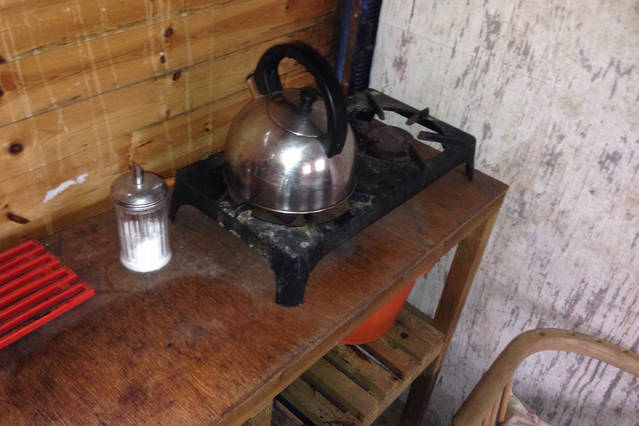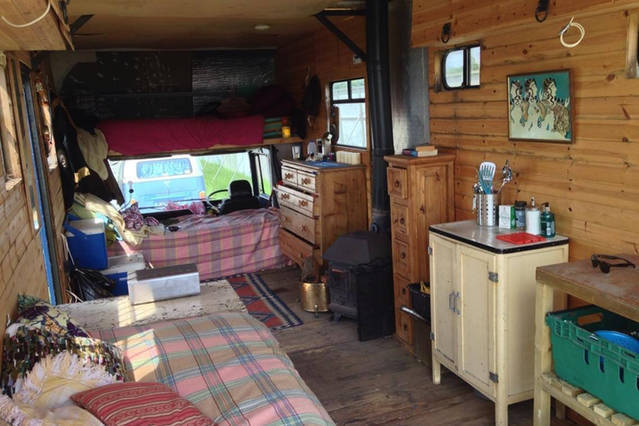 I hate this, I suppose, for a number of reasons, and – no, you know what, actually, I'll list them all in order:
– Hate that the chance to live in a horsebox is billed as a fun and kooky opportunity and not a move of sheer desperation, both on the part of the human being who decides to live in a horsebox (nobody is living in a horsebox out of choice; they are living in a horsebox out of necessity) and also the desperation of the human renting out a horsebox they just happen to have in their fucking garden for £495 a month, like how have you done your life so wrong that you need to make £495 a month from renting a horsebox to another human, plus giving up sole access to your toilet with it, like who do you owe money to, my man? Could you not just do a part-time evening job to make the money up instead of this?
– Again, and I know I am a bit of a princess when it comes to this, but this is the second LROTW in recent months where toilet access is billed as a non-exclusive add-on, a kind of "you could use our toilet… if you want" attitude towards waste, as if doing toilet five to ten times a day isn't a deeply necessary human trait and not, like, a cute affectation? This is like one of those really lame half-interesting things you bring to a first Tinder date when you're not in any way charming or unique, but you kind of have to pretend to be just to make conversation. "Oh, you have a thing where you turn the light off three times before you leave a room? Heh: yeah, I have something similar. I piss and shit out of my body anything up to eight times a day. I do it in a toilet, inside my own house."
– How can you provide the life story of someone called Toad and not even remotely explain why they are called Toad?
– "Interweb".
– "Mentalists"
– THE ADVERT HAS SPELLED "KOOKY" – ALREADY AN INTENSELY IRRITATING WORD, A WORD THAT, IF IT WERE HUMAN, WOULD COLLECT FRIDGE MAGNETS; A WORD THAT IF IT HAD A MOUTH WOULD ONLY DRINK THROUGH IT "CHEEKY PROSECCO" – AS "COOKY", AND MY BLOOD PRESSURE HAS SPIKED SO MUCH THAT IT'S JUST POURING OUT OF MY EARS, JUST A MAROON MIST ABOUT MY HEAD, I AM BLEEDING OUT OF EVERY HOLE MY BODY HAS TO OFFER, I AM SO MAD ABOUT THIS I HAVE DIED IN THE WORST WAY POSSIBLE TO DIE;
– I think the thing I hate most of all, though, is that this person self-censors the word "Fbook", itself an irritatingly cutesy shortening of Facebook, to somehow – I don't know, deflect the embarrassment of using Facebook? Intimate in some small way that Facebook is evil? Make "Facebook" a slur to really Stick It to the Man? Fuck the Zuck? – but then also exclusively communicates via Facebook. If you hate Facebook so much, dickhead, use email instead;
At this point obviously I am conflating hatred for the horsebox and hatred for the person who is renting it, and so we descend into the grey clay and dirt, a sort of halfway between them, and we don't know where is up or down and where the sky is and where we are amongst it. So let's discount how much I hate the person writing the advert (although, for the record: I hate this person a lot)(just so, so much) and consider this: this isn't even a nice horsebox. Like, if I'm going to live in a horsebox, and bafflingly pay £495 for the pleasure of it, I want it to be nice. I want to not get splinters from every single surface of the horsebox. I want to be able to sit on the sofa without moving out the way of a dangling lamp-switch which seems to lead to a bunk made of old shat-on sofa cushions. I want the floor to be a bit fucking cleaner than that. If I'm going to live in a horsebox – and, as previously noted, I am not going to do that because I am not a horse – I want it to not be a fucking shithole made of old blankets and damp wood, and a 30-yard dash to the nearest available place I can piss and shit.
Frankly, a horsebox in someone's driveway in Oxford for £495 is such a pisstake that there is a national piss shortage now; we are standing at the urinal and nothing is coming out; we are looking at each, bereft: "There's nothing coming out!" we mouth to each other, frantic, "I need to piss, but there is no piss!" and then, in our panic, there is a low thudding noise by the door, a knocking followed by a scream: it is Toad, a man called Toad – and there is a 1,000 percent chance that anyone who calls themselves "Toad" has a spider web tattoo on their neck and a thing for bursting into your caravan at 2AM, exquisitely stoned, asking if you've heard of Crack the Sky, so bear that in mind – "IT IS I, TOAD," he is roaring, "I HAVE TAKEN ALL OF YOUR PISS!"
If you want to pay a monkey a month to live on someone's driveway in a shitty caravan, then be my guest. But obviously you deserve everything you get if you do.
@joelgolby / (h/t @Eds_Benedict)
More!
A 'Luxury' Apartment Filled with Shit Coffee Tables for You to Try and Afford
Shall We Just Sack Off London and Live in a £15k Flat in Glasgow?