On a quiet afternoon in El Paso, TX, a confused Anglo couple stumble into a dimly-lit bar called the Monarch and timidly ask the sleepy-eyed bartender, "Is this Lick It Up…the vegan restaurant?" The bartender grimaces and points to the back patio. A long queue of eaters tells them they've arrived.
At first glance, Lick It Up EP looks like a no-frills punk eating hole—but a closer examination reveals something special. Instead of the usual ominous toss-up of vegan standards like tempeh 'stir-fry,' tofu scrambles, and black bean burgers, the menu is go-to El Paso/Juárez street food—tortas de milanesa, flautas de papa, fried gorditas, tacos de "carne" adobada, nachos, and marinated jalapeños torreados to devour between gulps of beer.
For Mexicans and Mexican-Americans who grew up on the U.S.-Mexico border, these words trigger overwhelming sensations. And for many, Lick It Up EP is transforming local assumptions about vegan food.
Lick It Up EP is the brainchild of Edgar "Pato" Delfin, a 35 year-old local punk musician who was born in Ciudad Juárez and has recently made his name as one of the best vegan chefs in El Paso. The first time I met him, he was writhing in a pleather skirt on a wet stage as the lead singer of Nalgadas. Today, he's serving me what might be the greatest torta de milanesa of my pathetic life.
For those not in the know, the standard torta de milanesa consists of a thin cut of steak, breaded and fried, placed on buttered bread, and then layered with avocado, cream, sliced lettuce, tomatoes, and chile-laden salsas. Lick It Up EP replaces the steak with a deep-fried slab of seitan, but it'd be hard to catch anyone who notices the difference. The moment I bite into it, my heart confirms all the flavors I grew up eating. Any negative associations I've ever had about Mexican vegan food, vanish, and in my degenerate carnivore heart I feel a wave of shame for all the jokes I ever made about vegans.
Sipping his beer, Delfin explains his masterpiece's origin. "Basically the inspiration comes from me getting wasted and eating all this stuff on the streets of Juárez. I already knew how to make vegan food—I just wanted to twist it around and emulate Juárez-style street food."
Delfin is not, however, some outsider chef who "discovered himself" and his menu on a culinary adventure in Mexico. Instead, his music and food comes from the city that made him who he is—Ciudad Juárez, Chihuahua, Mexico.
He was born in Juárez and raised in the Melchor Ocampo barrio—one of the city's oldest and toughest neighborhoods. Delfin describes something of a mischievous childhood spent "getting wasted and doing stupid things." He ultimately managed to channel his frustrations into music and school, eventually graduating from la Universidad Autónoma de Ciudad Juárez (UACJ) with a degree in Sociology and a minor in Philosophy.
Yet during his studies, an emerging national conflict turned Delfin's world upside down. In 2007, the newly-elected Mexican President Felipe Calderon launched a full scale ground war on drug cartels through the country, inaugurating a conflict that would outlive his term. The results were disastrous. At the peak of the conflict anywhere from 150,000 to 500,000 persons were killed, and the overall destabilization of society contributed to record violence against women nationwide.
No city felt the brunt of the war as much as Ciudad Juárez, where from 2008 to 2012 as many as 10,000 people were killed as a result of the conflict. In 2010, alongside as many as half a million other Juarenses who fled violence in Juárez for U.S. border cities, Delfin permanently moved to Juarez' sister city El Paso, TX. There he formed Nalgadas with longtime friend Leo Lara, and ultimately started working as a chef at Eloise, a local restaurant run by Jim Ward, the current lead singer of Sparta and a former member of At The Drive-In. His relationship with Ward quickly transitioned from professional to personal, and Nalgadas is scheduled to tour with Sparta this fall.
"People don't understand that Mexican cuisine is kind of like French cuisine, because there is a lot of technique required in a salsa—almost like making a complicated aioli."
While at Eloise, Delfin familiarized himself with vegan cooking and transitioned to a vegan diet for ethical reasons. Still, he longed to create the sort of food that he grew up eating. Finally, in 2017, he launched Lick It Up EP with a former partner and made his dream a reality. Lick It Up EP has already made a name for itself by providing vegan food that tastes and looks like the comfort food most Mexicans and Mexican-Americans grew up eating.
---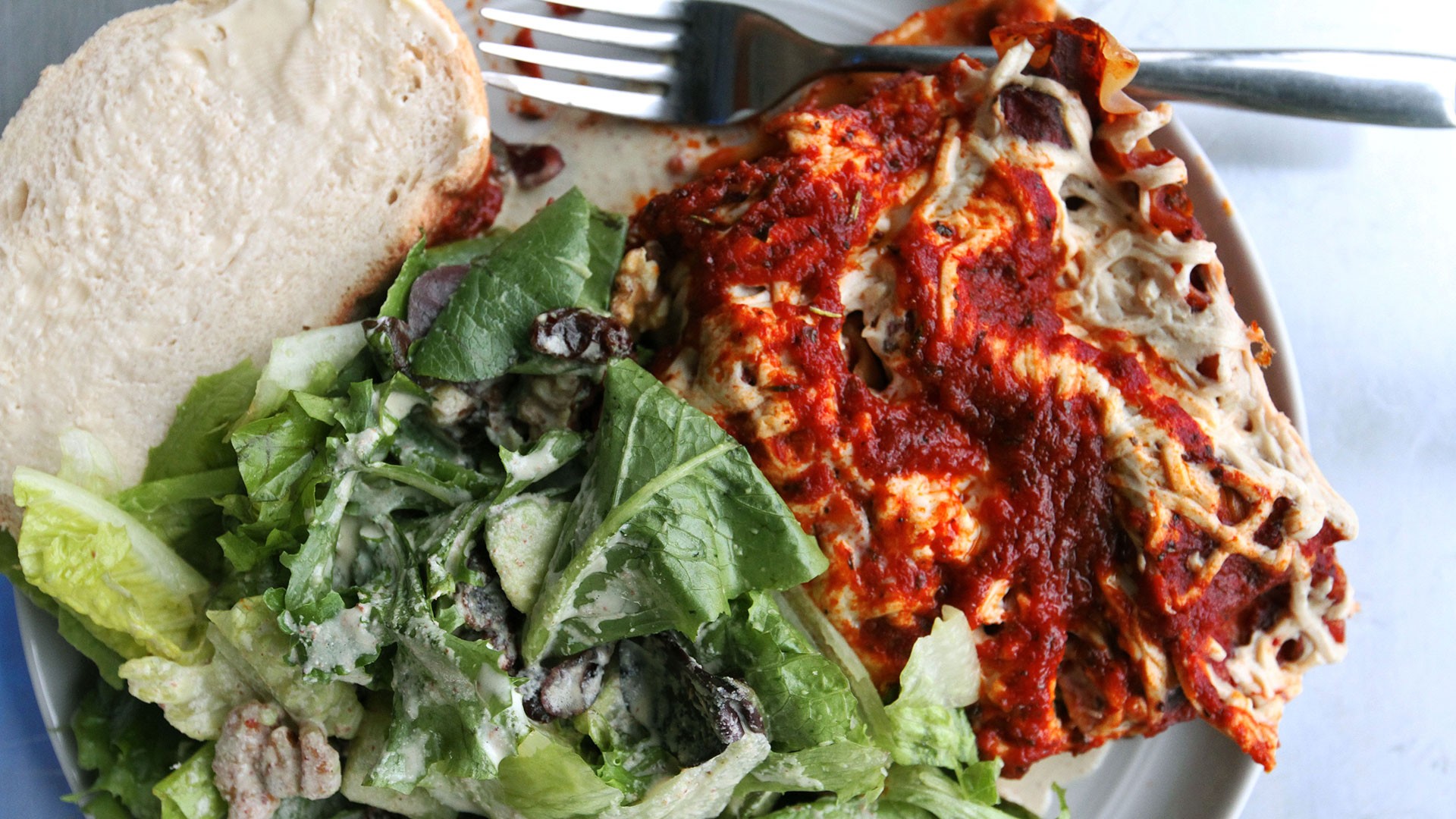 ---
Delfin sees his dishes as a way to ease locals into vegan alternatives. "I think of this business as a bridge for people to relate to the same things they grew up eating, but without the meat. I see a lot of Juarenses who come here and feel like they're being challenged, but then they realize it's good!"
Yet for many local Mexican-Americans, Lick It Up EP is challenging our very idea of meatless food According to Erica Marin, a customer devouring a torta alongside me, Lick It Up EP is contributing to a redefinition of plant-based foods.
"I think American vegetarianism and veganism is almost considered a white, bougie concept. But part of decolonizing our diet is going back to our roots of how our indigenous ancestors in the Americas ate—and much of that was plant-based. Plus, if you have abuelita knowledge, our spice and sazón knowledge, you can easily transfer that to meatless dishes."
Rob Mariscal, another happy local diner, agrees that there is a great transferability in Mexican cuisine, but worries that many chefs don't know how to apply it. "The white cultures don't know our spices. We say other vegan Mexican food is whitewashed, because their foods don't incorporate all the flavor we grew up with."
Mariscal also laments a common problem on the border—many Mexican-American families simply do not understand vegetarianism. "I go home and tell my family I don't want meat, and they say 'okay mijo don't worry, we have chicken.'" This is especially a common problem in a culture where many of our parents grew up on a largely meatless diet, but for purely economic reasons. Delfin also commented that when he first began his restaurant, his mother urged him to put manteca, or lard, in his beans. Still, he ultimately proved to his mom that the core techniques of Mexican cooking lend themselves to alternative proteins.
Still, Delfin has had a difficult time creating his salsas and creams—all of which are made in-house without any animal products. Considering the fact that for many Mexicans, the salsa is often as important as the food itself, the pressure was high.
"I'm goddamned proud of my salsas—it took me and my partner about five months to master them. Even though we studied so many places in Juárez and got so many different recipes, it took a while to get it right," he continues, "But people don't understand that Mexican cuisine is kind of like French cuisine, because there is a lot of technique required in a salsa—almost like making a complicated aioli."
These days' sales are high and lines are increasingly long at Lick It Up EP. Delfin gets much more satisfaction, however, from being able to connect Mexicans to a new way of appreciating their old comfort foods. "I see a lot of Mexican people come in here because they can't eat meat due to their health. They come here and its so special to see a lady who hasn't had a gordita in 20 years, eats it, and says it's the best thing she's had in years."
Lick It Up EP is also showcasing Juárez-style street food at a time when Juárez is seeking to refashion itself through art, tourism and culture. This is not to say that Juárez is totally free of the socioeconomic inequalities or violence that plagued it over the past few decades, but Delfin is not alone in his optimism for Juárez' future.
"The city has gotten so much better and is so vibrant right now. It's had a hard time, but now things have definitely improved. And I think that's a Juárez thing actually, that sense of resiliency. Sure, we went through hard times, but the Juárez style says: okay, but let's still go have a couple of beers and go eat. I love that about my city."