Happy Christmas, everyone. Hopefully this guide to what your favorite musicians have been wearing and sharing in the festive run-up will help you fill five minutes that would otherwise be spent explaining to Grandma that, yes, blogging is a job.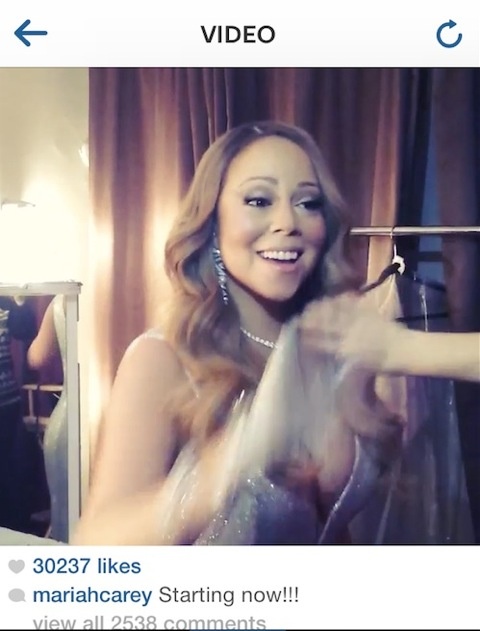 Mariah is back at the top of the Billboard chart with "All I Want For Christmas Is You," and she's playing a series of sold-out shows at New York's Beacon Theatre. Instagram highlights include multiple versions of the classic "Oh, I didn't realise you were filming back then when I did an that impressive range of warmups…", and videos upon videos of her, apparently doused in glitter, flanked by dancing children and giant candy canes. I will probably see these scenes again this Thursday, in my very weird Christmas-chocolate-induced dreams.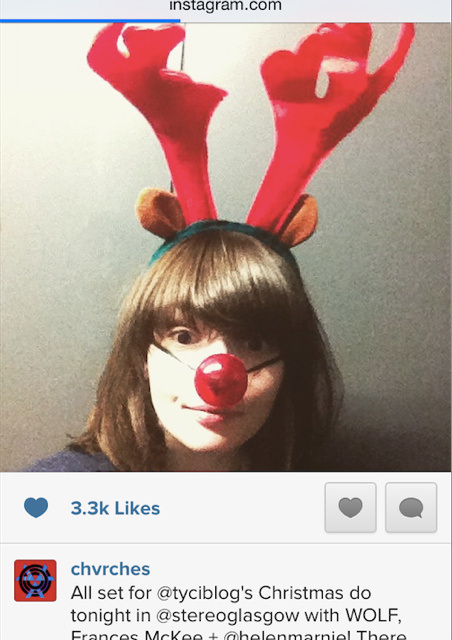 The story of Rudolph is a sad tale of emotional abuse and bullying, and I think that's what Lauren Mayberry of Chvrches is trying to say in this stark, honest selfie. I don't remember Rudolph's hair being the thing that was so shiny, but now all I want for Christmas is whatever shampoo she uses.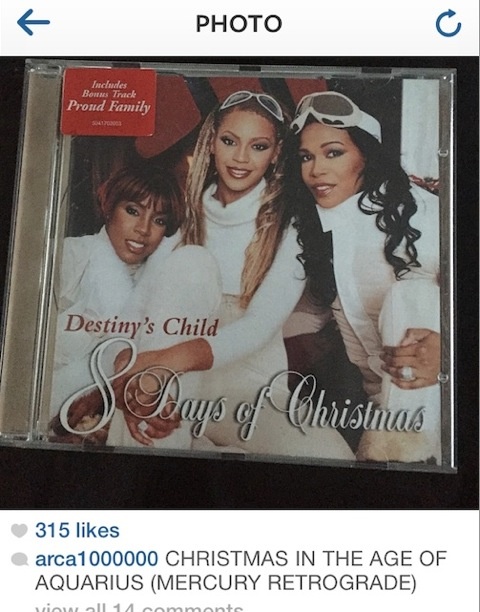 Tina Knowles' years of styling Destiny's Child is the gift that keeps giving, as this perfect winter-inspired work/ leisure/ fashion ensemble shows. Not only do DC manage to have it all in this photo by mixing function and style, they also seem to have found seasonal synergy in the title by combining the eight nights of Hannukah with the twelve days of the Christmas advent. Either they were super confused about the different winter traditions, or there are eight tracks on the album—I'm not sure. Thanks, Arca, for reminding me that this album exists. If you'd like to read further on Tina Knowles's Beyonce years, check out this essay by Summer Camp's Elizabeth Sankey.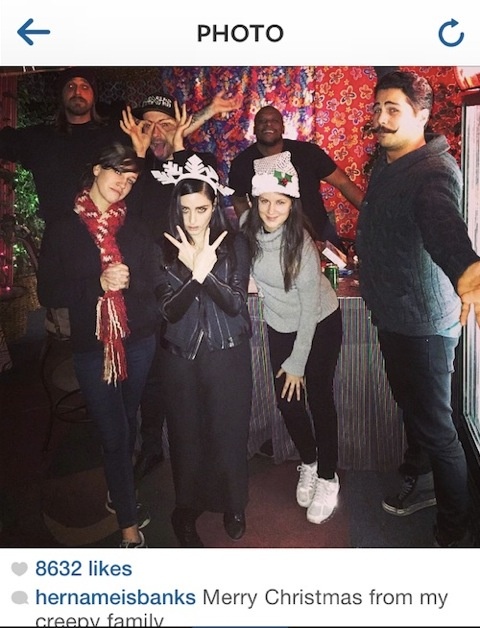 Christmas is a great time for both headwear and being grumpy, and here's the sylph-like pop siren Banks combining the two things in one photo. Looks like it'll be a goth Christmas for some. Santa's gonna be skipping her house for years.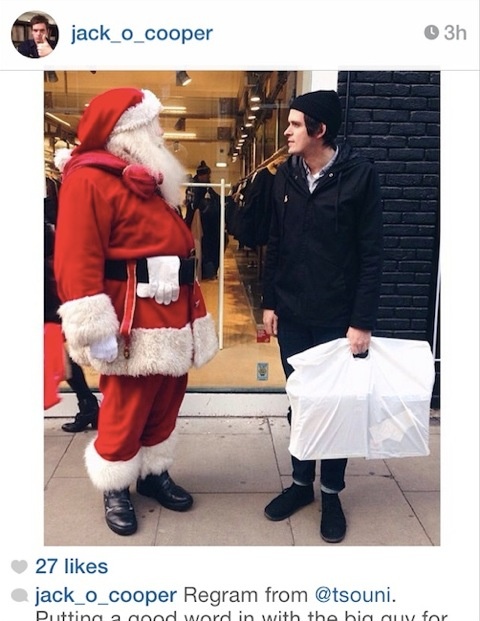 Jack Cooper of Mazes had an encounter with the ghost of Christmas future this week. This old man on the left is, I think, Jack in forty years, letting him know that black is no longer on trend in 2055.

There's no Christmas tradition like getting horribly ill as the adrenaline of the work year disappears. Here's Slow Club's Rebecca Taylor showing us how she deals with the end of year health drain by bedding down with flu medication and Ru Paul. A lot of people don't know that the saying '"Time is the best healer" is actually the first half of a longer saying: "Time is the best healer, but Ru Paul is better than time."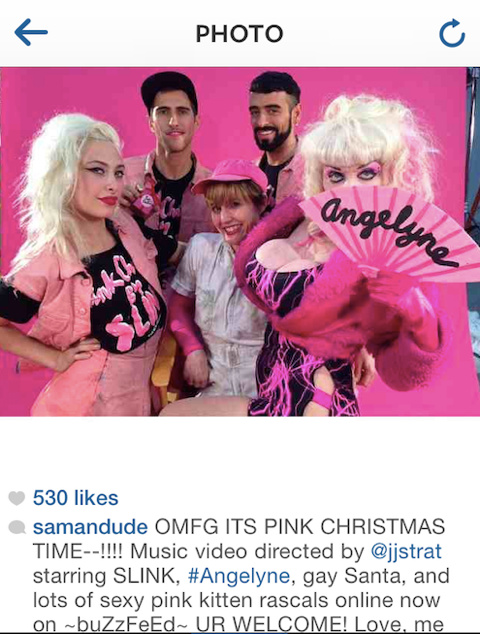 Watch out Band Aid, there's a new Christmas band in town. Slink is Cody Critcheloe, Seth Bogart and Samantha Urbani, and their video for "Pink Christmas" is a beautiful dream; it makes me want to retire red and green are for the school nativity and make pink my signature shade this holiday. Gay Santa, I left you some cookies. Please come to my house.
Emma-Lee Moss is baking more cookies for Gay Santa on Instagram.