"As soon as I saw the rainbow bagel thing happening, I wanted to stop making mine. I just think it's tacky putting food colouring in. People do it for the sake of it and to make it go viral."
I'm talking to Kiwi chef Adam Andrews in the kitchen of East London bar, Birthdays. Little Ghost Bagels, Andrews' Asian-inspired bagel business, is staging a six-week kitchen residency here, but we've started discussing the multi-coloured, artificially-dyed bagels that probably spammed your Instagram feed circa 2015 and still won't die.
For his bagels, Andrews prefers to stick with two colours: pink and black.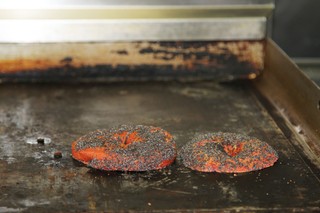 "I didn't do any of that shit to make it Instagram-friendly," he explains. "I did it because it made sense. When I made the first bagel with master stock-braised brisket, pickles, and pak choi, it didn't seem right in white bread. And I use actual ingredients to dye the bread. I use beetroot and charcoal. There's a reason behind the flavourings—the beetroot bagel tastes like beetroot."

Cutting a bagel open to show me the vibrant pink colour inside, Andrews continues: "It would be wrong to put my fillings into a normal bagel because everything about it is so not kosher."
So un-kosher, he tells me, that none of the Jewish bakeries in London he approached to produce his black bagels on a large-scale would bake them for him. And not just because they wouldn't be filled with traditional salt beef or smoked salmon.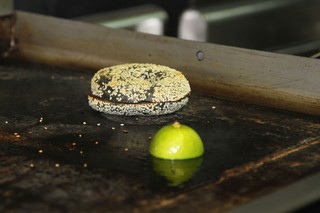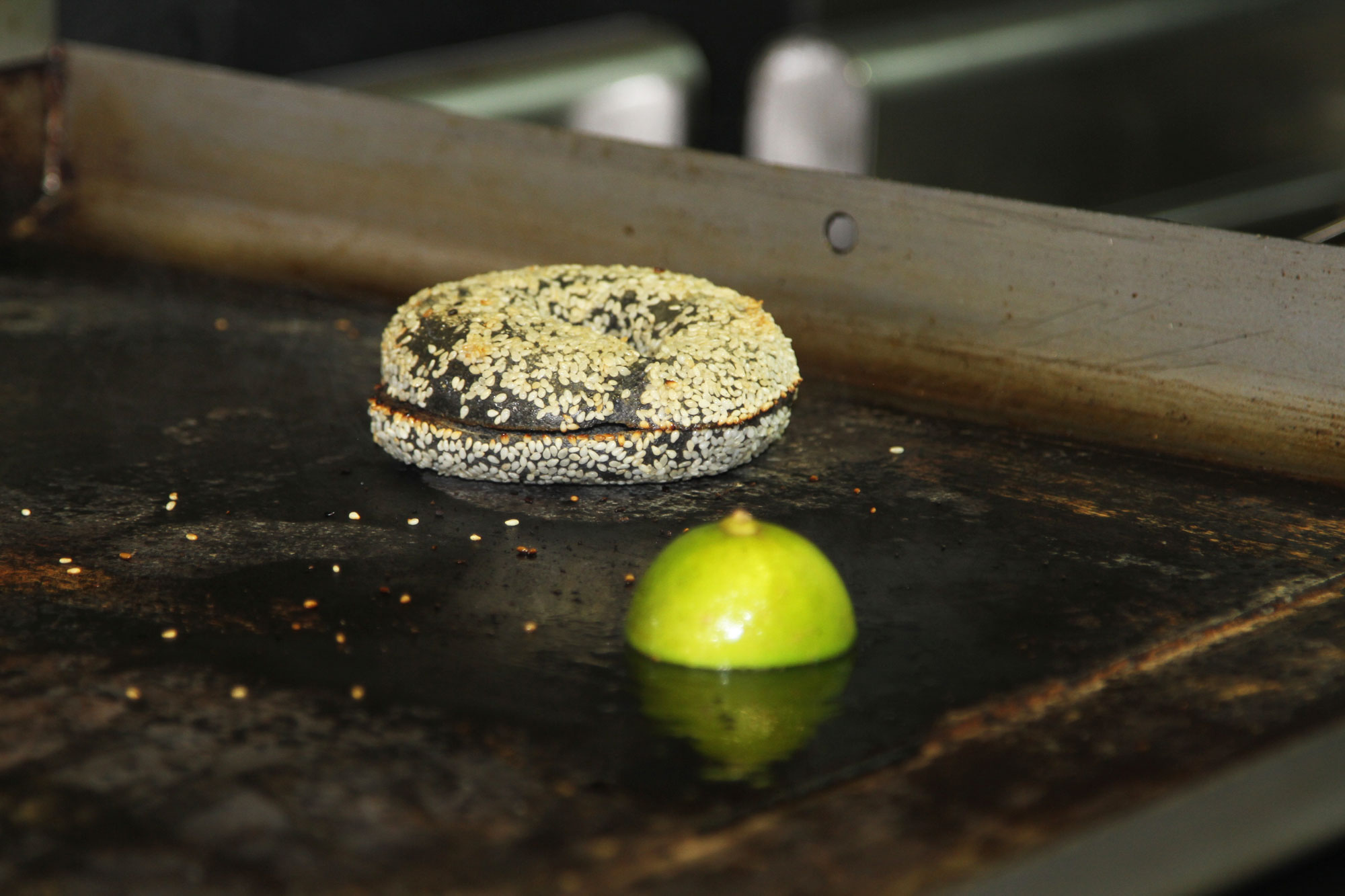 "I needed to find someone who could make them to my recipe, on a bigger scale than I could make them on my own. The black bagels were originally made with squid ink," Andrews explains. "But no one would make them because they're not kosher. No one wanted squid ink in their kitchens at all."
The solution? Charcoal, of course.
"The charcoal comes in at the start with the water base and it makes the bagels completely black. It's such a mild charcoal taste that you don't really notice it with the other fillings. They're made exactly the way I used to make them so they're boiled, then baked. They're made the traditional New York way so they have big air pockets in. They're chewy, sweet, salty, and soft. They're actually now made by a New Yorker in North London."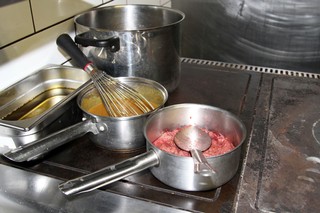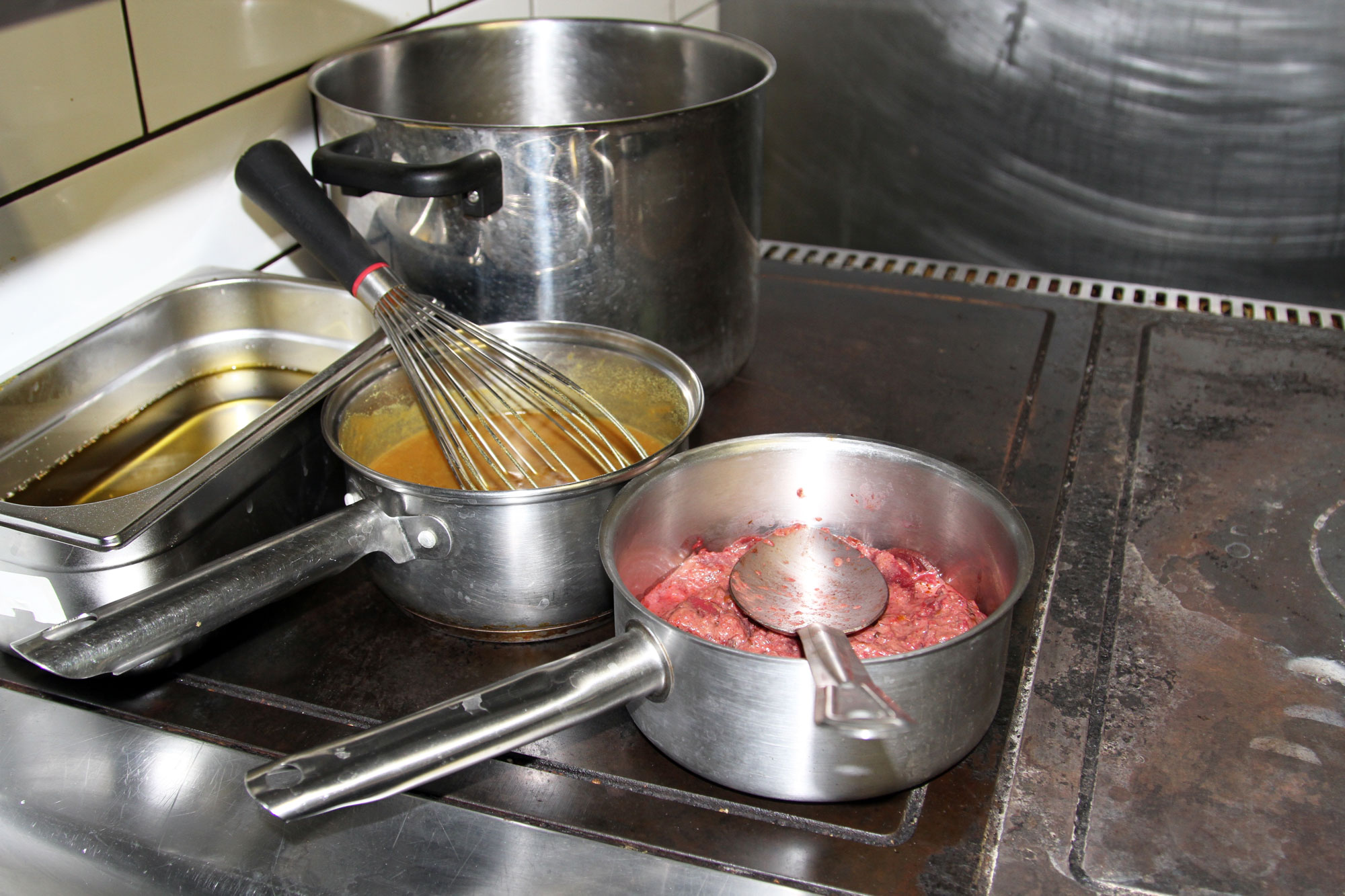 Andrews shows me how he makes Little Ghost's popular beetroot bagel. He places a halved pink bagel on the grill and when it starts to crisp, adds pickled beetroot and shredded lettuce. On top of that goes the beetroot, potato, and coconut curry.
Hang on a sec. Curry in a bagel?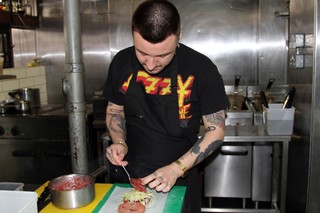 "It's fucking sloppy, it's a mess," admits Andrews. "But it works! Some of the potato breaks down so it's a little thick, it's not a watery curry. The bagel holds its own because the curry soaks into the air pockets and the bread doesn't fall apart."
He artfully swaddles the finished bagel in paper, cuts it down the middle, and continues: "It's wrapped up tight. Things do fall out but you just eat it with a fork."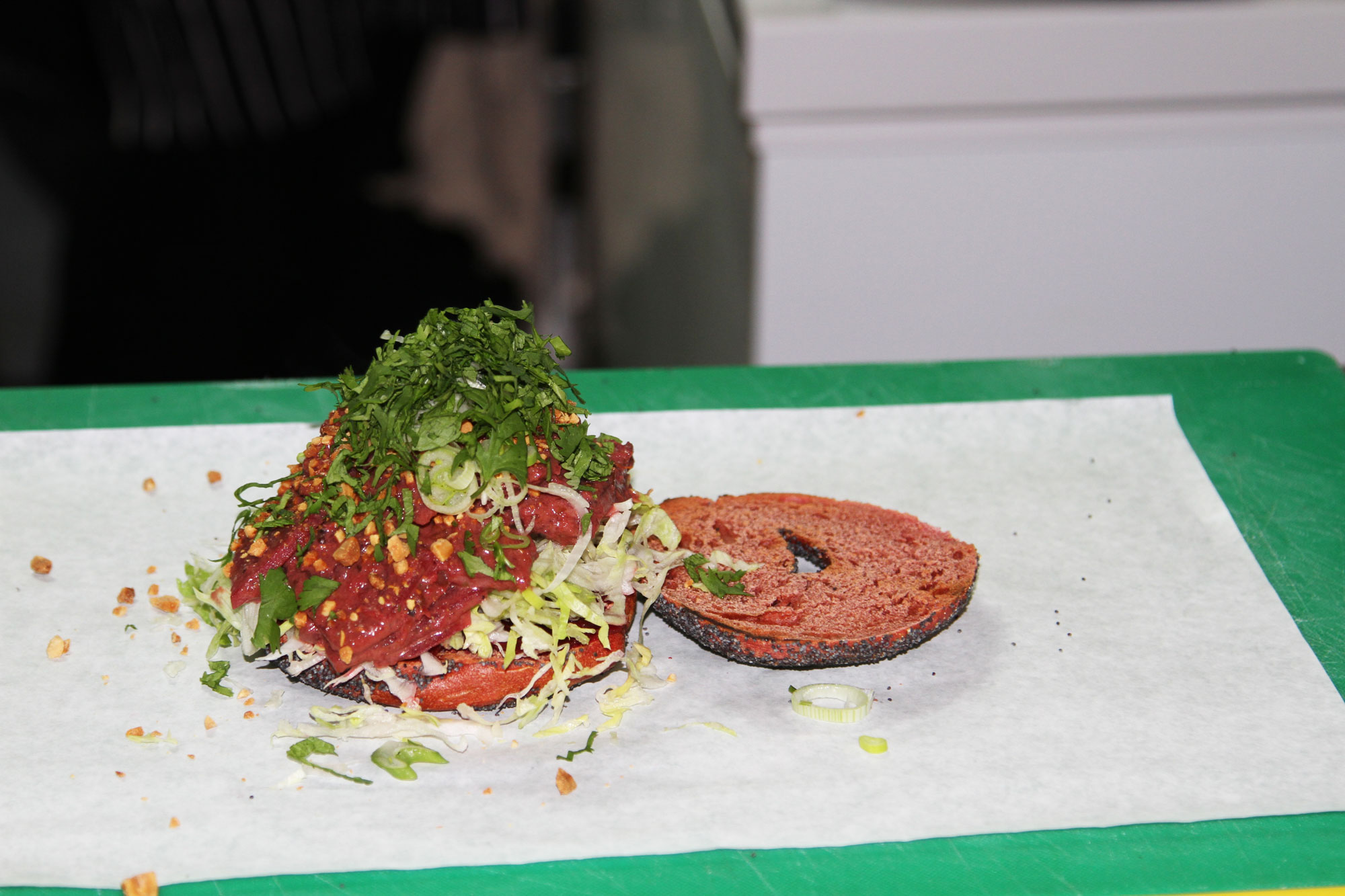 While I attempt to dig into the bagel (which I admit, doesn't totally fall apart), Andrews starts frying chicken thighs for his other curry-inspired creation: the five spice chicken katsu in a charcoal bagel. I ask about the fixation with pink and black, colours that are also present in Little Ghost's branding and other items on the menu, including the squid ink-marinated chicken bites.
"It's been an obsession of mine since I was about 14-years-old. From Bam Margera and anything HIM-related basically. I used to have a black and pink skateboard. My belt was pink with black studs. I was one of those kids!" Andrews says, laughing. "I've revisited it and brought it up to speed with where I am now as a chef."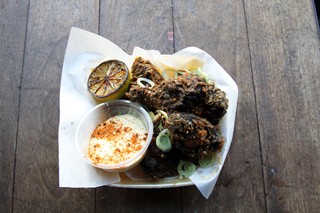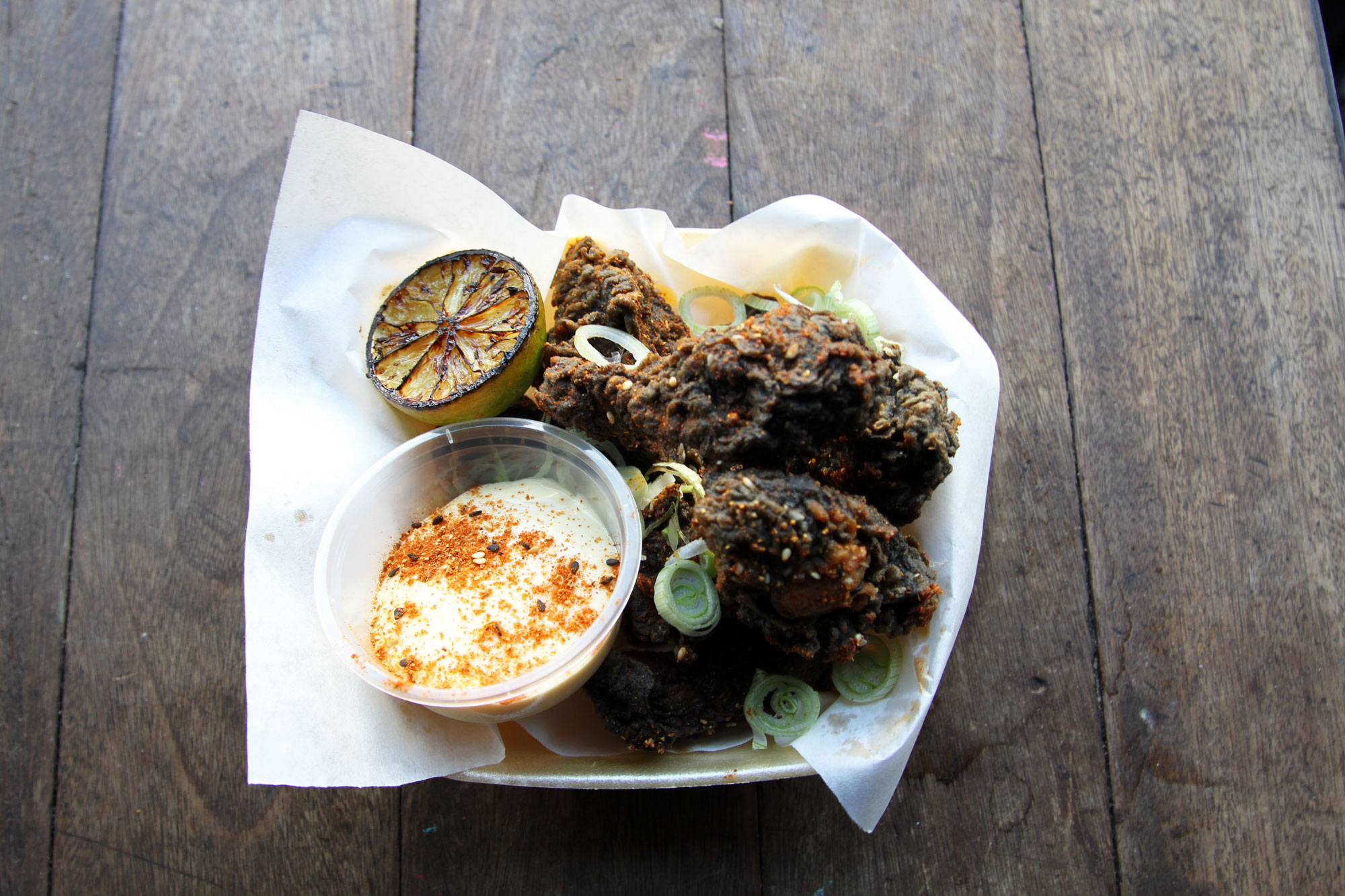 To make the chicken katsu bagel, Andrews drizzles Kewpie mayonnaise onto one half of a charcoal bagel, followed by a few pickled cucumber slices, shredded lettuce, and a fried chicken thigh.
"Usually, I bang recipes out in a day. I know each ingredient separately so it's just a matter of putting it all together as one," he explains, before adding that the golden bagel rule is to make sure there's enough filling, meaning you get a bit of everything in each bite. "It's the same thing going on in each one. I brine a lot, I braise, I roast, I use different Korean pastes."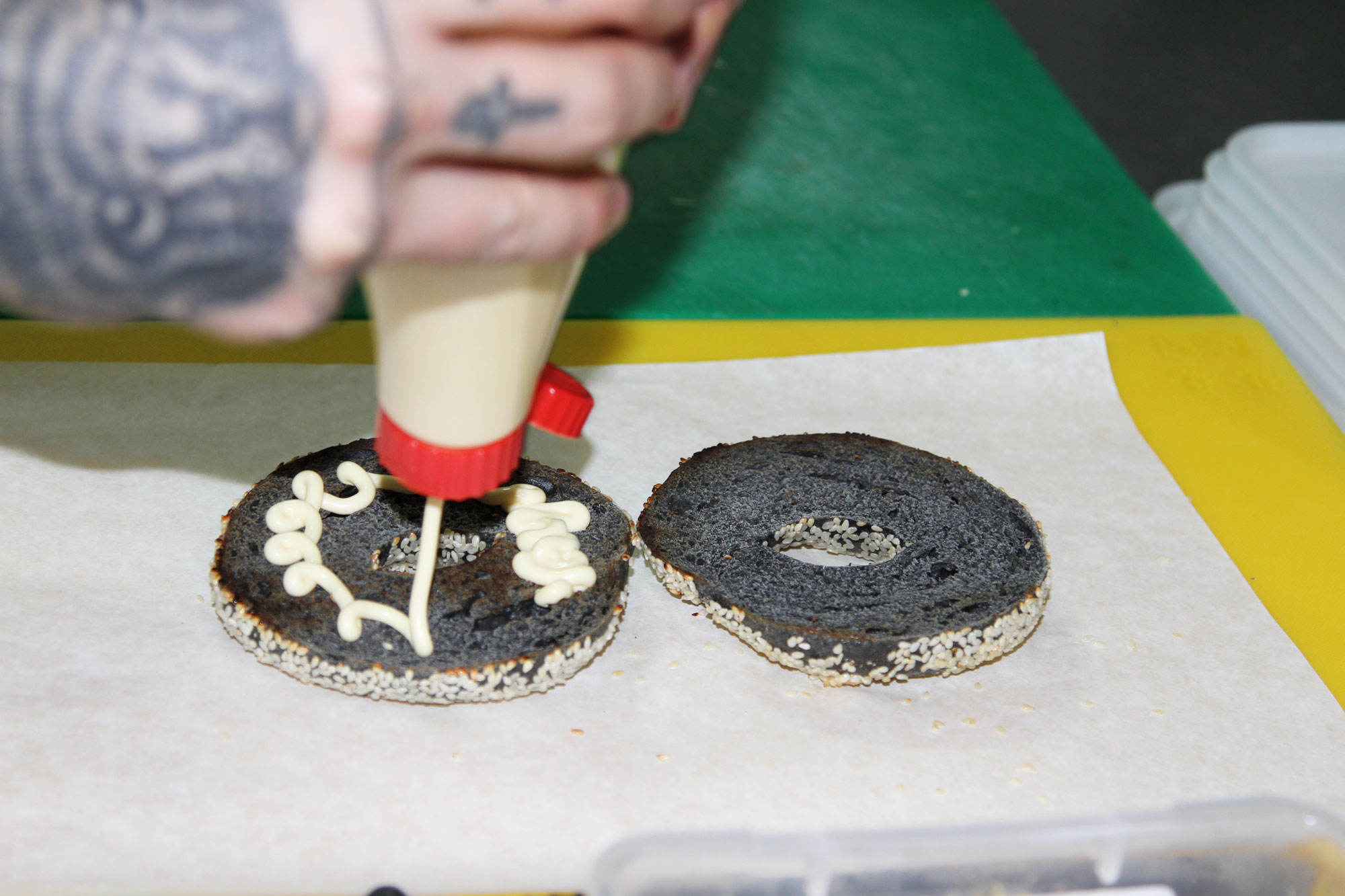 He adds: "It's a lot of the same flavours, just playing around I've got some fish ideas coming up, doing something like a rendang curry. And I'm working on a Chinese-style BLT, with Kewpie mayo, tomato kimchi, and a fried egg."
Pickled red chili, coriander, and spring onion are added to the katsu bagel before the all-important thick, brown curry sauce.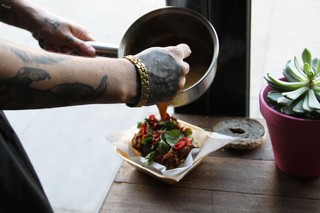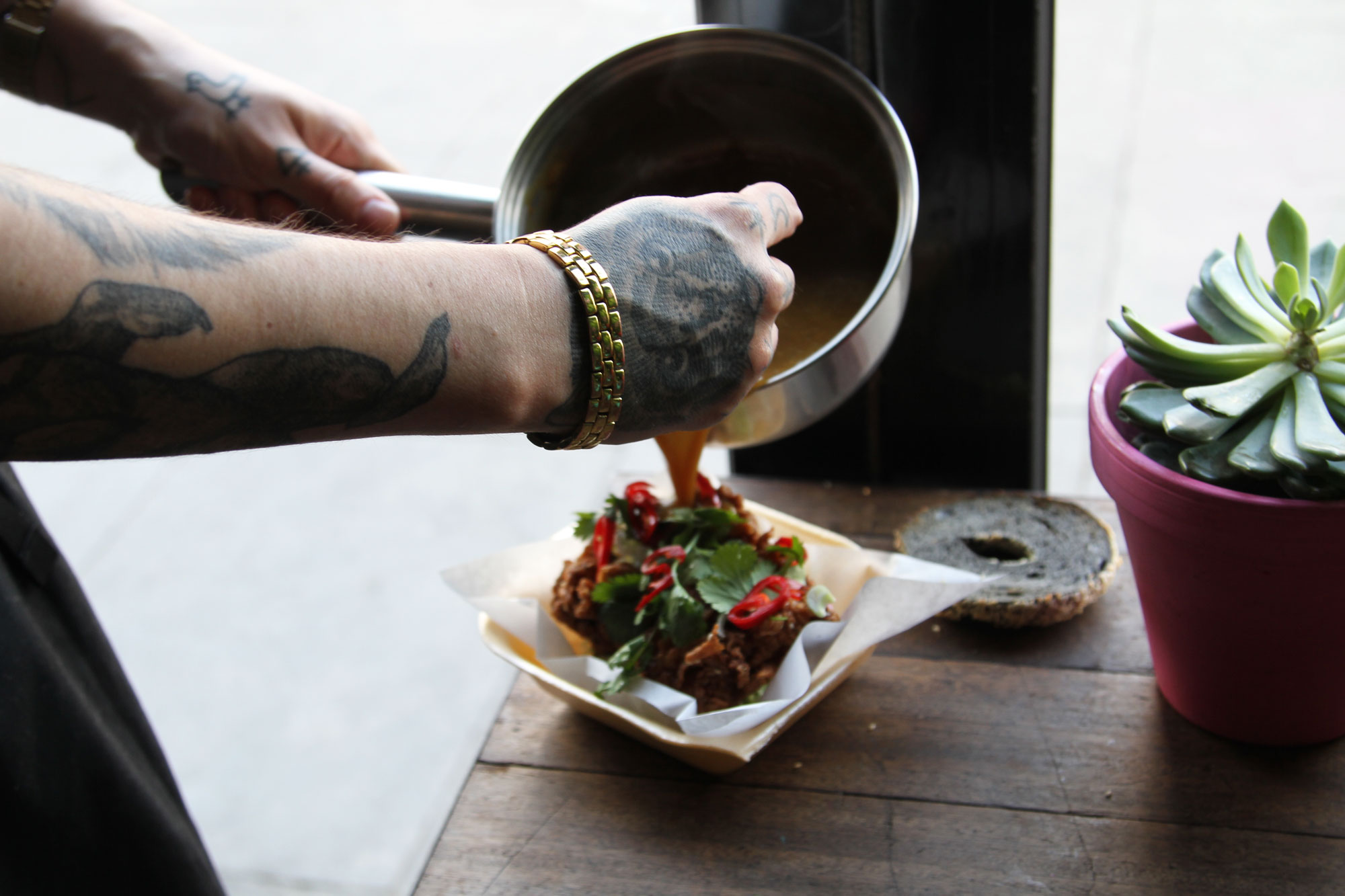 "There's a lot of love, and a few days, spent to make all the components for the bagels. When I opened Little Ghost Bagels, I hadn't made a bagel before. I just went for it and they went down fine."
Already a few mouthfuls into the chewy bagel, crispy chicken, sharp pickles, sauce, and crunchy lettuce (no time to Instagram here), I agree that these are some fine bagels indeed.