Welcome back to Dirty Work, our series of dispatches from the MUNCHIES Garden. We're inviting chefs, bartenders, and personalities in the world of food and drink to explore our edible playground and make whatever the hell inspires them with our rooftop produce. In the latest installment, chef Claudette Zepeda-Wilkins, chef-owner of El Jardín in San Diego, makes magic out of chickpea mole.
The night before chef Claudette Zepeda-Wilkins visited us in the MUNCHIES test kitchen, she had been cooking at the James Beard House with chefs Gabe Erales (of Dai Due in Austin) and James Wayman (of the Oyster Club and Engine Room in Connecticut), so she's a little tired. She's got no real plan for what she's making today, but that's alright. She's sure inspiration will strike while she wanders the garden.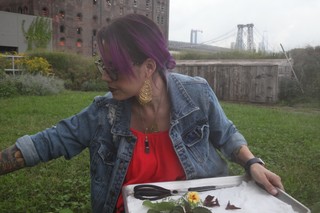 At El Jardín, Claudette is wont to use lots of edible flowers and blossoms as garnishes on her contemporary, regional Mexican menu. As we're pointing out the variety of edible tidbits throughout the garden that most people think are weeds, we're struggling to identify something she doesn't already know. Instead, she points out flora that we hadn't even been aware of. She notices a sprout from a radish that was going to seed, plucks a small green pod off of the stalk, and tells us to try it.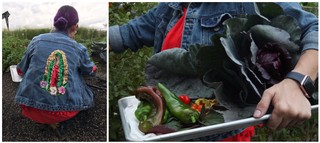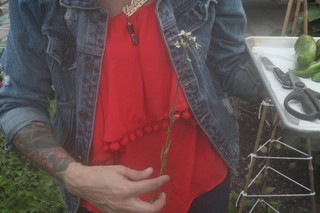 "It's spicy—it tastes like horseradish!" she says, just as we start to feel it in our sinuses. (Right, right, right, we totally knew this was a thing; we're not feeling like total gardening n00bs at all right now.) "It's one of my favorite things. I used to do a roe with horseradish dressing dish, with radish pods."
It's a foggy, muggy day in Brooklyn, so the roof is not as vibrant and charming as usual. We make quick work of the tour, and she picks a picture-perfect cabbage, some spicy and sweet peppers, cherry tomatoes, and a long, thin cucumber.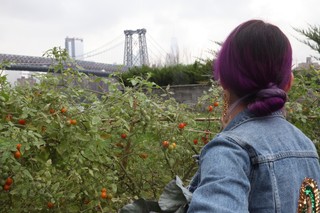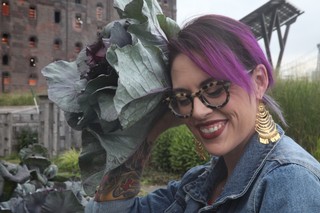 When we head back inside, she starts organizing, chopping, slicing, and dicing all of the things she picked, sort of as a way to pass the time while the rest of this dish comes into existence in her imagination. Very thinly sliced cabbage, peppers, red onion, and cucumbers will get tossed together with a bit of salt and lemon juice as a simple, fresh slaw.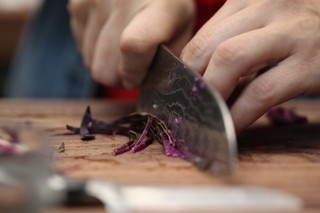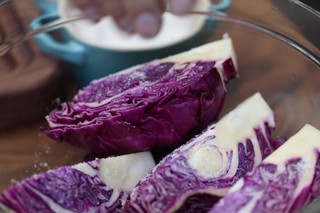 She slices the rest of the cabbage into two- to three-inch wedges, and tosses them with salt. She lays them flat-side-down on a screaming hot cast-iron skillet (truly very hot—the high-smoke-point canola oil she used is, indeed, smoking) so they get deeply browned and crisped. She turns them occasionally, making sure that as many sides as possible get that same dark grill color. It's an un-hurried process, so take your time, she says.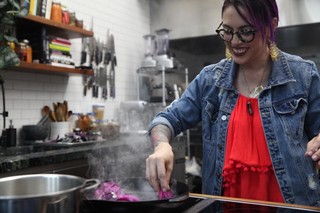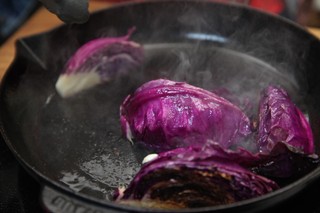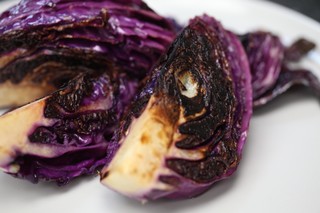 Next, she blisters the tomatoes with some mildly spicy Anaheim peppers and shallots in a saucepan with no oil. The shallots cook and brown quickly, but the pan will get mostly deglazed when the juices from the tomato start to weep out as the skins split. It cooks quickly, and then she takes it off the heat to set it aside, squeezing some lemon juice over top and sprinkling with chili flake.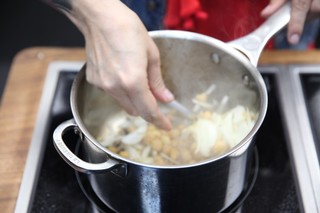 She wants to make what she calls a "bean mole" sauce with black beans, but we don't have any beans cooked or in cans at the moment, and we have to keep things quick and easy. So, she goes with canned chickpeas instead.
She starts with sautéing some more minced shallot in oil, then adds the rinsed can of chickpeas, letting it cook gently for a few minutes while the shallots get soft. She tosses in fresh oregano, finely chopped dried seaweed, whole coriander seeds, and salt, cooking for a few more minutes until the shallots start to brown and the chickpeas start to break down.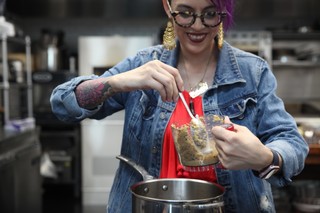 To keep everything from sticking and to help the chickpeas break down, she splashes in a bit of water occasionally. When the flavors of the aromatics have melded to her liking, she takes half of the chickpea mixture out and purees it until mostly smooth in a food processor, then returns it to the pot with some capers, butter, stock, and garam masala spice mix, which she says is an easy shortcut to get a lot of the same spices she typically uses in Mexican cooking into the pot at once. This new, thinner mixture simmers for about ten minutes, until it reduces and thickens slightly.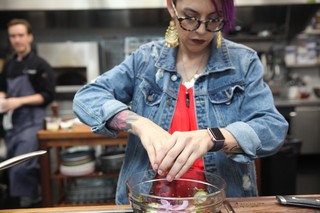 MAKE THIS: Grilled Cabbage with Chickpea Mole
When she's ready to plate, she arranges the gorgeously browned cabbage wedges on a plate, then spoons the chickpea mole over the top, with the warm tomato salad and cabbage slaw off to the side as if they're condiments.
While delicious, this is not the prettiest dish in the world (hey, we love chickpeas, but they are brown and lumpy, and there's only so much you can do with brown and lumpy), so she livens the whole dish up with an array of pretty shiso leaves, bronze fennel fronds, and pepper blossoms for garnish.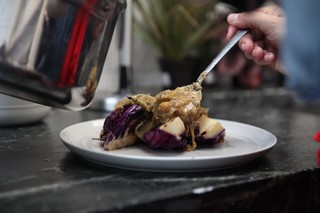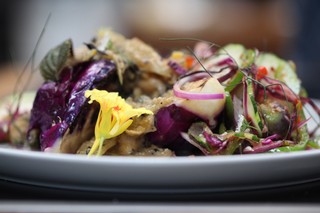 If you laid these ingredients out on the counter, Chopped-style, most people would be hard-pressed to come up with anything at all, let alone a dish that is both sophisticated and that speaks to their personality. But Claudette is just that sort of chef, whose culinary vocabulary is so deeply ingrained in her that she shows up on the plate no matter what you've given her to work with. And hey, we've just found our new favorite way to cook chickpeas.