Ham Choy and Pork Recipe
There are 3, I repeat THREE, cuts of pork in this recipe. The real star of the show though (imho)? The pickled mustard greens.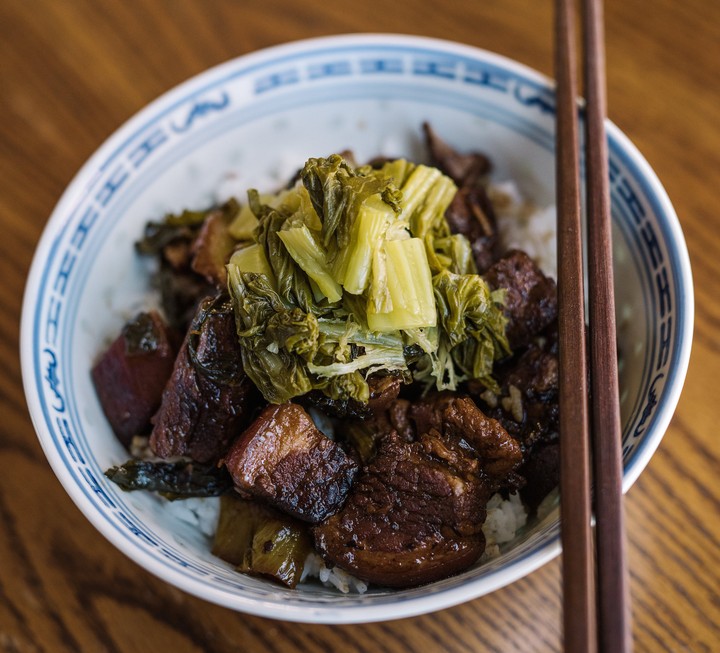 Servings: 4-6
Prep: 15 minutes
Total: 2 hours
Ingredients
2 pounds|880 grams pork belly, cut into 1 ½-inch pieces
1 pound|470 grams (2-inch) pork ribs, cut into individual ribs
1 pound|450 grams pork shoulder, cut into 1 ½-inch pieces
6 tablespoons|125 grams black bean sauce
3 tablespoons dark soy sauce
1 (10 ounce|300 grams) pack pickled sour mustard greens, coarsely chopped
1 cup|250 ml chicken broth
rice, for serving
Directions
1. In a large saucepan, cover the pork belly, ribs, and shoulder with 2 cups|500 ml water and bring to a boil. Stir in the black bean sauce and soy sauce, reduce the heat to maintain a simmer, and cook, stirring occasionally, until the liquid has reduced to a thick syrup, about 30 minutes (as my grandma would say, "You know it's ready when it starts to sizzle when you stir it").
2. Add in the chicken broth, reduce the heat to medium, and cover. Simmer until the pork is tender, about 1 hour. Stir in the mustard greens and cook for 5 minutes longer. Serve with rice.
Stories