'Spit or Swallow' Beer Coasters in Welcome Package Upset UK University Students
Brushbox caught flak for the ill-conceived promo material featuring toothpaste foam suggestively dripping from a woman's mouth.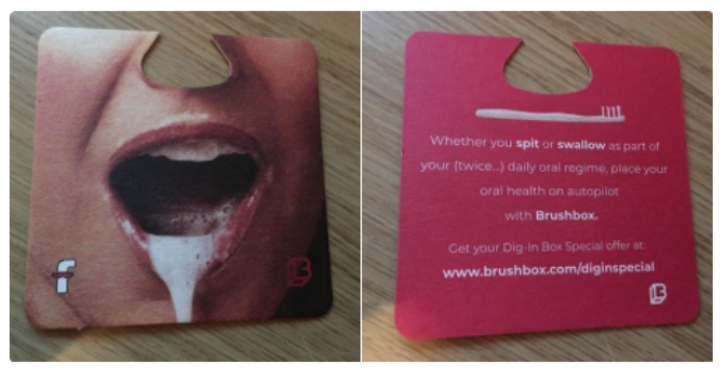 Earlier this week, a church in Roseburg, Oregon decided to change the message on its sign after...pretty much everyone thought it was a sexual reference. "Forgiveness is to swallow when you want to spit," the Westside Christian Church reminded everyone in all-caps block letters. The church's pastor, Rick McMichael, insisted that the message was meant to be a pure one: "Well, you have saliva, and a lot of times when you get annoyed, you spit at people," he told the News-Review. "You should just swallow it and get over it."
Meanwhile, students at England's University of Sussex have zero interest in swallowing it or getting over it after the school passed out branded beer mats that also had some unnecessary oral sex imagery—but this time, the innuendo was on purpose.
According to the BBC, the beer mats were designed by toothbrush subscription company Brushbox, and distributed to incoming freshman by a company called Dig-In. The photo on one side of the beer mat showed a close-up of a woman's mouth, complete with a white substance coating her teeth and tongue, and dripping from her lower lip. (It... looked like semen.) The other side contained an advertisement for the company which said "Whether you spit or swallow as part of your (twice…) daily oral regime, place your oral health on autopilot with Brushbox."
OK, first, what kind of person swallows toothpaste froth? And next, what the bloody hell were you thinking, Brushbox?
The images were first shared by a concerned parent on MumsNet, and made their way around the internet from there. "Imagine being a bright and eager female student excited to have been accepted into one of the UK's leading research universities and you find this in your welcome bag," Bristol University Phd student Raquel Rosario Sánchez tweeted. "Sexism is sexism even when it's 'a joke.' Women deserve better than this."
In a statement posted to Twitter, the Sussex University Students' Union apologized for including the ad in the welcome kits it handed out to incoming freshmen. "The Students' Union at Sussex does not support or condone the inappropriate material distributed on behalf of Brushboxes which was found in the Dig-In boxes delivered to all Freshers this year," it wrote. "Our Students' Union promotes equality and providing a safe and inclusive environment for all, and we were let down by the events that have occurred." The organization also said that it would be "consulting our students" to determine whether it should continue to partner with Dig-In in the future.
"The beer mats distributed in some of our freshers' boxes do not, in any way, reflect our high ethical standards," Dig-In said in its own statement, and vowed not to include the beer mats in the boxes that had not already been given to new students. Meanwhile, Brushbox initially tried to defend the imagery as "tongue-in-cheek," The Guardian reports, before issuing a statement that wasn't much better.
"We are really sorry if anyone has been offended by the promotional image used in the Dig-In boxes," the company said. "We now realise it was inappropriate and misguided of us to use this type of image as a way to raise awareness of dental health issues."
"We now realize it was inappropriate" is the corporate way of saying "Everyone is yelling at us right now and we would very much like to keep selling toothbrushes in the future." You did this, Brushbox. Now swallow it.
Stories