Your Employer Probably Doesn't Care Enough About Your Mental Health
Covering your therapist is the least they can do, according to experts.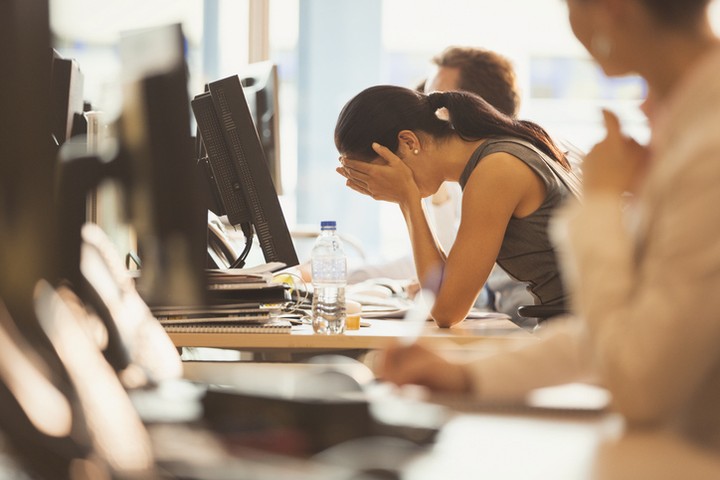 Caiaimage/Paul Bradbury
Dani Hao wanted to get to the office—she really did.
But the 22-year-old had suffered a hell of an anxiety attack that morning. She couldn't get dressed; there was just no way she going to commute to work and make it through the day. So...what could she do?
"I just texted our HR manager and let her know," Hao says. "And she was very sympathetic and told me to take a day off or work from home."
Hao's employer, a Vancouver-based startup called Procurify, is pretty progressive when it comes to addressing mental health. Employees have the option to work flexible hours—Hao's a morning person, so she starts her day at 6 am, but the developers tend to work from 11 to 7. The company springs for a massage therapist, who comes in on Thursdays.
And Procurify has what they call a "responsible time off policy," something that was implemented when they realized employees were using random vacation days throughout the workweek to deal with personal problems like child care falling through or medical emergencies—and yes, anxiety attacks. Employees don't need to have a diagnosed mental illness to take advantage of the policy, nor do they need to disclose their illness to higher-ups, and there's no cap on the number of days an employee can take.

"There's a lot of trust between management and employees," Hao says. "If somebody isn't feeling mentally well, we don't question them. We say, 'Take the time off, hopefully we'll be able to see you tomorrow.'"
You might remember the Michigan woman who made headlines last month after tweeting about a similar exchange with her boss, who thanked her for being forthright about the fact that she was taking a day off from work to focus on her mental health. But that's still far from the standard operating procedure here in the US—a fact underscored by the very virality of her tweet.
Studies have shown that 44 million adults—one in five people—experience mental health issues in a given year. But just 73 percent of full-time employees have paid sick leave at all, let alone resources to address anxiety, depression, or substance abuse disorders. Just last week, a University of Michigan study found that while those who have bipolar disorder often need additional workplace support, disclosing the condition to coworkers or to HR leads to exclusion or social stigma—and often, unemployment.
---
More from Tonic:
---
That's bad news for employers, too; the Center for Prevention and Health Services estimates that mental illness and substance abuse disorders—and their resulting absenteeism and decreased productivity—cost employers between $79 and $105 billion each year.
There are, of course, some companies working to make this better. At the online shoe and clothing retailer Zappos—a regular entry on Fortune's 100 Best Companies to Work For list—it starts with healthcare coverage; Zappos foots the bill for 100 percent of employee healthcare premiums and 71 percent of dependents' premiums. That includes access to mental health care—and that's just the beginning.
In 2015, the company began focusing on mental health—depression in the workplace, stress in the workplace. Senior manager of benefits and wellness Bhawna Provenzano says they were a little scared to touch the topic at first. They worried that people would feel targeted or think the company somehow knew personal medical information about them. So they started "passively," she says, with tabling events and seminars. It was an initiative that quickly gained momentum. "People were showing up at those tables, people were asking us questions about those programs," Provenzano says. "We really found that there was interest there."
In 2015, the company kicked off a six-month campaign on "breaking up with stress." Last year, they spent another six months focusing on mental health. The initiative involved everything from chair massages to educational seminars on stress and substance abuse, resilience, and coping mechanisms. They brought in experts from their employee assistance program (EAP) to facilitate courses, and began welcoming an on-site counselor to the office twice a week.
"It's really hard, because it's not a sexy topic," Provenzano says. It's also one that requires that sort of holistic approach. Denise M. Rousseau, professor of organizational behavior—the study of the ways people interact within groups—and public policy at Carnegie Mellon University, explains that one of the best ways to address mental illness in the workplace is simply to have a structure in place at all. "Generally speaking, there is a real advantage to the employee and the employer for organizations to have policies ... that exist in anticipation of people having needs," Rousseau says, adding that EAPs are one of the best ways to attract and maintain a workforce that's physically and mentally healthy.
On the other hand, these EAPs can't address everything. Employers should expect that they might need to adapt what they're doing to respond to their workers' needs, whether that's introducing a flexible work policy or temporarily cutting back hours. If the job itself is a source of an employee's stress and anxiety, that could mean finding other work for them within the organization. And of course, employers aren't always on board.
Even if they are, according to Rousseau, people who take advantage of those flexible hours or time off often end up being treated differently in terms of their career opportunities. "An accommodation for mental health related issues—even though, in theory, we have laws that say people can't be discriminated against—it doesn't necessarily mean that your future's unimpaired," she explains. The long-term consequences can include everything from negative performance reviews to being passed over for promotions.
And while Rousseau says there's increasingly a body of research that shows how managers can reduce those negative long-term impacts and help employees maintain and recover standing in the organization moving forward, it's not a simple fix. It means opening a dialogue between managers and their employees and encouraging conversations about development.
Because when it comes to addressing mental illness in the workplace, it's not as easy as installing a yoga room or letting employees take as long as they want for lunch. Rousseau says that abroad—in Germany and the Netherlands, for example—businesses spend a lot of time on "job design," trying to build a better environment overall. It's a comprehensive system of analysis, one component of which is identifying sources of stress in the job and building positions that foster greater employee wellbeing. "That's used very limitedly or not at all in the United States," she says. "There are ways forward to design the work that individuals and groups do to reduce the inherent stressors of it, but American managers haven't been trained a lot in this."
The good news is that we actually have a model for this already in Paul O'Neill, longtime CEO of the Pittsburgh manufacturing giant Alcoa. Rousseau singles the businessman out for designing a workplace that not only reduced on-the-job injury back in the '70s, but saw employees leaving each day healthier than when they arrived on the job. Alcoa "broke the paradigm," she says, cutting its rate of accidents to almost zero a year, which also led to record-high profits.
Now that the majority of our labor is mental rather than physical, Rousseau proposes an interesting challenge for contemporary businesses: What if people could leave work mentally healthier than when they arrived? "A lot of organizations are tremendous communities for problem solving; they solve all sorts of problems for the customer," she says. "Let's solve a few for ourselves."
"Too often, people focus on physical fitness and nutrition," adds Zappos' Provenzano. "You're not even going to have the ability to tackle that if someone is having mental issues that are left unresolved."
Read This Next: Politeness and Compassion Are Not the Same Thing