Vegan food and Mexican cuisine aren't exactly synonymous. In many respects, meat and cheese reign supreme south of the border.
But believe it or not, it's pretty damn easy to make Mexican food friendly for the herbivores among us, especially in 2017, when we have a little help from our friends (being health food stores, naturally). This is the future, and in the future, vegan cheese ain't half bad. It serves the same purpose as the stuff that comes from a cow: It melts, it stretches, and it makes things taste better.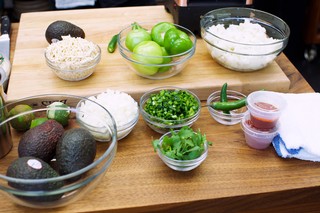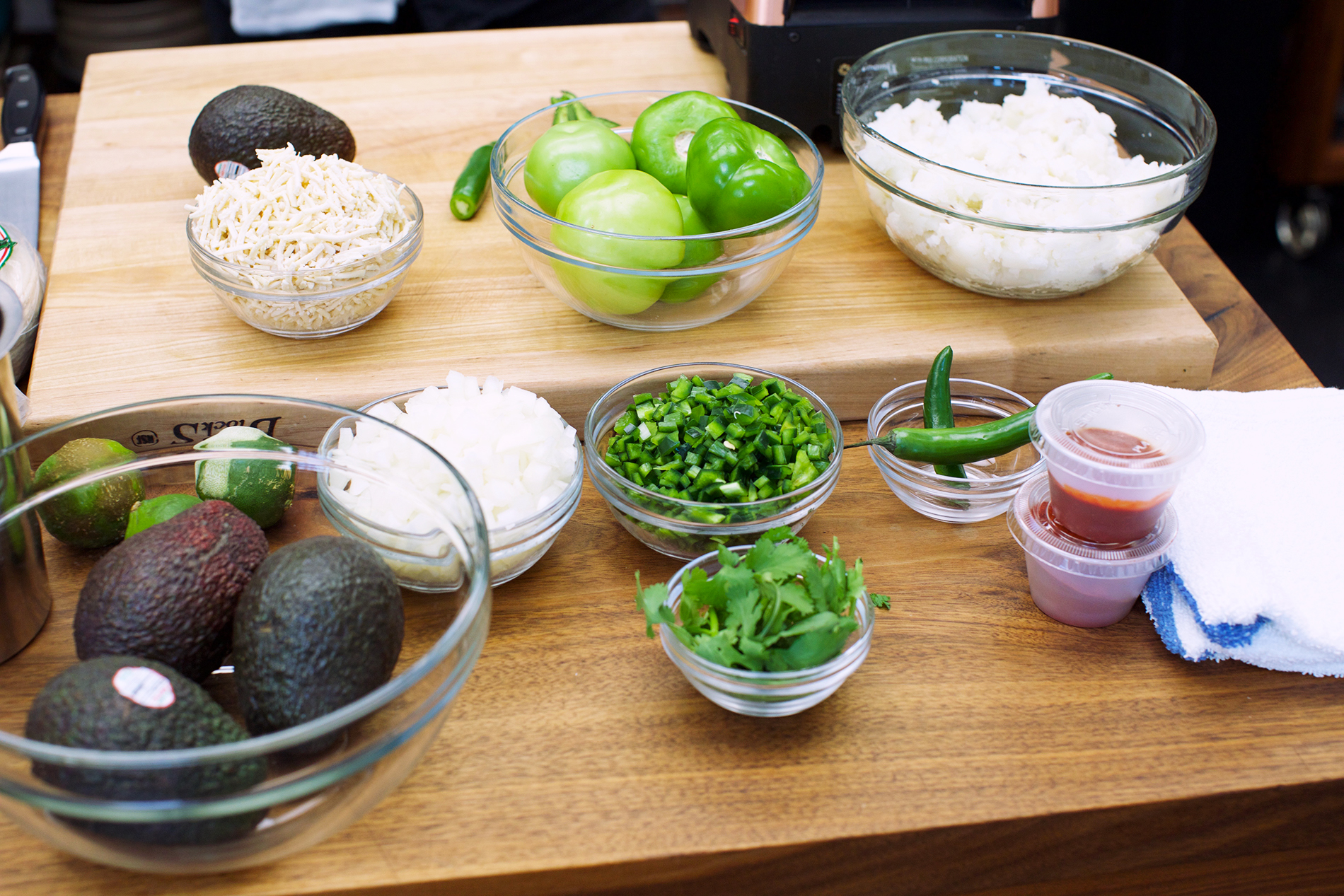 Black Flamingo is a vegetarian Mexican restaurant and nightclub disguised as a cocktail bar on an innocuous corner in Williamsburg, Brooklyn. During happy hour, you can sip on ginger caipirinhas and $3 beers while digging into a round of highly creative tacos, such as The Palms (grilled hearts of palm with guacamole, esquites, pickled watermelon radish, cilantro, and micro arugula) and The Jam (a potato latke taco with Gruyére, guava jam, fried garlic, chive-dill crema, cotija cheese, red onion escabeche, and scallions).
But late into the night, you'll find a different crowd hanging in its booths and basements as they crank the music and dim the lights. Black Flamingo is a fitting name for the restaurant, since it's a little bit chill and tropical, a little bit dark and moody.
Chef Ben Dawson recently stopped by the MUNCHIES Test Kitchen for an installment of How-To, and while he made his flautas vegan, you can use real cheese or add other non-vegan ingredients to the filling if you wish.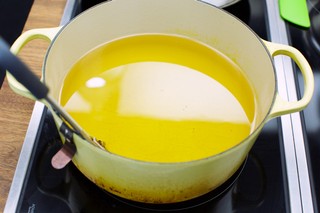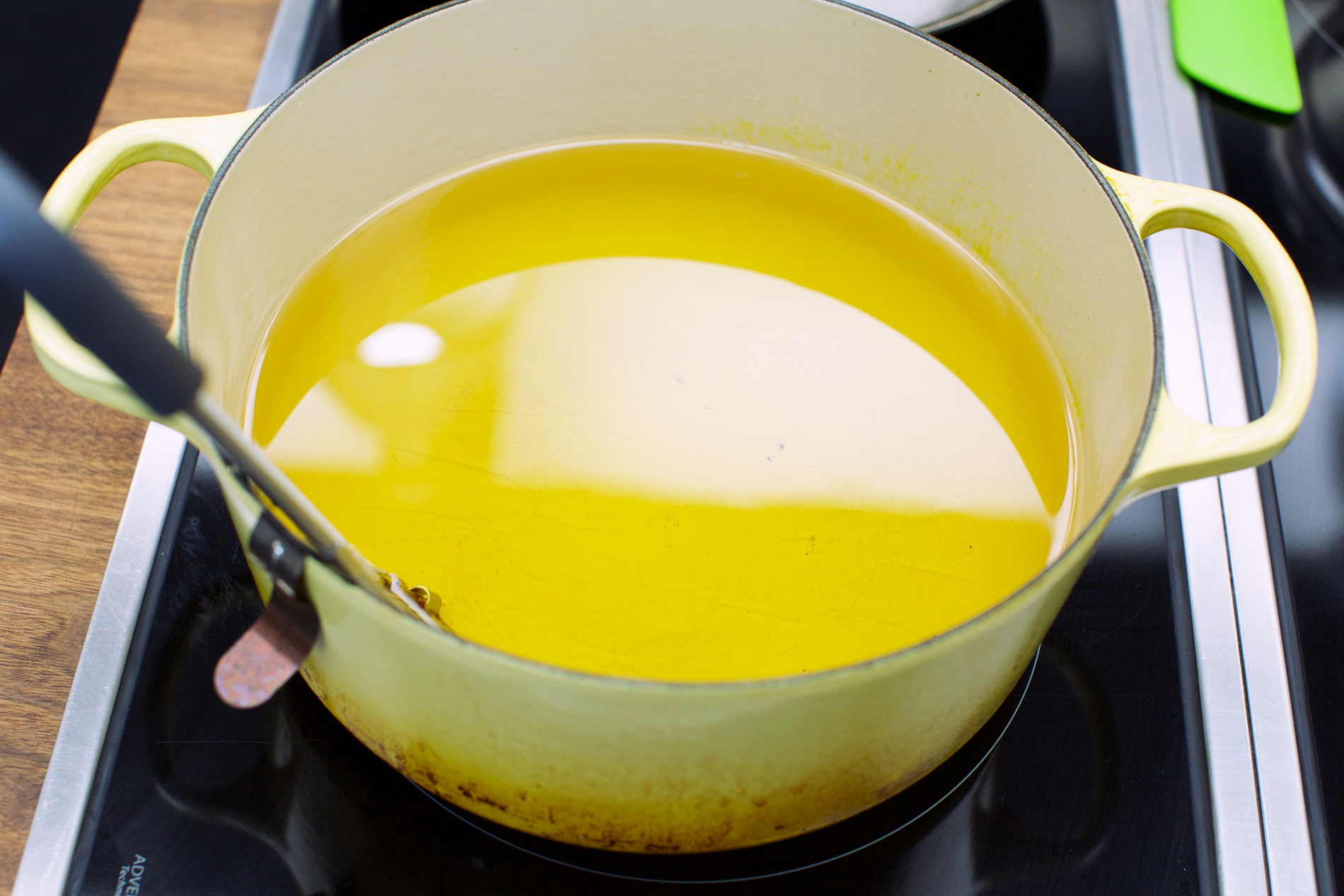 "To be perfectly honest, I never cook at home," Ben tells us. But as long as you're sober enough to work with some sizzling-hot oil, these flautas will definitely hit the spot when you've had a long day of work (or night of dancing) and are craving seriously flavorful finger food.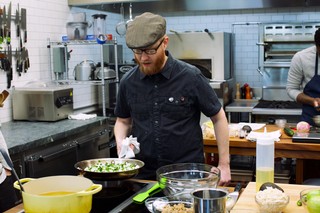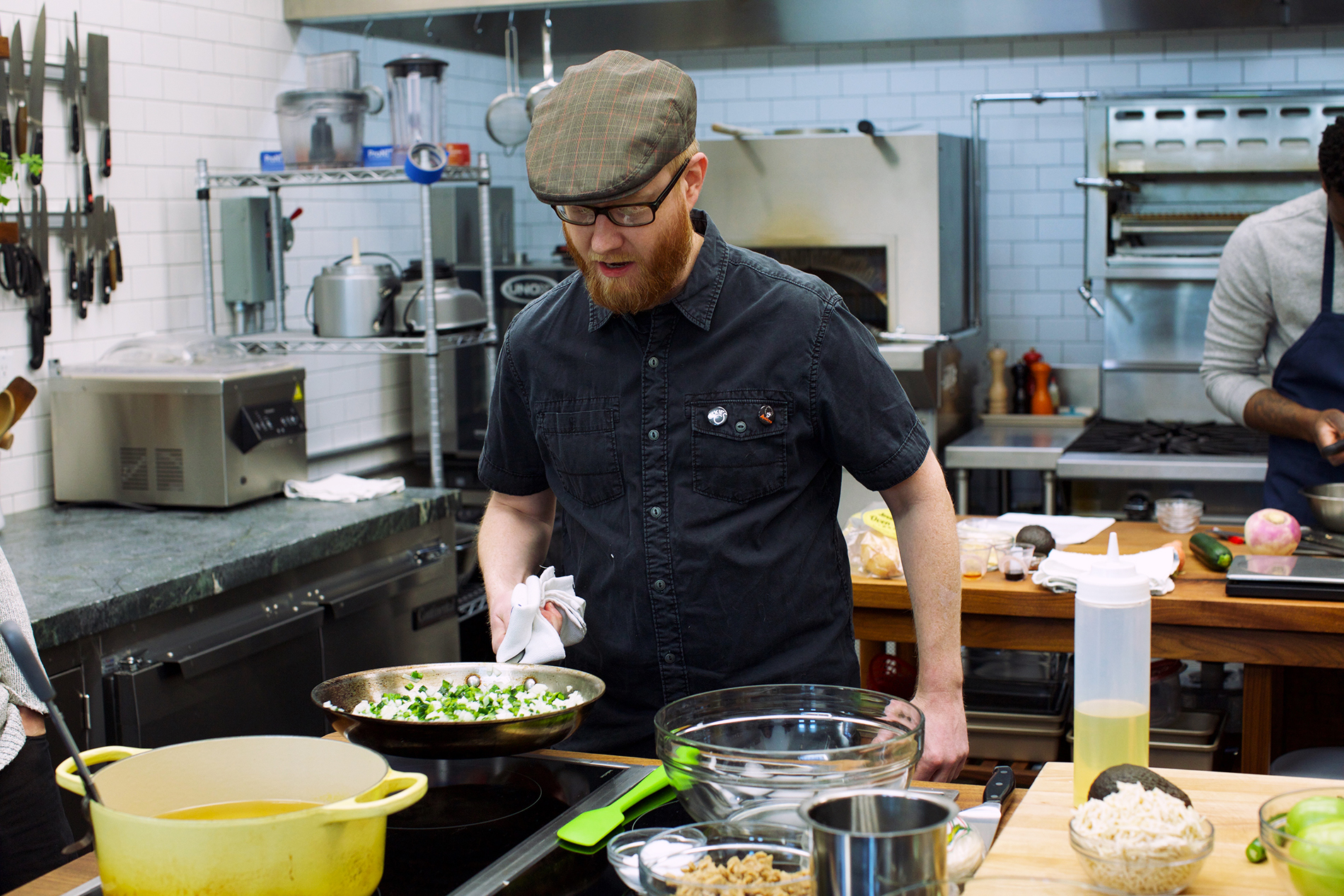 If you're feeling lazy, make the easy, accompanying avocado and tomatillo salsa and use it as a dip for just about anything—hell, a microwave quesadilla, or frozen egg rolls. Beyond its creamy and piquant flavor, its versatility is its greatest virtue.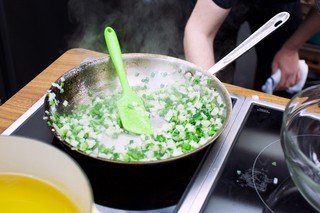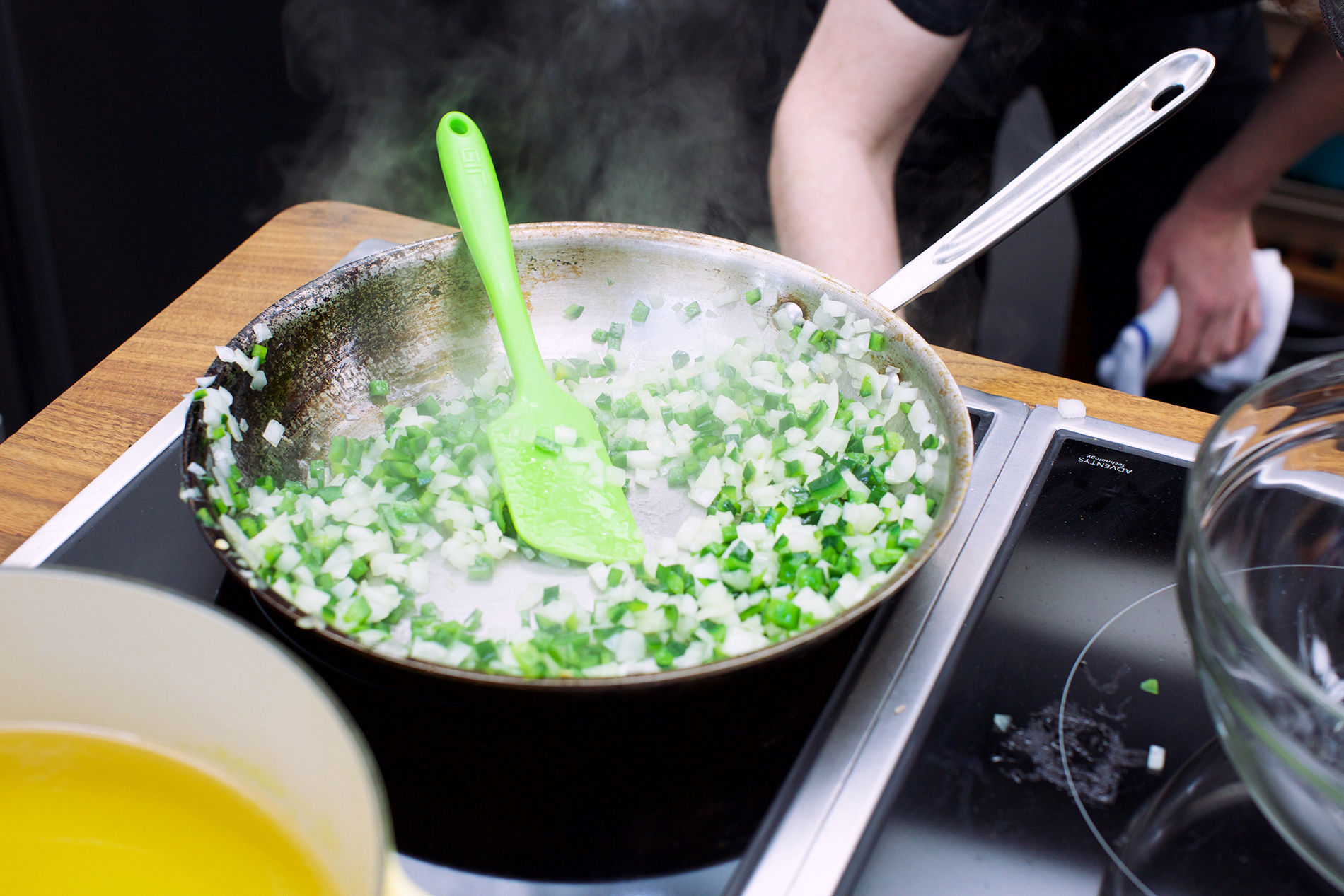 "This is a nice salsa. It's super, super easy and it's good for about three or four days. It's somewhere between guacamole and salsa verde. I like both of those things, year-round," Ben says.
Start off the flautas by boiling and mashing a few potatoes and setting them aside. Sauté some diced poblano pepper and Spanish onion until soft.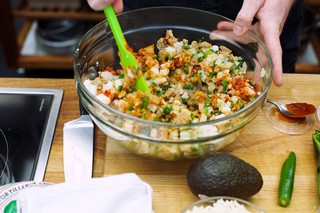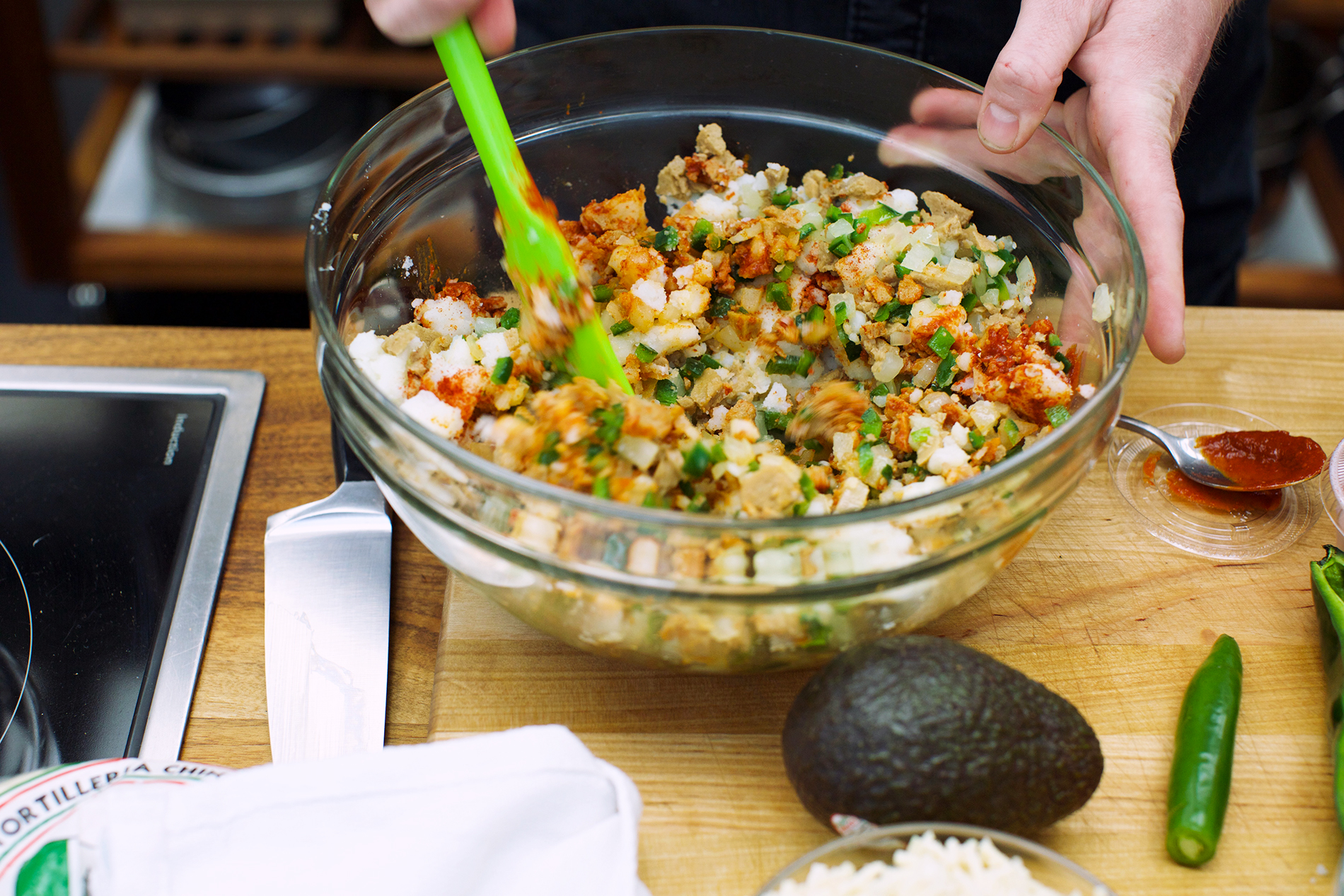 Combine the potatoes, peppers, and onion and mix in finely chopped seitan (store-bought is fine, but you can also make your own pretty easily if you're feeling ambitious), vegan mozzarella (Daiya is by far Ben's favorite), pureed chipotle pepper, and paprika.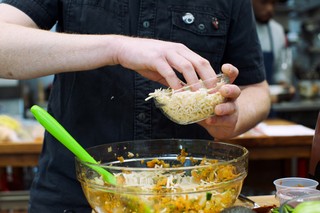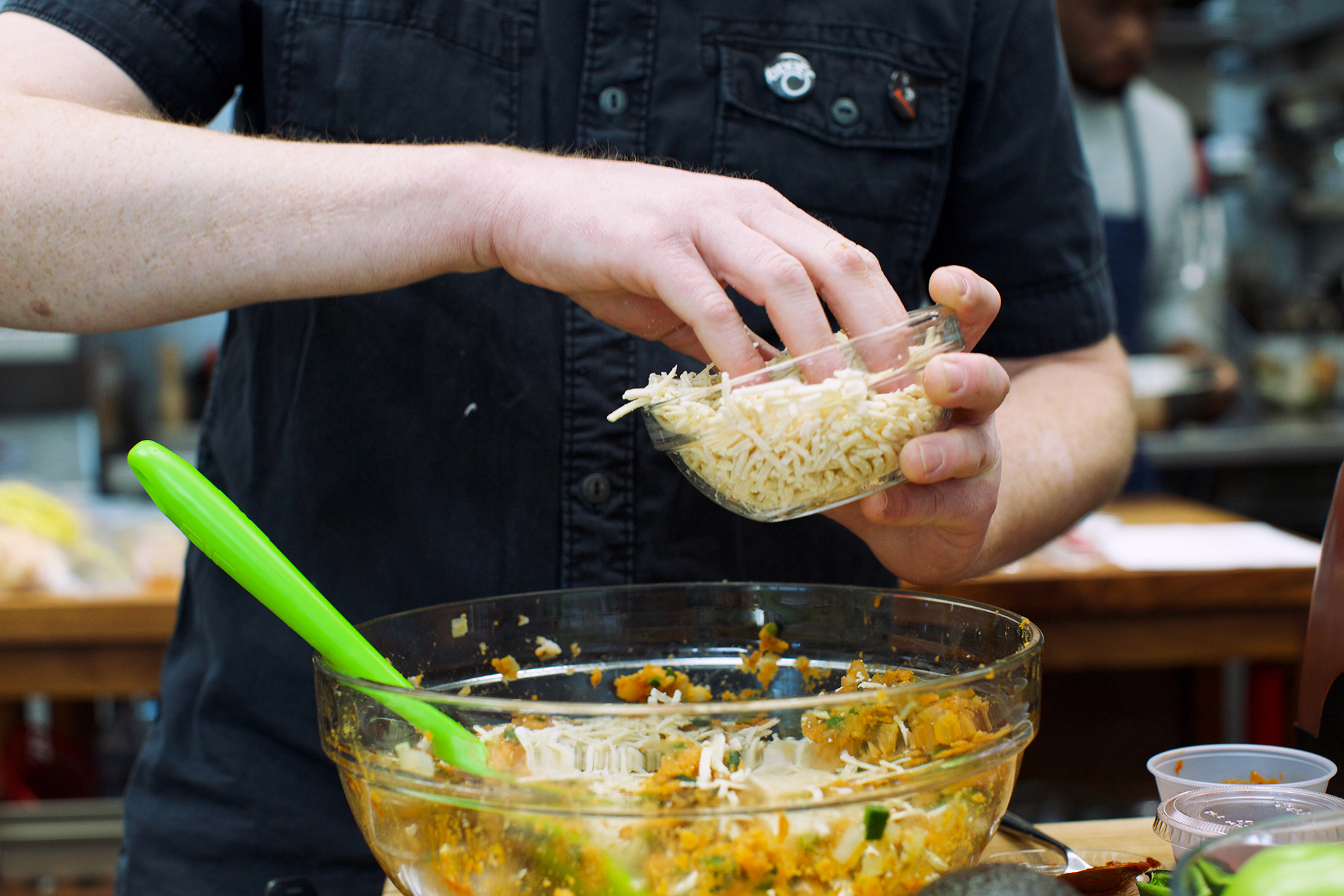 That will be your flauta filling. Got to love that fun alliteration.
While you're making your filling, you'll also want to be heating up your oil. Yep, we're gonna deep-fry. And to multitask like a madman, Ben also made the avocado salsa while the oil was heating up (to 375 degrees, specifically).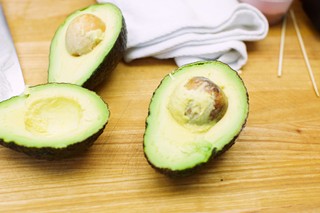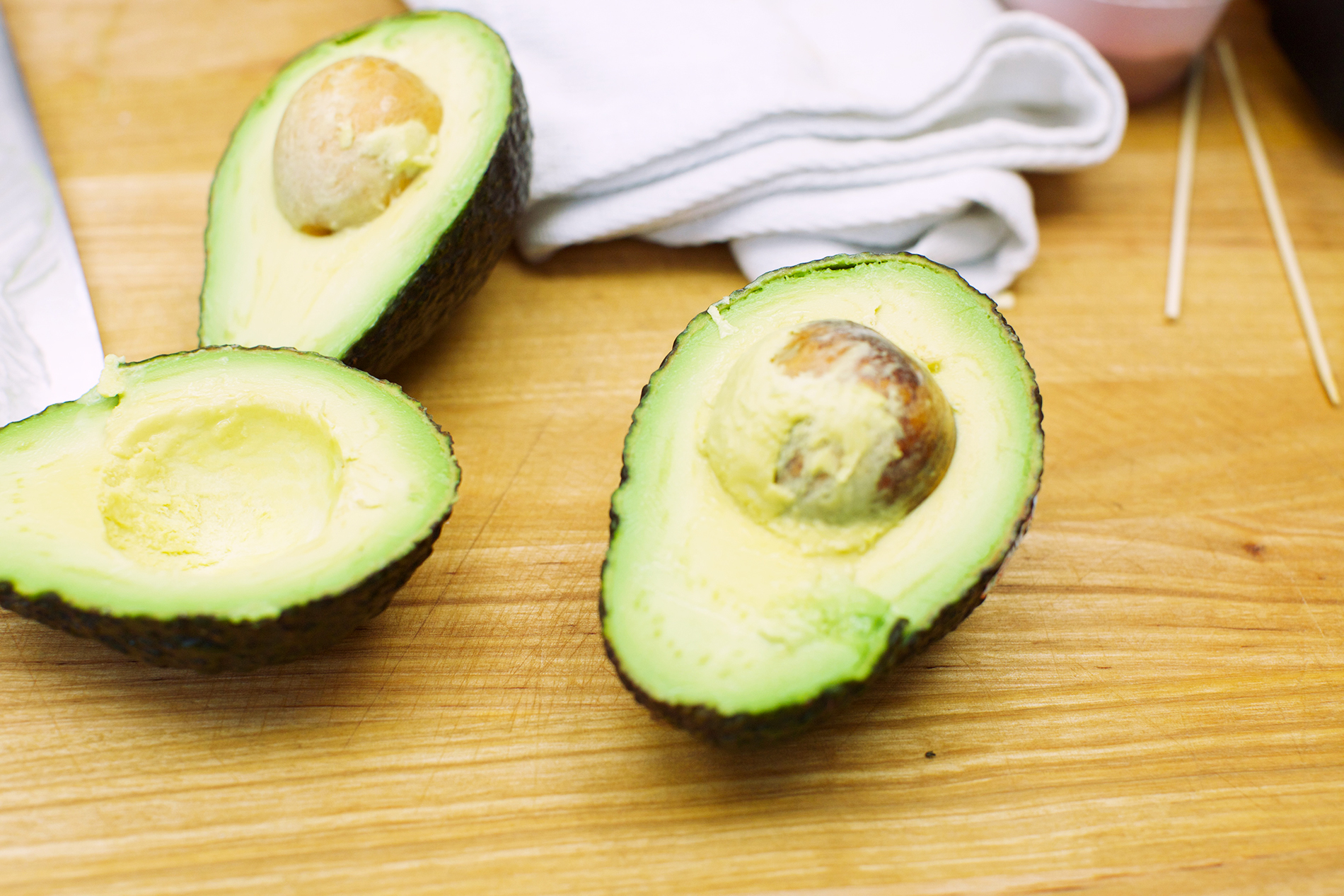 The salsa is a simple but super-well-balanced combination of avocado, serrano chiles, more poblano peppers, tomatillos, lime juice, cilantro, and salt. Is it guacamole-esque, you might ask? The answer is yes.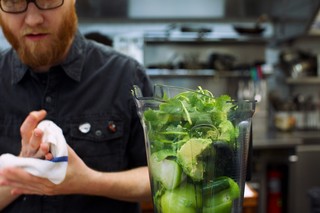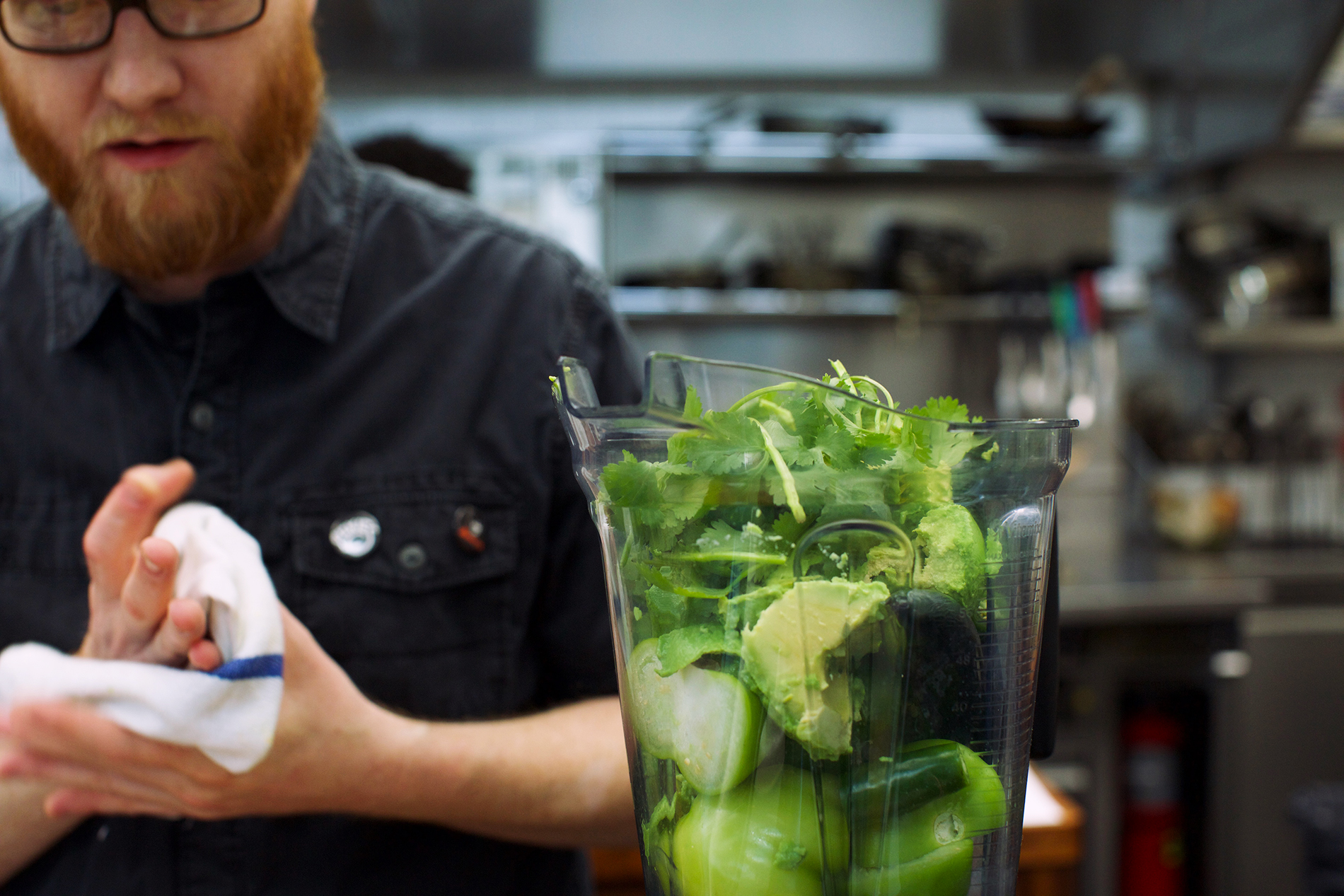 Throw it all in a Vitamix and salt to taste.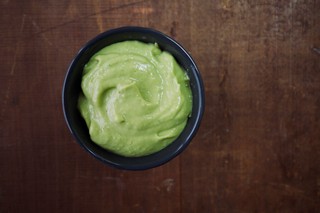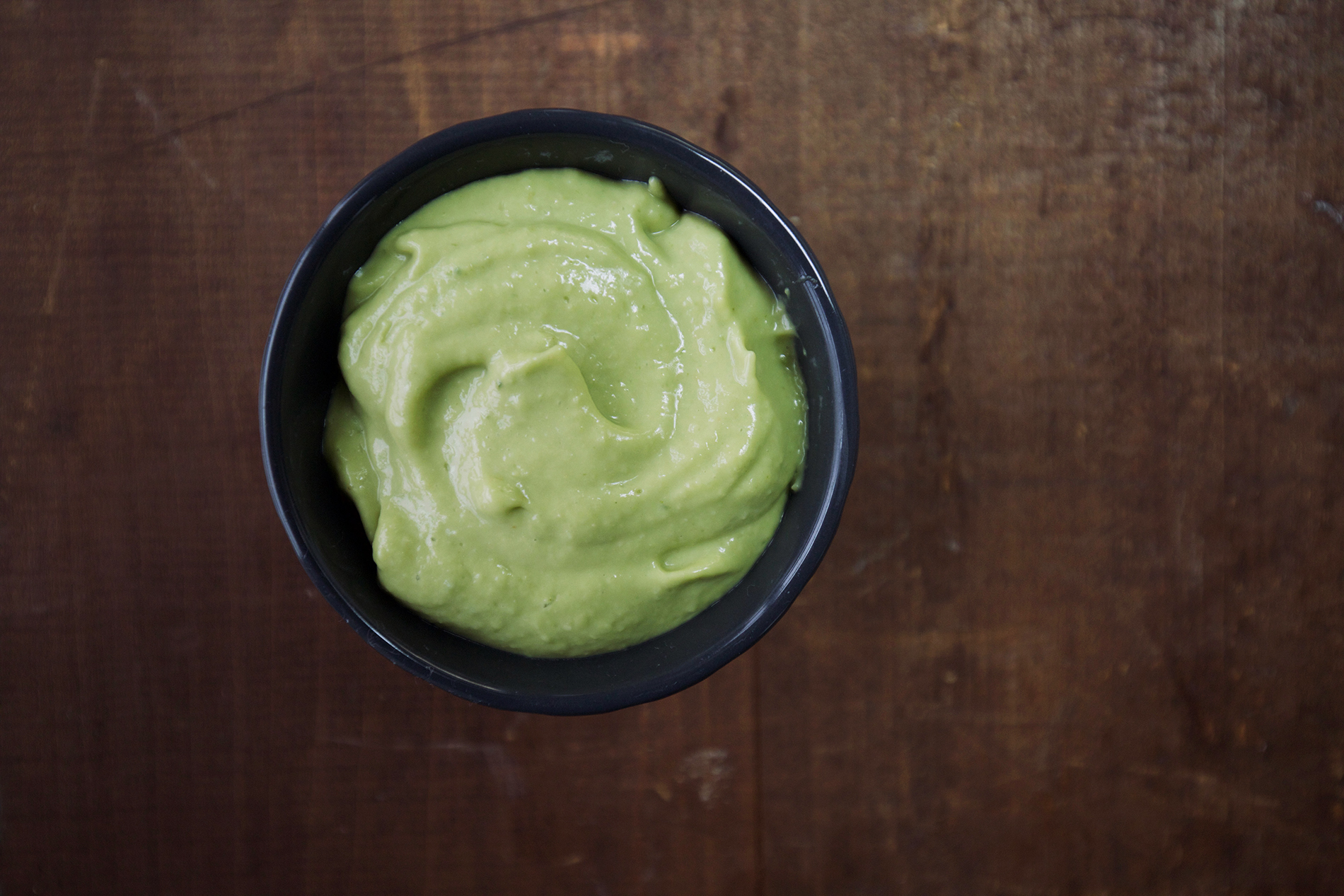 So easy, you might just want to keep it on hand at all times (and never have to ask if guac is extra for the rest of your life).
RECIPE: Avocado and Tomatillo Salsa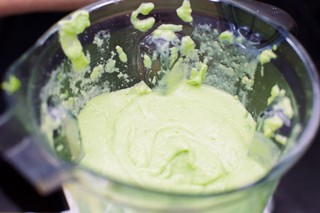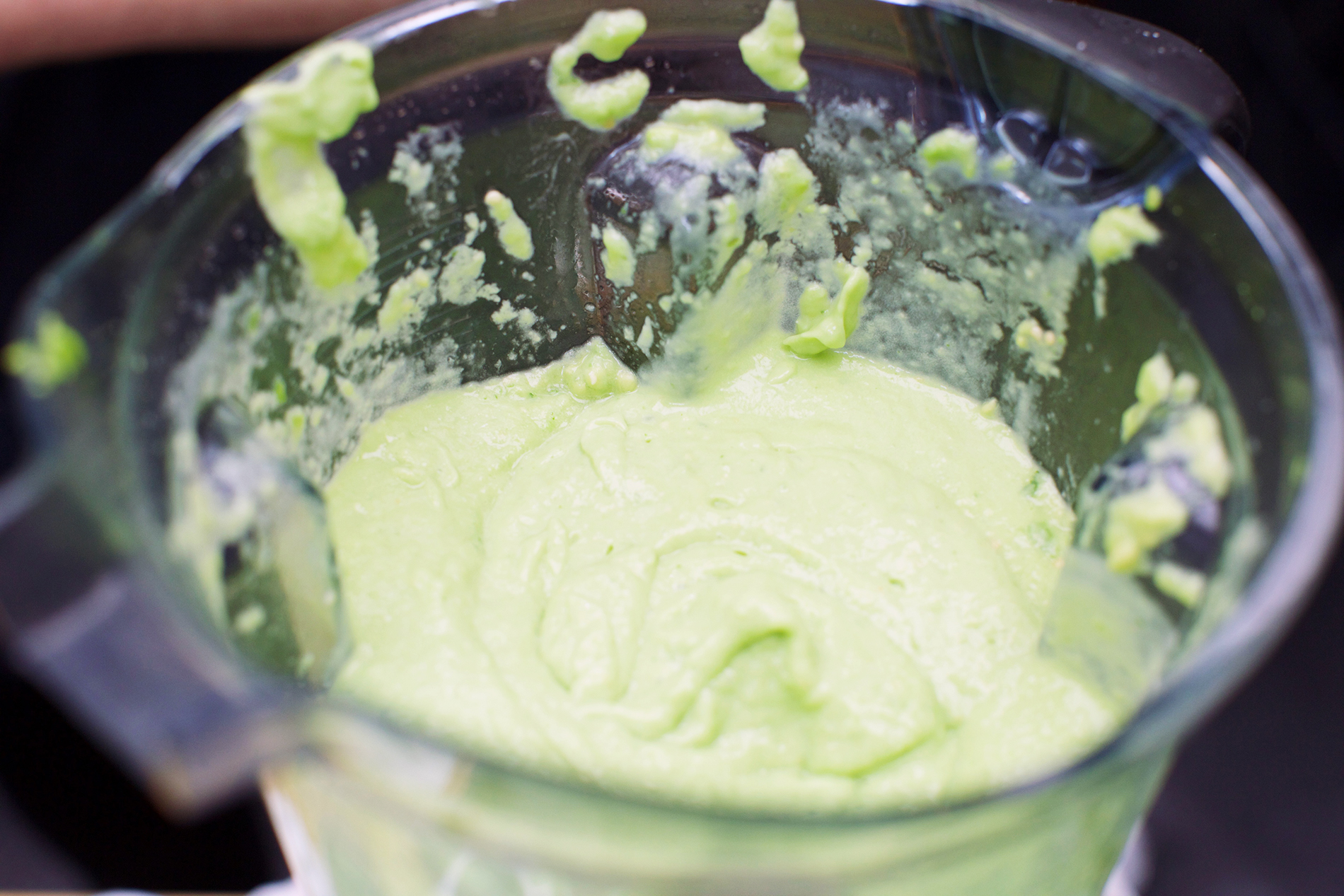 Once the oil is nice and hot, soften the tortillas by giving them a quick dip.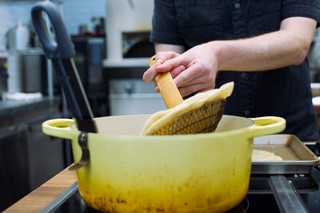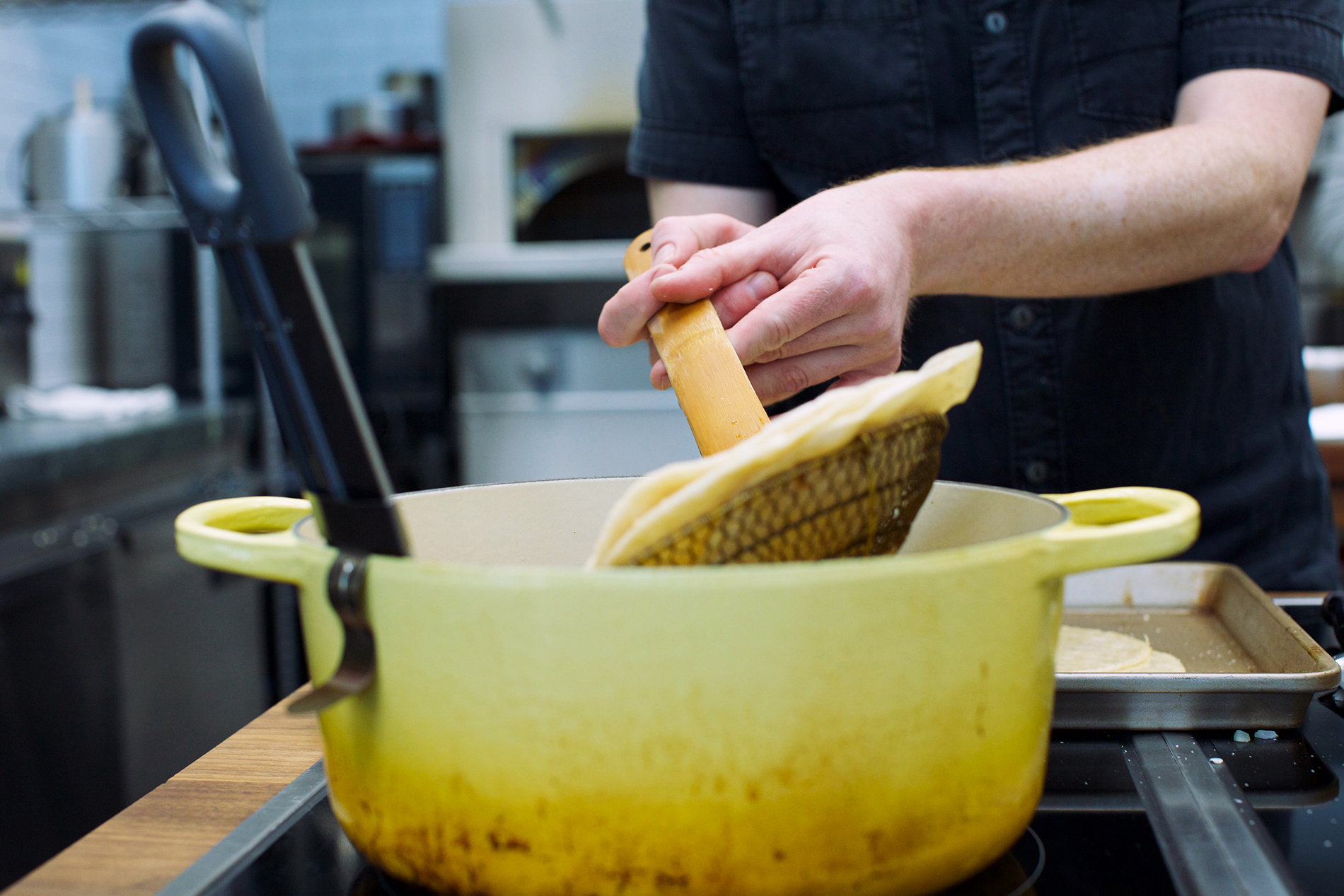 When cool, scoop in that spicy seitanic filling and shape it into a cylinder so that you can roll up your flautas.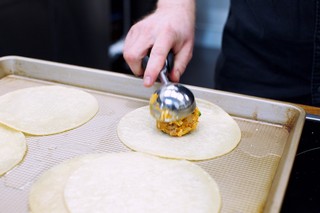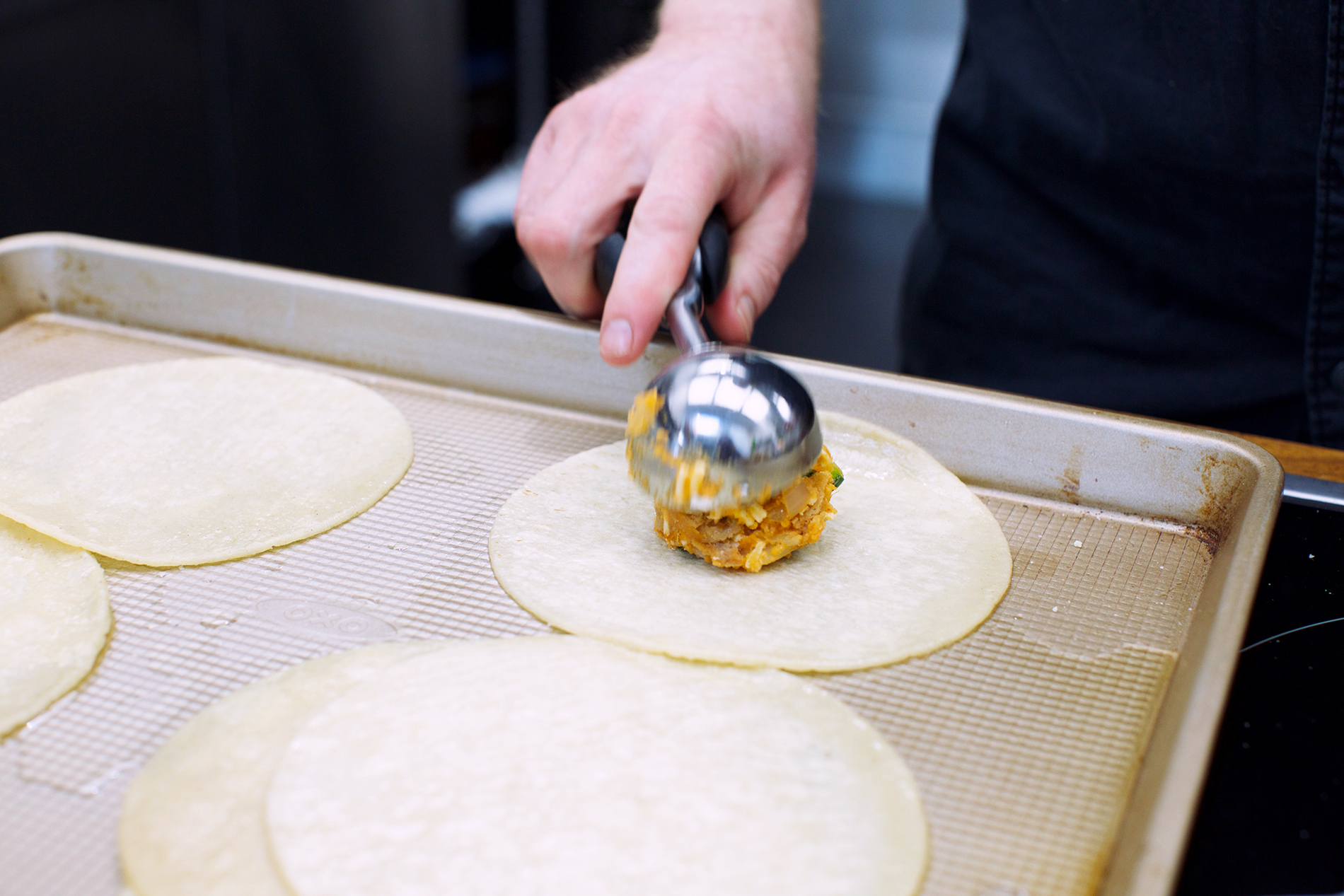 Once you've got a few flautas rolled, face their seams inward and skewer them with toothpicks so that they don't fall apart when you fry the hell out of them.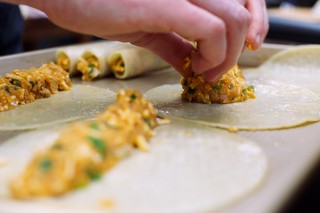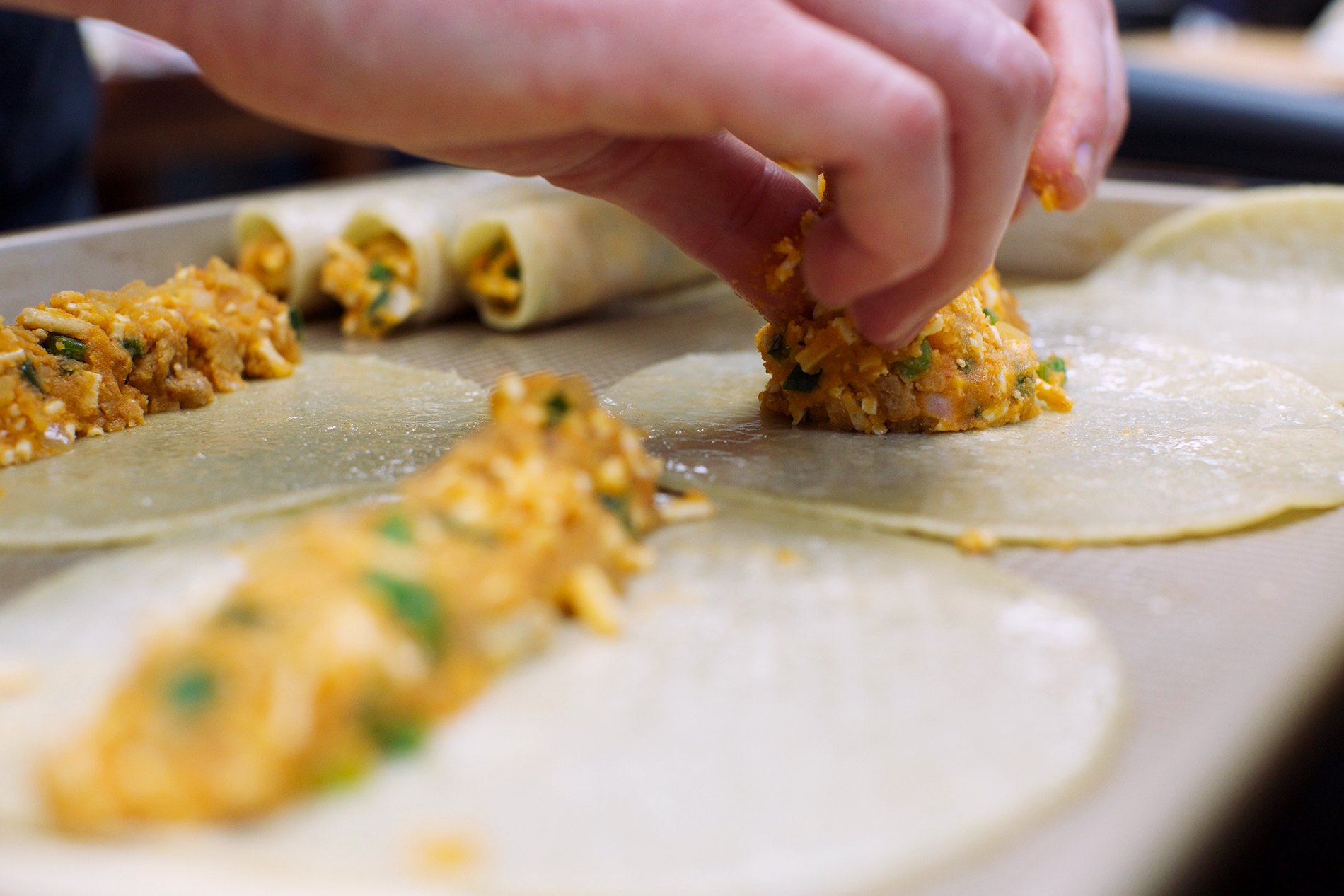 Skewering three of them together at a time is best so that they cook evenly.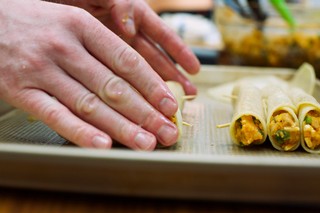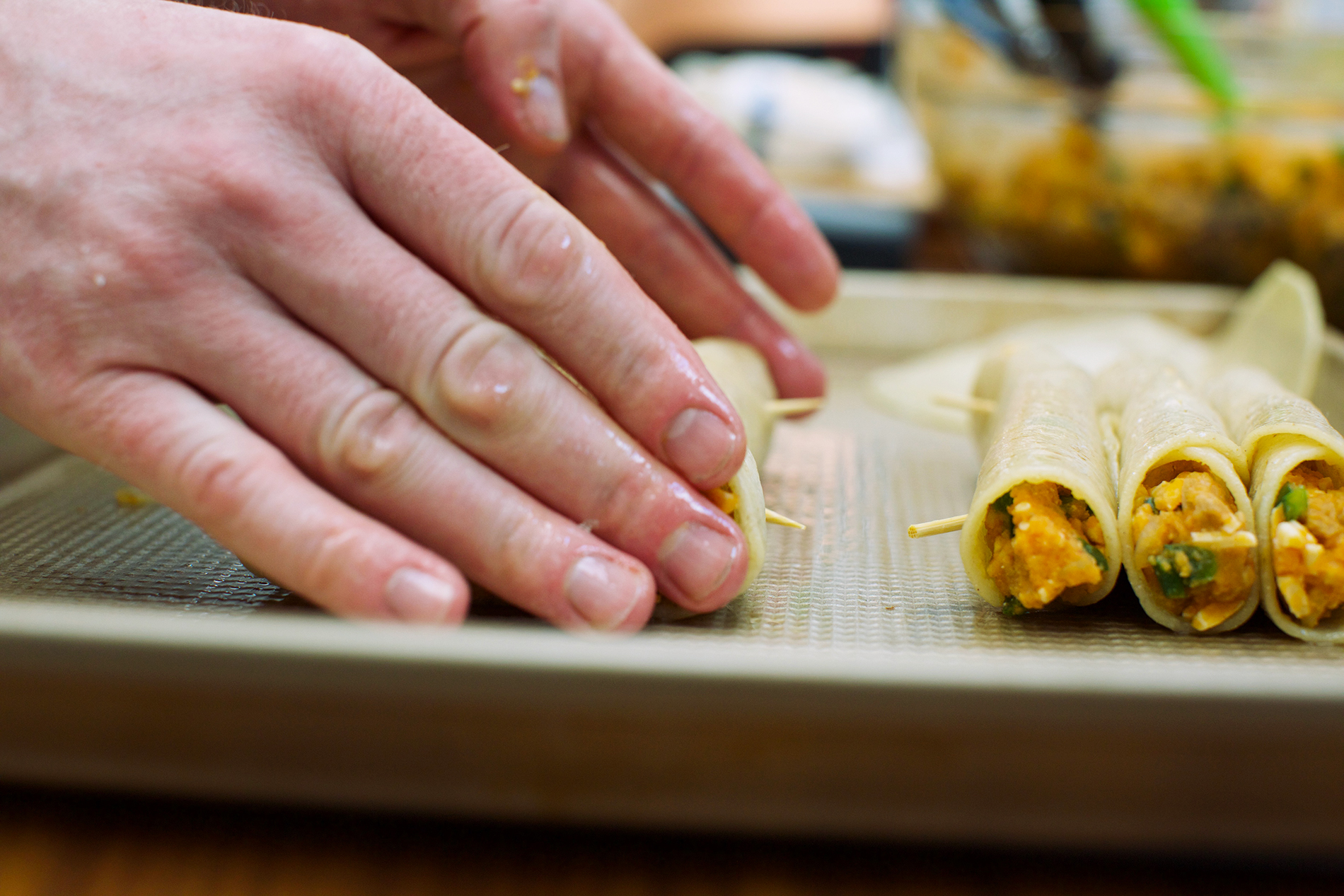 Time to dunk those suckers like they're your high school gym teacher at the end of year carnival.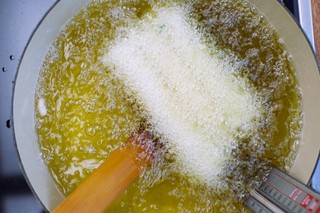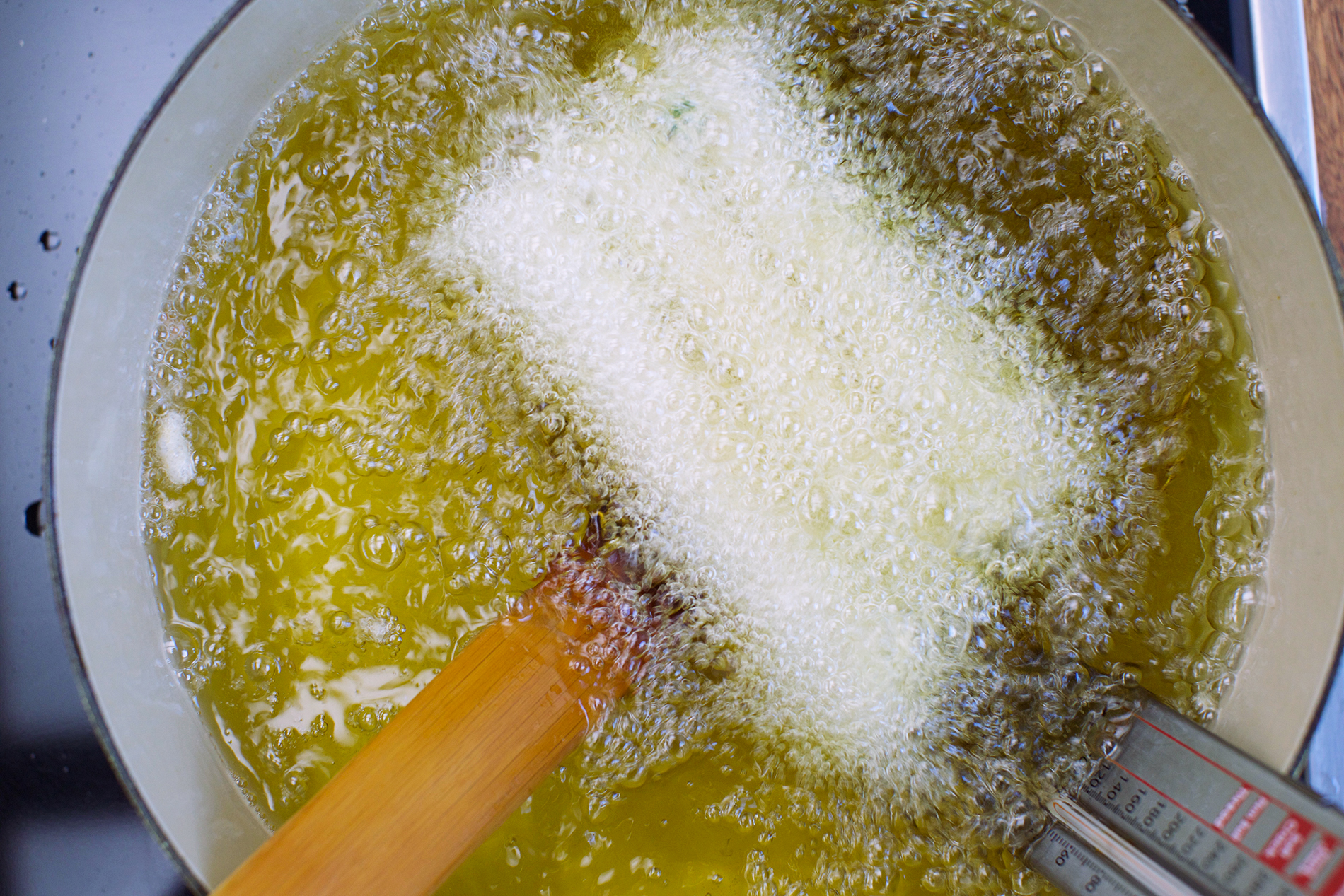 Fry until golden brown, about two to three minutes per set of three. When done, put them on a parchment-lined baking sheet to cool off before digging in. (If you bite in too fast, you just might destroy the roof of your mouth—speaking from experience. I have no patience and paid the price.)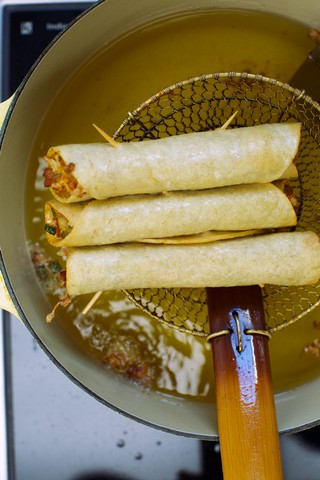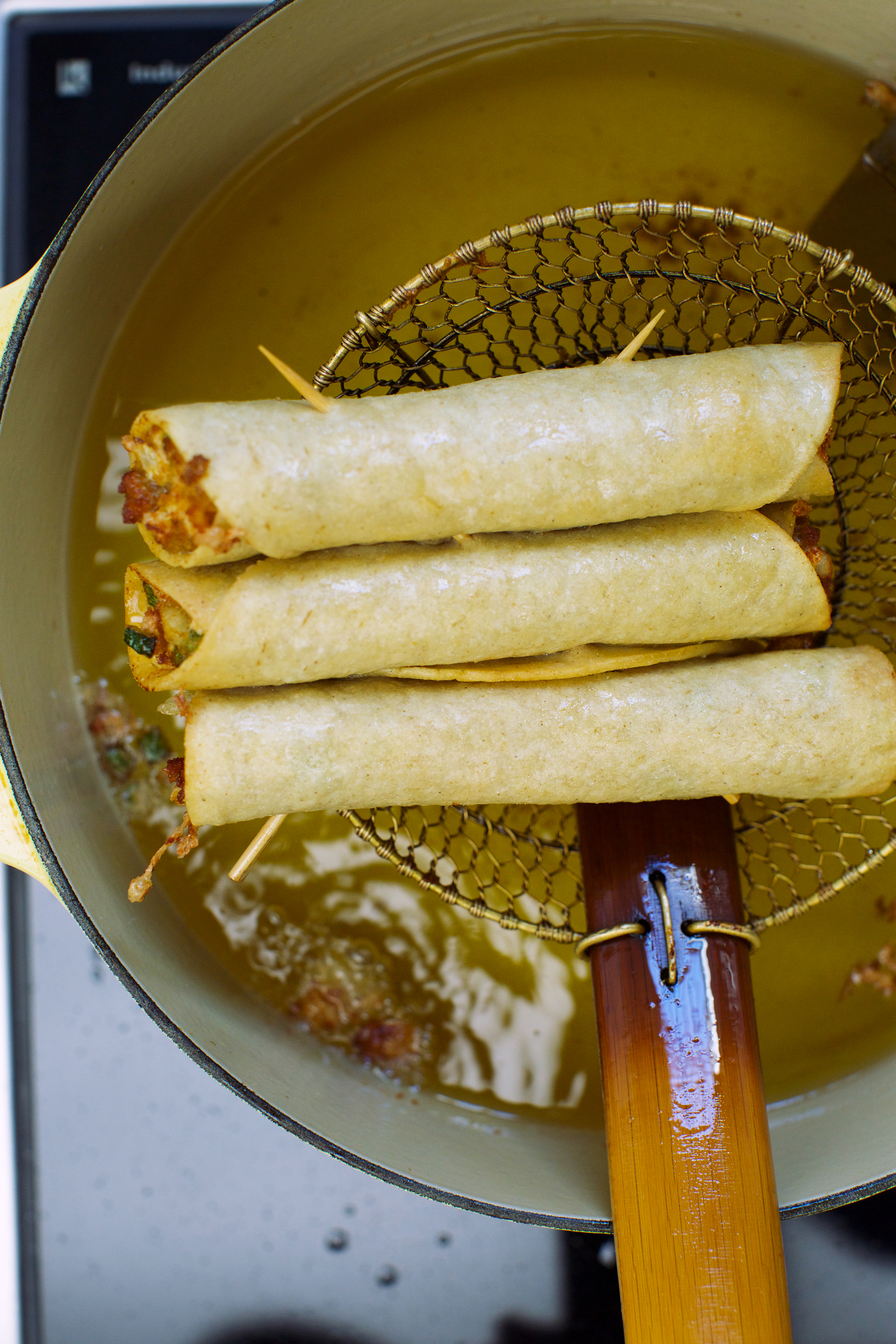 So give them a second to relax, and when cooled, remove the skewers and dip in that crazy-delicious avocado salsa.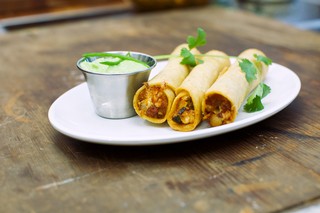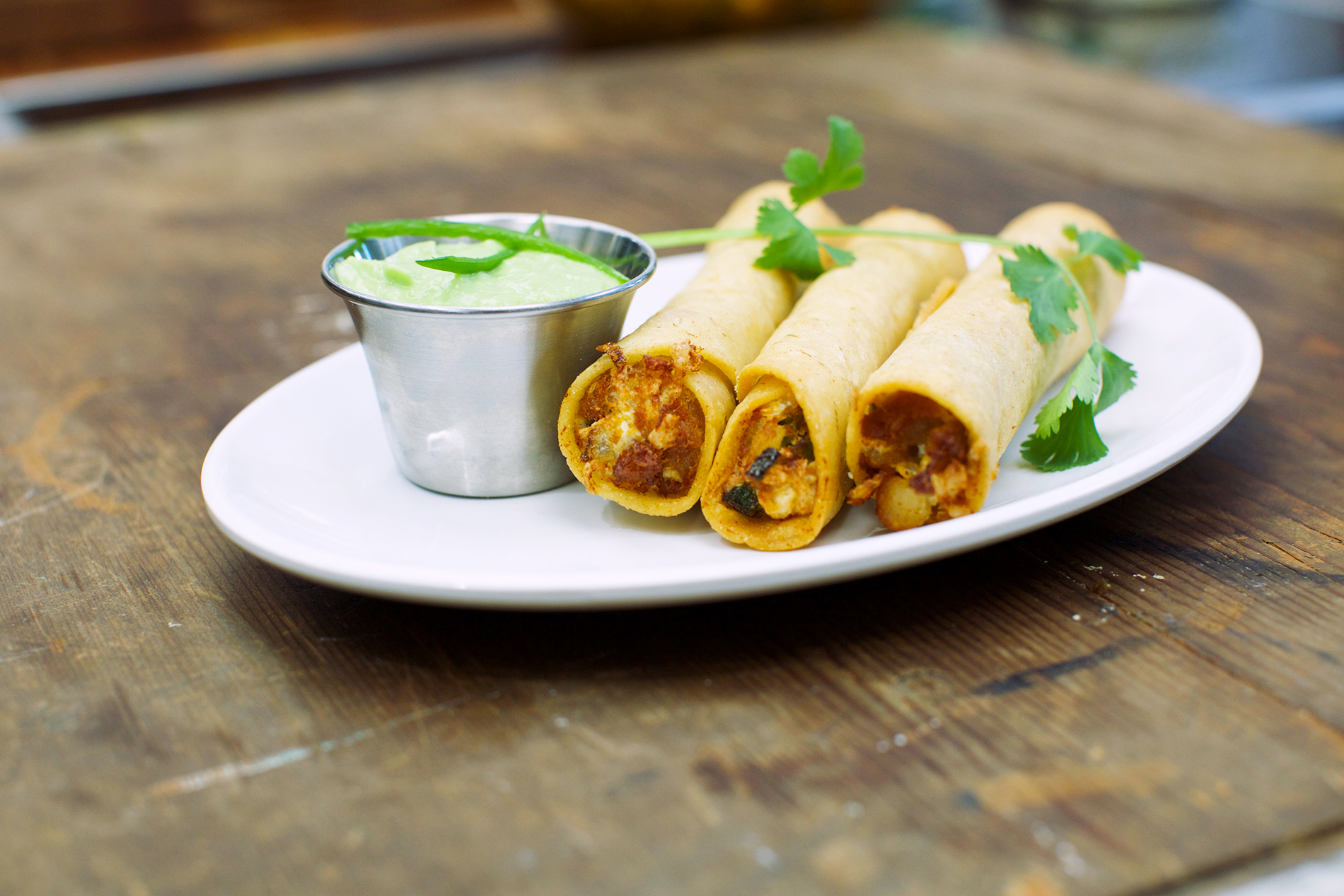 Ta-da. And if you're wondering whether you'll miss the meat or "real cheese," the answer is hell no. These flautas are crazy-addictive even if you're of the carnivorous persuasion.
RECIPE: Vegan Flautas