When Patrick Vrolyk first started blowing glass for a living 20 years ago, he went by an alias: "Redbeard," like his facial hair. He protected his identity at the time because of police crackdowns in Canada and the U.S. on shops that sold pipes, bongs, and other similar devices made by people like him. Even though medical cannabis is legal in Canada and the recreational market will open this year, it's still technically a crime to sell any type of drug-related paraphernalia.
On top of that, Vrolyk's career choice was not exactly embraced by the general public.
"We've been fighting the stigma that's been built up around cannabis use in general," Vrolyk told VICE in an interview from his home the Okanagan where he supported his two sons through his pipe and bong sales across the country. "For glass blowers, the stigma is there too. As if we're a bunch of wooks and we don't take our work seriously, or that we're just out for the quick buck."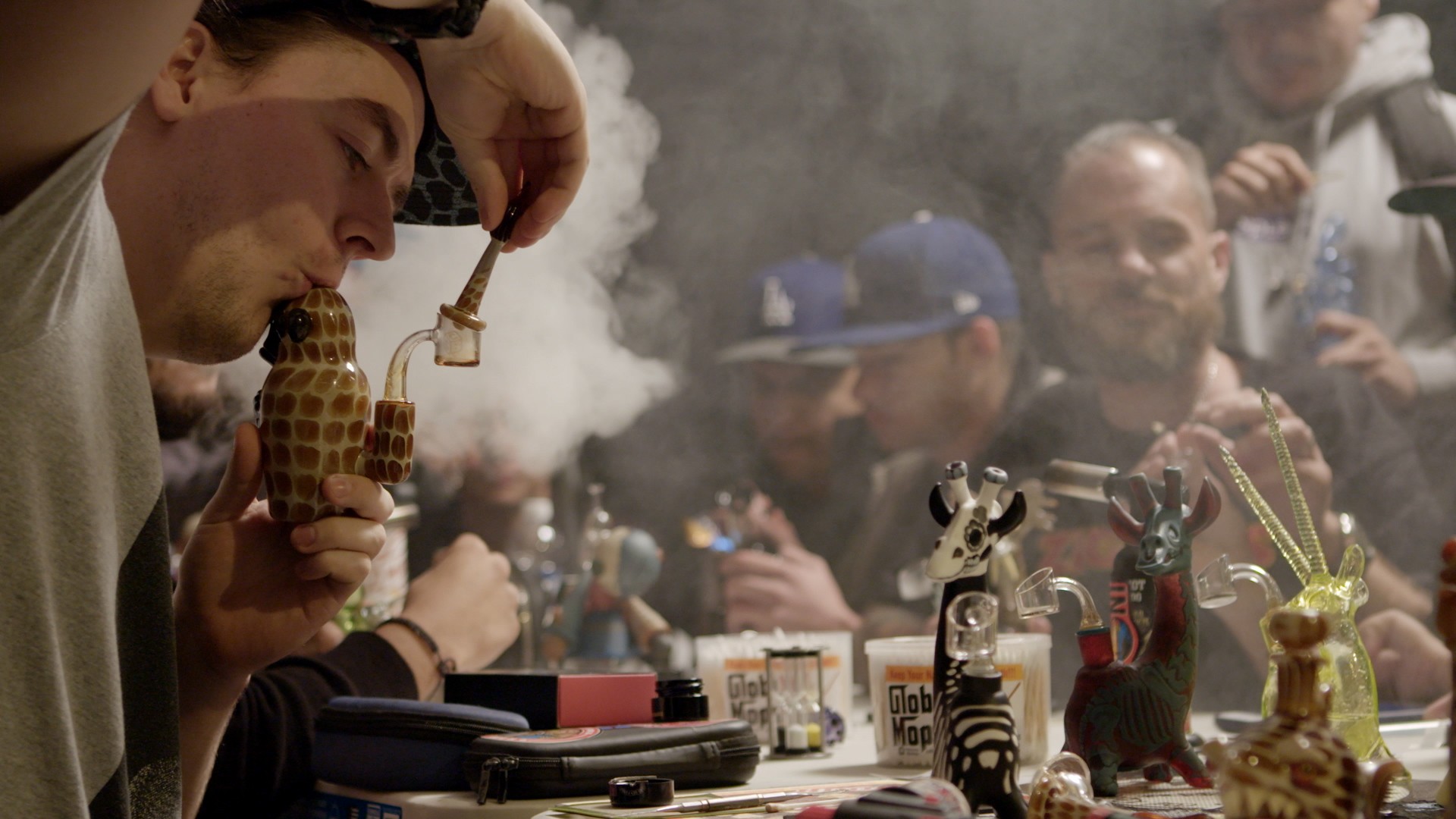 But a lot of that has changed in recent years, and now "Redbeard" is just a nickname since Vrolyk's craft has been embraced in cannabis communities across North America to the point where he proudly publicizes his identity and work, and glass collectors willingly spend well into the six figures for a single bong.
He guesses he's sold around 100,000 pieces over his career, which has shifted from making a dozen small pipes in one day to spending a few days on a single intricate piece that aims to convey humour. "I tell my dad jokes through my glass, that's what I enjoy," said Vrolyk. "Just trying to chase my dreams."
And he's hopeful that legalization will jumpstart the demand for artisan glass products as cannabis becomes mainstream and consumer tastes become more sophisticated. Glass bong and pipe markets are thriving in states that have legalized cannabis, in spite of the overall rise in vaporizers and steam pipes — both of which have been found to be better for lung health.
The underground nature of blowing glass for cannabis consumption makes it almost impossible to quantify the industry, and has been an ideal way for black market cannabis entrepreneurs to launder cash when proper financial institutions and products aren't an option.
Vrolyk estimates there are a couple hundred glass pipe and bong blowers like him, and that businesses like his across Canada bring in at least a couple million dollars a year.
But hurdles remain as the industry is already confronting big corporations trying to replicate the products on a mass scale for mass appeal. Last year, Toronto-based cannabis lifestyle startup Tokyo Smoke angered many in Vrolyk's world with its $13,000 3D-printed bong and a declaration from ex-Google employee and CEO Alan Gertner that most glass blowers lack artistry and innovation.
"There's basically only ever been one pipe, only ever been one bong. It's like you can smoke out of this small glass dragon or our larger format glass dragon," Gertner, whose company recently merged with DOJA Cannabis, and entered a multi-million dollar financing deal with Canadian medical cannabis giant Aphria, told Daily VICE at the time.
His comments, and the very existence of that bong, prompted outrage from cannabis and glass blowing communities in the U.S. and Canada who accused the company of disrespecting those who have fought for cannabis rights over the decades. A few especially incensed activists even staged a mini-protest outside the Tokyo Smoke shop downtown Toronto.
"That's not art," Carlos Ali, owner of Ziggy's Smoke Shop said of Tokyo Smoke's pipe. He's one of many glass blowers and business owners who spoke to VICE as part of its documentary on the glass industry entitled Bong Inc.
All of them are keen to protect their industry from corporate takeovers, especially as they gear up for the opening of the recreational cannabis market. But whether they will be successful depends on how well artisanal glass blowers are able to stand out from the competition.
"You could buy a pipe for $5 and you're going to get just as high as you do smoking out of a $100,000 pipe. It is a status symbol. Not everyone has $1,000 to $100,000 to [spend on] a smoking device," Shane Keating, the owner at California-based iDab Glass tells VICE in the film. "And that's really what it is at the end of the day if you don't attach yourself to the artist inside of it."