Tomatoes and Eggs (Xihongshi Chao)
The secret to making this dish kick some major ass? Seriously ripe tomatoes and fresh AF eggs, duh.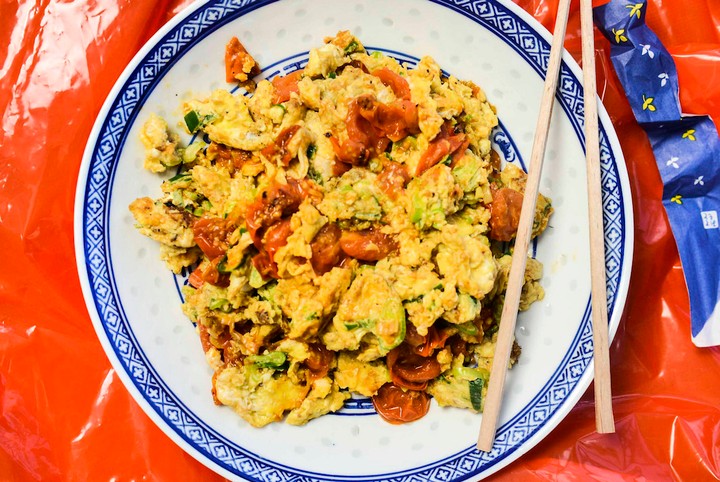 Servings: 2
Prep: 10 minutes
Total: 25 minutes
Ingredients
1 pound|450 grams tomatoes (either cherry or plum)
5 tablespoons peanut or vegetable oil (separated 3 tbsp and 2 tbsp separately)
½ teaspoon sea salt
1 tablespoon peeled and finely chopped fresh ginger
2 green onions, trimmed and finely chopped, whites and greens in separate piles
½-1 teaspoon sugar
Fresh ground black pepper
4 large eggs lightly beaten
Directions
1. Cut the tomatoes into pieces about 1 inch wide and ½ inch thick. If you are using cherry or plum tomatoes, cut them in half. Taste the tomato, if it's sweet, use ½ teaspoon of sugar in step 2; otherwise, use 1 teaspoon.
2. Place a wok over high heat, and when it is hot, swirl in 3 tablespoons of the oil and the salt. Fry the ginger and the whites of the onions until they are golden and then add the sliced tomatoes. Lower the heat to medium-high and fry them, shaking and turning them over every 30 seconds or so. When the juice reduces to a few tablespoons , sprinkle in the sugar and pepper, and toss the tomatoes. Continue to cook them until you can smell the sugar and bits of caramel have forment on your spatula. Scrape the tomatoes out onto a place.
3. Return the wok to medium-high heat and swirl in the remaining 2 tablespoons of oil. Stir the onion greens into the eggs and pour the eggs into the wok. Flip the eggs over as they solidify and brown until they have formed a soft, golden omelet. Chop up omelet with your spatula and then toss in cooked tomatoes, serve hot.
Reprinted from All Under Heaven: Recipes from the 35 Cuisines of China. Copyright © 2016 by Carolyn Phillips. Published by Ten Speed Press, an imprint of Penguin Random House LLC.
Stories