Easy Spaghetti Bolognese
All the flavours of an all-day stew, prepared in less than 2 hours.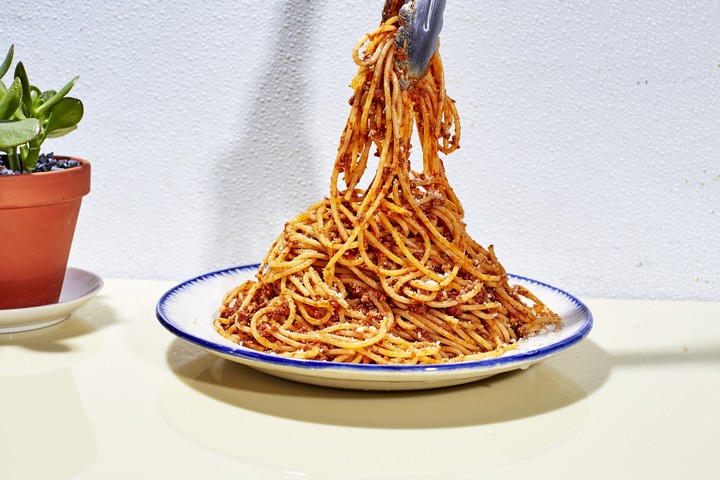 Photo by Heami Lee
Servings: 4-6
Prep: 15 minutes
Total: 1 hour 30 minutes
Ingredients
2 tablespoons olive oil
1 small yellow onion, finely chopped
3 garlic cloves, thinly sliced
1 pound ground beef
1 pound ground veal
3 tablespoons tomato paste
3/4 cup red wine
1/2 cup whole milk
1 (28-ounce|794 grams) crushed tomatoes
kosher salt and freshly ground black pepper, to taste
4 tablespoons unsalted butter
1 pound spaghetti
grated parmesan cheese, to serve
Directions
1. Heat the oil in a medium saucepan over medium-high. Add the onion and cook until soft, about 5 minutes. Add the garlic and cook 2 minutes more. Add the beef and veal and cook, stirring, and breaking the meat up using a wooden spoon until browned, about 5 minutes. Add the tomato paste and cook 2 minutes, then add the red wine. Cook until reduced, about 3 minutes, then stir in the milk and tomatoes. Cook for 1 hour, then season with salt and pepper. Stir in the butter until melted, then, using a hand blender or stand blender, purée until slightly smooth but still chunky. Keep the sauce warm.
2. Bring a large saucepan of generously salted water to a boil. Add the spaghetti and cook until al dente, about 8 minutes. Drain, and add to the saucepan with the sauce. Serve with parmesan cheese.