Image: Apple
Shortly after Apple CEO Tim Cook walked on stage yesterday, he made a proclamation. "This is going to be the best and biggest WWDC ever!"
It's hard to know if it will actually be the best WWDC ever, but he's probably right about it being the biggest. He promised announcements across six major products, enough that it took well over 2 hours to get through them all. If you're a hardcore Apple superfan, you might as well kick back and watch the video of the entire ordeal. If you don't care that deeply about what the most valuable tech company on the planet is doing, if you just don't have that kind of time, we've got you covered. Here are the essentials of what you need to know about what Apple announced yesterday.
Another year, another version of the operating system upon which Apple Watch runs. Highlights include:
New watchfaces - From Toy Story to a smart Siri face that suggests personalized info on cards resembling the iOS lock screen suggestions.
Activity and workouts - Smarter personal coaching, monthly challenges, and updated workouts. Soon, Apple Watch will be able to exchange data with workout equipment (but your gym will need to buy new equipment this fall).
Music - Automatically syncs music it thinks you will want, so you can leave your phone behind and just use your AirPods when you go for a run.
A new dock - Vertically scrolling cards instead of horizontally flipping through pages.
The reaction so far: Tepid. Most of the new features in watchOS 4 are small quality-of-life improvements and interface tweaks. They're appreciated, but this isn't the major improvement that watchOS 3 was. It feels like watchOS 3.1.
Apple said that the current version, macOS Sierra, is so good that it wanted to spend this year "perfecting" it. The new OS will be called macOS High Sierra and will be a free upgrade in the fall for all Macs that support macOS Sierra. Here's what's it has in store.
Sarfari - Adds intelligent autoplay blocking and intelligent tracking prevention, and a lot of speed. Apple says it's the "world's fastest desktop browser."
Photos - New editing features, as well as support for 3rd party printing services.
APFS - Apple is replacing the old HFS+ file system with Apple File System, which adds a lot of modern features like fast file cloning, full disk encryption, snapshots, and enhanced crash protection.
H.265 video compression - Also called HEVC, this new compression standard is what you find on 4K Blu-ray discs. Old macs will get a software-based decoder, while newer macs will have hardware acceleration. Final Cut Pro, Compressor, and Motion will all gain support.
Metal 2 - Apple's low-level programming interface for graphics processors gets a sequel, with even better efficiency and features for VR as well as machine learning.
The reaction so far: Apple was right to call this a refinement of macOS Sierra. There are no major new features here for consumers outside of VR support, and only the most powerful new macs will have the necessary graphics hardware to handle VR well. Everything else is an app update or an under-the-hood developer feature.
Apple updated nearly the entire Mac line, but if you're waiting on a new Mac Pro, you're going to have to wait a little longer.
Macbook and Macbook Pro - These laptops are updated to Intel's new Kaby Lake processors, with faster SSDs and faster graphics on the top-end Pro model.
iMac - The displays are improved with higher brightness (500 nits) and 10-bit color dithering. Like the laptops, they also get an update to Intel's new 7th generation (Kaby Lake) processors. There are now two USB-C connectors that support Thunderbolt 3, and the whole line gets faster Radeon Pro graphics.
iMac Pro - Though not available until the end of the year, Apple gave us a sneak peek of a new iMac Pro. It looks like an iMac, but in space grey black. A new cooling system lets it use new Xeon processors with up to 18 cores. Even the entry-level model is an 8-core CPU, and AMD's new Radeon Vega graphics processor pushes the pixels. It's a very powerful workstation, but it's not coming until December, and the starting price is $5,000.
VR - Some of the new iMacs finally have graphics fast enough for high quality VR. Valve is bringing its SteamVR platform to the Mac, and engines like Unity and Unreal will support VR on Macs as well.
The reaction so far: Everyone is waiting on the eventual reveal of the new Mac Pro, and this wasn't it. And while it's great that most of the Mac line is catching up to Windows PCs by making the jump to Intel's 7th generation processors (Kaby Lake), there are lots Macbook Air fans who feel left out. That new iMac Pro is impressive, and video pros are nodding with approval after years of feeling neglected.
Apple's most popular operating system ever is the one that runs on its hundreds of millions of phones and tablets. We got a look at some of the features, though many of them are actually app updates, as Apple updates its core apps only when the operating system is updated. We'll probably hear about a few more features this fall when the new iPhone is announced, too.
New lockscreen and control center - You can now get your full list of notifications on the lock screen with a quick upward swipe. Control Center (the quick settings menu when you swipe from the bottom of the home screen) now takes over the entire screen and has simpler widgets that expand when you 3D touch on them.
Messages - Messages are now backed up to iCloud, so you get your whole message history when you sign in to a new device, and keep message changes in sync across devices. You can also send money through Messages with Apple Pay, though the recipient gets money on a virtual Apple Cash Card, which you then have to manually transfer to your bank account if you want it.
Siri gets smarter - There are refinements to the default female and male voices, and a new beta of a translation feature to help you say things in other languages. Siri also watches what you do to create suggestions in other apps—if you're talking about Hawaii in Messages, it might suggest a news story on Hawaii when you open the News app, for instance.
Photos and Videos - Lots of little quality of life improvements, like picking the best frame of a Live Photo animation, creating automatic loops (for GIFs), and a new high-efficiency image format so shots take up less storage space.
Maps and Driving - There are multiple small improvements to Apple Maps, like indoor maps of some malls and airports and lane guidance while driving. Another big driving safety feature is a new Do Not Distrub mode that can sense when you're driving and turn off notifications.
App Store - After far too long, the App Store is getting a whole new look. There's a new Today tab and separate Apps and Games categories, along with a new layout for product pages.
Files - iOS finally gets a proper file management app, complete with support for cloud storage services like Dropbox, Box, and Google Drive.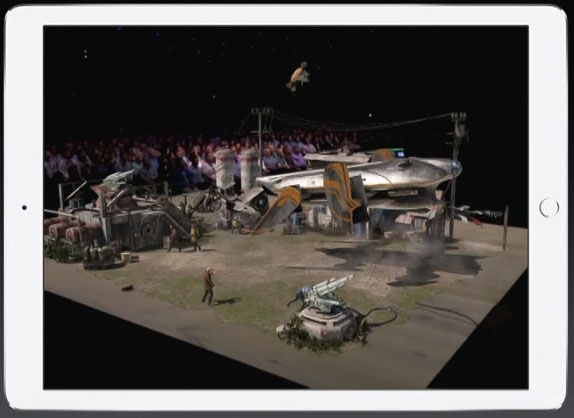 Augmented Reality - ARKit is a new set of tools and interfaces for developers to make augmented reality apps. It works on "hundreds of millions" of iPhones and iPads, using image analysis and sensor data to find surfaces and estimate lighting, scale, and more.
The reaction so far: The word I saw most in the comments on Apple news sites was "disappointment." Some users aren't thrilled with the look of the new Control Center, while others are upset that most of the best new features seem to be just for iPads. For iPhone users, most of the changes are minor, and as usual, many of the changes are just app updates (which Apple rolls up into OS updates). Apple typically holds back a few major features to announce along with the new iPhone in the fall, though.
There's a new 10.5-inch model of the iPad Pro. It's physically similar in size to the current 9.7-inch iPads, only with much slimmer bezels. In addition to the new model, the 12.9-inch iPad Pro is getting and update. The 10.5-inch model starts at $649, and the 12.9-inch model still starts at $799. They ship next week.
A10X Fusion - The new iPad Pros have a new A10X Fusion processor, with six cores (three high-performance and three high-efficiency) and a 12-core graphics chip.
Better displays - The new iPads go up to 600 nits and have variable refresh rates that go up to 120Hz—double the typical 60Hz of other mobile displays.
Camera - Apple gave the iPad Pro the same cameras, front and rear, as found on the iPhone 7. (Not the iPhone 7 Plus, with its two rear cameras and portrait mode!) It's nice to have upgrades, but people need to stop using iPads as cameras.
Storage and price - Both iPad Pros now start with 64GB of storage, doubling the storage of the base model.
The reaction so far: Apple fans have been clamoring for an iPad Pro at a somewhat smaller size and lower price. So they're happy with the new 10.5-inch model. iOS 11 will finally bring the features the iPad Pro needs to really be a proper laptop replacement, too.
At $349, Apple's new smart home speaker costs double what you'd spend on Amazon Echo ($179) or Google Home ($129). It's aimed at providing a premium music experience, so Apple thinks it's worth more.
So many speakers - There are seven tweeters to pump out directional sound, and a custom low-distortion woofer.
Spacial awareness - Thanks to a six-microphone array, the HomePod can detect the sound qualities of the room and its location in it, and help shape a wider sound stage. Set up two and they work together.
Siri in your living room - Of course there are lots of Siri-enabled music features, but it also does news, weather, sports, reminders, messages, timers, and controls your HomeKit appliances.
The reaction so far: "Wait until you hear it!" Even the most loyal Apple fans are lamenting that it costs way more than Amazon and Google's competitive devices, but the assumption is that it will sound more like a good Sonos speaker. Let's face it, if you're committed to the Apple ecosystem, this is what you'd get anyway.