Over the last year, Danish artist Kristian von Hornsleth has been buying homeless people off the streets of the UK and selling them as artworks. If you're wondering, it's all part of a new conceptual artwork: the Hornsleth Homeless Tracker.

The press release for the project describes it as, an "ethical boundary smashing work, which fuses homelessness, privacy invasion, inequality, and reality TV, with present day cultural decadence and interactive conceptual art."
The way it works is that each homeless person, ten in total, has been fitted with a tracking device, so the buyer, or owner, can follow them 24/7 through an exclusive app, "effectively converting the homeless into a real-life Pokémon Go or human Tamagotchi."
Along with this, the public will also be able to follow the events of the homeless people through updates and videos posted to Twitter, Instagram, Facebook, and even Tinder. In a video introducing the project, Von Hornsleth is taking photographic portraits of the homeless participants. These have been turned into gold portraits which are given to the buyer. On the project's website, prices for these portraits and exclusive tracking access ranges from £24,989 ($32,443.22) and upwards.
As a performance piece, the main bulk of the project will be taking place on the actual streets of London, and across social media. There will also be an exhibition of physical works associated with the project which are on display at the Hornsleth Studio in Chelsea, London. These can be viewed by appointment only.
The project is actually two years in the making, and follows a previous controversial conceptual artwork called The Hornsleth Village Project from 2006. For this, the artist made Ugandan villagers change their names to Hornsleth. If they did so, they would receive aid. "[The piece] manically celebrated the evils of marketing, advertising, branding and western aid policy, while cementing Hornsleth as an ethical boundary burner," notes the press release. "HHT treads familiar ground by cynically celebrating the absurdity, inequality, superficiality and decadence of contemporary culture. HHT is a manic celebration of the absurdity of our culture, drawing inspiration from diverse subjects such as the Kardashians, Pokémon Go, branding, and the NSA, creating an interactive cultural melting pot, in which all areas of society can pour into and interact with."
Creators sent questions over to the artist to find out more about the project and his reasons for doing it.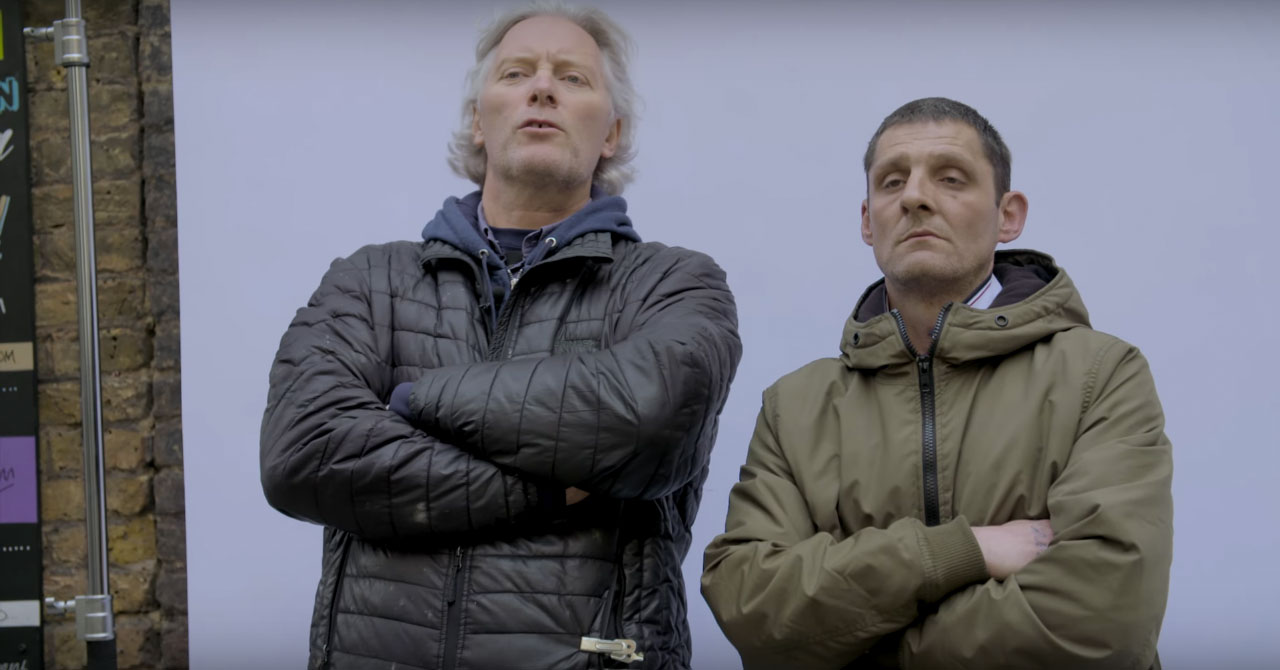 Creators: Why did you want to use the homeless as subjects for this latest piece?
Kristian von Hornsleth: It's a comment on this society as a whole. We can put a man on the moon, but in Britain you can't get men off the streets. It's absurd, and in Britain the answer to all issues seems to be deregulation and privatization. It's the only tool they seem to know. So, I am doing the same. It's a tragic comedy. I'm privatizing the homeless. It's absurd, and it's just a mirror of the world.
How did you go about selecting and then enrolling the people you use?
Easy. Victims of political violence are easy to mobilize if you give them a voice. They love the irony, and the fact they have a voice for the first time in years. It's been a ten-month process building relationships and understanding their lives. I'm arming them with technology/phones, and setting them up on Facebook, Instagram, Twitter and even Tinder. I am dragging them into a whole new world they never knew existed. Giving them an equal voice. Over the next months, I am documenting their experiences and sharing them with the public on the project websites. People have no idea how clever and funny these guys are, some of them are like philosophers looking at society from the outside in. Their lives are as strangely humorous as they are horrifying.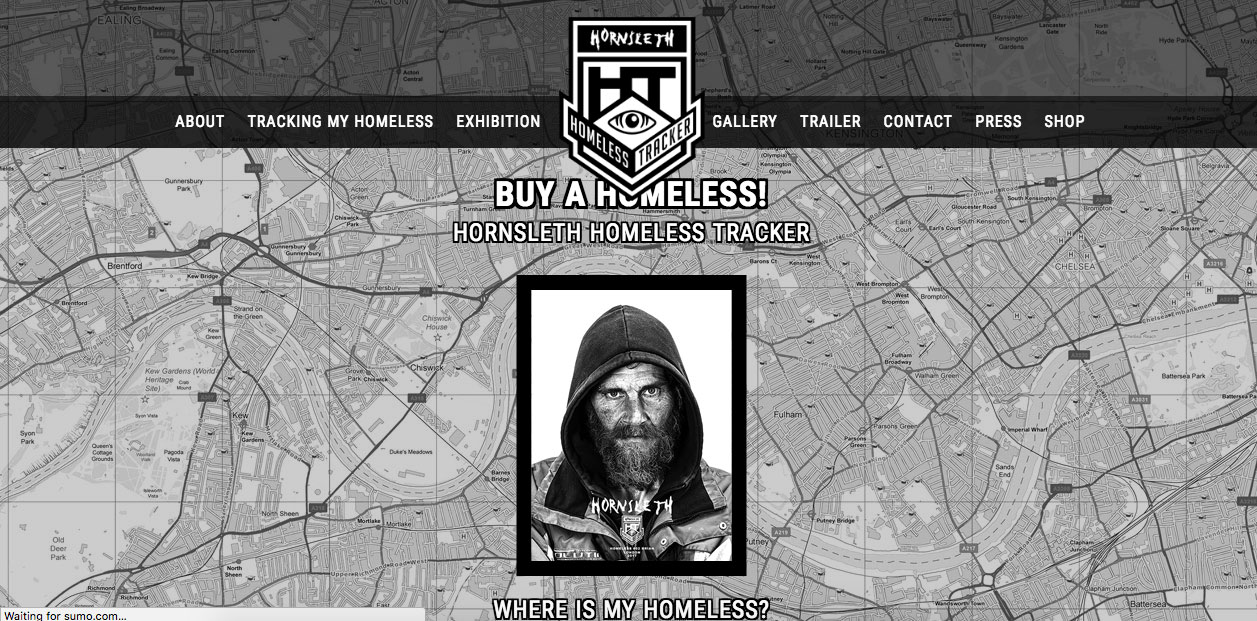 Who do you expect to be buying these homeless people?

We already have buyers. Some are activists, some are business guys who get the ironic interplay. One of them is so at ease with it, that he jokingly refers to his guy as his tramp-agotchi. And his homeless guy is completely okay with it. The homeless are so in tune with the project that I have to hold them back from making the project even darker. In one meeting, the homeless guys asked to actually change the name of the project to tramp tracker. They seem to get the mirroring of the crazy absurd world we live in. The clever guys are not questioning it, they just get it.
What comments do you think the piece will make about contemporary culture and marketing?
There is no real contemporary culture, there seems to be only marketing. There is a lot of content out there but no culture. When I finally put in some content in an art project of real flesh and blood, real suffering people with real stories to tell, people run away calling it exploitation. Five galleries have already turned it down. They know the project has teeth, and they are afraid to get bitten. They are themselves slaves of marketing; the content is secondary.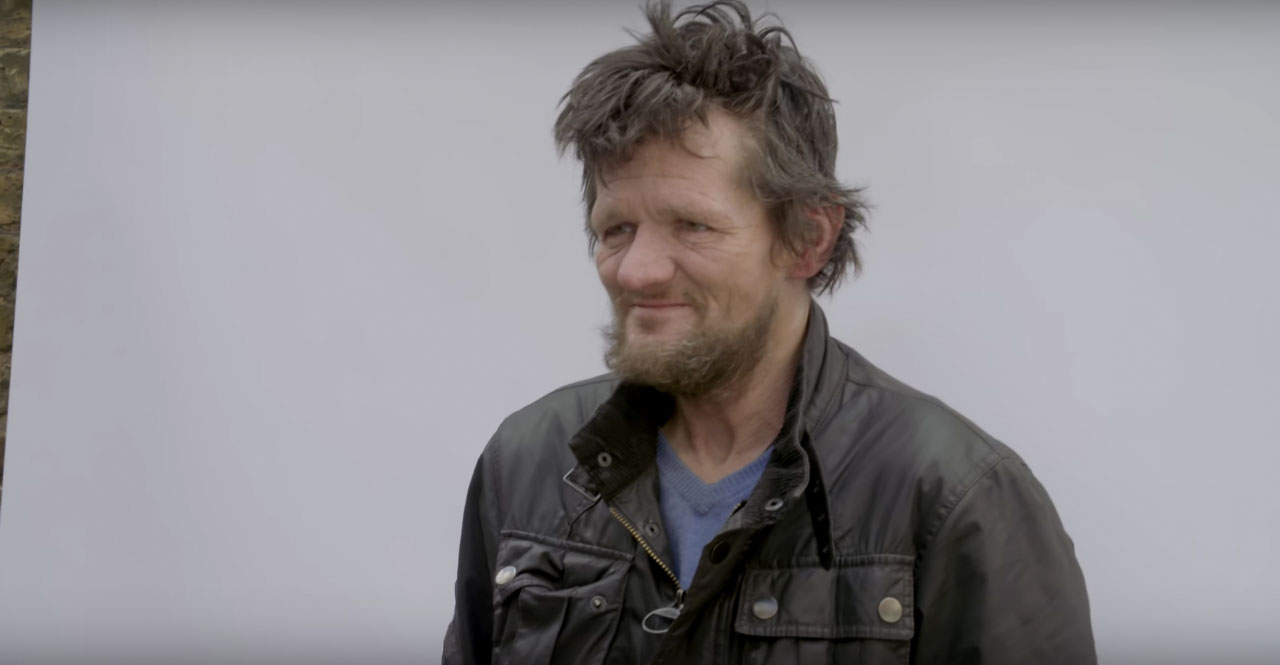 What would you say to claims of exploitation that might be leveled at the project?

Of course, it is exploitation. That's the way the world works. I exploit them and they equally exploit me. There is another word for it, it's called business.
How long will the project go on for? And when will it begin?

We've been filming them and preparing the tracking technology for the last ten months. The tracking technology went live June 28, 2017. We will be filming and updating online for the next three months. The owners will be able to follow their homeless for the next year.
You can find out more on the HTT project website and by following the hashtag #hornslethhomelesstracker. For more on Kristian von Hornsleth's work check out his website here.
Related:
This Canadian Conceptual Artist Is Subverting Ideas of Public Art
Haunting Scenes of Homelessness and Poverty in 'Los Santos'
Trash Bag Performance Art Highlights the Resilience of the Black Community