Photo: Allison Wrabel/The Daily Progress via AP
I remember my father's pain.
We were sitting on a bench in Charlottesville, Virginia, where a nearly 80-year-old statue commanded the view uphill above us: General Robert E. Lee on his white horse, Traveller. It was a warm day and a hopeful time, the summer after my graduation from the University of Virginia in 2003. I had just introduced my first serious girlfriend to my proud, beaming father, and after she took off, I brought him to my favorite downtown park to ask for advice. I was by then deeply in love, but because I was black, my girlfriend would not take me home to meet her parents.
To this day, my ex's father remains a federal district court judge.
When my girlfriend's father graduated law school, I reminded my father, it was illegal in Virginia for people of different races to marry one another. It took the 1967 Supreme Court decision Loving v. Virginia, which marked its 50th anniversary on Monday, to make marriage available to and between people of every color. But even when laws change, history remains. I remember the smile draining from my old man's face that day. He slowly shook his head, hunched over, closed his eyes, and placed his forehead into his hand.
Last month in that same park, my fellow UVA alumni Richard Spencer, the white supremacist perhaps most famous for being punched in the face earlier this year, led a rally to protest the city's plan to take down that statue of General Lee. Spencer headed up a band of several dozen people—mostly young men—about the size of a company of infantry midway through the Civil War. Many wore cotton uniforms of khaki pants and white collared-shirts; they looked like the kids from my childhood, all grown up, waving Confederate flags.
I was born in California, but from first grade on, I grew up in Virginia. It's the first state where people called me nigger. We were the second Ethiopian family to move into Chesapeake, in 1986, a little town just inland of Virginia Beach. I remembering hearing that the first Ethiopian family there had a cross burned in their lawn a couple years earlier.
---
Check out the VICE News Tonight interview with Richard Spencer about the alt-right.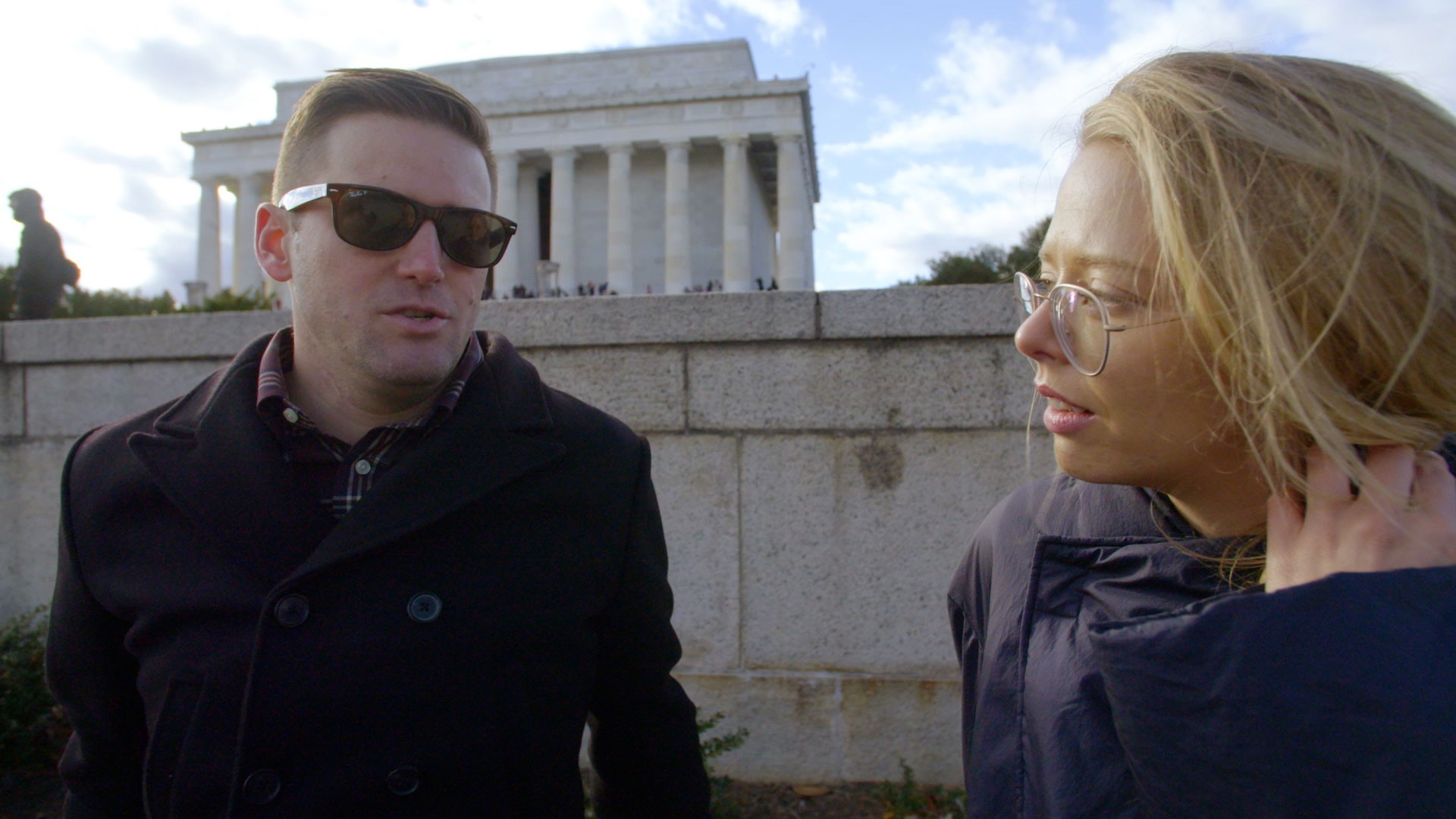 ---
It was only natural that I thought of these things as I watched Spencer's clan burning torches around our forefather Lee. And I thought of my own father, crumpling his face into his hand after hearing his American son confess he was too black to date the daughter of a judge.
There is a long distance between Lee killing American soldiers and Spencer lighting tiki torches from Walmart. At least until recently, the rebel yell had become more of a feeble yelp. But my fellow alum's acolytes and ideals of white supremacy seem to be on the ascent these days, as evidenced by Donald Trump's alt-right-friendly presidency. Hate crimes are feared to be rising nationally, federal programs that help people of color are on the chopping block, and criminal justice reform is being strangled at the national level. But there is no electoral college for public opinion. I believe that Spencer has about as much chance of winning over our country as Lee had at Appomattox. He is fighting hard to preserve symbols of white supremacy in large part because it's almost all his kind have left. As someone like Spencer might put it, a "mulatto" was just president, and Donald Trump can't turn back the clock of history.
That's why I would leave the statues up. As one Charlottesville native, a 45-year-old single black mother who asked her name be withheld to avoid troubling her white, liberal co-workers, told me, "This whole thing is bullshit. I'm not offended by the statues, I really don't care."
She believes the statue removal agenda is partly an aftershock from Trump's win "that really jarred white people around here." Because liberal whites cannot discern ways to make substantive change, she argued, they're looking for symbolic relief. "This is part white guilt, and part the wool comin' off their eyes," she said.
For his part, Charlottesville vice mayor Wes Bellamy said the dialogue being fostered here—and the reaction from whites and blacks alike—is the very point of advocating for the statues' removal. He believes they have a negative impact on the town's psyche, and decided to fight for their removal when a tenth grade schoolgirl presented him with a petition to remove Lee and another statue, of Confederate General Stonewall Jackson. "She got over 150 local signatures from students in our local schools and neighborhoods," he told me. For his efforts, Bellamy said, he's received a steady dose of death threats: "They're gonna hang me from a tree, bomb my daughter's school."
Bellamy takes these as signs he's doing something right. As he put it, "Without struggle there is no progress."
To be sure, I have close friends who still believe the myth of General Lee as a non-racist patriot—rather than a savage slaveowner—and I'm grateful to see them struggling to reckon with the fact that men like Spencer are their hero's natural heir. And I'm pleasantly surprised to see Confederate flags and statues coming down in Southern capitals. But I fear campaigns like this one can distract from systemic problems in favor of short-term symbolic wins.
In New Orleans, for example, Mayor Mitch Landrieu's moving speech rationalized the removal of Confederate monuments in part by honoring the struggles for civil rights over the decades. But perhaps because of hard political realities in his cash-strapped state, he declined to offer a way forward when it comes to the enduring economic effects of slavery. I've been a public defender, and If I were a poor kid rotting in a New Orleans jail and found out the Lee statue was down, I'd still prefer to have a real, adequate public defense to a city free of Confederate totems. When every descendent of slave and slaveholder alike has their constitutional right to counsel, then maybe we use some of the leftover cash for statue removal.
Thinking back to that day in Lee Park, I remember my father giving me a useful lesson in American history. He descends from Coptic Orthodox people who taught the Gospel of Christ well before whites came to America. He told me to forgive my girlfriend's parents, to love her nonetheless, and to see their tribalism as a moment on the arc of American progress. He reminded me that forgiveness propelled humanity forward.
So I felt compassion watching Spencer lead his men to rally around General Lee. I love Charlottesville, all of it, and to hate Richard Spencer—or try to purge the country of his favorite statues—is to join him in resentment. I pity Spencer and respect his First Amendment right to say awful things. As a non-white supremacist, I literally get to love more of America than him. There are millions of white people in America, but millions of people of other colors as well! Poor Richard Spencer does not get to love our whole United States like I do.
The great (and white) Christian Reinhold Niehbur once wrote, "The beginning of wisdom lies in recognizing that history cannot be coerced." There is no wisdom in wishing, like Spencer seems to, that General Lee had won. But there is little more wisdom in simply wishing Lee away. Charlottesville could take down his statue, but remain a segregated town, reeling from its racist past. For now, the town has renamed the parks after Emancipation and Justice, instead of Lee and Jackson. Pending resolution of a lawsuit, the statues will not be moved for at least six more months.
Perhaps the most important next step, whether the statues stay or go, comes from Vice Mayor Bellamy's leadership. He leveraged the discord over statues into momentum for an "Equity Package" as part of the budget process in the local City Council, a win he views as "de facto reparations." Among other things, the proposal called for money to help fund scholarships to send local kids to historically black colleges and fund GED training. That I can get behind. After all, if we want to remove statues, if we crave symbolic change, wisdom suggests we match the time, money, and energy spent on accepting history with making more substantial progress, too.
Amdé Mengistu is an attorney raising two boys in Fort Greene, Brooklyn.