Photo by Chris Jackson/Getty Images
On Tuesday, Facebook unveiled a handful of new facial recognition features on the social media platform, including a tool that promises to let you know each time you appear in a photo—even if you're not tagged in it, the Washington Post reports.
According to Wired, Facebook first rolled out facial recognition technology on its site in 2010, detecting who appeared in your photos and suggesting who you might want to tag. Tuesday's update appeared to take that a major step further: You can be notified each time a photo of you is uploaded to the site, and be able to tag yourself, message the person who posted it, let Facebook know you're not actually pictured, or report it, according to Wired. You won't find out about the image, however, if you're not in the uploader's audience—which depends on their privacy settings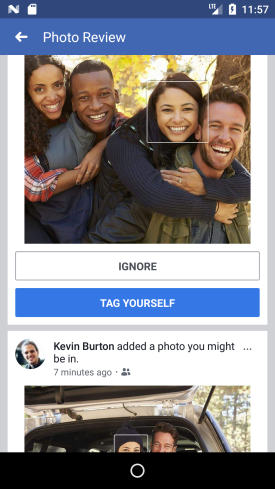 In a blog post, Facebook's director of applied machine learning Joaquin Quiñonero Candela announced two other new facial recognition features. The site will notify users if anyone tries to use their photo in a profile picture—an attempt, Candela wrote, to cut down on impersonators. (As Gizmodo notes, that could also help prevent people from making revenge porn profiles.) Plus, Facebook now allows visually impaired users to hear who's tagged in photos with them.
If you already take advantage of Facebook tag suggestions, you'll automatically be signed up for the three new facial recognition features. But users can also opt out of facial recognition altogether with a single "on/off" button in their settings, Candela wrote.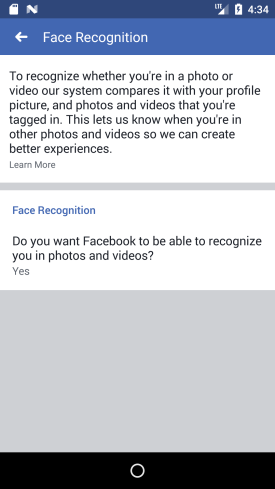 Facebook touted the new features as a way to protect its users, but privacy experts have long been wary of the tech giant's facial recognition program—already one of the most widely used on the planet. Jennifer Lynch, a senior staff attorney with the digital privacy nonprofit Electronic Frontier Foundation, told Wired users should be required to opt in, not out, of Facebook's facial recognition technology. That way, she said, people might be more aware of the privacy and data risks involved—not to mention the fact that facial recognition can be kind of racist.
Follow Drew Schwartz on Twitter.