Fans of the Lebanese group Mashrou Leila show a rainbow flag at their concert in Cairo on September 22. Photo by Benno Schwinghammer/picture-alliance/dpa/AP Images
On September 22, Mashrou' Leila, a Lebanese band with an openly gay lead singer, played a concert in Cairo. Some who attended waved rainbow flags—an innocuous act in the West, but one that's far more political in a country like Egypt, with a deep history of anti-LGBTQ persecution.
In the days that followed, seven people, including some alleged flag wavers and at least one other who posted positively about the incident on social media, were arrested for "promoting sexual deviancy," according to the office of Nabil Sadek, Egypt's top prosecutor.
Over the last ten days, the situation has escalated into what organizations like Amnesty International and Human Rights Watch are calling a full-fledged LGBTQ crackdown. This weekend alone, at least 22 people were arrested, and 33 have been arrested in total, by Amnesty International's count, with charges stemming from dating app usage, social media posts, and more. In one case, police allegedly entrapped and arrested a 19-year-old man using a fake dating app profile, a common act in Egypt; he was sentenced to six years' prison on charges of "debauchery" last week. According to Amnesty, some arrested have been subject to forced anal examinations to determine whether they have had gay sex, an act a spokesperson said violates international prohibitions on torture.
These are just a few of the emotional messages I have received from queer Egyptian activists and civilians I reached out to this weekend:
"I just deleted all my online data on gay dating websites and applications like Grindr. I'm terrified." "A way to distract the nation is by propaganda, and this time it's sadly against the LGBT community."
"You're my Egyptian brother from abroad please help me. Can you arrange a Schengen-Visa for me?"
Being partly Egyptian, Christian, and gay, I'm familiar with the structural discrimination minorities face in Egyptian society. And by all accounts, these and other cries for help have made clear that the present situation for queer Egyptians is dire. With music that tackles homophobia and various social taboos, Mashrou' Leila are one of a wave of rebellious Middle Eastern bands formed out of the political upheaval of the Arab Spring. The band reacted to the ongoing crackdown Monday with a Facebook post in both English and Arabic, writing that it has "become rather apparent in the last 48 hours that the state apparatus is hell-bent on executing the most atrocious of human rights violations. We denounce the demonization and prosecution of victimless acts between consenting adults."
While homosexuality is not officially illegal in Egypt, queer Egyptians face widespread discrimination and are regularly arrested and charged with vague crimes like "debauchery" and "sexual deviance." This latest wave of arrests continues a longstanding campaign of anti-LGBTQ harassment under President Abdel Fattah al-Sisi, which has subjected hundreds of queer Egyptians to arrests and hate crimes since late 2013, according to the advocacy group Solidarity with Egypt LGBTQ+. Last year, 26 men were arrested in a bathhouse in Cairo for allegedly having gay sex.
LGBTQ Egyptians and activists I reached out to were left understandably terrified by this weekend's arrests, and spoke of their fears and the challenges they face moving forward.
"My parents don't know that I'm gay; like most LGBT people here we hide it from our families. I'm terrified," said Mahmoud*, a 24-year-old LGBTQ activist from Alexandria. "The government is monitoring social media accounts to arrest LGBT people. I'm afraid and I have done a lot to protect myself by deleting stuff," he continued, explaining that he'd recently deleted as much data as he could from apps like Grindr and other gay dating websites.
---
Watch VICE on HBO report on the violent aftermath of the Arab Spring in Egypt: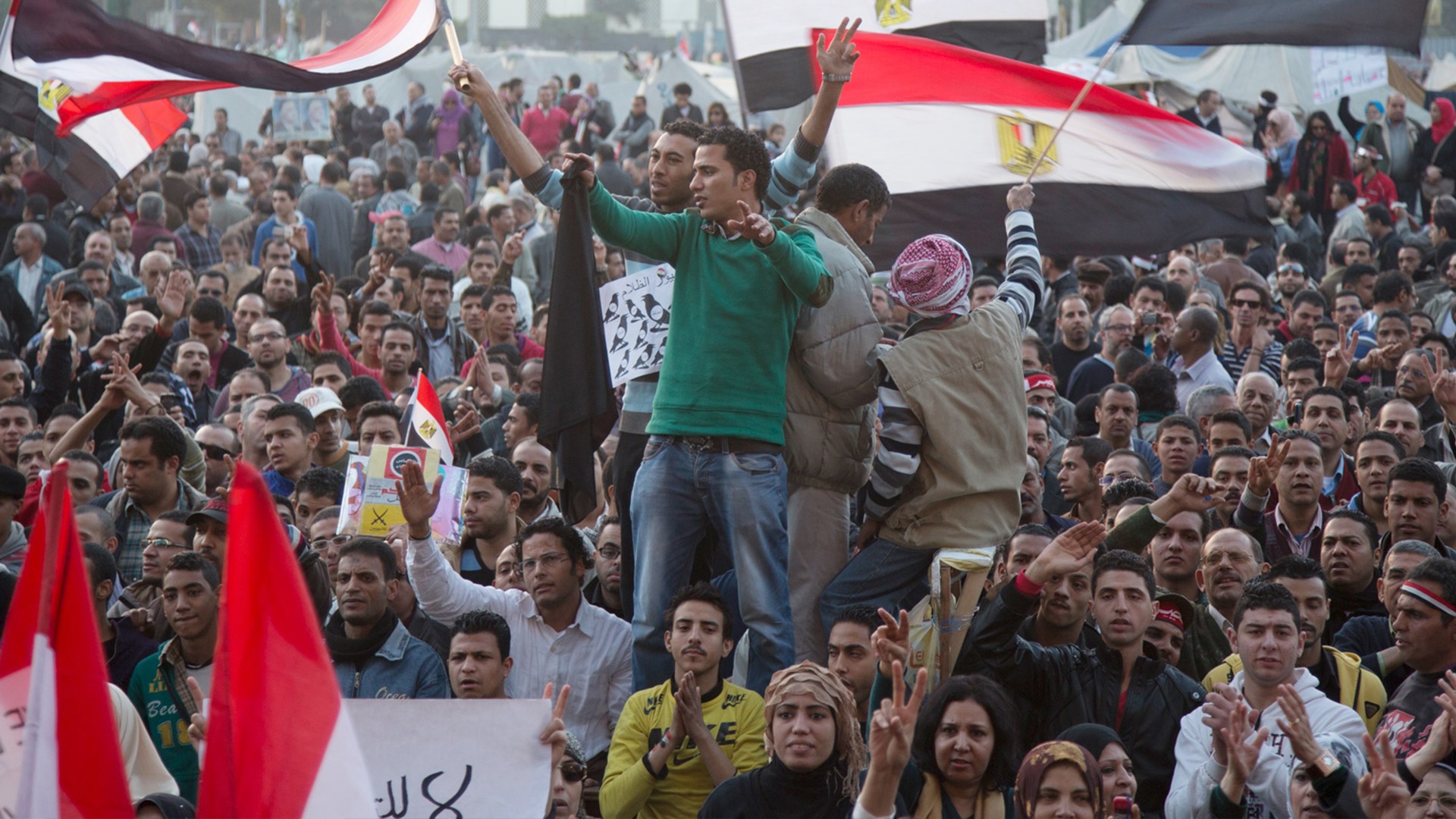 ---
"It's also dangerous to defend other arrested LGBT people, because we live in a state that represses our freedoms and our right of expression, but despite the danger I didn't delete my opinions on social media. I want to defend my brothers and sisters," he said.
I planned to speak with an LGBTQ activist named Jackie*, but when I reached out to her it became apparent through Facebook posts and reports from friends that she was among the 33 people who were arrested.
"I talked with [Jackie] on a daily basis," said Geumana*, a close friend of hers. Geumana is a transgender activist based in Istanbul who said she left Egypt after being physically attacked. "I'm so worried about her and my family," she continued.
"Nobody dares to say anything on social media right now as they fear to be arrested," said Geumana. "They don't want to bring their family or themselves in danger. I know we have to defend each other, but this is getting really bad,"
Mostafa Fouad is a 27-year-old LGBTQ activist based in Cairo, and another friend of Jackie's. "I'm a lawyer, they are probably afraid to catch a lawyer. Not only people who waved a rainbow flag are in danger—also their friends can be associated with homosexuality and 'debauchery,'" he wrote me. "I recommend that everybody deactivate their phones and Facebook because they are actively looking for LGBT people at the moment. But I think the government will stop soon with this crackdown, because the world and human rights groups are criticizing Egypt."
A representative from the activist group No H8 Egypt, an initiative that aims to stop hatred and violence against minorities there, emphasized that the recent wave of arrests represents a new low for President al-Sisi's government.
"Many of our members have been arrested and the government is using propaganda against the LGBT community," the spokesperson, who wished to remain anonymous, said. "The government is breaking the core of the constitution by doing this." They emphasized that September's concert wasn't the first time a rainbow flag has been raised in Egypt, but theorized that the ongoing crackdown was an attempt by al-Sisi's government to "distraction the nation" with propaganda on the eve of a jail sentence given to Khalid Ali, a human rights lawyer seen by some as al-Sisi's fiercest rival in Egypt's presidential election early next year. "This time, [that propoganda] is sadly against the LGBT community," they said.
Dalia Alfaghal is a 27-year-old activist who lived in Egypt for nearly a decade before moving to San Francisco, after enduring a viral backlash for publicly announcing her lesbian relationship on Facebook. She calls herself "the most hated lesbian in Egypt," and has become a prominent LGBTQ activist since. She agreed with No H8 Egypt's spokesperson that these arrests are a diversionary tactic.
"Gay cases are often used to distract people from other problems in the country," she explained. The government argues "that the LGBT community is a threat to the ethics and morals of Egypt. It basically happens every four years when there are elections coming up, like now."
"It's a really dangerous and confusing time for LGBT people in Egypt, but it also might be the right time to create more awareness and acceptance in the Egyptian society toward LGBT people by speaking up and making the community visible," she continued. Whether through social media or other means, it's clear that's a more dangerous proposition than ever—but at this juncture, a necessary one, too.
*Names have been changed.
Follow Bo Hanna on Twitter.