Image courtesy Marks & Spencer, composite by MUNCHIES.
In the UK, if you need a sweet fix and you are a) at a mid-tier train station or b) in a town in the south of England with only a Cancer Research shop, a racist "tea room," and a Marks & Spencer, then Percy Pig is your go-to choice. Indeed, in 2010, it was reported that two Percy Pigs are eaten per second in the UK.
For those unfamiliar with the porcine candy, let us explain. Percy Pigs were launched by British supermarket chain Marks & Spencer in 1992, and have grown to become one of its defining products. The sweets are in the shape of a pig's face—part-gummy and part-foamy—and taste like an ambiguous mix of berry fruits (cherry, grape, raspberry, and strawberry, apparently). Notably, until recently, Percy Pigs contained pork gelatine—i.e. actual dead pig—until the brand went entirely vegetarian in 2018 and began using pectin instead. Yum!
More startling than the revelation that Britain has been binge-eating a gummy sweet that looks like an anthropomorphised bacon-vessel for the last 26 years is the news that Percy and his long-term partner Penny got married this weekend. Understandably, we have some questions.
OK, so look, it was in 2002 that we were first introduced to the wider Percy Universe, with the release of "Percy Pig and Pals." Suddenly, we saw a world beyond Percy, and in this world lived other key characters—including lady pigs.
Things got real in 2008. M&S released "Percy Piglets," a litter of piglets that landed without warning in this sugary swine universe. Their lineage is not made clear, but the packaging seems to imply that they are, in fact, Percy's offspring.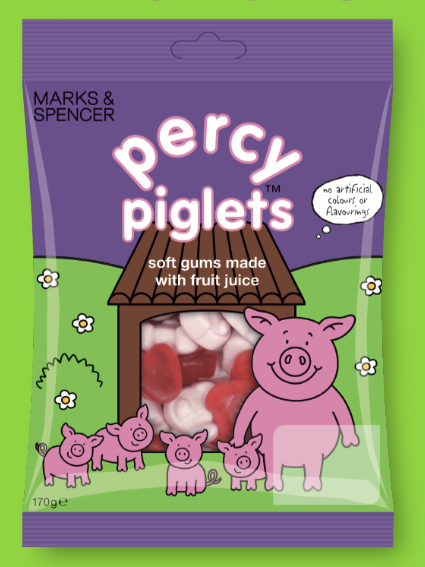 Percy is clearly related to these piglets. See how he lovingly tousles their ears! His eyes even have that look of looming dread and ennui so unique to new parents.
Then came "Reversy Percy Pigs," a hellish creation that turned Percy's face into ear flesh (gummy), and his ears face flesh (foamy). This clearly marked a violent dystopian blip in the universe in which farmers began either genetically engineering pigs to become inverse monster hybrids or reconstituted Percy's body postmortem to meet the grotesque demands of the British public. These shall be known as the Dark Years of 2010-2011.
Fast forward to 2013 and we meet Penny. Percy is now 21 and, according to a press release from M&S, "he meets the love his life, a sweet and sunny girl called Penny." Things move fast: "It doesn't take them very long to make it official and it's Penny, being the modern woman she is, who pops the question." S/O to M&S for the world's most contrived inclusion of feminism.
In 2015, Percy and Penny have children ("Percy's Happy Family"), and finally marry on May 5th, 2018. A special commemorative bag of Percys is released, containing hearts. Pig hearts.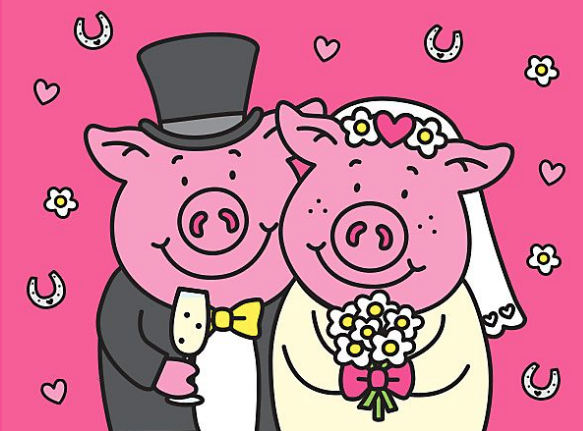 If Penny only came into the picture in 2013, then who the hell gave birth to the Percy Piglets in 2008???
A theory:
Percy had a former marriage, relationship, or one-night stand that resulted in the piglets
Penny and Percy met in 2018, and became engaged almost immediately because Penny felt really fucking weird about his other kids
M&S named the piglets "Percy's Happy Family," *not* "Percy and Penny's Happy Family" because Penny is seriously pissed about the whole setup
Percy struggles with the demands of juggling a new marriage with piglets from a previous relationship, but works hard to make both Penny and the kids feel loved and wanted
Percy must have a former partner. The invisible pig mother of his children airbrushed from history for the sake of protecting the nuclear pig family unit. Who is she? Was she also 16? Why have M&S kept it all so hush-hush? Did they … did they murder her?
We reached out to a spokesperson at M&S to see what they could tell us about the inconsistencies in Percy's relationship timeline. According to the company, there are "no other relationships" to report as "Percy's only been with Penny!"
How. Interesting.
Although the spokesperson is able to confirm that Penny and Percy's children were technically born out of wedlock, they refuse to give me any further information, stonewalling my calls and emails.
Undeterred, I turn to food historian, Tasha Marks, to help better understand Percy's life. "Storytelling has been a key tool in product development and brand awareness for quite some time," she tells me over email when I ask about Percy's mysterious relationship history. "I do think it adds to the experience. As a consumer, we feel more connected to Percy as a character and therefore the whole brand."
Does Marks believe that Percy has a secret ex-lover? "I think if Percy hasn't spoken about it already it might be a sensitive subject," she says. "He seems like a sweet dad, I'm glad he got custard-y of the children."
Percy has an illegitimate relationship that M&S has hidden from the public because it doesn't want us to know the truth about the pig's filthy, filthy past.
Wake up sheeple!!