Protesters march with Voices 4 Chechnya in New York City this weekend. Photo by Tayte Hanson
Yesterday, phones lit up with breaking news alerts when Maxim Lapunov, a gay Russian man, became the first to speak publicly about his detention in Chechnya's anti-LGBTQ crackdown earlier this year.
Maybe you read the details of Lapunov's story—about the 12 days over which he said he was beaten and tortured by police looking to extract a confession that he was gay. Maybe you didn't. Today, dismissing news notifications is almost second nature.
Our world is becoming as connected as it is fragmented, and stories and issues like Chechnya's crackdown live and die in social media echo chambers, where they're at the mercy of commenters and the fickle algorithms that govern internet virality.
But if you can harness the whims of social media, can you overcome the inertia that often accompanies such issues, and motivate people to stop double-tapping and start marching? That's the impetus behind Voices 4 Chechnya, an activist organization that spearheaded a march this Saturday from New York City's Stonewall National Monument to Trump Tower, at United Nations Plaza.
Voices 4 Chechnya was founded by Adam Eli, a 27-year-old who says his activism is informed by the realities of our social-media-steeped age.
After the Pulse shooting in Orlando, Eli left his career in real estate to dedicate himself to activist causes. He became an early volunteer with Gays Against Guns, an organization that seeks to combat the gun industry's foothold in America, where he built their social media presence—an experience he says showed him the power platforms like Facebook and Instagram can hold for advocacy efforts.
"I only post things online that are either hopeful or a direct call to action," he told me. But "when it came to the crisis in Chechnya, there was nothing hopeful to post and there were no calls-to-action. There were petitions to sign online, but with a queer genocide taking place, I wasn't interested in signing a petition."
Voices 4 Chechnya launched in August, partnering with organizations like RUSA LGBT, a network that helps Russian-speaking LGBTQ people resettle in the US, and the Human Rights Campaign. Leading up to the march, Eli partnered with fellow activists and well-known LGBTQ figures like Dan Donigan (who performs in drag as Milk) to recruit members to organizational meetings at an LGBTQ community center. Like Eli's approach to activism, the meetings were bubbly and hopeful; they were also meticulously catalogued on Voices 4 Chechnya's Instagram account.
---
Related: Gaycation's Ian Daniel Discusses Chechnya's LGBT Crisis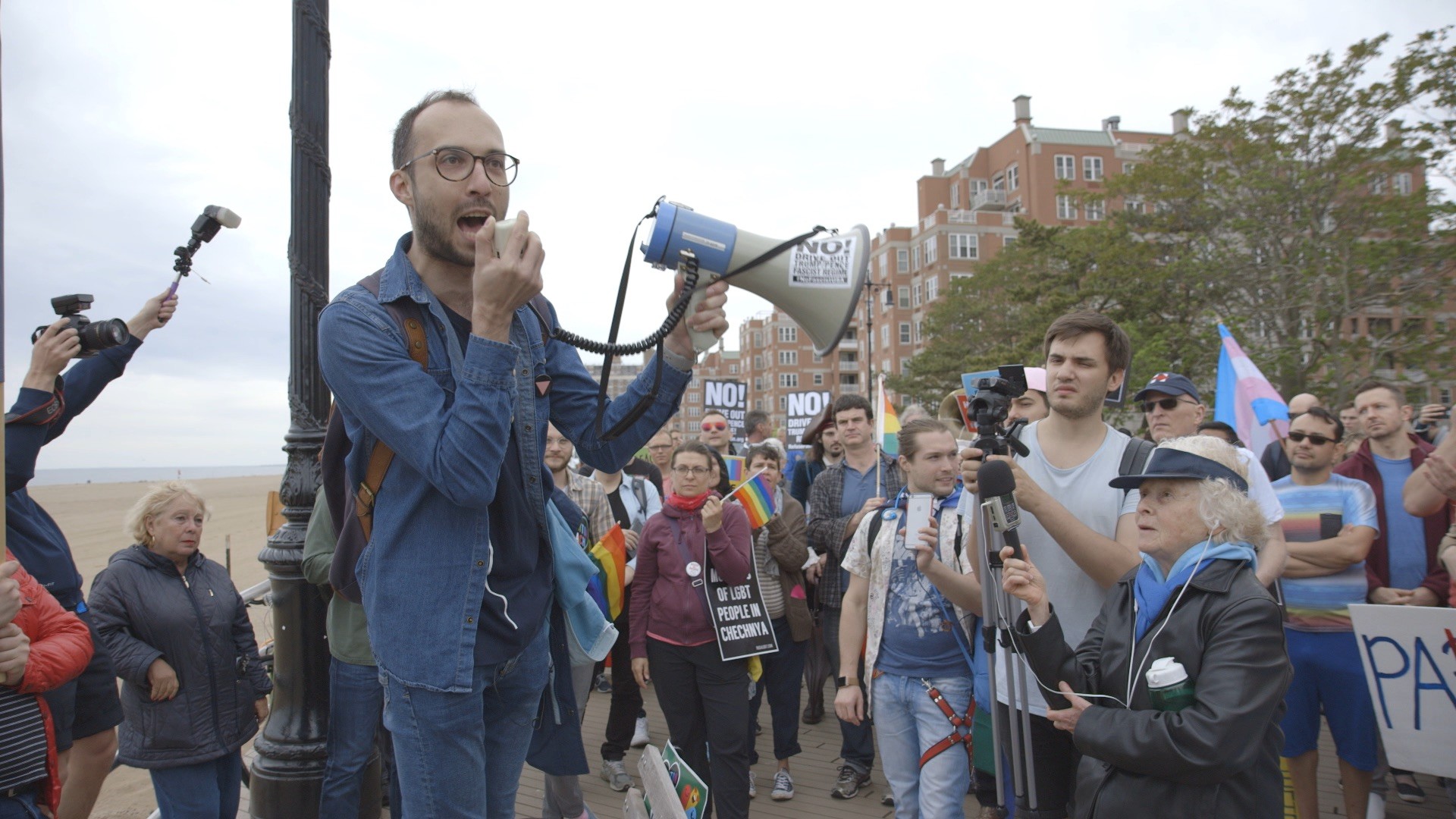 ---
"We're going to do our slay of the day," Eli said in an Instagram story from their final pre-march meeting, before cutting to a poster-making party. In another short clip, at the start of a meeting, Eli told attendees that they shouldn't clap after others speak—they should snap.
The move is reminiscent of a tactic used at meetings of Act Up France during the AIDS crisis, where organizers were militant about giving everyone an equal platform to debate; snapping after agreeable comments would ensure nobody gets drowned out.
On Saturday, thirty minutes before the march was slated to begin, about one hundred people had already gathered. As the crowd swelled closer to four or five hundred, it began to resemble a who's who of "gay Instagram": drag personalities Courtney Act and Katya Zamolodchikova, actor Matt Wilkas, social media influencer Max Emerson and more. The collective Instagram reach of that group alone spans more than 2.5 million followers—and that's without @RupaulDragRace's 1.5 million followers, who saw the march through Instagram Stories when the account was taken over by Milk.
But the rally wasn't a party. Speakers read firsthand accounts of persecution in Russia, and Masha Gessen (author of an explosive New Yorker piece about gay men who fled Chechnya for Russia) expressed the urgency of the situation.
As speakers held forth, I looked to the crowd to see phones down, eyes on the stage; as tourists passed, they stopped to ask what was happening.
The solemn mood was no accident. Vinnie Amendolare, Voices 4 Chechnya's head of research, shed light on work the organization did that was often absent from its lighthearted Instagram stories. "We want to make sure we aren't shying away from but digging into the nuances of these really complex issues—such as how this issue affects trans women and trans people," he said. "We also want to get the perspective of people in proximity of these areas and issues, because they are the ones who really know best."
That desire to leverage the perspective of those most directly affected carried over to signs seen at the march. The hand-drawn posters seen being made on Voices 4 Chechnya's Instagram account were few and far between; printed signs most marchers carried were made by RUSA LGBT, so that messaging could come from a queer Russian point of view.
But homemade signs were still peppered throughout; one read "Olivia Pope We Need You," another "ChechnYAS."
As the march made its way up Sixth Avenue, Voices4's Instagram following ticked up in real time. It hit 1,000 followers the day before the march and reached nearly 3,000 by the time they faced Trump Tower.
But can the impact of activism be measured in follows and likes?
Eric Marcus, an LGBTQ historian and creator of the podcast Making Gay History, isn't surprised by queer activism's digital turn. "The LGBTQ movement has always responded both to the circumstances of the times and the ways in which people protested against oppression," he said.
I told him about emphasis the organization's meetings place on hope and positivity. Is it almost to a fault?
Marcus' reaction is surprising. "Much of what LGBTQ people have done has been driven by love and the search for love," he continued. "People don't go to meetings just because they're angry and they want to change the world. There's a social component to them as well—even if it's not in the mission statement of the organization."
Through their march, Voices 4 Chechnya raised a collective $3,750 for RUSA LGBT—but Nina Zarestky, a representative of the organization, said their impact is much deeper. "As a small grassroots organization, our resources are too limited to do organizing work," she said. "We've provided education and connection to the issue, and I can't believe the hundreds of people they've brought to the cause."
Zaretsky said the ensuing publicity would mean "those who kill with impunity in Chechnya [will] take a pause when there's visibility here. This week, this march may save a life."
Eli said he was thrilled with the response ("My DMs are totally full, I had to turn off my phone," he told me) and hopes it will spur momentum for future actions. "People felt really lost" beforehand, he said, "and with everything terrible going on they felt isolated, and this march made them feel better, more hopeful."
"I think the biggest misconception about activism is that it's hard and that it's really challenging and brave to do, but it's a lot easier than people think," he continued.
But having an impact is hard. Both Eli and Zaretsky's optimism that increased awareness will tangibly affect policy must coexist with an administration that voted against a UN resolution that included a condemnation of the death penalty for LGBTQ people, or a President who reportedly jokes in private about how his Vice President wants to kill LGBTQ people.
Eli and Voices 4 Chechnya are up to the challenge. The big item on the agenda for their next meeting (scheduled to be held tomorrow at The Center in New York) is to decide the next action they should take.
As Eli addressed the crowd before Saturday's march, he asked attendees to raise their hands if they discovered Voices 4 Chechnya through social media. Nearly every hand in the crowd shot up.
"That march was living proof that social media is a fantastic activist tool," he told me later. "I know we're doing the right thing by raising money and awareness around RUSA LGBT and their cause. The idea is to say that we are queer and therefore we care about other queer people around the world. Gay liberation should be global," he said, adding that his larger goal was to foster a "global gay consciousness."
Follow Khalid El Khatib on Twitter.