Every day I see columns by and for 40-year-old white men bemoaning how free speech is under threat by the dreaded university leftist. So when I heard about a defacto free speech rally being held at an Ontario university I knew I had to go and find out for myself: whose free speech is being infringed on?
The rally (which was the jumping off point for the most recent round of op-eds) was held at Wilfrid Laurier University and the keynote speaker was Faith Goldy—a former Rebel Media personality who has expressed sympathy for white nationalists and supremacists, worked to spread a truther movement about the Quebec Mosque shooting, ranted about "white genocide," publicly recited a neo-Nazi slogan dubbed "the 14 words," and was fired from a Canadian far-right news outlet for appearing on a neo-Nazi podcast put on by the Daily Stormer. (There is more I could list here but my editor is already mad about my word count).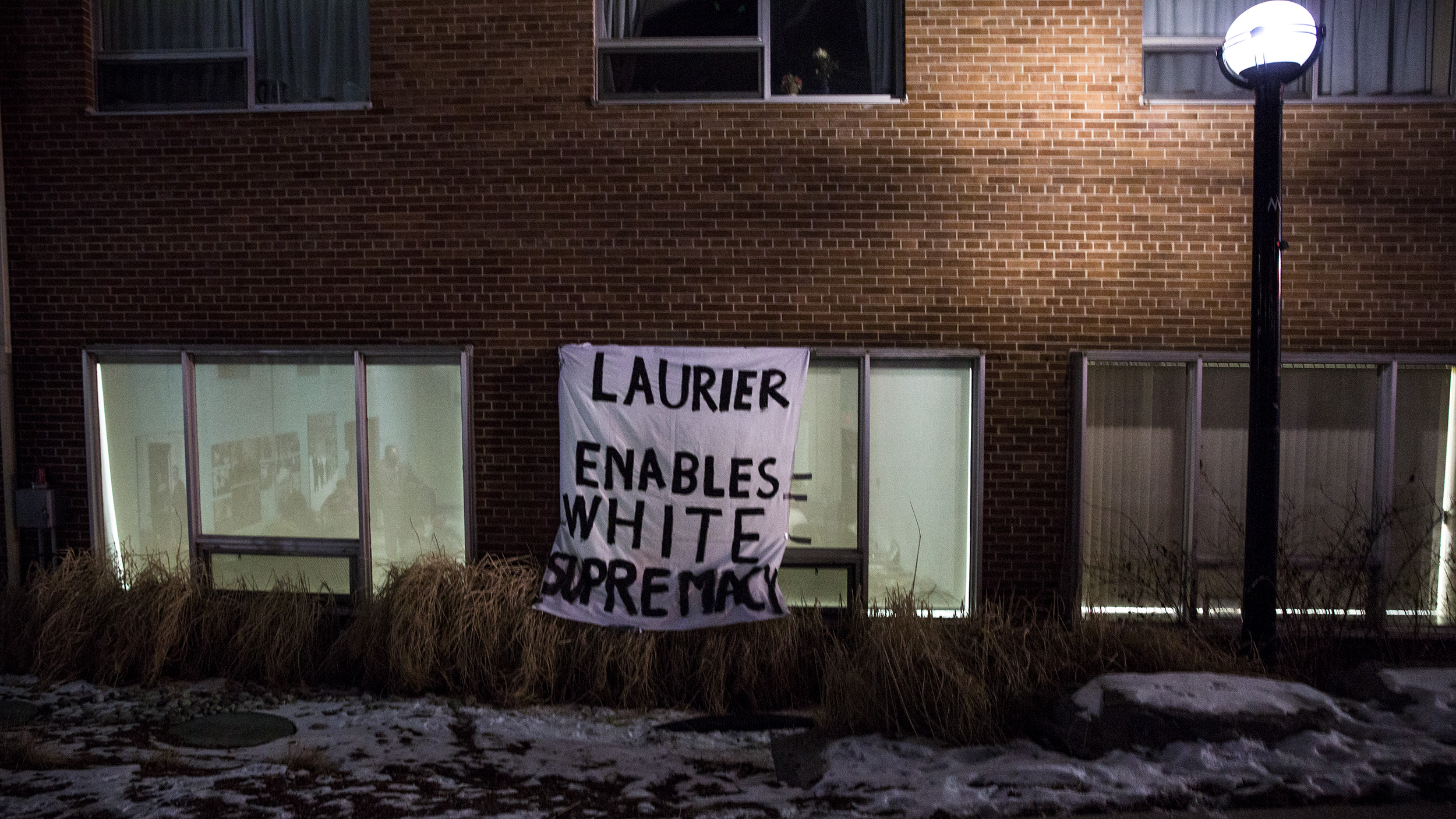 The talk was put on by Lindsay Shepherd, a Laurier student who dominated a seemingly unending news cycle in Canada last year after being interrogated by professors for playing a Jordan Peterson video in a class as a TA. The event, held by Shepherd's group The Laurier Students for Open Inquiry (LSOI), was titled "Ethnocide: Multiculturalism and European Canadian Identity"—words that, when combined, lead to few topics other than "white genocide" or white nationalism. Goldy's talk, while not initially billed as about free speech, morphed into a defacto rally on the subject thanks to online backlash. The event never actually happened because it was cancelled shortly before it began Tuesday night after a fire alarm was pulled.
But fortunately I was able to talk to many of the people who came to hear Goldy speak and find out why exactly they were so worried about free speech. Specifically, I wanted to hear about one time their voice was stifled. Out of about 20 people I talked to not one could recall a situation where their speech was ever limited in Canada.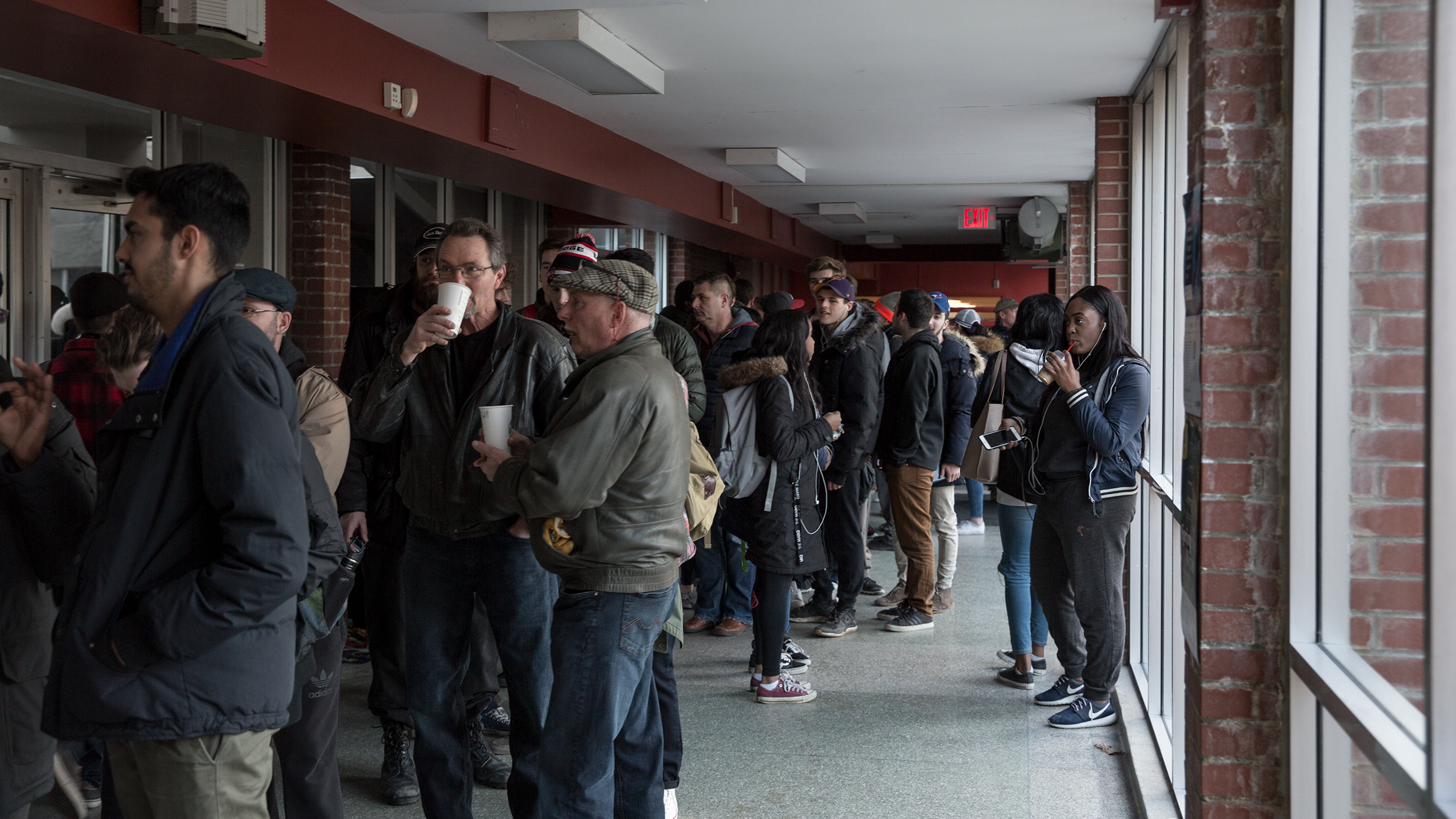 As a protest against the event raged outside, I approached the massive lineup waiting to enter the event. Here, I met a young man wearing a MAGA hat and T-shirt with a right-wing pundit's slogan on it, who told me his name was Nicholas and that he was a member of LSOI (but declined to give his last name). Because of his attire, I asked if it was safe to assume what side of the political spectrum he sits on and he assured me that he was indeed right-wing. However, he explained that he didn't necessarily agree with Goldy on immigration.
"We're at a university so we're just trying to get everybody's opinions, it's not that we necessarily agree with everyone's opinions, it's about discussing them and seeing how everyone feels about them," he told me. "Not trying to suppress them and hide them, they do exist and pretending they don't is wrong. Trying to eliminate somebody's ability to express their opinion is wrong.
"So far, I haven't had that experience, I do feel like with my point of view not being as popular—especially with the university—I do feel somewhat afraid of expressing my point of view for fear of repercussions from the left."
Not everyone would go on the record with me, but everyone I talked to made similar points to Nicholas.
A little further up the line, which was made up of primarily students and a couple older folks, was Juan Duarte, a 22-year-old man also in a MAGA hat. Duarte told me that he had never heard of Goldy before receiving an email from the university about the event and didn't really know about the night's topic. He told me that he was indeed right wing, but that he hasn't had his free speech infringed upon.
"For the most part no, just for me, maybe because I am a minority or something, so people are afraid to put me in my place so to say but I feel like everybody has always let me speak my mind and I've never been shut down or anything like that," said Duarte.
Our interview had to be cut short because at this point someone pulled the fire alarm and the building was evacuated. Once outside in the cold, I met a man named Tyler James who, like Nicholas, claimed to be a right-leaning member of LSOI. He told me that he came to the talk because he supports free speech and that, frankly, he just wanted to see what would happen. I put the question to him.
"I don't think my free speech has been encroached upon, not at this school, this school is pretty good," he told me. "[I don't really think it's an issue] because the university is allowing [Goldy] to speak, I don't think it's an issue, they have the right to protest and Faith has the right to free speech."
Again this interview had to be cut short as a cop popped out the door to tell us to move away from the building. As we were walking, James added one further thought.
"I think [free speech on campus] is an issue but Laurier has been handling it really well— they've apologized for the one professor," he said. "But I think if we don't stand up for it now, it'll be a bigger issue."
Once the building was evacuated, the crowd leaving the event began to intermingle with the protesters in Wilfrid Laurier's quad area. On the outskirts of the protest, I found four people evacuated from the building having a smoke. They said they were there to see Goldy—one of them, a man named Anthony Germann, said the group consider themselves free-speech absolutists.
"I think we're all centralists or left, I don't feel like my free speech has been infringed but at the exact same time, we're all here, we're all proponents of free speech and believe in it," said Germann. "I feel like you don't really know what you're protesting until you really listen to what somebody has to say."
Across a road from the protest stood a contingent of disappointed people who were there to see Goldy. Nearby, some people who were respectfully arguing with each other attracted other groups of onlookers. In the middle of the group farthest from the protest was Lindsay Shepherd, giving out interviews. Shepherd told VICE she was "very disappointed" that the event ended in this way, adding she expects to reschedule. I asked her about a major criticism people had in regards to the event—that it was explicit provocation.
"Maybe the people who say [this is explicit provocation] should realize that there are people—maybe not the people they hang out with—who advocate for ethnonationalism and it's maybe more than you think. So the best way to counter this is to just air this out, let's listen to it, let's be aware of it. It's not really good to have things go underground," Shepherd told VICE.
I then asked if she agreed with Goldy's views.
"Well, I didn't get to hear anything tonight," she responded. "I'm sure we disagree on a lot but I see some intelligence in her."
Follow Mack Lamoureux on Twitter.