Images: Pixabay, Titcoin, Tittiecoin, Bigboobscoin
Sex work has long been plagued by issues surrounding privacy, payments, and security for workers and clients. How many cryptocurrency startups with "tit" in the name will it take to solve them? I aimed to find out.
From SpankChain to TittieCoin, over a dozen aptly-named digital coins are angling to turn your hard-gambled cryptocurrency into sex—in the form of dildos, escort services, and porn. Clearly, blockchain startups see an opportunity to cash in on the multi-billion-dollar adult industry.
The affair between the sex industry and cryptocurrency isn't new. Porn has historically been ahead of the curve tech-wise, and this holds true for Bitcoin adoption. Back in 2013, UK escort service VIP Passion started accepting Bitcoin payments. Two years later, sex workers started posting Twitter tutorials on how to use Bitcoin to pay for advertisements on Backpage.com when major credit cards pulled their services from the platform due to rampant sex trafficking.
Read More: Don't Fuck Anybody Who Wants to Get Your Consent Uploaded to the Blockchain
The technology also offers privacy and security for both sellers and customers. For an industry that values discretion, "privacy coins"—which boast features that hide a user's identity even more thoroughly than Bitcoin—like Monero, Dash, and Zcash may come in handy for customers who feel shame making certain legal purchases or fear the consequences of making criminal ones, as penalties for hiring sex workers in the US can include fines as high as $25,000 along with prison time.
Then there are the dreaded fees that cam models pay. Webcam performers take home at most 70 percent of their earnings (usually less) after the site takes its cut, and blockchain-based companies are promising to change that by letting models take home 95 percent of their income.
Despite all the promise blockchain tech holds for sex workers and their clients, a growing number of startups with names like FAPcoin and Porn_X are attempting to carve out a niche in the adult industry. Few of them have products, and most of them are looking for cash. I waded through the vague promises of Initial Coin Offerings (ICOs)—essentially unregulated fundraising rounds—and even one timeshare to see if cryptocurrency startups really have something to offer adult service consumers and providers.
*
Sexcoin (SXC)
Sexcoin claims to stand out from the "get rich overnight" currencies. It launched in 2013, touting itself as a way to circumvent the influence of credit card companies and scams often associated with buying goods or services in the adult industry.
As one of the earlier sex-related cryptocurrencies, Sexcoin appears to be in it for the long haul and is currently worth about $0.04 USD—not much, but significantly more than other coins on this list. It offers wallets for Windows, Mac, Linux, and Android and a peek at its source code, as well as a blockchain explorer.
It's also worth noting that one of the only places (if not the only place) to actually spend Sexcoin appears to be at the Sexcoin store, called "Sexcoin Maid," which makes this seem more like Itchy and Scratchy dollars for dildos than a legitimate currency. Sexcoin representatives didn't respond to our request for comment.
Intimate (ITM)
Intimate has a video on its homepage featuring CEO and founder Reuben Coppa's name and face—a rarity in the world of, let's call it, cryptosex—that screams "take us seriously." Apparently, people will one day be able to use the Intimate platform to buy anything from vibrators to "dates."
If you poke around Intimate's website, you'll find that no such platform exists and the only way to "get Intimate" (clever) is to first buy ether—the in-house cryptocurrency of Ethereum, the blockchain platform that Intimate tokens use—and then send it to the Intimate Foundation over email. An Intimate spokesperson told Motherboard over email that the company has already raised $5 million USD in this token presale.
The spokesperson added that "the first actual payments [are] expected to be processed by Intimate in Q2 of this year," and that the company has already "confirmed" a number of payment partners and gave broad examples—"a live cams platform" and "an adult dating service" among them—but did not name the businesses.
For now, with no working product and pre-ICO status, it appears that "getting intimate" basically means giving away your Ethereum funds.
SpankChain (SPANK)
SpankChain, like Intimate, is a token on Ethereum. It's focused on webcam modeling and is a lot better than Intimate at naming things, like itself and the fictitious author of a 119-slide presentation it released in 2017 explaining the system. In this presentation, "Spanktoshi Nakabooty" (a riff on Bitcoin's anonymous founder, Satoshi Nakamoto) suggests that consumers will take to buying porn on the blockchain.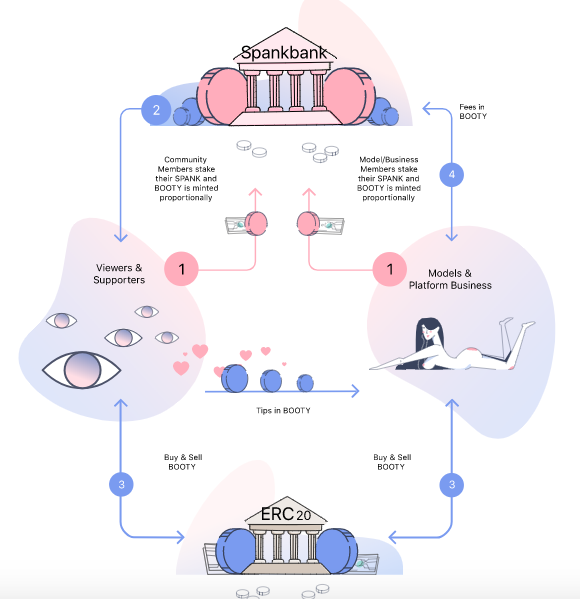 What SpankChain doesn't have is a working product. The team says they're hard at work on a platform that will integrate an in-browser cryptocurrency wallet with video streaming, but so far all they have (publicly, at least) is millions of dollars raised from investors during an ICO last year and an "educational" tool called "CryptoTitties" (a play on CryptoKitties) that lets people pay models for topless photos with ether. SpankChain didn't respond to our request for comment.
Okoin (OKO)
Upon arriving at Okoin's website, I got distracted by the chat box in the bottom right corner. When I accused the chatter, sunglass-wearing "Andrey," of being a bot, I was told, "No, Sir. I am human," and was slowly convinced that this was maybe the case when Andrey humanely apologized after I said I preferred to be called "Madam."
It will take much more to maybe convince me to buy into this startup's ICO, which claims to be the "first decentralized blockchain-based VR platform for 100% anonymous adult content distribution" and aims to raise $80 million. With headsets you can already purchase using Bitcoin and an adult film library including "over 500 films in 40 different genres," I'm like one-millionth of the way there in part because—again—Okoin has not yet developed the platform it's currently selling itself on, and in part because I wasn't looking for a blockchain-based VR platform to begin with.
Now maybe convince yourself that this YouTube video isn't narrated by a robot.
Okoin hasn't responded to Motherboard's request for comment, and we'll update this post if we hear back.
VanillaPlay (VPY)
VanillaPlay's ICO has ended but the slogan—"Enjoy uncensored adult live cam and earn money at the same time"—infinitely loops on this obnoxious website. (The website doesn't disclose how much money VanillaPlay raised with its ICO but its target was $7 million.) Like many of the other startups on this list, VanillaPlay has yet to release a product and didn't respond to our request for comment. At least VanillaPlay acknowledges that it "is not a conventional business."
Titcoin (TIT)
"In May 2017, Titcoin became part of the Joy-Toilet family!" a press release for Titcoin reads. This article is really writing itself.
Joy-Toilet is an adult media company—previously it created a video game called XXX Tycoon—and Titcoin is a cryptocurrency that claims "brand recognition" among the adult world but since its 2014 launch hasn't gained much traction. One Titcoin is currently worth $0.02 USD, and a total of $210 USD worth of TIT was traded in the past 24 hours, at the time of writing. Since Titcoin's "fundamental business activity is to market and promote Titcoin" to those in adult services, I'm not impressed.
Tittiecoin (TTC)
At this point my compass for what is sincere and what is a total lunatic scam is completely out of whack.
Take, for example, Tittie Island, a "luxury resort style holiday destination with timeshare possibilities" for which Tittiecoin plans to be the "exclusive currency." I cannot imagine a more inadvisable investment than a combination timeshare and an ICO. Top that off with Tittie Island's promise of a "reverse-osmosis" water system and "the potential…to be in almost every country like China Town."
Seriously, is someone actually trying to build this?? According to a Tittiecoin spokesperson in an email, at least, the island is a "huge project and will span over a 5-year period" and is still in its funding stage. As for location, the spokesperson said Tittiecoin has been "looking at Bali, Indonesia, Bahamas, Fiji and a many other locations [sic]."
Bigboobscoin (BBC)
With a name that makes "Tittiecoin" sound like a line from a Shakespearean sonnet, this pre-ICO coin's twelfth red flag (in addition to an inactive Twitter account and a near-total lack of particulars) was a "more information" button on its Russian-language website that led to a pop-up featuring links I'm afraid to click and—you guessed it—big boobs. Besides citing all three blocks worth of BBC's "transaction confirmations," the site's only text reads, "They say it is healthy for men to look at women's Breasts." (Capitalization is theirs, not mine.) Bigboobscoin didn't respond to our request for comment.
*
After surveying the frontier of sex industry-focused blockchain startups, I have one, nagging question: Who's buying coins like TIT and why?
So far, turning your money into cryptosex tokens seems advisable if you're willing to bet on a trip to Tittie Island, and not much else (unless you want to cynically gamble on a quick cash-in-and-get-out play, regardless on the coins' technical worth). Thanks to the discretion these startups offer, at least no one will know your identity if you happen to lose hundreds or thousands of real dollars to the lure of investing in a blockchain-based VR platform. Then again, "discretion" can also just mean not complying with Know Your Customer (KYC) laws in the US.
But even with all the potential for scams and cash grabs, there lies some promise in putting sex work on the blockchain. A platform like SpankChain, if it ever comes to fruition, could put more money in sex workers' wallets. And privacy, which is an inherent characteristic of most cryptocurrencies—though some implement more privacy-boosting features than others—is always a virtue in the adult industry.
At the very least, these blockchain startups show that there's a business case for buying and selling sex on the blockchain. Bigboobscoin just won't be the token for it.
Get six of our favorite Motherboard stories every day by signing up for our newsletter .