Katelynn McKnight died a few steps from where she slept.
McKnight, 27, a trans woman, had spent most of last year living in southeast Edmonton with Matthias Eichner, a man who considered himself her "street dad." But after she was confronted and shamed online by Edmonton Creep Catchers in April, Eichner said his home became her prison. He found her lying on the basement floor dead on September 7.
Both Eichner and McKnight's adoptive parents told VICE they believe her death was an intentional drug overdose, although authorities have not yet confirmed that. VICE has viewed Facebook conversations in which McKnight said killing herself was the only way to make a statement to Creep Catchers and the public.
"I think she was so psychologically damaged and physically damaged, and Creep Catchers pushed her over the edge," Eichner, 60, told VICE from the living room of his three-storey house. Downstairs, he pointed to a spot on the carpeted floor, just outside the bathroom, where he found her lying down with a towel placed underneath her pelvis.
"When I walked up to look at her I noticed her fingernails were black, and I knew what that meant," he said. "I touched her arm, and it was like ice."
This is a part of a VICE Canada project investigating the impact of vigilante pedophile hunting in Canada.
Part Two: Predators or Prey? Creep Catchers Accused of Targeting People with Physical and Mental Disabilities
Self-described pedophile-hunting groups like Creep Catchers operate by posing as minors on Craigslist and dating apps and shaming adults who express sexual interest in them or even just an interest in hanging out platonically.
But McKnight's death has raised serious questions about how these vigilantes treat people with mental illness and physical and intellectual disabilities. VICE has spoken with family members, close friends, and support workers of several people with such challenges who have been shamed by Creep Catchers and similar organizations. They say Creep Catchers' tendency to bait and switch, by first posting an advertisement as an adult and later revealing themselves to be a teenager, makes those with cognitive impairments easy targets. In addition, they say the interactions featured on video stings may be motivated by loneliness, isolation, and an inability to understand the consequences of talking to a teen online—factors that don't seem to be on the average vigilante's radar.
McKnight's suspected suicide, previously reported by VICE, came just a couple weeks after Creep Catchers posted a "top 10 compilation video" on August 17 featuring her bust, which originally took place in April. The footage shows Edmonton chapter president John Doep, who also goes by O Nigel Woolcox on Facebook, knocking on McKnight's door. (This is unheard of—stings usually take place at a public meeting spot.) When she answers, he confronts her about wanting to meet up with a 14-year-old girl. McKnight denies it. "My phone was stolen," she protests.
Afterward "she just didn't know what to do," McKnight's mother, Cathy Dunn, told VICE. "She was totally distraught."
Cathy and her husband Phil adopted McKnight, an orphan from Romania, when she was 22 months old. Back then she was called Joe Dunn. As a child, McKnight was happy, they said, until she hit the school system.
"She did struggle with [attention deficit disorder], more specifically the hyperactive part of that," Cathy said during a phone interview. Later, she was diagnosed with oppositional defiance disorder and reactive attachment disorder, which Cathy said caused her to lash out at them at times.
"They draw you in closer and want that relationship and then, because of that trust issue, they will do something to drive you away."
From the age of 13, McKnight was placed in a group home because it became too difficult for her parents to care for her. She had three or four stints in hospital and threatened suicide.
"It started to become more of a theme: 'I hate myself,'" Cathy said.
In October 2015, Cathy said McKnight drank antifreeze in a Canadian Tire in an attempt to end her life. The Dunns said McKnight was using drugs to "self-medicate," though they aren't sure which ones specifically. Eichner told VICE he believes she was using heroin. All three have said McKnight was also doing sex work and spent time living on the street.
"She lost all her friends. Everyone thought she was a pedo."
Cathy said McKnight began transitioning in 2012, a process that took an emotional toll on her. The Creep Catchers video, which was posted with descriptions like "Creepy Child Predator Confronted!" prompted many hateful online comments about her gender. One, in which Jackass star Bam Margera referred to McKnight as "it," was shared by her catcher Doep on his Facebook page.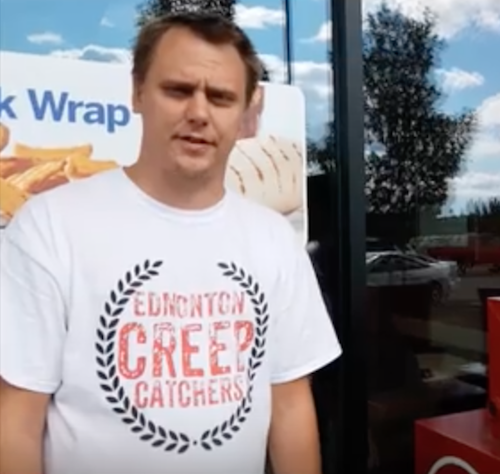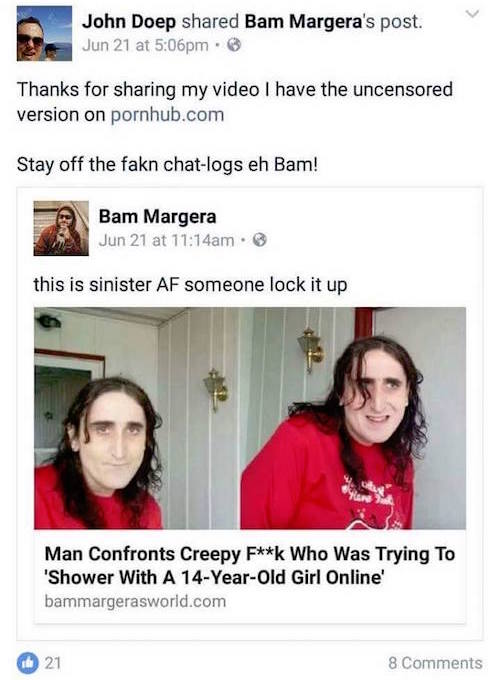 After being outed, Eichner said McKnight would not leave her room in his dimly lit basement, spending hours at a time watching TV in bed and playing with his kittens.
"She lost all her friends. Everyone thought she was a pedo." In a Facebook chat between McKnight and RL Dakin, an Edmonton woman who has started an anti-vigilante campaign, McKnight spoke about how her reputation was permanently shattered.
"My whole life will always be hiding, having people accuse me of horrible things, and the possibilities of assaults and possibly even murder," she wrote to Dakin on August 17. A few days later she said, "I do quite honestly believe I would be murdered in public. I think I'll probably get murdered very close to home or in my home."
Throughout the conversations, which spanned the latter half of August, she repeatedly said killing herself was the only way to stop Creep Catchers, and even discussed streaming her suicide online.
"Me dying is the best chance anyone has… I'm very proud to be able to save anyone. Even if this doesn't stop them directly, maybe just maybe some of the Creep Catchers will start to question whether or not they are doing the right thing."
When VICE originally reported on McKnight's death, Doep refused to comment other than to say "lol" via Facebook messenger. When VICE reached out again more recently, Doep responded with, "Please know that you have became a blemish on my life. I can't believe you actually think I would ever speak with you."
His Facebook posts about McKnight have been somewhat contradictory. He's removed McKnight's video, and a screenshot appeared to show him apologizing for being "reckless and misdirected." However, in response to media reports about McKnight, he has also said "We DO NOT target anyone other than those who prey on children."
Other troubling shaming incidents have surfaced in the aftermath of McKnight's death.
A video titled "Skinner Scooter" (skinner is prison slang for child molester), posted by Surrey Creep Catchers on November 16, shows a Facebook live bust of a man on a scooter who has cerebral palsy. The man responded to an ad for an escort, stating the escort was 20, but, as is often the case with Creep Catchers, they claimed a decoy later informed the man she was actually a 14-year-old girl.
In the video, Surrey Creep Catchers president Ryan Laforge and a member of Tri-Cities Creep Catchers accuse the man of wanting to have sex with the teen in a school bathroom.
"She said she was an escort," the man in the scooter replies, repeatedly asking the Creep Catchers what they're going to do with the footage.
"You're a creep. We're gonna show this to everybody so they know to keep their kids away from you," replies the Tri-Cities Creep Catcher, while Laforge informs the disabled man that people are watching him live.
The man appears to have difficulty grasping the fact that he was never talking to an escort.
At one point, Laforge asks him if he has cerebral palsy, which the target confirms.
"Do you think having a disability is like a cover up for this behaviour?" Laforge says, noting that his brother has cerebral palsy and "He's no goof." (Goof is also prison slang for a child molester.)
"When the phone calls and the emails and the text messages and the Facebook fucking blame starts hitting you up, you will be fucking sorry," Laforge adds. Near the end, he quips: "If you give me your scooter I won't put this up on Facebook and YouTube."
Eventually the man speeds off on his scooter, as Laforge and the other Creep Catcher chase behind. In the distance, the man on the scooter then appears to get hit by a car. He did not sustain injuries.
The video has been viewed more than 35,000 times, and while some Creep Catchers supporters have raised red flags about it, many are supportive of shaming the man. "Omg did he get hit by a car," one Facebook user wrote. "Hahahhah karma at its finest."
Faith Bodnar, executive director of Inclusion BC, an advocacy group for British Columbians with disabilities, told VICE she has been in touch with the man's family. She said in addition to having cerebral palsy, he has an IQ lower than 70. The man, who is 30, is well-known in his local community, but Bodnar said he hasn't been to work since being shamed.
"It's just been absolutely devastating for he and his family," she said, adding he has no history of predatory behaviour.
She said preying on someone with significant physical and cognitive impairments is a "very low form of behaviour" displayed by Creep Catchers.
"They groomed and lured him to that spot intentionally knowing what they were doing. He didn't understand, nor was he able to process what was happening to him."
Laforge told VICE he stands by the video. He said the initial conversation with the man in the scooter was started by female followers of Surrey Creep Catchers who were pretending to be an escort because "they mess with creepy guys." The women, he said, then told the man they had a 14-year-old friend and passed along the chats to Laforge, who acted as the teenager.
Laforge has not produced the chat logs for VICE.
"I never said he operates with all cylinders, but he's still willing and able to hurt children," he said, noting, "Mental disability or not, it needs to be exposed."
Calgary's Dawson Raymond founded Creep Catchers in fall 2015. He has told VICE that the organization has since spiralled out of his control and that he does not want to be held accountable for how other chapters conduct themselves. However, regarding shaming people with cognitive disabilities, he said this:
"If that person seems coherent enough to set up a meeting with a child and meet them, I don't give a fuck what their IQ level is. Who fucking knows? What's Paul Bernardo's fucking IQ? Does anybody even know?"
Vigilante pedophile hunting in Canada has exploded in recent years. 
In another case, Leisa Howell, a Kelowna, BC community support worker, told VICE her client, a 27-year-old man with schizophrenia, fetal alcohol spectrum disorder, ADHD, and reactive attachment disorder, was shamed online after agreeing to meet a decoy from Zero Children Hurt (a Creep Catchers offshoot) posing as a teenage girl online. Howell said John (not his real name), operates at the level of a 12-year-old and has an IQ of less than 70. She said John takes shots twice a month for psychosis and is "extremely medicated."
It's impossible for him to engage in sexual intercourse, she added. "He can't even get an erection."
She said she received a call from the RCMP one night during the summer; they were with John who was crying and heaving, "freaking out beyond belief." As it turned out, she said he'd been speaking with a Zero Children Hurt decoy on Plenty of Fish—a woman posing as a 14-year-old girl. The next day his video was on Facebook.
The decoy, who goes by the alias Shoni McBee, told VICE John "referenced wanting to make a family with the teen girl as well as wanting her to sleep over in his bed." She would not provide VICE with chat logs.
Despite being informed of John's disabilities by Howell, McBee said she left the video of him up, but it was reported to YouTube and removed nonetheless. She said Zero Children Hurt recently "caught" John again, this time chatting with a decoy posing as a 13-year-old girl.
"Fetal Alcohol Syndrome does not make you ask children to sleepover in your bed," McBee said.
Howell said she has tried to teach John internet safety training but that she doesn't have the time to monitor his activities at all times, due to her responsibilities to other clients. She stressed that his interest in these women is not sexual, but comes from a place of loneliness.
"Nobody pays attention to these people, and when somebody starts talking to them they're lonely and they don't get it," she said. "It's companionship."
McKnight's confidante Dakin has started a Facebook group called CREEP CATCHERS HARASSING MENTALLY ILL AND DISABLED, which details stings that allegedly target vulnerable people.
Dakin said her 29-year-old daughter has bipolar disorder so severe that she's currently "lying in a hospital bed—unable to walk, talk, or feed herself."
She said her daughter was shamed by Edmonton Creep Catchers in July after she agreed to meet up with a decoy posing as a 15-year-old girl.
Dakin said her daughter was going to meet the girl for a walk, with the intention of going "all big sister on her" about talking to strangers online. At some point during the chats, Dakin said someone else—possibly her daughter's boyfriend—picked up her daughter's phone and texted the decoy, "Hey, how would you like to meet my 36-year-old friend? He's awesome and a great kisser."
Aside from that message, which she said was sent when her daughter was sleeping, the conversation was innocent.
Dakin said when her daughter showed up to meet the teenage girl, she was confronted by Edmonton Creep Catchers. In the video, a Creep Catcher who identifies himself as David Matthews asks about the reference to the 36-year-old, to which Dakin's daughter replies that it was a joke. Matthews then scolds Dakin for meeting with a "child" but says, "You never technically said anything sexual to the child at all."
"This is really awkward 'cause this is the first time we've ever had to talk to a female about this," Matthews adds. "I expect it to be pretty viral, so I apologize for all the hate that's gonna come your way."
Because her daughter was manic at the time, Dakin said she didn't understand what was going on and left with the impression that she had helped protect a real teenage girl from harm.
Dakin said her daughter's phone number was posted with the video, resulting in harassment.
"She did tell me people threatened to beat her up, to rape her," she said.
A clip from VICE Canada's upcoming documentary 'Age of Consent'
Stings like these have actually prompted some Creep Catchers to speak out about this aggressive approach.
Mike Shea, president of the newly founded Langley, BC chapter, told VICE the scooter bust was "very unprofessional."
"You shouldn't ever chase someone like that," he said, noting Surrey Creep Catchers, despite divorcing the umbrella organization, is giving his chapter a bad name.
Shea said he has videos on his computer from stings in which the people busted have agreed to seek professional help. He cited one young man who said he was in the closet and wanted to meet up with a decoy he believed to be a teenage boy—not for anything sexual. Shea said he decided not to post the video online because the man, who appeared to be extremely distressed, agreed to go to the hospital.
"We don't want to ruin people's lives," he said. "The people who actually need help, like a mental issue or a psychological issue, they don't need to be blasted on the internet and have their lives ruined for a simple mistake."
Dakin told VICE her anti-Creep Catchers Facebook page is a place for people to share their side of the story, something that McKnight took solace in.
"I think that's something that meant a great deal to Katelynn," she said. "The relief that there was somewhere on the internet where people were not saying ugly vile things about her."
Phil and Cathy Dunn said their daughter was neither physically nor psychologically capable of sexually assaulting a child.
"I am sure that with a lot the stuff she went through, she would never have wanted to hurt anyone else," Cathy said. They questioned why Edmonton Creep Catchers would remove the video of McKnight if they truly had evidence of criminal activity.
In the months since her death, they've kept a low profile, seeking comfort from family, friends, and their church group.
They don't believe anyone has the right to act as judge, jury—and executioner.
"They see trapping these people as justice, but it's wrong," said Cathy. "It's vigilante injustice."
Follow Manisha Krishnan on Twitter.