Olivia Newton John, AKA Sweetheart Sandy, AKA Naughty Sandy (AKA 2012's This Christmas album STAR) knows a thing or two about switching it on to get the one that she wants ("Ooo, ooo, ooo!"). ON-J underscored her personal alignment with Naughty Sandy when she released 1981's innuendo-laden smash hit, "Physical." In this video she once again schooled us in the power of stylistic transformation. A haircut and some tight threads really can change your life, you guys.
What's the best way to get what you want from a man? What's the best way to get what you want from life? Squeeze into a leotard, get your workout on, and be direct. ON-J and I aren't talking about dowdy sweatpants—we're talking full athletic looks, or as some fashionistas say: "lewks." It's hard to find show-stopping work out attire that you're also not afraid to get sticky in. Ideally you need something that says, "Hey, stop, listen to this, I mean business, and also, look at my sweet, sweet waistline."
In this superlative piece of pop cinema, ON-J's objectives are twofold. She beautifully illustrates what most women have to go through in order to find a life partner. Like, you're probably going to have to help mold the mate you find into something more suitable, because let's face it: most men don't look great in a thong. This doesn't mean you don't strap on a sweatband and get sculpting. Secondly, her style stance in "Physical" seems like it should be restricted to the gym, but in fact it's timeless and can be applied to almost any occasion.
So what are our main takeaways?
Sporty is sexy.
Here ON-J embodies how complicated the female infrastructure can be by tying a button down shirt over her workout gear. No one saw that coming. What is that button down for? Nothing. It's for her. She put it on 'cos she liked it. Also, it breaks up the outfit, it's a pretty color, and it accentuates her weeny waist. The colors she picked for her lewk are electric and she's also coordinated her socks with her button down. Genius. Color blocking never goes out of fashion, but also, she's meticulous and this whole look lets us know who she is before she says a word. She is the César Millan of fashion.
Maybe shirtless can be the new black for men. How do we make this a trend? Who do I need to write to? Women should be more upfront with our feelings. As ON-J sings: "There's nothing left to talk about/ Unless it's horizontally." So that's what she wants, plain and simple. Me? I'd like consistent piggybacks. I'm tired of not being carried.
Fuchsia tights seem like a daunting, tough-to-pull off proposition, but if you pair them—or indeed any bold fashion accoutrement—with an ecstatic facial expression, you can get away with pretty much anything. Being able to bend in half is also a useful life skill.
Don't be afraid to turn up the juice on your love. And you know what? Short-shorts can be nice on dudes sometimes. I like a little upper man thigh now and then, here and there.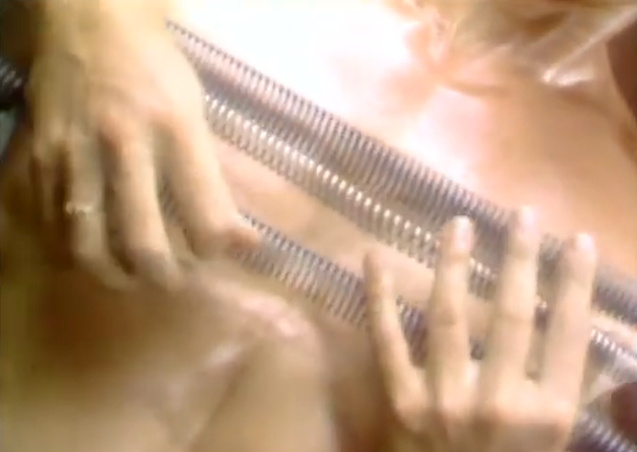 Chest expanders are not just for working your pectorals: they make great air guitars too.
Sweatbands are good for keeping hair off of your forehead. Better still, they distract people from this haircut, which was inexplicably popular throughout the 80s. Call it the Princess Di effect, but women young and old lopped off their locks and rocked a cut last seen on one of the Golden Girls' cousins who was visiting from Ohio. So yeah, anything helps and accessories are key.
Riding a man can be fun for everyone and it's a great workout.
Wearing all white makes ON-J seem like a sweet, sweet angel (there's always Sweetheart Sandy lurking somewhere). This is an excellent manipulation tactic. When you look in the mirror you want to see, "Who could say no to this?" staring back. The woman knows what she's doing. She is a master. Ain't no shame in the game ON-J. Ain't NO shame! Also, white is okay after Labor Day. There I said it. It's how I feel, and, like ON-J, I'm being direct. It's a stupid rule and I feel better for having said so.
When you're hot, have a shower. Go crazy and have a shower with your clothes on. The great thing about spandex is it kinda looks the same wet or dry. Win!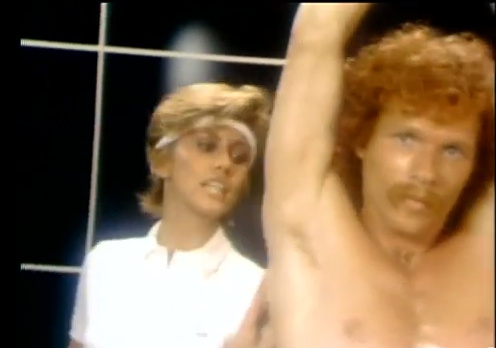 Not sure what to say about this, but, hey, you're welcome.
One of the most awesome things about this video is the pay-off. Just when you think ON-J's magic has transformed all the flabby dudes into a harem of ripped hotties, said hotties catch of glimpse of each other's gleaming guns and elope. Apparently there are some boys who can say no to ON-J's perfect lewk. If a boy likes another boy, no amount of lunging in high-cut, color-blocked Lycra will change his mind.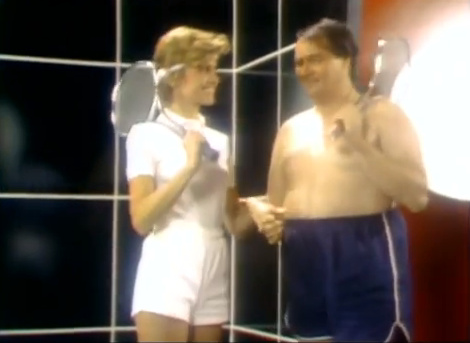 I like that ON-J doesn't miss a beat. She makes the situation work for her. Can't keep Naughty Sandy down! In the end it doesn't matter if a man is squidgy and has to wear his shorts up high in lieu of Spanx, as long as he wants to hold hands and play all the games you want to play. If you can't love the one you want, love the one you're with, and always wear a full lewk, even, and especially when doing athletics. Thanks ON-J.
Molly encourages women NOT to get naked on Halloween, among other things. Apply to give her piggybacks via Twitter - @MollyOAustin.
Style Stage is an ongoing partnership between Noisey & Garnier Fructis celebrating music, hair, and style.